Lunch today, 21 October 2009, was at the Taipan with Aaron, Apa and J-Lab. Peking Duck 2 Ways was what was on my mind - for a comparative pairing of an Alsace grand cru pinot gris and a single vineyard German spätlese. I also wanted to see how the said riesling would go with the Taipan's (usually) spicy Crispy Fried Pork with Salt and Pepper. As we decided on the other dishes, we sipped some of Aaron's…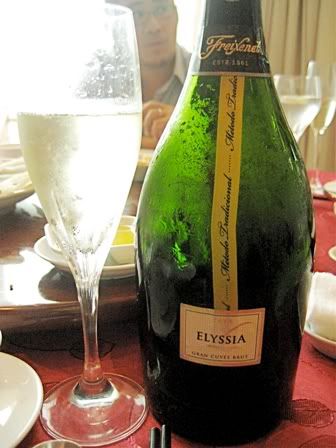 Elyssia Gran Cuvée Brut - By the giant Freixenet firm, this is a méthode champenoise sparkling wine which tastes and feels much more like a champagne blend than the usual cavas I encounter in that it is comparatively heftier, creamier, rounder on the palate and not "grassy", sharply minerally or acidic. The dominant, dry fresh apple, crisp pear and second-tier lemon/orange flavors have a very subtle white chocolate undertone mid-mouth and the merest hint of almond bitterness towards the back (but not in the finish).
Lively, bright and thirst-quenching, I'd say it would be more approachable to those not familiar with the more traditional cavas (I am assuming here that this is not a traditional blend of cava grapes). I made a mental note to save some of this for the Steamed Lapu-Lapu in Special Soy Sauce.
Not long after, our Peking duck was presented, then carved up for the 1st Way.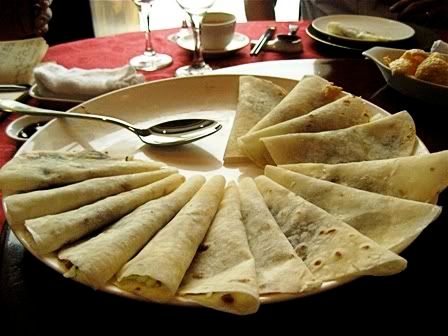 With this, we had first…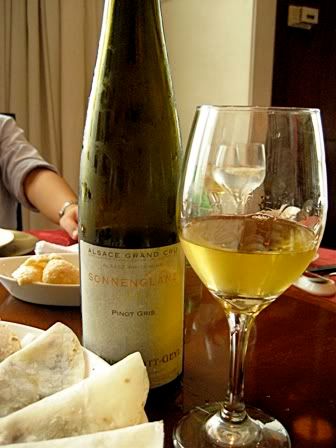 2005 Domaine Bott-Geyl Grand Cru Sonnenglanz Pinot Gris - Luscious, curvey and generously fruity from the get-go with grand cru weight and concentration. The soft, honeyed peach, lemon tarte, baked pear flavors are definitely ripe and somewhat creamy (noted by Apa), but with nice minerality, admirable freshness and balance. Its evident round fullness has precise heft and an alluringly viscous texture.
Apa pontificating as usual.
It is difficult for me not to gush about this wine, especially when paired with the 1st Way of the Peking Duck. Admittedly, I am a big fan of this estate and am yet again kicking myself for not having visited them in Beblenheim when I spent several days in nearby Riquewihr, Alsace. This wine is a joy to drink now and, I believe, can gracefully age for several years. I see no point in waiting, though. Enjoy it now with Peking duck and thank me later.
J-Lab and I noted, by the way, that this wine seemed at the cusp of being a vendanges tardives because of its level of ripeness/sweetness. I'd wager this, as such, would also pair well with terrine of foie gras. That will have to be another story.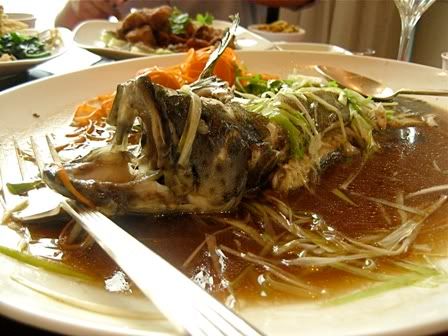 Steamed Live Lapu-Lapu in Light Soy Sauce, behind is the Crispy Fried Pork with Salt & Pepper.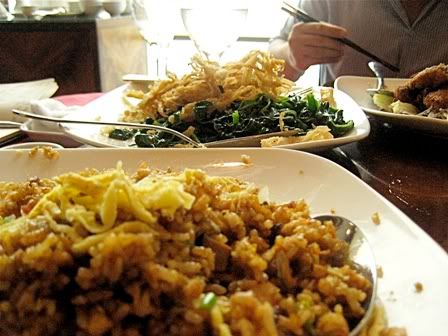 Shanghainese Fried Rice, behind is Spinach with Crispy Enoki Mushrooms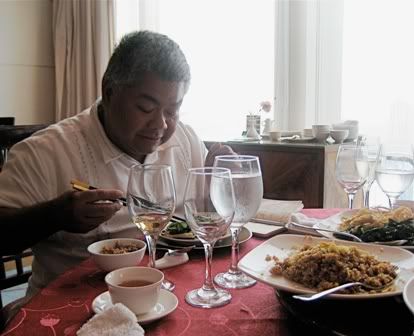 J-Lab digs in. I was initially a bit sceptical about the crispy enoki mushrooms, but he tried it first and pronounced it good. He was right.
With the steamed fish, I revisited Aaron's Elyssia Gran Cuvée Brut since I knew the pinot gris would completely over-power this delicately flavored and textured dish and the riesling spätlese would be too sweet. The dry bubbly was surely the best match of the bottles present. As regards the (not so spicy this time) crispy pork, I poured…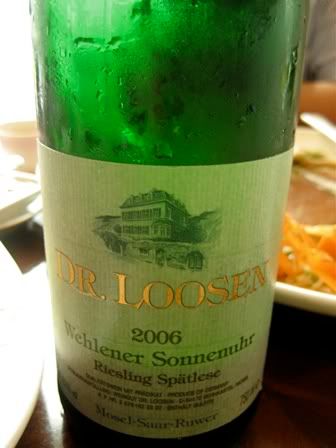 2006 Dr. Loosen Wehlener Sonnenuhr Riesling Spätlese - I've had this a few times before. My last notes were from the 9th May 2009 during dinner at Je Suis Gourmand, and they are consistent with this bottle:
Light, sharply focused, pure, well defined sweet peach, fresh apricot, bit of lemon tart - all precisely lifted by bright acidity and typically pronounced minerality. Lovely wine, perfect for summer, and simply excellent with Marc's signature terrine of foie gras.
Apa accurately noted that, after the mouth-filling, creamy-fruited Sonnenglanz Pinot Gris, the Wehlener Sonnenuhr Riesling Spätlese came off a bit too thin and light, and I definitely agree. I don't recall if it was J-Lab or Aaron who mentioned that we should have started with the latter instead of the former, and I likewise definitely agree.
I failed to include last night that this wine also presented sugar water and candied/dried ginger notes. That said, with the crispy fried pork and the 2nd Way duck, the riesling was a fair enough match, if wholly upstaged by the pinot gris. For this meal, we would have been better off with just another bottle of the pinot gris. I opined, however, that the riesling would likely pair better with the Thai/Thai-fusion dishes of People's Plalace, and they seemingly agreed.
Aaron in mid-strike at the crispy fried pork, the 2nd Way duck (Spicy, Deep Fried Carcass) beside him.
J-Lab and Aaron had a bottle each of red with them and offered them up. Aaron and I were fine either way, but, since Apa and J-Lab had meetings that afternoon, we decided to just call it a lunch and moved to the bar area for some double espressos and coffee. The two eventually took their leave and Aaron and I lingered until 5pm over a few stories and cigarettes.
Edited for typos and an omitted note