My wife Amanda and I, along with our two sons, Dylan (6) and Cody (2) just returned from a remarkable trip to Piedmont this past Sunday and I will try to update this post over the next week or so with some of the highlights. I'll be the first one to admit that travelling to wine regions with little kids definitely has its challenges. It took a lot of upfront planning to get this trip right, but we managed! We wanted to stay in a villa as opposed to a hotel, because we wanted an opportunity to have a real home base, where we could entertain, and have enough space that everyone would be comfortable. In this respect, and many others, Piedmont is certainly not Tuscany, a fact which I'm extremely happy about by the way. In Tuscany, villas for rent are a dime a dozen. In Piedmont, it's nearly impossible to find. After much research, several people recommended a villa in Bonvicino, about 20 minutes from Monforte, called Villa San Lorenzo. It was a great recommendation. The owner lives in San Francisco, and made great accommodations for us, and is well known and well liked all throughout the region. This was our second trip to the region. Last time we stayed at the Relais San Maurizio, which was really a beautiful place, but was too far from the Barolo zone for my liking. The accommodations this time were perfect for us.
A couple general notes – we've travelled to many wine regions – all through California, Bordeaux, up and down the Rhone Valley, Tuscany, and others – nothing captures my heart, my mind and my soul like Piedmont. Its magic, and if you've been there you understand. The vistas as you drive through the Langhe are just stunning. The food is so genuinely delicious. The wine, well…you know how good it is. But most of all the people are just so great. The hospitality we were shown was off the charts. This trip for us was a "deep dive." Eight nights, staying at the same home base, with a super leisurely pace. You will see, we drank some remarkable wines, and despite some truly great wines, these were not "baller events," just an opportunity to drink amongst friends some truly magical wines. Note, I brought 3 non-local wines with me in my suitcase, and had 7 bottles dropped off at the villa from a local source. Everything else was shared courtesy of the generosity of friends.
We took the red-eye flight from NY to Milan on Friday evening, arriving in Italy Saturday afternoon on 8/20, totally weary but full of excitement. Saturday was a low key afternoon, getting accustomed to the location and the local time.
Here is a view of the surrounding area from the villa: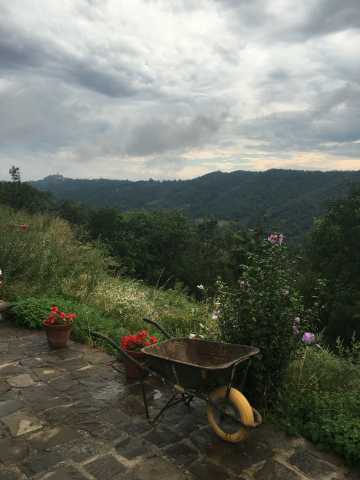 We had dinner at the villa this night. The owner of the villa had arranged for a few local chefs to cook, which was a real treat. This was the only day we drank exclusively non Italian wine, since I like my nebbiolo older, and I don't like to travel with older wine. So with dinner, we opened, drank some and saved the rest for the next day – 2012 Domaine Jamet Cote Rotie – if it wasn't for nebbiolo, northern rhone would be my favorite wine in the world, and Jamet at the top of the list. Smoky, olive tapenade, delicious. Great, and a buy in any vintage in my opinion. And 2013 Vine Hill Ranch Napa Valley Cabernet – one of my favorite "newer" Napa cabs. Super balanced, great fruit. One of my favorite 13s so far.


The next day, Sunday 8/21, was again a low key day. Our winery visits were mainly focused from Mon-Fri, but we wanted to get our feet wet, so we had a morning appointment at Borgogno in Barolo, one of the few spots available on a Sunday morning. Quick note – on this trip, I did not take detailed notes on every wine we tried, but just jotted down general impressions. They have a really nice facility for tasting in the middle of the village of Barolo, and a beautiful view from the rooftop terrace. Here's a photo of the view:


We tasted a number of Baroli, starting at 2011 and going back to 1982, 9 in total. Overall impression – I enjoyed the house style, I would be glad to have any of these wines by the glass, but not wines I'm planning to buy long term. An enjoyable first visit of the trip though.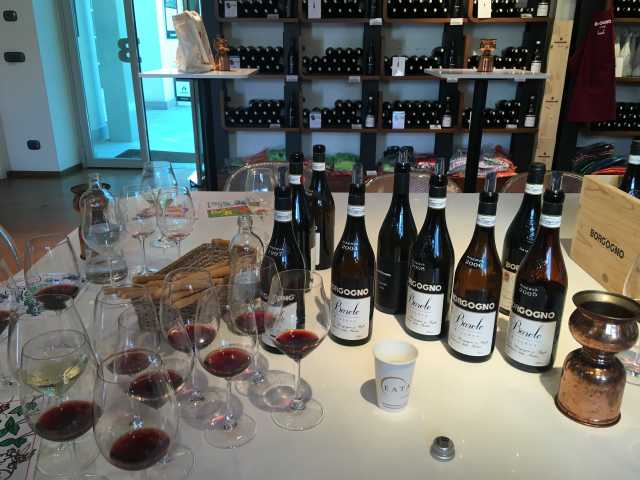 We then returned to the villa for a late lunch/early dinner that would carry us into the evening. Many of us, myself included, miss Bill Klapp's long, detailed, and often amazingly informative musings on all things Piedmont. So I reached out to Bill to join us for lunch. Additionally another friend, his wife and his son joined us as well, so we had a big crew. I'll say, if you could believe it, Bill is way more fun in person than you would think! We had a great time, lots of stories, plenty of discussion of proper decanting methods for old nebbiolo, and some good old fashioned drinking and eating. I was not allowed to open any of my own wine, so all the wine tonight was courtesy of friends. Here's a pic, though we didn't drink the Gaja or Granbussia this evening.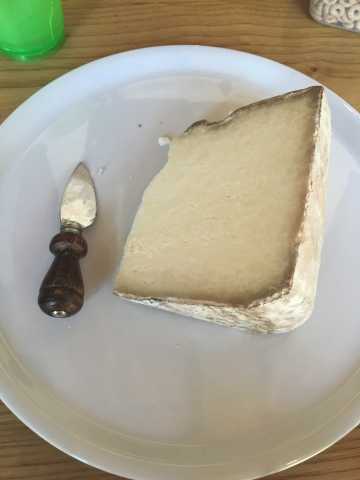 The wine of the night was the 1985 Giacosa Barolo Falletto Riserva. Out of the gates, this was beautiful and remained consistently great over hours. Great sweet fruit, floral aromas, and gorgeous finish. In a perfect place. Will it get better, not sure, but nice place to drink right now. The 1978 Giacosa Barbaresco Santo Stefano was a bummer. Appeared oxidized at first. Some of the fruit showed up after a few hours, but the bottle never really arrived, which was too bad. The 1974 Monfortino was a winner, though it took a long time to get there. This really started opening up at like hour 5, and was still structured, powerful and a joy to drink. The surprise of the night was the 1967 Francesco Rinaldi Barolo. This can generally be bought pretty well, and was really good right after opening. Bottle was totally sound, great structure, aromatics and really round on the palate. Really enjoyable. If Bill was still around, I'm sure he'd have a writeup 10 times as long as mine (at least), but the sum of it was, great times, great wine.
Next installment will be our first serious day of wine tasting, Giuesppe Rinaldi and Bartolo Mascarello. Ciao!