It's cool enough for Manhattans?
I see a Groth reserve cab just out of camera, one of my favorites! Still hoping to run into the Mouton Rothschild. That's a great selection.
At #471 today while waiting for pet Rx (they could only fill one of the three, grrr) I saw these
Holiday stemware is arriving, this time from Stolzle and a bit more expensive than the last cycle at Costco. I've seen the 8 packs get discounted to $16-$20 in prior years if they move slowly, but I think this shape/geometry is more desirable than prior Costco 8 packs from various vendors. I looked at them closely and they seem like the Riedel 002 or 003 style, or this heavy Luigi Bormioli type (sorry name/model not at tip of tongue). If you're in a situation where $3.50 a glass is NBD, then maybe leave a box at the in laws, or as a 'to be used then and there' hostess gift for a weekend away. I think this brand manages the tension between value, usability, fragility well. It's very 'on brand' for Costco.
The 2019 KS Barolo and Crognolo are here. I have found the latter to be chewy/coarse in big years and avoid it.
Ugh, the price/vineyard of this Chablis got cut off. This co-op have so many bottlings I realize it's unhelpful but I thought the price was $22ish.

I don't recall seeing PJA's mega production Parrallele 45 here, but that $9 price is likely less than I paid for a six pack of the 1998 a lifetime ago. Fond memories of that wine, but not on the buy list any more.
No idea what this is, but they have lots.
This claims to be a 1er cru from Givry for $30. There wasn't much of this 2020 available, and generalizing, Burgundy is usually slim pickings at this warehouse.
When in the world did Vinsobres turn into $25 wine? I'm thinking this will end up with at 16.97 in a couple of months. Keep your Pricechopper alert on.
I find Barbera to be to acidic for my tastes, but Pio Cesare is a well regarded producer and this does have the glorious '.97' price tag.
Wow, the Crognolo and Pio Cesare are great deals.
That Pio Cesare is a great deal. It's a good wine, but really needs food to show its best. That acidity is no joke, but a good lasagna smooths everything out.
And it's German riesling, the most sturdy wine this side of Madeira and Port. I would have 0.0% worry.
Store on Lomita/Sky Park has nothing new … except what appears to be about two pallets of Caymus Cab. at $73. … now now, not everybody all at once!
Those pallets are not for our palates.
I have never had Pio Cesare Barbara. But I have had other wines from them. Based on that and the $11.97 price, I would have loaded every single one of those bottles into my cart.
2019 Kirkland Signature Barolo - Italy, Piedmont, Langhe, Barolo (9/18/2023)
Brought to my blind tasting group. Gave it an hour decant before putting it back into the bottle where it probably sat for another hour or so.

Typical markers, red cherry, strawberry, dried roses, violets, tar, anise, sweet cranberry and balsamic.
High in acid, tannin and alcohol.

This is actually drinking well now, would be even better with food. Plenty of room to age. One person said before knowing what it was "I'd love to drink this in 30 years." General consensus was a nebbiolo from a good producer. I had the remnants the next day and it was drinking even better, more tar and rose came out; tannins don't finish astringent which you can get with young nebbiolo. (90 points)
Posted from CellarTracker
I have confirmed with MISA imports that Costco did not buy any 2019 Bordeaux large format. Unfortunately, these will not be there for the Holidays.
Costco does have some other Bordeaux suppliers, per my understanding.
I thought this drank best on the 2nd night. The most surprising thing was I left a glass in the bottle and forgot it for another 8 days in my wine fridge. Still drank just fine. Classic winemaking on sturdy grapes.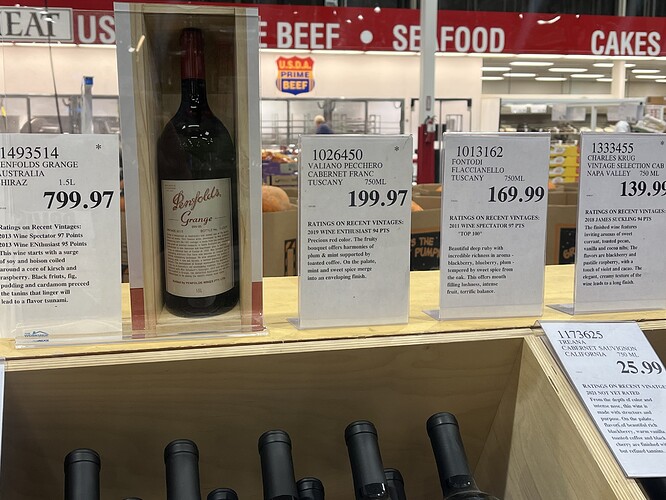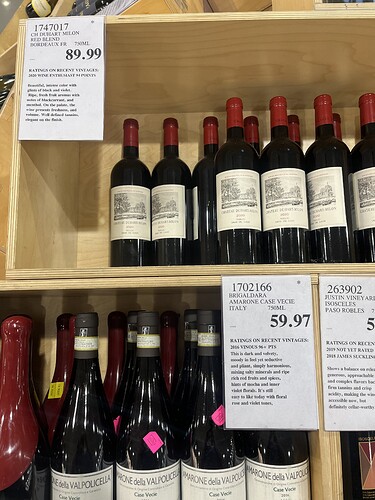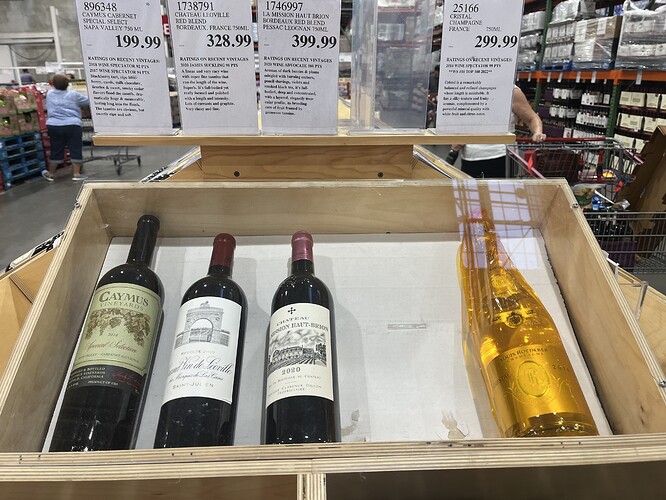 A few new bottles in West Des Moines means some nice discounts on some shelf squatters. I took the last of the Malescot at 29.97/btl.
The Grange looks like a mistake. That seems the going rate for a 750.
It's 1.5ltr so actually about 1/2 off. Been there over a year…
Looking closer I see the mark down " * ". Do you remember the original price?
I paid $720 AUD at Magill Estate when I bought in person. The magnum is a definite buy price although the wine would outlive almost anyone buying it.