Petaluma Gap Wind to Wine Festival – November 6th, 2016
I attended the Petaluma Gap Wind to Wine Festival in early November, and wrote a report for the Grape-Nutz.com website. An abbreviated version of the report is below – there are more comments, photos, and tasting impressions of over 70 wines from 28 producers here:
Petaluma Gap Wind to Wine Festival – November 6th, 2016
Report on the 2nd annual Petaluma Gap Wind to Wine Festival, held on Sunday November 6th, 2016 at The Sheraton Sonoma County in Petaluma, California. The focus of the event is on wines from the Petaluma Gap winegrape-growing region.
This year's Wind to Wine Festival started with two concurrent Sunday morning seminars, which were followed by the Grand Tasting in the afternoon. I attended a seminar and the Grand Tasting, and the tasting impressions below include wines from both of those portions of the event.
The Wind to Wine Festival is hosted by the Petaluma Gap Winegrowers Alliance (PGWA). Founded in 2005, this is an organization of wineries, growers, and other associate members. The PGWA seeks to promote the growers and vintners who work with the region's winegrapes, and to increase public awareness of the area's history and current practices in grapegrowing and winemaking.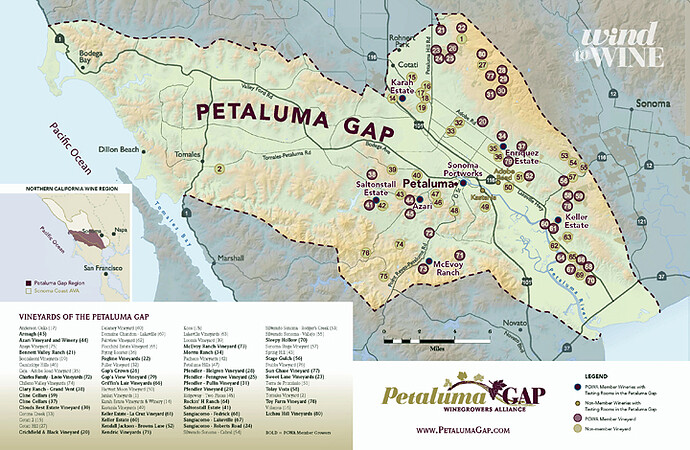 Map courtesy of the Petaluma Gap Winegrowers Alliance (http://www.PetalumaGap.com/)
Located in the southern portion of the large Sonoma Coast AVA and extending into the northern part of Marin County, the region's name refers to the 15-mile wide gap in the coastal mountains that draws cool air from the Pacific Ocean and funnels it toward San Pablo Bay. The resulting wind that this creates is considered one of the Petaluma Gap's defining climatic characteristics, as is the morning and late-afternoon fog that often blankets much of the area, helping to make it one of the coolest winegrape-growing regions in California. Growers and vintners in the area speak of the wind's effect on the grapes themselves – smaller berries with thicker skins than are found in many other areas.
The area's first commercial winery was established in 1884. There were grapevines planted there earlier, though no pre-1900 vines still exist in the region. The Petaluma Gap is currently home to over 4,000 acres of vineyards, with Pinot Noir, Chardonnay, and Syrah being the most widely-planted grape varieties. The PGWA submitted a petition to the TTB in early 2015 to establish the Petaluma Gap as an AVA, most of which would be within the larger Sonoma Coast AVA. The review process is still ongoing, and there is a possibility that the Petaluma Gap AVA may be approved in 2017. Rickey Trombetta of Trombetta Family Wines is the current president of the PGWA.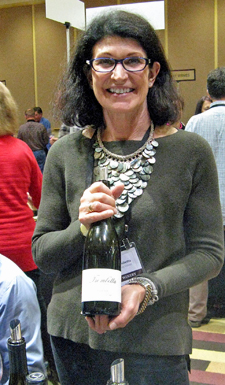 Rickey Trombetta of Trombetta Family Wines


Seminar
I attended a Sunday morning seminar in addition to the Grand Tasting that immediately followed it. Those who opted to attend a seminar had a choice of two, which ran concurrently: "Cool-Climate Syrah" and "Food-Friendly Wines." I chose the first of the two, though the other one sounded interesting as well – that one was moderated by noted sommelier and wine writer Chris Sawyer, with winemakers Ana Keller of Keller Estate, Erica Stancliff of Trombetta Family Wines, plus owner/chef Peter White of Sugo Trattoria, with food provided by Chef Richard Visconte.
The Cool-Climate Syrah seminar that I attended featured winemakers Duncan Meyers of Arnot-Roberts, Pax Mahle of Pax Mahle Wines, David Ramey of Ramey Wine Cellars, and wine writer Cyrus Limón – whose "sólosyrah" blog is focused on cool-climate Syrah – with noted wine writer and competition judge Dan Berger moderating the panel. Dan started off the seminar by talking a little about one of the aromatic signatures of many Syrahs from cool-climate vineyards – black pepper. It's been found that this derives from a compound called rotundone, which appears to be present in higher concentrations in vineyards planted in cooler climates, such as that of the Petaluma Gap. But as several of the seminar panelists pointed out, not all cool-climate Syrahs display this character – and in fact I found it difficult to find any particularly peppery aromas in many of the wines we tasted at the seminar. Before he turned things over to the panelists, Dan mentioned that it can be financially risky to grow Syrah in a cool climate – while the potential is there to make great wines in some years, it can be tough to sufficiently ripen a decent crop in other vintages.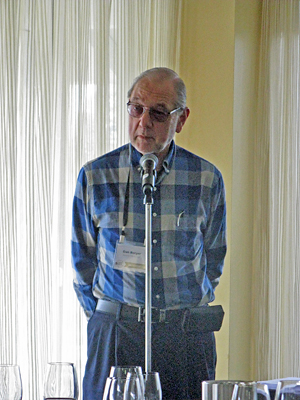 Seminar moderator Dan Berger
We tasted six Syrahs at the seminar – one current release from the three winemakers on the panel, two more current Petaluma Gap Syrahs from other vintners, plus one older New Zealand Syrah that Dan generously brought for the occasion. Notes on the wines are included in the Tasting Impressions portion of this report. Pax, Duncan, and David all spoke briefly about their wines and the vineyard sources. One of the other wines was from Waxwing Wine Cellars, and since winemaker Scott Sisemore was in attendance, he also spoke briefly.
Of the six Syrahs we tasted at the seminar, the Pax Mahle Griffin's Lair Vineyard was my favorite, with the Arnot-Roberts Clary Ranch and Waxwing Flocchini Vineyard not far behind.
A question was posed about what makes Syrah from the Petaluma Gap distinctive in relation to the wines from other cooler-climate growing regions. Cyrus said that he feels that Petaluma Gap wines show a savory character that's common to most cool-climate Syrah but they also tend to display a richness and depth that might be found more often in warmer areas. He noted that the ones from Clary Ranch are leaner – more "pure cool-climate" as he put it. And since the event is called "Wind to Wine," what does the region's noted wind contribute to Syrahs from there? A few viewpoints were discussed briefly, and Duncan said he's found that windier sites such as Griffin's Lair develop fruit with thicker skins (and therefore more potential tannin) than at less windy sites such as Clary Ranch. In fact, he pointed out that the vineyards in the western and eastern parts of Petaluma Gap can produce fruit that's often quite different from one another. Perhaps both will become future AVAs on their own!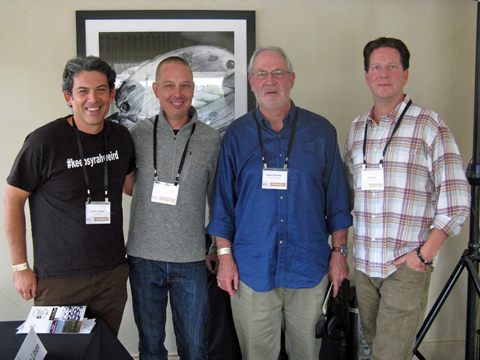 Cyrus Limón, Duncan Meyers, David Ramey, Pax Mahle
This was an intriguing seminar, and one that raised some questions that might form topics for future Petaluma Gap wine seminars. During the seminar, Duncan mentioned that he finds more of a connection between Syrahs of the Northern Rhône and those of West Sonoma County than from those of any other area – a fascinating observation, and one that could form a great topic for some follow-up. In the end, I thought that Pax came up with the most memorable quote of the seminar: "Syrah is not where you begin your love affair with wine, but it may be where you end it."


Grand Tasting Impressions
Since I'd had a date conflict that prevented me from attending the inaugural Wind to Wine Festival in 2015, I was glad to be able to make it this year. The PGWA currently includes over 30 member wineries, and nearly all of them poured their wines at the Grand Tasting. As is the case with many other region-based organizations such as PGWA, not all of the wineries themselves are located within the Petaluma Gap but still source fruit from there.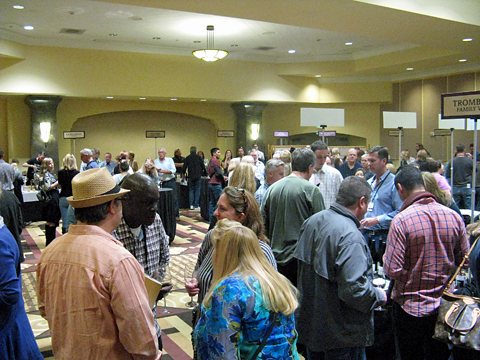 I had enough time to make it to nearly all of the winery tables, missing only a couple of them. As you would expect from the Petaluma Gap region, the tasting was heavy on Chardonnay and Pinot Noir, though Syrah certainly was notable as well. Other varietal wines represented included Viognier, Pinot Meunier, and surprisingly, Tempranillo, while one field blend included Sauvignon Blanc and Muscat and another featured Grenache, Alicante Bouschet, Montepulciano, and Refosco among other varieties. I was able to try out quite a few producers that were new to me, and found some that poured some very fine wines.
Most of the Petaluma Gap's vineyards are located in a band that's bounded roughly by the 101 freeway and the Petaluma River on the west and Sonoma Mountain to the east, running between Cotati and Rohnert Park on the north and almost to Highway 37 near San Pablo Bay in the south. A smaller group of vineyards is located west and southwest of Petaluma, and includes the handful of sites in northern Marin County. Vineyard sources from all of these portions of the Petaluma Gap were represented at the Grand Tasting. A tasting such as this allows comparison of wines sourced from the same vineyards (Gap's Crown, Sangiacomo, Sun Chase, etc.) but made by different vintners, while other producers highlighted their own estate vineyards. There was a separate table set up at the Grand Tasting for three Syrahs sourced from Griffin's Lair Vineyard (Bedrock, Loxton, and Pax Mahle), all poured by vineyard owner Joan Griffin.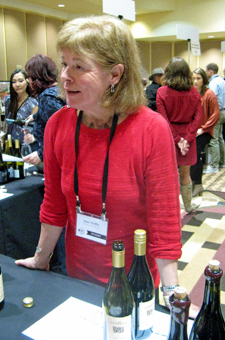 Joan Griffin of Griffin's Lair Vineyard
Most of the wines that I tasted were from the 2013 and 2014 vintages, though wines from 2012 and 2015 were well-represented, and there were a handful of older vintages too. Overall, I felt the 2013 and 2014 wines showed particularly well. While the wines in my list of Favorites are naturally dominated by Chardonnay and Pinot Noir, I should mention that the Syrahs on the list were outstanding, some of the best wines of the day. The "Others of Note" list is for wines that I thought were just a notch below those in the other categories, but still among the tasting's highlights. I felt the strongest overall wine line-ups of the event were those from Arnot-Roberts and Fogline, while Agnitió, Black Kite, Guarachi, Trombetta, and Waxwing also presented very good groups of wines. The lone wine from Pax Mahle was a standout as well.
Tasting all of these Petaluma Gap wines at this event did give me a better feel for their character in relation to the wines from nearby areas. Overall, I felt that these wines were distinct from those of their western Sonoma County neighbors. Most were not as forward and lush as you'd find with many Russian River Valley wines, though I found them to be generally bolder and more structured than those from the western Sonoma Coast while still displaying a similar fine, elegant acidity.
The Wind to Wine Festival was a very enjoyable event with plenty of standout wines, and it did a good job of showcasing the Petaluma Gap region. An AVA for the area seems overdue, and it should be a welcome addition to Sonoma County's range of appellations. This tasting helped confirm that the wines from the Petaluma Gap are indeed distinctive, and the foggy, windswept vineyards of the region are deserving of their own AVA. For those looking to learn more about the wines of the Petaluma Gap, mark your calendars for next year's Wind to Wine Festival.
Rebecca and Tom Birdsall of Black Kite Cellars
Favorites
Whites and Rosés
Agnitió 2013 Sun Chase Vineyard Chardonnay
Black Kite 2014 Gap's Crown Chardonnay
Clouds Rest 2012 "Allure" Chardonnay
DeLoach 2014 Stubbs Vineyard Chardonnay
Fogline 2014 Zephyr's Block Estate Chardonnay
Guarachi 2013 Sun Chase Vineyard Chardonnay
Pfendler 2015 Rosé of Pinot Noir
Rodney Strong 2014 Sonoma Coast Chardonnay
Trombetta 2015 Gap's Crown Chardonnay
Reds
Arnot-Roberts 2014 Clary Ranch Syrah
Arnot-Roberts 2013 Griffin's Lair Vineyard Syrah
Fogline 2014 "Bacchus" Pinot Noir
Guarachi 2014 Sun Chase Vineyard Pinot Noir
Keller 2012 La Cruz Vineyard Pinot Noir
Kendric 2013 Marin County Pinot Noir
McEvoy Ranch 2012 "Evening Standard" Pinot Noir
Pax Mahle 2013 Griffin's Lair Vineyard Syrah
Sojourn 2014 Sangiacomo Vineyard Pinot Noir
Waxwing 2013 Flocchini Vineyard Syrah
Others of Note
Agnitió 2014 Sun Chase Vineyard Pinot Noir
Black Kite 2013 Gap's Crown Pinot Noir
Brooks Note 2013 Marin County Pinot Noir
Calstar 2010 "Cuvée Ann" Chardonnay
Fogline 2013 Hillside Estate Pinot Noir
Karah 2013 Estate Pinot Noir
MacPhail 2013 Sangiacomo Vineyard Pinot Noir
Pellet 2014 "Un-Oaked" Chardonnay
Trombetta 2014 Gap's Crown Pinot Noir
Waxwing 2013 Spring Hill Vineyard Pinot Noir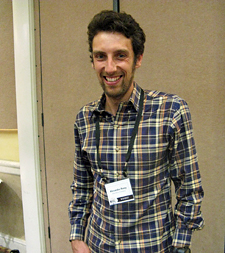 Alex Remy of Agnitió