Garagiste Wine Festival: Northern Exposure – April 30th, 2022
I attended the recent Garagiste Wine Festival: Northern Exposure tasting in Sonoma, and wrote a report for the Grape-Nutz.com website. An abbreviated version of the report is below – there are lots more photos plus tasting impressions from 20 wineries here: Garagiste Wine Festival: Northern Exposure – April 30th, 2022
Report on the Garagiste Wine Festival: Northern Exposure event, held on Saturday April 30th, 2022, at the Veterans Memorial Hall in Sonoma. This tasting showcased wines from small and lesser-known wineries in California.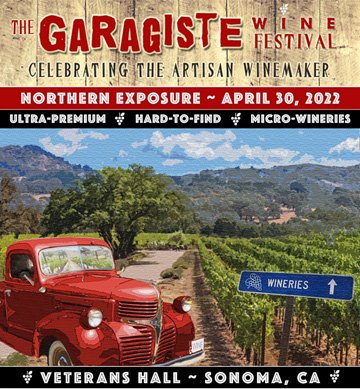 The non-profit Garagiste Events organization was founded in 2011 by Stewart McLennan and Doug Minnick in Paso Robles. Both founders made a little wine themselves, and they were looking for a way that smaller producers could band together to showcase their wines. Since many small wineries receive little public exposure – most of the ones at this event do not have tasting rooms – and individually most have a limited marketing budget, working together has made sense. For California's Garagiste Events organization, producers must make no more than about 1,500 cases of wine per year to qualify.
Since 2011, there have been regular Garagiste events in Paso Robles in the fall, and tastings have been added in Santa Barbara County ("Southern Exposure") and in Los Angeles ("Urban Exposure") as well as the "Northern Exposure" event held in Sonoma. Nearly 600 producers have participated in Garagiste tastings since their inaugural event. Proceeds from the festivals' silent auctions are donated to the Cal Poly San Luis Obispo Wine and Viticulture Program and are used toward granting scholarships as well as creating other opportunities for students in the program there. In addition to their various tasting events, the Garagiste Wine Festival organization has recently launched their own wine club.


Grand Tasting General Impressions
This was the fourth annual Garagiste Wine Festival: Northern Exposure tasting held in Sonoma. There were 42 producers that participated in this year's event, just about the same number as at their previous tasting in Sonoma, and the vast majority of the wineries on hand were from California's broad North Coast region.
The Garagiste event is always a great opportunity to check out producers that I haven't tried before. I made it to 20 winery tables at the tasting this year – of those, nine producers were entirely new to me and another five were ones I'd only tried once or twice before or hadn't tried in many years.
The Selected Tasting Impressions below don't cover every wine I tasted at the event, but include the wines I felt were most noteworthy, with some from each winery table I stopped at. Favorite producers this year included Cutruzzola, Kendric, Kobler, Lussier, Montagne Russe, Ricci, Sosie, and Weatherborne, while a few others including Anthesis, Cazadero, little x little, Passaggio, Stringer, and The Grenachista were just a notch below those favorites. Overall I felt the quality of wine was quite high across the board at this tasting.
You'll find few if any tasting events in California that feature so many "under the radar" wineries as the Garagiste Wine Festival. It's a great opportunity to discover smaller wine producers who are making very good wines. If finding new wineries is something you'd like to do, be sure to check out one of the upcoming Garagiste Wine Festival events and make some of your own wine discoveries!

Favorites
Anthesis 2016 Alder Springs Vineyard Picpoul Blanc
Calstar 2021 Christina's Vineyard Pinot Meunier
Cazadero 2015 Bei Ranch Cabernet Sauvignon
Cutruzzola 2018 Riven Rock Estate Riesling
Gondak 2019 Campbell McKinney Vineyard Grenache
Kendric 2018 Estate Syrah
Kobler 2017 Kobler Family Vineyards "Estate Reserve" Syrah
little x little 2020 Teldeschi Vineyard Carignan
Lussier 2019 Roma's Vineyard Pinot Noir
Montagne Russe 2018 Old Lakeville Road Syrah
Passaggio 2017 "GSM Red Wine"
Ricci 2018 Estate St. Laurent
Sosie 2016 "Block K5" Stagecoach Vineyard Cabernet Franc
Stringer 2019 Ghost Block Yountville Cabernet Sauvignon
The Grenachista 2019 Mounts Family Vineyard Grenache Noir
Weatherborne 2019 Alder Springs Vineyard Grenache
Others of Note
Burning Bench 2014 Moon Hill Vineyard Pinot Noir
Cazadero 2011 Mountain Terraces Vineyard Cabernet Sauvignon
Cutruzzola 2017 Riven Rock Estate "Giocomino Reserve" Pinot Noir
Dane 2019 Buddha's Dharma Vineyard Chenin Blanc
Kendric 2018 Estate Pinot Noir
Kobler 2020 Kobler Family Vineyards Rosé of Syrah
Lussier 2020 Green Valley Vineyard Chenin Blanc
Marchelle 2019 "Old Vine Red"
Montagne Russe 2018 Roberts Road Pinot Noir
Passaggio 2021 Sonoma Valley Sangiovese Rosé
Pine Mountain 2019 Estate Cabernet Franc
Ricci 2021 Estate Rosé of Pinot Noir
Ricci 2020 "Cesta Cuvée"
Sosie 2017 Spring Hill Vineyard Pinot Noir
Stringer 2019 Napa Valley Cabernet Sauvignon
The Grenachista 2021 Sonoma Valley Grenache Rosé
Weatherborne 2019 Anderson Valley Pinot Noir


Selected Tasting Impressions
I'm posting selected tasting impressions here from just a few of the producers whose wines I tasted at the Garagiste Wine Festival: Northern Exposure event – notes on all 20 wineries I tasted with are in the full Grape-Nutz.com report. The producers below are all ones that I had never tried before, and their wines impressed me.
Anthesis Wines
Winemaker Sandro Tamburin and his wife Breanna are the proprietors of Anthesis, and their first vintage was from 2016. Breanna is the daughter of Ray D'Argenzio of D'Argenzio Winery in Santa Rosa – it's the sister winery of Anthesis and the wines are made there. I tasted three wines at the Anthesis table, and I thought that both of their orange wines – white varieties fermented on the skins like reds – were highlights. The fruit for both came from Alder Springs Vineyard in far northern Mendocino County. The 2016 Alder Springs Vineyard Picpoul Blanc was fermented with 50% whole clusters, spending 15 days on skins – this had savory aromas along with stone fruit and orangepeel notes, a terrific texture with bright acidity and a touch of chalky tannins on the finish. The 2016 Alder Springs Vineyard Falanghina was 100% whole-cluster fermented for 30 days, and though not quite as expressive as the Picpoul, it also featured savory, earthy, and spicy character, with a bit more grip on the finish.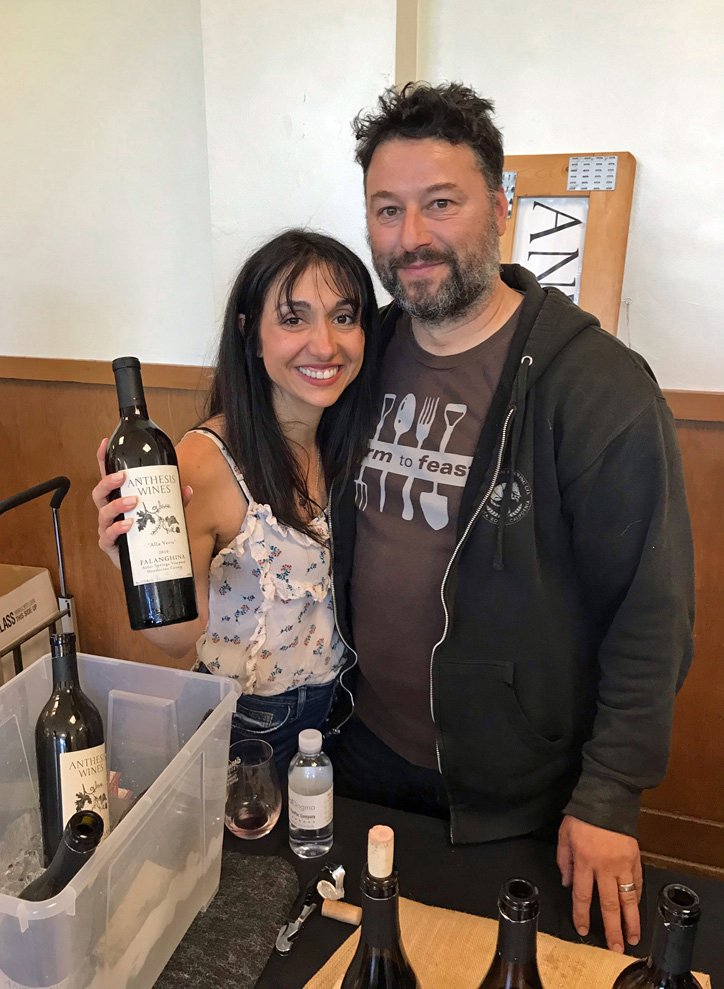 Cazadero Winery
Frank & Ronita Egger established their winery in 2008, and it specializes in Chardonnay, Pinot Noir, and Cabernet Sauvignon from the western Sonoma Coast, not far from where Frank's grandfather planted a vineyard in the 1920s. The Cazadero wines are made in Healdsburg. The 2019 Parmeter King Ridge Vineyard Chardonnay, from the Fort Ross-Seaview AVA, showed bright citrus and green apple fruit, spice, and floral undertones, medium-bodied with a lively finish. I tasted two of the four Cabernets being poured at the table, and both were standouts. The 2011 Mountain Terraces Vineyard Cabernet Sauvignon, from the Moon Mountain AVA high above Sonoma Valley, displayed currant and plum, dried herbs, earth, and spice aromas, with medium weight, good acidity, and nicely-resolved tannins. The 2015 Bei Ranch Cabernet Sauvignon, from a site near the Egger's property on the Sonoma Coast, was even better, with darker color and fruit profile, lots of spice and herb notes, little overt oak influence, and fine tannins – delicious now but should continue to develop nicely with more cellaring.

Kobler Estate Winery
The Kobler family planted Rhône and Burgundian grape varieties in their vineyard in Green Valley of Russian River Valley in 1996, and they founded their own label in 2010. Michael Kobler manages the vineyard while his sons Mike and Brian run the winery. The 2020 Kobler Family Vineyards Rosé of Syrah, made in stainless steel, was one of my favorite rosé wines of the tasting – very light color with floral and strawberry aromas, vibrant texture and a fresh finish. The 2018 Bacigalupi Vineyards Pinot Noir showed classic Russian River Pinot character with its cherry, cola, and spice aromas, medium weight and fine tannins. A particular highlight was the 2017 Kobler Family Vineyards "Estate Reserve" Syrah – savory herbal notes along with pepper and dark berry fruit, this was fairly full-bodied with firm tannins, an impressive young Syrah that deserves further aging.

little x little wines
Longtime friends Will Gondak and John Mulroy teamed up to establish little x little wines in Sonoma County, one of the newest labels at this event. Gondak Cellars and little x little shared a table at the tasting. The 2020 Mangels Vineyard Chenin Blanc from Suisun Valley in Solano County featured apple, stone fruit, and floral aromas with medium weight on the palate and a lively mouthfeel and finish. The 2020 Teldeschi Vineyard Carignan, from Ray Teldeschi's vineyard in Dry Creek Valley, was earthy and brambly, with raspberry, spice, and stony mineral notes, medium-bodied with firm tannins on the long finish.

Lussier Wine Company
G.W. Lussier has worked at Pahlmeyer and Williams Selyem, and he launched his eponymous label with the 2019 vintage. He sources fruit from cool-climate vineyards in Anderson Valley and Green Valley of Russian River Valley, producing Chenin Blanc and Pinot Noir. The 2020 Green Valley Vineyard Chenin Blanc from Solano County Green Valley, was made in neutral oak, and displayed apple, spice and earth aromas with floral undertones, nice texture and a lively finish. A standout was the 2019 Roma's Vineyard Pinot Noir from Anderson Valley – fermented entirely with whole clusters, this was very savory, with red fruit, flowers, and touches of tea leaf and forest floor, fine structure and a lively finish. Tasty now, this should develop nicely with further bottle age.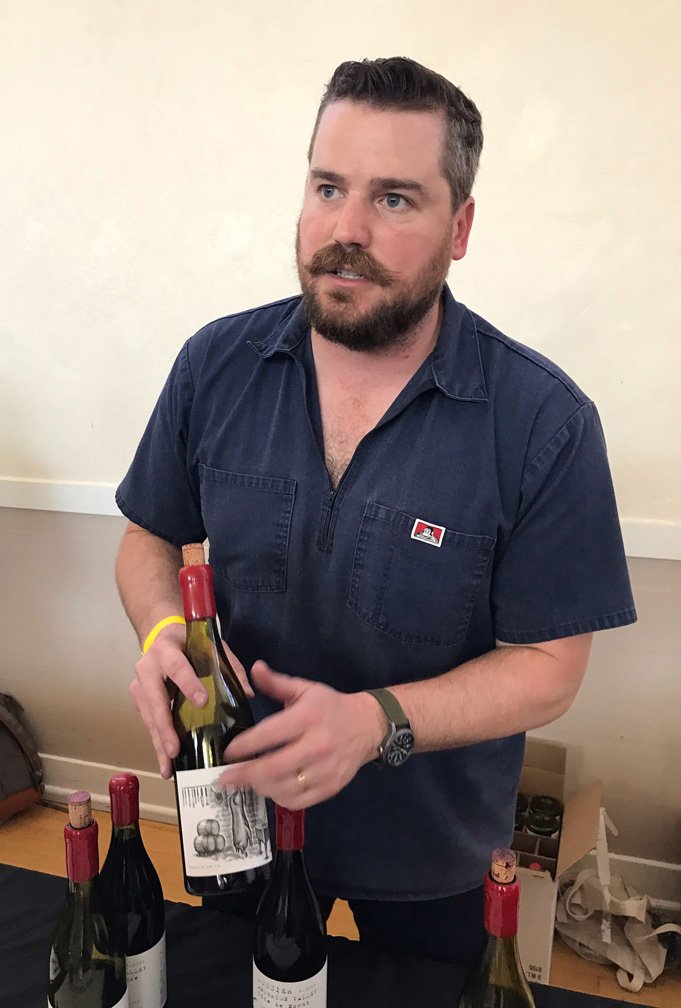 Stringer Cellars
Stringer owner / winemaker Casey Stringer worked at wineries in California, Oregon, and New Zealand before establishing his own label with the 2015 vintage. Fruit sources are mostly from Napa Valley and also from Sonoma and Santa Barbara counties. The 2019 Kick Ranch Sauvignon Blanc, from a site in Sonoma's Fountaingrove District AVA, was made in neutral oak, and showed citrus and herb aromas with floral undertones, medium body with a lively finish. The 2019 Napa Valley Cabernet Sauvignon – 96% Cabernet Sauvignon and 4% Petit Verdot – was sourced from several vineyards. Bright currant and plum fruit, spice, and understated vanilla/oak, this had good structure and moderate tannins. The barrel fermented 2019 Ghost Block Yountville Cabernet Sauvignon was a bigger, bolder wine yet more focused, with dried herb, spice, and plum and darker berry fruit, great texture on the palate with firm tannins – this deserves more bottle age for further development.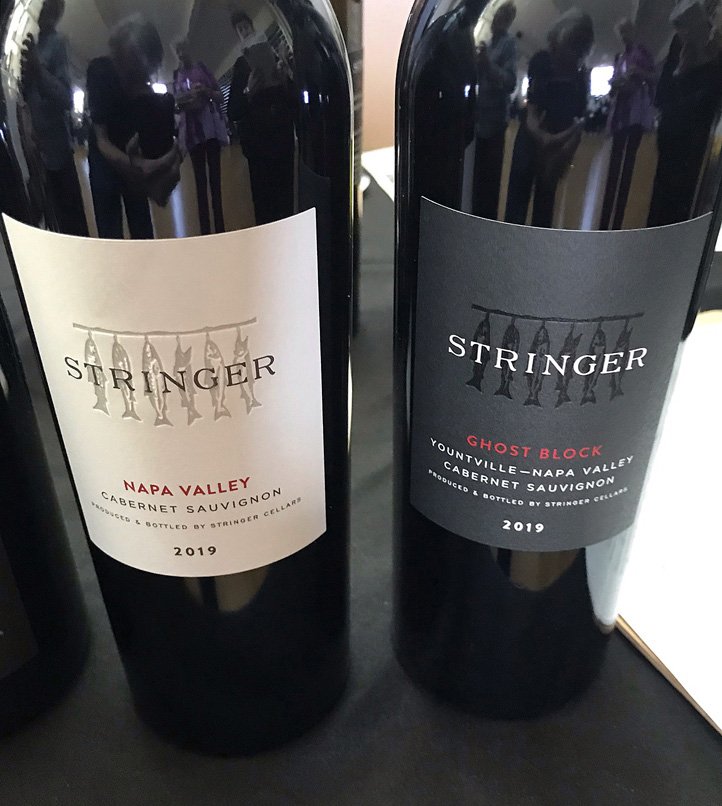 The Grenachista Wine Company
Casey Graybehl has worked for wineries in Napa and Sonoma, and he launched his Grenachista label in 2013. The focus is exclusively on Grenache – both Blanc and Noir – and the winery works with vineyards in different parts of Northern California to produce a number of bottlings and styles of Grenache. I started out with the 2021 Grenache Piquette (piquette is generally made by adding water to grape pomace and fermenting it into a low-alcohol beverage) – this was distinctive, light and a bit thin in texture, with subtle red fruit and earth aromas and the slight fizz typical of this style. The 2021 Sonoma Valley Grenache Rosé was another wine with aromas that were more subtle than bold, with strawberry and watermelon notes and floral undertones, fine acidity, and a bright, fresh finish. The 2019 Mounts Family Vineyard Grenache Noir, from Dry Creek Valley, fermented with whole clusters, showed a light hand with this variety and featured bright strawberry, spice, and dried herbs on the nose, with medium-light body and a lively mouthfeel and finish.