I just spent last week in Napa, on a trip to celebrate my dad's 65th birthday. As he hadn't been to Napa in over 30 years, he was really excited to get out there and visit some of his favorite wineries. I was every bit as excited to go out there with him. Luckily, the weather cooperated the whole time and we had an absolutely fantastic trip. We took our time, so no more than three winery visits per day, and made time for some strolling around St. Helena, driving around the countryside, etc. to round things out. We had some great meals while we were there, too. In an effort to just have fun and enjoy the time with my dad, I didn't take any notes on the wines. So, these are mainly impressions of what stood out, along with my recall of what we tasted (which I do think is pretty accurate).
We got into Napa waaaay late on day 1, due to mechanical problems on two separate United flights on the way there. So, we didn't get to do any tasting that day, but we did manage to make it to Mustards Grill for their final seating, at 9pm. After three visits ordering rabbit dishes, I finally ordered the Mongolian pork chop and it was outstanding. My dad ordered a halibut special and raved about that. We were exhausted, so just split a 375ml of 2004 Godspeed cab (from Mt. Veeder). It was a little disappointing - pretty straightforward, without the structure or complexity I expected given the appellation.
Day 2 started at Joseph Phelps with a tasting on the terrace. Our hostess, Geraldine, was super friendly and knowledgeable and the views of the vineyards from the shaded patio area were fantastic. We tasted two adequate chardonnays (the '11 Fogdog and the '11 Freestone) before moving into the reds. The '10 Freestone Pinot Noir was pretty nice, while the '10 Syrah wasn't particularly memorable. However, the '10 Cabernet was really good. Despite the price increase in recent years, it's still a good QPR for Napa cab and I'll be looking for some at retail (which will surely be less than the $65 winery price). The '09 Insignia was promising but just so young, while the '05 Insignia was showing very well. I don't play in that league but, if I did, I would want a few bottles in my cellar. We ended with the '11 Eisrebe, Phelps' dessert wine. It was lovely and not the least bit cloying.






After a tasty lunch at the Oakville Grocery, we headed to Shafer. As has been reported by others, their tasting is a bit more formal - even stiff - but the wines are excellent. We had the same host, John, as we had when I visited with my wife 4 years earlier. Unfortunately, this time he seemed more inclined to talk about the business side of things - as well as Doug Shafer's book - rather than the vineyards or the winery's 'green' initiatives (which I found particularly interesting last time). I didn't care for the chardonnay, but the '10 merlot was showing very well, with more structure than I recall in some other recent vintages. The '10 One Point Five cab was very youthful and needs to integrate its oak over the next few years. The '09 Relentless syrah (w/ 20% petite sirah) was very dark and delicious, and the '08 Hillside Select was a great, if not up to the '04 we had on my last visit. We ended with tastings of their cab port, which didn't do much for either of us.






We hit Bistro Jeanty for dinner, and took a bottle of Mike Smith's 2009 Scarlett cab (from Rutherford fruit). I decanted the bottle into two large water glasses (lacking a decanter!) for 2 hours before we went to dinner and it was still HUGE and brooding when our appetizers arrived. At hour 3, though, it seemed to transform and, while still a big wine, it became much more pleasurable. It was still too big for the food (we both ordered a special – rabbit wrapped in pancetta served over pappardelle with fresh peas) but we loved it just the same.
Day 3 began with the library tasting at Montelena. Just one other couple in attendance, so we had a good chance to ask questions and chat with our host. The '12 sauvignon blanc was decent if unremarkable, while the '10 zinfandel was a nice, mid-weight version that would be a terrific pizza or burger wine. If available at retail for less than the $39 winery price, I wouldn't hesitate to buy some. Then we moved on to a flight of the estate cabs. The '05 showed fairly earthy and we both agreed that there was a touch of green that seems to keep showing up in some of the more recent '05s we've had. I talked with Mike Smith about this the next day and he seemed unsurprised, noting that many winemakers are not high on the vintage. Guess I'll be drinking my '05s sooner than anticipated, if that's going to be popping up in other '05 cabs as the baby fat recedes. Anyway, by comparison, the '06 estate cab was quite tight. I tried to coax something out on the nose but with little success. The palate was relatively subdued, as well. I wouldn't touch this for at least a few more years, but still don't see it competing with some of the better vintages from Montelena. The '07 estate cab was clearly the best of the trio, and by a good stretch. That wine was firing on all cylinders and our host was generous enough to pour us another taste as he showed us around the estate at the end of the tasting. Somewhat surprisingly for a Montelena, I think this will drink very well young. I'm not sure what that bodes down the road, and my dad expressed some concern about whether the '07 has enough structure for the long haul. I'm not sure, but it should give plenty of pleasure over the next 10 years.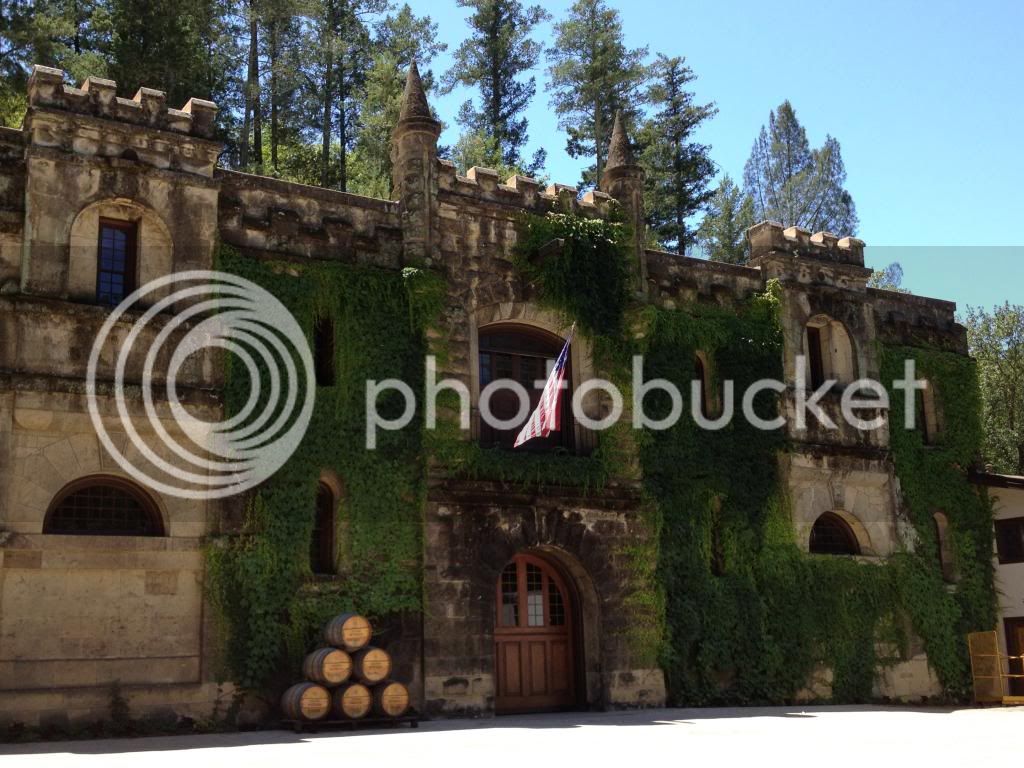 After a quick picnic lunch, we headed to Larkmead for our second tasting of the day and met up with Sonny, who had given my wife and me such a great tasting a few years ago. The winery was fairly quiet this time, a nice change to the hectic feel and big groups that were there when I visited back in September. In response to my requests, we were taken on a tour through the winery and the new addition, and also rode out through the vineyards, with Sonny sharing lots of interesting tidbits along the way. I don't think those are standard parts of the tour anymore, and neither was offered during my visit in the fall. I'm not sure either would've happened this time, either, had I not specifically asked. The tasting itself (sandwiched between the tours) was relatively brief, with only 3 wines poured - a white and two reds. In comparison, I was served 3 reds (including a Solari) there in September and tasted 5 wines (a sauvignon blanc, a syrah, a Firebelle, an estate cab, and a Solari) during my first visit 4 years ago. Without the tours, and with fewer wines being poured, I'd have to say that the tasting is no longer worth the $ - especially when one of the wines poured is not available for purchase during the visit (the Firebelle). That said, all three wines were delicious. The '12 Tocai Fruilano was light and lovely – a perfect summer white! The '10 Firebelle is the best version I've had – really complex and ready to go, but with plenty of life ahead, too. Again, it's too bad it's not available for purchase without joining the club for a minimum case purchase (6 Firebelle and 6 cab). It's also had a steadily increasing price tag over the last few years and is currently $75…$25 more than when I purchased the '06. Oh, well. The '10 estate cab was exceptionally good and true to the Larkmead style. Their cab has been such a consistent wine over the last 9-10 years and, to my palate, is one of the best under-$100 wines made anywhere. That one is available at the winery and is offered at $70 (although a staff member mentioned it might go to $75 next year).






We had our final tasting of the day at Corison, which was a new stop for me. We did the library tasting, which was graciously offered by Hardy Wallace. Unfortunately, Hardy was away during our visit so we didn't get to meet him. When we arrived, we were led out back to the vineyard and got a short history of the winery before tasting inside in the barrel room (which appears to also serve as the retail and tasting space). We sampled the '01, '05, and '09 Napa cabs, followed by the '00 and '06 Kronos Vineyard cabs. For both of us, the '01 Napa was the clear winner – a really special wine with good structure and acidity, that doesn't lose sight of the fact that it's made from Napa fruit. The '05, like the '05 Montelena, showed some green/eucalyptus-like notes on the back end that weren't present in the other four wines poured. The '09 was good but very much a puppy at this point. We both liked the Napa cabs more than the Kronos cabs, although the '00 Kronos made a pretty good showing for a wine from that maligned vintage.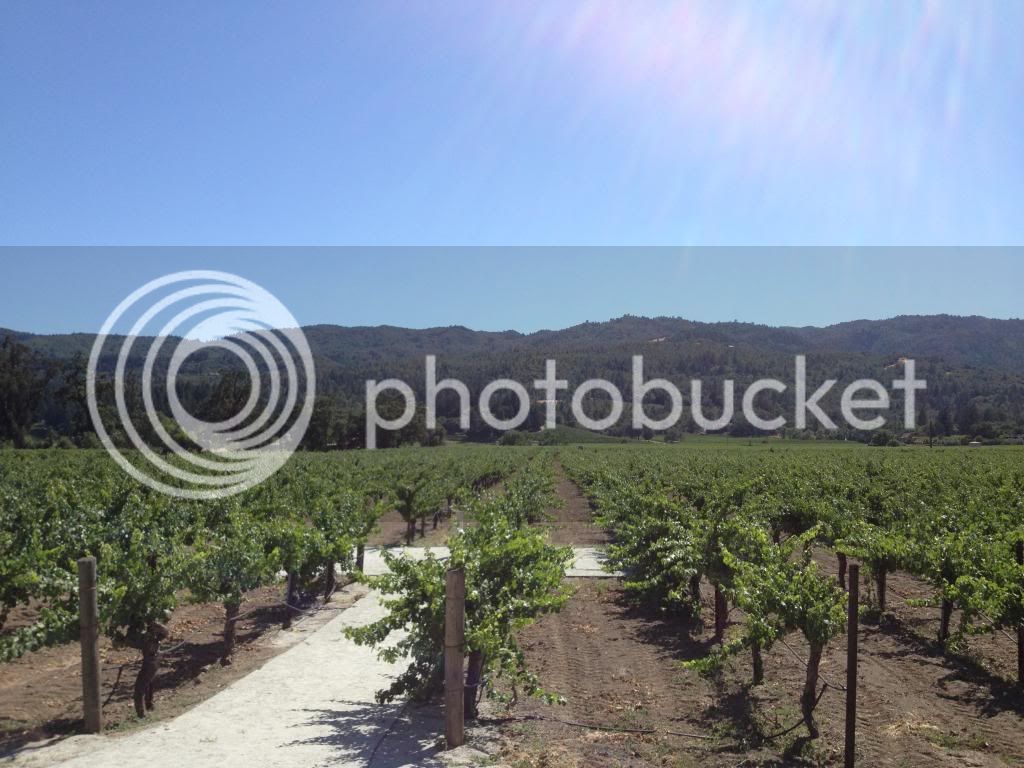 Dinner that night was at Oenotri. We started with a selection of delicious salumé, after which we shared a pizza with pancetta and a very delicate piece of halibut (my dad seems unable to resist ordering halibut!). The wine list was impressive, especially the Piedmont section. We ordered a 2005 Produttori di Barbaresco Ovello Riserva, which needs about 15 more years to come into its window. However, we happily struggled through. The wine was decanted, swirled vigorously and repeatedly, and enjoyed over 2.5 hours. The tannins were substantial and seriously drying, but the nose was beautiful even at this stage. I wish I had a case of this resting in the cellar for my 65th birthday.
Day four got off to a good start, with a tasting with Mike Smith at Envy/Carter. My wife and I had a great tasting of the Quivet, Myriad, and Carter cabs and syrahs with Mike back in September. This time, Mike opened the '12 Myriad semillon, '11 Quivet Pellet Vineyard cab, '11 Myriad Georges III cab, and '11 Myriad Dr. Crane cab. The Semillon is another good summer wine – light and apple/pear/melon-esque. The cabs are all promising, with the Dr. Crane delivering the most at the moment. I'm a fan of GIII vineyard cabs in general and think Mike's '11 will be very good if the compressed mid-palate fleshes out with time in the bottle (I believe these cabs were all bottled about a month earlier). We then went barrel sampling. We tried the Patiné pinot noir, followed by the Ancillary pinot noir. My dad preferred the Patiné for its elegance, while I preferred the Ancillary for its incredible fruit. Both were excellent and I expect to purchase both when they're released (in October, I think). We ended with barrel samples of the '12 Myriad Dr. Crane Reserve cab. To be brief, this is a great wine in the making. If your spouse and/or bank account allow, don't miss it when it's released next summer. It was great to hang out a bit with Mike after the tasting, grabbing some lunch in Calistoga before going our separate ways. He's such a down-to-earth, genuine guy who really seems to love what he does.






Next up was a tour and tasting at Schramsberg. The cave tour was interesting and informative, and was followed by a tasting in the cave itself. The Blanc de blancs and Brut Rosé (both '09s) were tasty, if a bit sweeter than I expected. The J. Schram and J. Schram Rosé (both '05s) were very yeasty on the nose – enough so that my father didn't enjoy either of them. I liked them, but probably preferred the Blanc de blancs the best of the four sparklers. We finished with a tasting of the '09 J. Davies Diamond Mtn. cab. Maybe it was due to following four sparkling bruts, but the cab really seemed overly sweet and creamy with no indication of its mountain fruit origins.






We ended the day with a terrific visit with Merrill Lindquist at her home/EMH vineyard. Merrill was, once again, a very generous host and we surely overstayed our welcome. As our visit coincided with a 'first day of summer' soirée, we were treated to some of her delicious cooking and got a chance to meet her very charming daughter, Emily, as well. After a taste of the 1980 Kathryn Kennedy Santa Cruz cab (which was interesting, if past peek to my palate), we thoroughly enjoyed tasting the '09 'regular' Black Cat and '09 Special Selection. As they were in separate glasses, I got to go back to them several times and went back and forth re: which I preferred. The '09 'regular' has such a great nose, while the Special Selection is a fuller-bodied wine with a little more oomph. Both are terrific. As she had been to the winery that afternoon, Merrill also let us try barrel samples of the new NV 'Little Black', '11 'regular' Black Cat, and '11 Special Selection. The 'Little Black' is a tasty medium-bodied cab and a good QPR, and both of the '11s Black Cats showed well despite their youth. In fact, the '11 Special Selection was very good, and will give the '09 a run for its money, I believe. If you've got some coming, rest assured you'll be happy.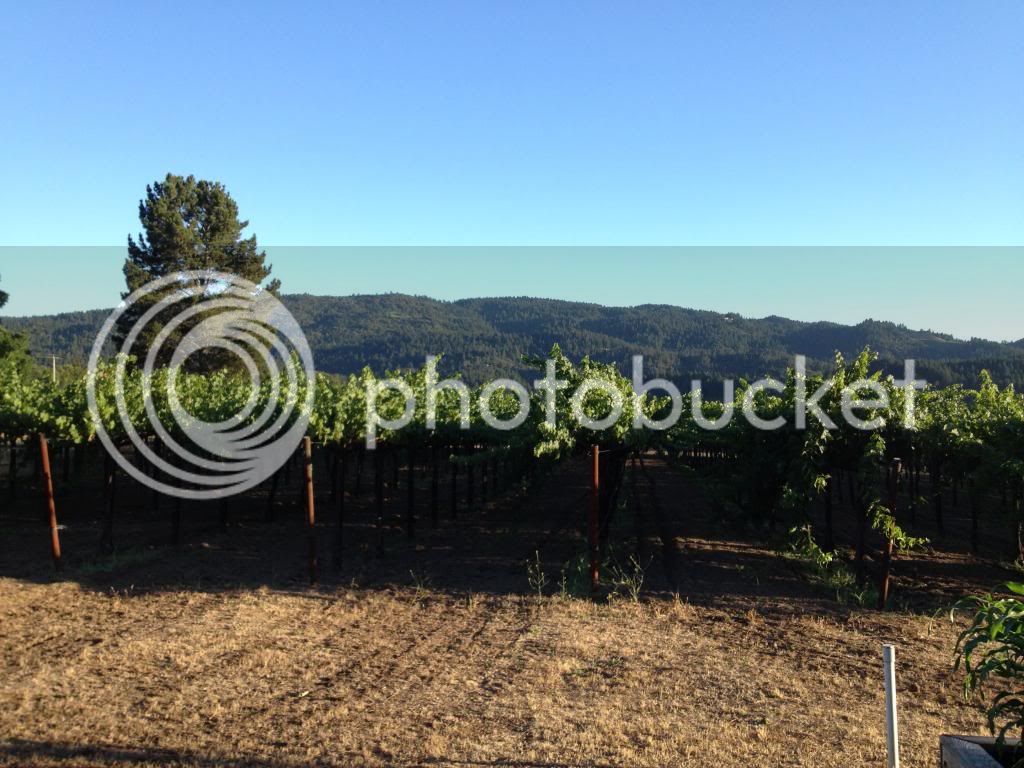 Our final day began with a visit to Seavey Vineyard. Bill Seavey has retired from the business, which is now run by his children. His daughter, Dorie, was our gracious host for our two-hour visit, during which we also met two of her brothers, Art (the GM) and Fred (who was working hard in the vineyard). We toured the winery and vineyards, heard some of the winery and personal history, and then settled in for a terrific tasting. The best purchase I've made from Lot 18 was a pair of vouchers for a "cheese, chocolate, and wine" tasting at Seavey. In anticipation of that tasting, Dorie had prepared some plates with chocolates from places near and far, as well as a very interesting selection of cheeses. In fact, I need to find my tasting sheet, as I plan to track down 2-3 of the cheeses. Anyway, the wines were exceptional. The '10 merlot was a great surprise – a wine that was very approachable but with nice structure and a deft balance of alcohol, acidity, and tannin. Nice long finish, too. I bought one to bring home and ended up taking it to dinner than night, instead. That bottle just got better and better over the two hours we drank it. In the end, I felt it was the best $45 I'd spent on wine in a while. I will certainly be ordering some more when cooler shipping weather rolls around. There were also three cabs in the tasting – the '05 Caravina, the '10 Caravina, and the '09 Estate cab. I would gladly drink any one of them, any time. There was no hint of green in the '05 Caravina, which is drinking very well at present and is consistent with the '04 (which has been one of my go-to bottles over the last two years). The '10 Caravina is also quite good and relatively open, although I suspect it will reward a few years in the cellar and should hold for 10 or more. The '09 Estate cab is a little less exuberant at present but showed lots of promise, coming across as an amped up version of the Caravinas. We thoroughly enjoyed our visit, both the wines and the people, and enthusiastically recommend scheduling a tasting the next time you're out in Napa.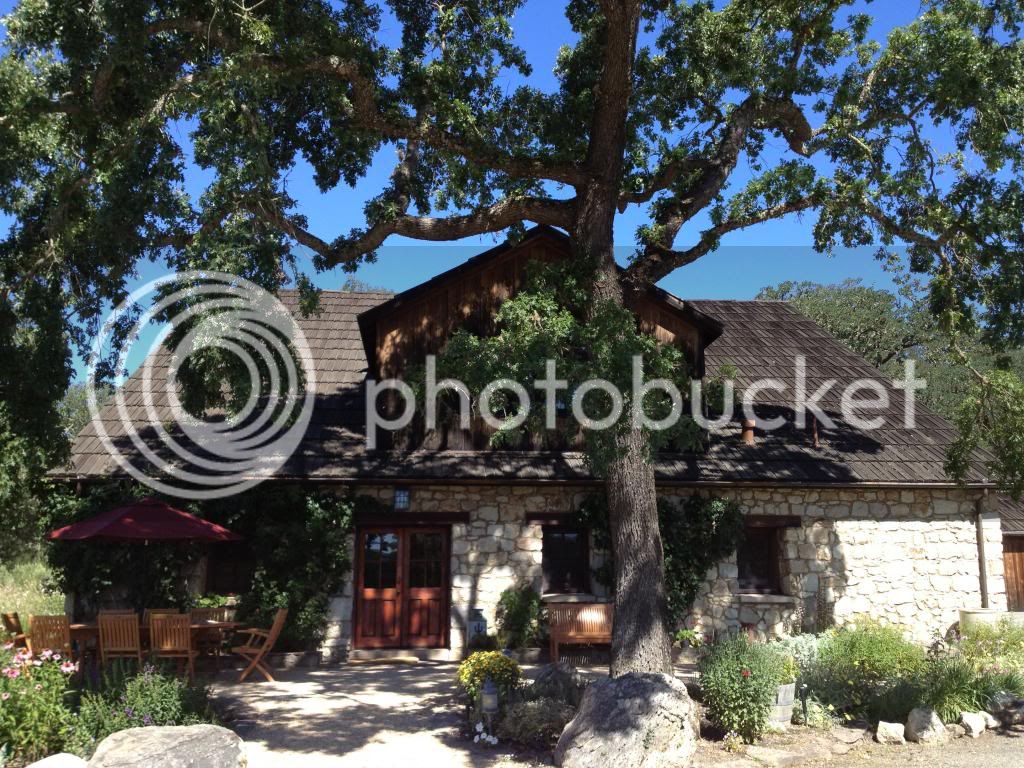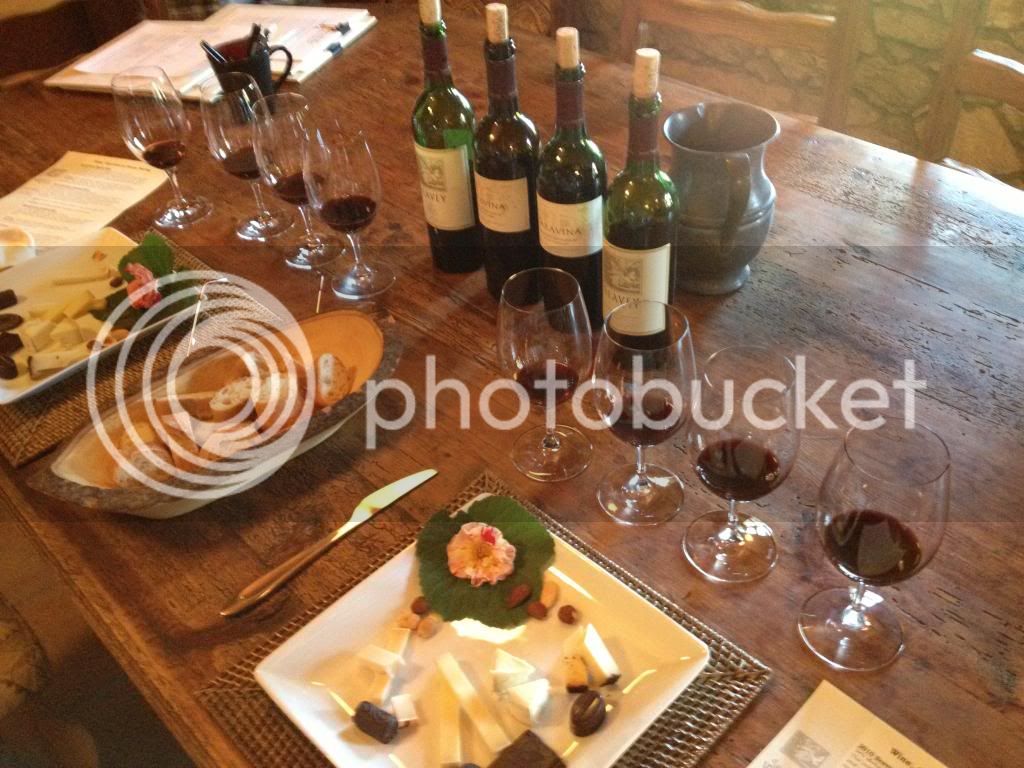 Our final winey visit was at Anderson's Conn Valley Vineyards, just down the road from the Seavey property. Totally different feel there. No need to go into details, but I will say that we both preferred the down-home vibe at the previous winery. In any case, the wines were all very good, and a few were absolutely stunning. We tasted the '11 sauvignon blanc, '11 chardonnay, and '10 pinot noir before moving on to the Bordeaux varieties. The '10 Right Bank and '10 Estate cab were both terrific, and the '09 Éloge was even better. What a nice wine! I'd prefer to lay these down for several years, but you could certainly enjoy any of these three in the near future, too, if that's what your palate prefers. We then tasted one of the wines from the 2007 Block Series of cabs, although our hostess seemed slightly confused about which block and clone it was (or maybe just had difficulty communicating it?). In any case, it too was very good. Since we were tasting in the cave, proceeded to move over to the barrels and sampled a '12 merlot that might very well be the wine of the trip. It was mind-blowingly good. Really. However, there's apparently just one barrel of it and there's uncertainty about whether they'll release it as a "Signature Series" wine (priced like their Signature cab, at $125) or to use it for blending. I sure hope it gets released on its own, although our hostess seemed to imply that they're hesitant to budge on the Signature-level pricing and aren't sure there's a market for $125 Napa merlot. Anyway, we next tried a barrel sample of the '11 Éloge. This was a step behind the '09 Éloge, but was still a very, very good wine and I would be happy to own some. The last wine was the '09 Ghost Horse (we were told it was the $500 cuvee which, unlike the other three Ghost Horse wines, apparently doesn't have an additional moniker). This was truly outstanding and was very distinct from the other cabs/cab-based blends we had at ACV. The grapes apparently come from a vineyard in Coombsville, near Todd Anderson's home. If not for the '12 merlot, this might have been the wine of the trip. It's definitely on par with other premium Napa cabs in terms of quality…I'm just not sure it's worth paying more than twice what it costs for Shafer HSS. Not that it's a problem for me, though; both are out of my current budget!






We wrapped up the trip with a 'last supper' at Cole's Chop House. We both ordered ribeyes, which were superb and paired well with the aforementioned '10 Seavey merlot. We also shared what was undoubtedly the biggest baked potato I've ever seen. Just enormous. The waiter told us they weigh 20 oz. and I believe it. The meal and the service were both A+ and it was a perfect way to end the trip.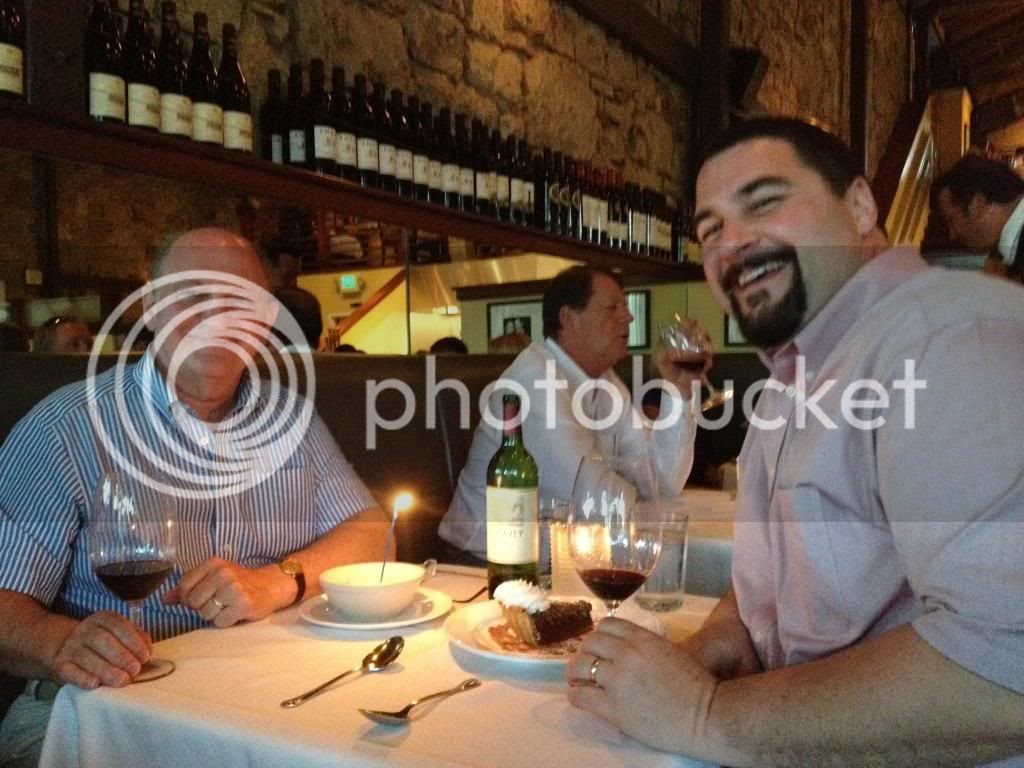 I'm so glad to have taken this trip with my dad, and I'm sure we'll never stop referring to all the great wines, food, and people we encountered. Thanks to everyone who gave us advice, invited us for tastings, and/or welcomed us to share a meal with them. We had a fantastic time!