Some new features were introduced around BerserkerDay, so I put them aside during the madness, but now they have been implemented, and I wanted to showcase the one I selected a bit, as they allow for some fantastic customization of your usage here.
Notifications: The Notifications menu (click your avatar, that's your notifications) now has tabs for each type of notification so when you're looking for those two recent replies but have gotten a few more recent likes and mentions, you can find them easily without navigating away from the current page.
Counts for different types of unread notifications are shown on each tab so you can see at a glance what kinds of things may be waiting for you. Dismiss a subset of notifications on a given tab when you want to clear one out but still want to follow up on the others.
Click the pencil icon next to the categories or tags sections to be taken to your sidebar preferencespage to add categories or tags to your own sidebar. Counts for new and unread topics are shown alongside any categories and tags you choose to add to your sidebar.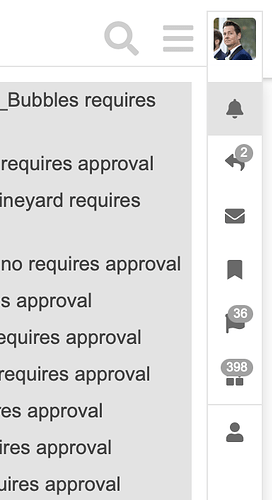 (you can see mine is packed with users that need approval, yours won't look like that, lol)