Below will be a blog from my recent time in Champagne. I will provide as many photos and facts as I can, but ask for your forgiveness in advance if my details are not perfect. My wife joined me, being a real champ as my better half going on all the Champagne visits with me, except for the Friday. In saying that, I was taking photos, taking TNs and trying to listen as we tasted with what was most often with the domaine owner/winemaker. In the midst of all that, and on my first trip to the area, I offer this blog. I will work through a total of 9 visits, with 6 in what I will call the 'north', so think of the Montagne de Reims and the Valle de la Marne. And then 3 visits from the 'south', so think of the Aube. The two 'areas' are about 90 mins apart, as the Aube is really closer to Chablis then it is to Reims/Epernay. We did not have time for the Cote de Blancs, unfortunately. I made appointments for all of these visits well in advance, using email that I had written in English, then translated to French. Many of the domains speak English, some better than others, and I was able to get along OK most of the time. Finally, it would be remiss of me not to thank Greg and Scotty at Envoyer, as without them, I would have never discovered the producers that will follow in my report. All 9 of these producers sit within my own personal cellar thanks to the hard work from these guys at Envoyer. Let's begin.
We have just returned from 15 days in France. My wife and I celebrated our 18th anniversary, spending the first 5 days in Paris, then the next 6 days in Champagne, followed by the remaining 4 days back in Paris. We used a rental car that we grabbed in Paris and then we shot off on a Sunday afternoon for Champagne to get settled in. It's a thrill to drive in Paris for the first time, as the city seems to sprawl in all directions with pedestrians everywhere, along with intersecting and diagonally crossing streets. Of course, none of it is in English so what saved my ass in getting out of the city (and returning the car too, which was a real test of patience and navigation) was the onboard vehicle nav. god, that was a blessing to have.
During our first Paris bookend of the trip, we dined out at some of the recommended spots that I could capture from the threads in the Epicurean Exploits forum. We could not get into Septime but we were able to get into both Saturne and 6 Le Paul Bert. Below are some photos of the menus and some of the food. I won't bore you with all of the meals so it will be just these, along with L'Assiette. The meal at Saturne was 8 courses, priced at 85E each. We also did a bottle of Chenin, as recommended by the somm. The list is deep at Saturne, mostly wines from the natural/bio camp, which I support and enjoy anyway. As for Les 6 Paul Bert, this was an a la carte menu, with a great wine list and my wife and I shared a glass of Pascal Douquet 1er, which own in my cellar, too. Les 6 Paul Bert was a great lunch, about 1/2 the price of Saturne as well, and I thought a better value. Both were excellent, and I could see the creativity in both. I'd recommend both to anyone going to the city. And finally, one more restaurant was L'Assiette, which we did with another couple from California who happened to be in the city at the same time. We ordered a bunch of things but what makes L'Assiette notable is the cassoulet. That is one helluva hearty dish that I could eat once a week. I geek for white beans (which I will explain in later in the blog when I cover Semilla, which was the best dining of our entire trip) which is such a core part of the cassoulet.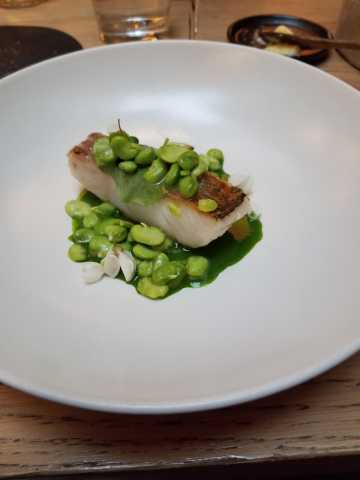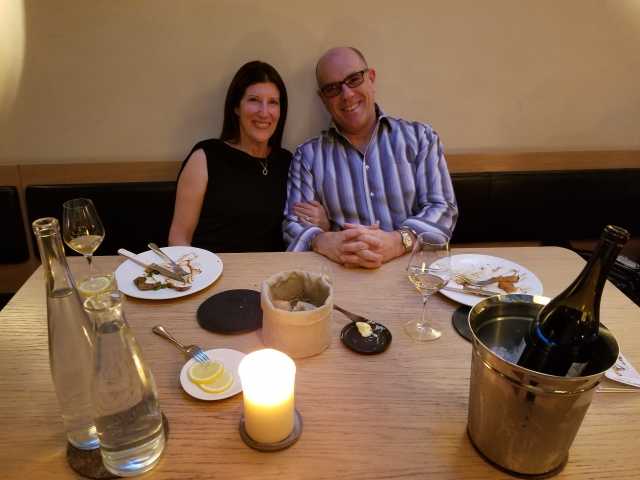 This was the Chenin wine we had at Saturne:
2015 La Grapperie Le Pressoir de Saint Pierre Coteaux du Loir - France, Loire Valley, Coteaux du Loir (5/12/2018)
The Somm picked this for us, as I asked for something comparable to a Chidaine Sec. From what I can gather about the approach to the wine, it is farmed bio/organic and nothing is added to it, meaning the winemaking approach is pretty minimalist. This started out a little rough with the first glass and then it really came together over dinner. While my wife drank just about one glass total, I polished the whole bottle off myself. When the wine had settled, this became all about acid, with line and pink grapefruit, flint and nectarine. Medium weight, nothing glossy or heavy but simply a wine that paired well with the various courses and one I was happy to finish. FWIW, despite drinking a lot of water during the meal, the alc on this must be low/well managed as it didn't wipe me out (as say something at 14% or more could to do me).
Posted from CellarTracker


And the Pascal Douquet we drank:
NV Pascal Doquet Champagne Premier Cru Arpège Blanc de Blancs - France, Champagne, Champagne Premier Cru (5/12/2018)
Distorted 03/16, dosage 4.5 g/l. 100% Chardonnay, 62% 2010 and 38% 2011. Green apple, lemon, grapefruit, yeasty and steely yet this has some richness, too. The dosage seems perfect for the parts, giving it some light custard in the palate as odd as it may sound.
Posted from CellarTracker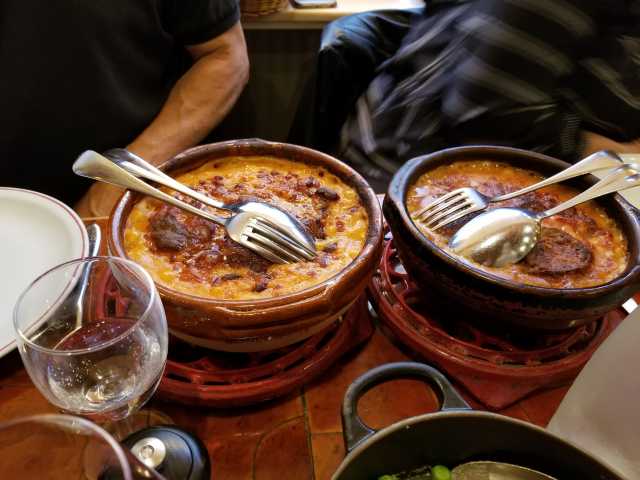 We drank a Cornas with this meal, which showed average to me. The list at L'Assiette is fair, although they had some Huet that caught my eye:
2014 Domaine Courbis Cornas Champelrose - France, Rhône, Northern Rhône, Cornas (5/12/2018)
Started off a bit stinky with what seemed like reduction. This blew off after about an hour and the wine filled in, too. Decent complexity of red fruits, light game, spicy, some violets (?). Medium weighted, and quite smooth and approachable.
Posted from CellarTracker
Before we left Paris, we walked in to La Cave, which is on the second floor of a building near the Opera House. La Cave is probably the nicest, most blinged shop I was in while in France. I will say that 520 in Epernay was better, as it was nearly all Champagne that was full of so many small producers of the area. I will have photos of that in my blog later on. For now, here are a few shots from La Cave, from the 1st Growth room as I named it. I am sure some of you will enjoy these, especially Alf Jr.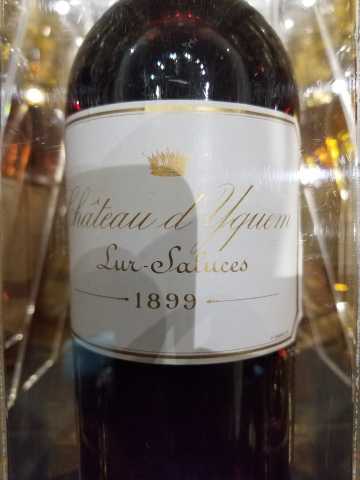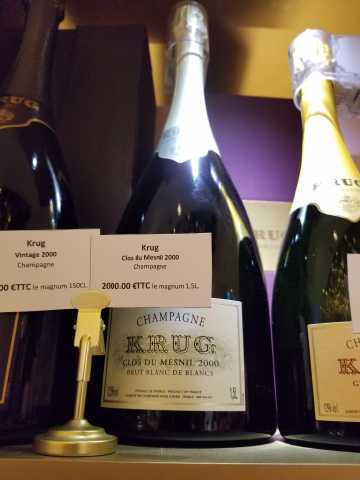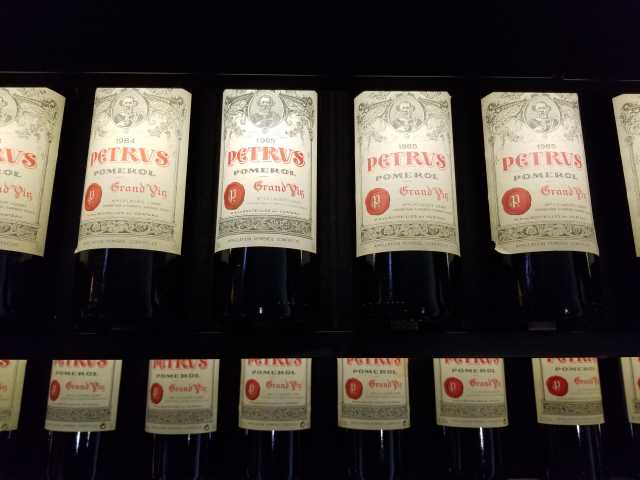 Once out of Paris proper, it's a ride east and north for about 90 mins to the northern edge of Champagne. Think Reims and Epernay as the main points on the north map. Our goal for the Sunday out was to get to a very small village in the Montagne de Reims called Rilly la Montagne, where we were going to stay for the first four nights. Within Rilly, we had reserved a room within a place called Les Bulles Doree, which is actually an extension of the small champagne house of Didier Herbert. Didier expanded out and up from the front of the domaine to add 4 rooms, creating a B&B environment that was cool and rustic. The day we arrived was cold and gloomy, as it was for the next few days thereafter. We did not taste the range at Didier Herbert because we had too much on our plate with a AM and PM domaine visit to do each day. We enjoyed the breakfast and then blew out of the B&B to get where we were going.
Rilly, along with the rest of the villages, sit along a small 2-lane road called D26, which starts at the base of the Montagne de Reims. You can drive it east from Rilly, clear through to Bouzy before you need to make some decisions (either next to the Valle de la Marne or to the Cote de Blancs). Below are some photos of Rilly that show what is pretty common for the 6-8 villages along D26 (Verzy, Verzenay, Ambonnay, etc). Small, quaint, quiet, without street lights, horns, traffic and all very clean and tightly laid out. They all essentially sit at the base of the tree line of the Montagne, wedged into the hill. It reminds me a bit of the Santa Lucia Highlands out here in California, just without the mountain heights. Once you drive through one village, within 2-3 mins, you are driving out the other side and back into the vineyards before the next village arrives 5-10 mins later. Just stunning. Below are some shots to give you some perspective.