I did them last summer; did two 1/2 lb patties. There's high fat content so beware of flares.
It has changed the amount of cooking I do for the better
tri tips are out of this world. i got 2 boxes originally and came back to get 2 more…oh well. when i run out i will order again. really fantastic everyone loved them.
Do people do smashburgers with this, or is that considered a waste?
I did smash burgers with mine from last year. Not sure if that is some faux pas, but they were great!!
Do you cook 3/8" thick Wagyu steaks too?

Tried the tri-tip for the first time (due to divine intervention or genius, I can't say). As if anyone else needed to pile on, it's pretty amazing. Y'all weren't joking.
Did the reverse sear and later cut it into small bites and the rest of the steak into roughly 3" x .5" batonnets. Hot sear to medium+ (diners' preference) and – hot damn – when I took a bite, was I taken back to trying A5 Miyazaki for the first time at Raku in LV.
Also, I'm a filet HATER, but they do a really tasty one. It has good beefiness (not just iron) with some iron on the finish. I did this one on the rare/medium rare side and the texture was phenomenal. I might not pick this one for myself, but I'll still sneak a bite or three if it's requested

Posted my pics in the other Morgan Ranch thread. It worked out perfectly!
Got my not-so-small box yesterday, stoked to grill some of these up on Friday.
We had out filets last night for a Valentine's Day dinner. Great taste and will order more.
I was out this time due to lack of freezer space and not really liking any of the combos. Carrie, maybe next year you could consider some other options for customization? Or smaller set offers we could combine into a larger one? I'd have loved a rib plate but don't really have any way to use a full packer brisket these days, for example, and would have happily paired a plate with some rib steaks. I also don't really like tritip steaks but love a whole tri tip.
In any case, have enjoyed your beef in the past and hope to reload again next time!
Adam,
Thank you for the suggestions. This idea may be easier now that we've got the new site up and running. We are always looking for a way to make it easier for our customers!
Also, be on the look out for a couple of new products hitting the site over the next month or so.
Carrie
i did smashburgers and now, the kids won't eat any other type of ground beef, say these were the best!
Looking forward to it!
With the new website hopefully you've fixed the email list subscribe function? I've tried subscribing many times since I ordered a couple years ago to no avail. I need to know when you're having sales!
Cross-posted in the Steak Porn thread, but I'm working my way through my BD box. Tri-tip up for tonight.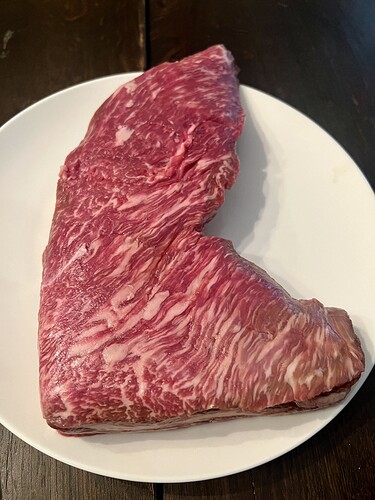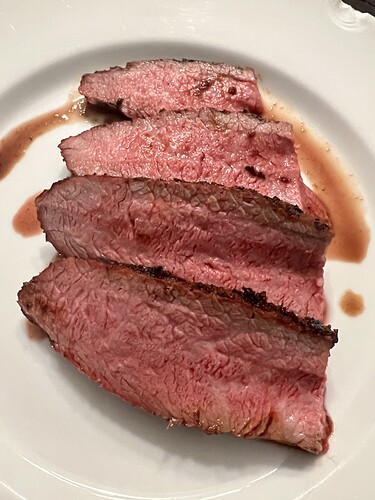 Made one of the smaller tritips tonight that was part of the offer. This will be my go to steak. Seared in cast iron pan till 120 and a 5 minute rest to perfection