Today's lunch, 20 July 2009, was at Sala with the Stockbroker, Doc and J-Lab. The Stockbroker planned it to be a Burgundy lunch, but the Doc asked if I wanted to try something new to me, and, of course, I said yes.
With my usual starter of Twice Baked Soufflé of Prawns and Feta Cheese with Dill…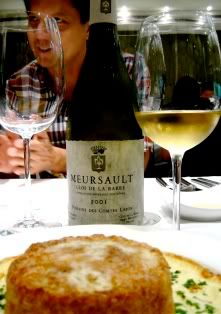 2001 Domaines des Comtes Lafon Meursault Clos de la Barre - the Stockbroker's bottle. I am no Stranger to Meursault. It is a 16.1 square kilometer commune in the Canton of Beaune-Nord, Côte de Beaune, 3 kms. south of Volnay and 3.9 kms. north of Puligny Montrachet. Though there is a bit of red wine produced within the general area (i.e., Volnay-Santenots Premier Cru), Meursault is famous for its white wines made entirely of chardonnay. Though there are deservedly famous premier crus in Meursault (e.g., Les Perrières, Les Genevrières and Les Charmes), there are no grand crus.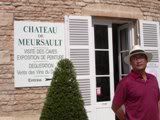 I've only stopped by Meursault once while in Burgundy (I'm more interested in the wines of Chassagne and Puligny Montrachet), and did a tour and tasting with my wife at Patriarche-owned Château de Meursault. Their wines were fair to good, but nothing really interesting, their paintings interested me more.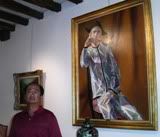 Clos de la Barre is a 2.1 hectare monopole of the subject domain, the vines of which are 50 years old (0.8 ha), between 30 and 25 (0.8 ha) and the remaining portion recently replanted in 2004.
The subject wine's nose, after warming in the glass, was open and displayed a typically toasty-nutty (think toasted, unsalted almonds), minerally aroma with hints of vanilla over slightly baked apple and a breath of lime. In the mouth, it was firmly structured, moderately minerally and just slightly buttery in the nervy and fresh almondy fruit. The toasty vanilla/oak notes in the nose took a back seat on the palate.
Very nice. Lively, bright, cleansing acidic balance. I hadn't had a good Meursault in a long time, so this was very timely.
With my main course of Sous-Vide Squab with Seared Foie Gras, Horseradish Potato Purée and Port Wine Jus (yes, I know, it seems like I order nothing else here)…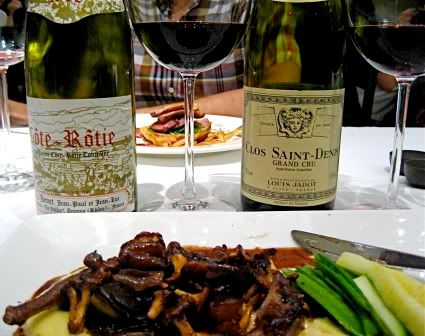 1999 Louis Jadot Clos St-Denis Grand Cru - My bottle. I previously opened one of these during the long wine day of 15 May 2009, but over-decanted it badly. The Stockbroker had told me that he'd like to try it again un-decanted, so I gladly obliged. My previous notes were:
1999 Louis Jadot Clos St-Denis Grand Cru - My bottle, a wine I hadn't tried before and wanted to test since I've enjoyed quite a number of '99 Burgs last year. Though previously untested, I was pretty confident opening it over lunch since Jadot is a pretty reliable maker and I happen to like the generally earthy, rich, somewhat rustic, masculine wines from Morey-St-Denis.

Clos St-Denis is a grand cru (the highest rank in Burgundy, followed next by premier cru) enclosed/walled vineyard (i.e., "clos", pronounced "kloh", the ending "s", as in many French words, is silent) west of center in Morey St-Denis, across the road from the town's larger, better known grand cru, Clos de la Roche.

x x x x x x x x x x x x x x x x

The subject wine was quite high-toned upon opening so I decanted it - something I haven't seen anyone do in Burgundy, the Loire and Alsace in the times I was there* - because I figured it was pretty young for a grand cru, especially one from Morey St-Denis. In around 40-45 minutes, it opened up with more typical earthy, slightly meaty, truffled fragrances. At that point, in the mouth, it had admirable heft, depth of fruit, earthiness and a clearly masculine, serious, somewhat severe character. I must admit I then neglected refilling my glass of this wine until after my main course was finished (and I eat quite slowly, mind you). When I returned to it, it had been sitting in my decanter for over 2½ hours and had noticeably tightened, thinned and become very crabby - grudgingly handing my palate a mouthful of dark, tart cherries touched with violets.

I absently complained about my wine, prompting both the Stockbroker and J-Lab (who disagreed with my somewhat precipitately harsh assessment) to gently chide me for decanting this wine at all, moreso for so long. Ok, ok, mea culpa, we'll re-taste this in the near future without decanting. Judgment reserved.
Today, the wine presented a bouquet of violets, black cherries, cassis and dark raspberry. In the mouth, it mirrored its bouquet cleanly and deeply. I could say elegantly as well, but in a decidedly masculine way. It's still drinking quite young and somewhat primary, no hints of burgundy decay yet detected. I'd say check again in another 5 years.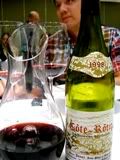 1998 Jean-Paul & Jean-Luc Jamet Côte-Rôtie - the Doc's bottle, served blind. As usual, I was way behind the others, still enjoying the last of my starter and the rest of the Meursault, so the Stockbroker and J-Lab had at it before I. Besides, the Doc had previously said it was something different for me, so I didn't even try to identify the wine. When it comes to reds, outside Bordeaux and Burgundy, I'm pretty much flying blind.
The Stockbroker, with a few sniffs and a couple of sips nailed it as a Jamet Côte Rôtie, but guessed the vintage to be '99 instead of '98 - still, I was most impressed. J-Lab said it had to be either a Côte Rôtie or an Hermitage - also impressive.
Its bold, earthy, mildly smoky bouquet expressed garrigue (emphasis on thyme and lavender) over meaty, faintly peppery and bacon fat-flecked dark raspberry and blackberry. In the mouth, the bouquet held true with added nuances of cassis, beef blood and iron. Much heftier, denser and more concentrated than the above-described Burgundy. Just a couple of shades before being chewy. Confident, just the right amount of push, good finish. A very complete wine, and excellent with my squab.
We all skipped dessert and had our double espressos and coffees.
Great lunch, guys. All working weeks should start like this. Until the next…