The Ladd Cellars Berserker Day 13 Offer!
I make Chardonnay and Pinot Noir from West Sonoma Coast, Sebastopol and the deep end of the Anderson Valley. I also make Cabernet Franc and Tempranillo from the Sierra Foothills…higher elevation vineyards with interesting/complex soils, picked early for complex & refreshing wines.
Chardonnay overview:
This is from a single vineyard of 45 year old vines, on the coast between Sebastopol & Occidental. The old vines and the vineyard soil & position make possible the combination of excellent acidity with excellent depth and density. That's a rare combination and is something that distinguishes top Chardonnays, esp white Burgundies. This shows here, and it's what I credit for the multiple Michelin Star placements I've gotten.
Style/character: yellow apples (& green apples, mostly yellow tho), citrus & peel, bits of white peach, with saline & savory elements. Higher acid/structure, deep concentration, a relatively low amount of oak, a med to low level of ripeness and little/no 'fruity sweetness' that CA wines often have. Because of this and it's savory character, tasted blind it's often picked as a Meursault or Chablis by folks in the business, esp the 2018.
Note on pop and pour: sometimes these will show a bit of tropical fruit as an 'inital act'. With air it'll settle down to the 'main act' mentioned above. Both are appealing, but to help it get to the 'main act': I'll open it an hour or more ahead, pour some into a 2 cup pyrex glass measuring cup and pour it back in the bottle. It doesn't have to be pyrex of course, but lots of folks have them, and the pyrex pouring lip fits perfectly into the top of the bottle…I never spill because of this! Or I'll have a glass over several evenings and enjoy its evolution. This goes for my reds as well. I mention it here because usually folks don't think of giving Chardonnay air, but these and other top Chardonnays benefit from it.
The Mixed Chardonnay
One bottle each:
2015, 2017 & 2018 Sonoma Coast Chardonnays
A great trio. Each shows different aspects of the character described above, with a hint of (actual or apparent) oak. The 2018 was entirely in neutral oak barrels (the 2017 was mostly neutral), but it has a slight reductive character that comes across a bit of oak…this will go away with air and/or time in the bottle.
These really benefit from the time in the bottle! I expect all my Chardonnays to be 20+ year wines (my reds too), tho they're drinking well now, esp with air. This is due to a terrific/low pH (around or below 3.2pH is typical).
I'm happy to swap in a 2016 for one of the above if you'd like. Just mention that in the order comment section.
CellarTracker links: 2015, 2017, 2018


The 2019 Chardonnay 2 pack:
Two bottles of:
2019 Sonoma Coast Chardonnay
An excellent vintage of Sonoma Coast Chardonnay…the benefits of working with well placed old vines in exceptional soil. Picked at 21 brix and raised in all neutral barrels. Citrus and lemon rind, white stone fruit, yellow apples, minerality and saline character, no tropical fruit. Lots of complexity buried in there. Terrific balance where neither the acidity nor fruit/density hold sway over the other.
The Classics Chardonnay 2 pack:
One bottle each:
2019 Sonoma Coast Chardonnay
2019 Cuvee Voile Chardonnay
The 19 and 17 Cuvee Voile are vying for which is my best current chardonnay (note: I'm not allowing myself to open 2014 Cuvee Voile since I have so few, so excluded from the comparison). From two old vine vineyards that are far away from each other, yet are kissing cousins in character (the Sonoma Coast above, plus another NorCal vineyard with the same soil/ripening/position characteristics). Blending made the better wine, but required a California designation. I'll go for the better wine over the better label every time.
The voile character is extremely subtle, and is used to reveal more of the vineyard character (geeky: in addition to ethanol, fermentation produces glycerol, an alcohol that's one step away from being a sugar, and gives the wine a pho sweetness…the Voile consumes some of the glycerol, allowing more of the vineyard character to show through). Like the 19 Sonoma Coast, the 19 Cuvee Voile was raised in completely neutral barrels.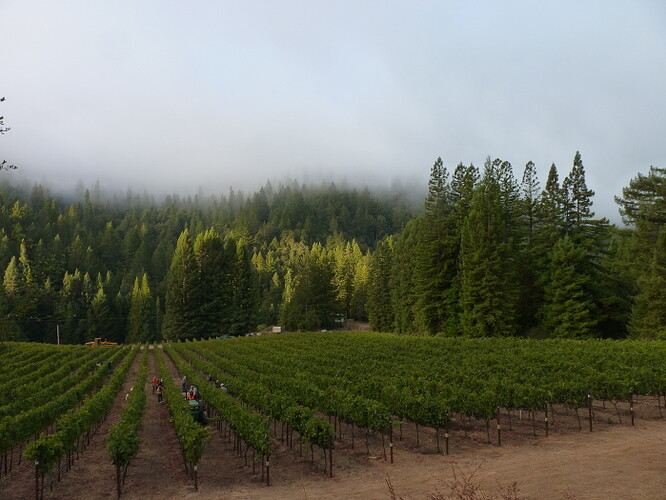 The Mixed Pinot 3 pack:
One bottle each:
2015 Moore Ranch, Russian River Valley Pinot Noir
2013 Pratt Vineyard, Sonoma Coast Pinot Noir
2012 Anderson Valley Pinot Noir
I got into wine in a serious way in the 90's drinking 'Burt' wines and other similar, prior to the big run up of alcohol and ripeness in the 2000s and on. It's one of my winemaking targets (the other being old world). These wines are all in that category.
The 15 Moore Ranch is extremely well balanced, dark red fruit and an amazing array of savory elements that open up and morph over the evening. One of my best Moore Ranch efforts (no CT notes, due to restaurant only while it developed).
A quintessential Sonoma Coast Pinot, Pratt vineyard has an excellent position & soil near the coast, with an excellent and interesting selection of clones (including the 'jackson' clone that UC Davis discovered up in the foothills, near my Zin vineyard!).
The Anderson Valley is also dark red fruited, forest floor and nuances, showing what I love about Anderson Valley, esp from vineyards with a good amount of shale in the soil.
CellarTracker links: 2013 Pratt, 2012 AV


The Classics Pinot 3 pack:
One bottle each:
2008 Cuvee Abigail, Sonoma Coast Pinot Noir
2008 Russian River Valley Pinot Noir
2014 Russian River Valley Pinot Noir
This group leans more to the old world side.
Even after all the years, these 2008's still improve on the second night (in the fridge over night). Both are great examples of the advantages of balanced winemaking with excellent RRV and Sonoma Coast fruit, and were picked in the low 23 brix.
Both my Moore Ranch and RRV wines come entirely from Moore Ranch. They are a separate set of clones, and separate picks for each. The Moore Ranch bottling gets the barrels that make it show best, but it's always been 90% MR intended bbls. Not so with 2014. I kept tasting through the barrels, trying to figure out a different interpretation, but the best/most interesting wine came from blending all those barrels, both MR and RRV intended bbls, together. Being a lot of wine, I decided to label it as RRV, rather than MR was the better option. I've never shied away from making a high/top quality appellation wine…heck, that's what I'm doing with my Chardonnay. More than anything else, I want Ladd to be something that folks to really enjoy and trust, so that's all good. But sometimes the outcomes are interesting and a but surprising…better than the alternatives tho!

I do think it's interesting that these are the wines that rose to the top during my fairly extensive tastings to determine who's in and who isn't, and where they go. But the results were unequivocal and that always makes me happy!
CellarTracker links: 2014 RRV, 2008 Cuvee Abigail, 2008 RRV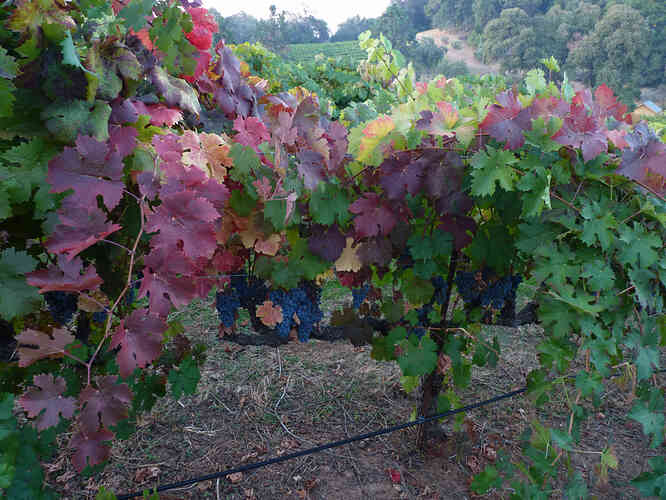 The Cab Franc Foothills Adventure 2 Pack:
One bottle each:
2017 Giesler Baron Vineyard Sierra Foothills Cabernet Franc
2019 Giesler Baron Vineyard Sierra Foothills Cabernet Franc
The Tempranillo Foothills Adventure 2 Pack:
One bottle each:
2017 Alney Sierra Foothills Tempranillo
2019 Alney Sierra Foothills Tempranillo
All four are exceptional wines, picked at ~22-23 brix with an interesting & balanced structure. Both are high elevation vineyards, in El Dorado, with excellent soils & 25+ year old vines.
These are a cross between a Napa and an Old World style, in an appealing and deep way. The 17s are more dark fruited, and the 19s are more red fruited. Showing well now, but they're still evolving and benefit from some air time.
Shipping:
Shipping is a flat rate, depending on the state: $4 in Ca, $6 in West Coast States and $8 for the rest of the country.
I can ship to the following states:
AZ AR CA CO CT DE DC FL GA ID IL IN IA KS LA ME MD MA MI MN MO MT NE NV NJ NM NY NC OH OK OR PA SC TN TX VT VA WA WV WI WY
Important: Getting my email through to you can be an issue. Keep an eye out for my email esp in your spam folder, or better yet put my email in your email whitelist, eric2010@laddcellars.com.
Please use the following link to order: Ladd Wine Order
Thanks for your interest!