In for a 6-er. As someone above said, great people and great wine!
This thread has motivated me to open one of my JB Neufeld 2018 Ciel de Cheval tonight.
Equally as excited for the Alder Springs as we are for a restock of Cab!
That was my first vintage of Ciel! Lemme know how its doing

and thanks for the support!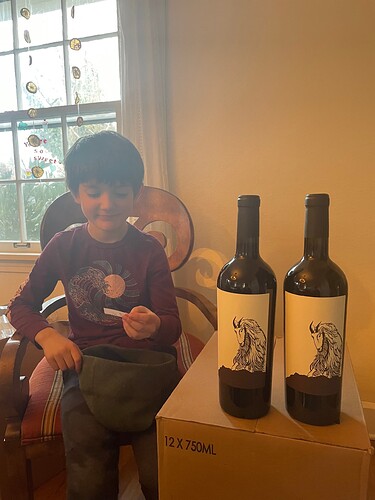 Jude says congratulations to ChrisMcElligott on winning the Old Goat Raffle!! Ryan_Snell, LeslieB and PaulE each will get a bottle of the Yakima swapped out for the Ciel. Thank you EVERYONE for the support! This was one of our best ever! Cheers!
Oh Wow! I never win anything

. Give that young man a raise!!!
Thanks a bunch Jude and Company for making my night!
Cannot wait to try your wines.
Thank you very much!
I had to check this thread to see what I missed since I was in a car wreck 2 weeks before Berserker Day and was still in ICU getting things realigned. Sounds like a great event and I appreciate the kind words from @Patrick_M , @brigcampbell , and @Justin_Neufeld.
I was able to visit Justin last weekend and we tasted the wines offered here as well as a couple of Old Goats, '19 and '20.
The '21 Yak Valley Cab is still young but all the pieces are there, it just needs time, I'd suggest at least 6 months, but 2-3 years is what I'll do,
The '19 Old Goat was tight, pop and pour but when open for a while showed a bit of it's stuff, Big wine, needs 5-10 years.
'20 Old Goat still in concrete. Wow, Justin nailed the blend, and while his Cabs represent the best of Yakima, this blend is other worldly NOW. I cannot wait to see it evolve once bottled and resting, This will be worth it when it gets here.
Best for last, '22 Sauvignon Blanc. First wine we tasted and my nose said pear, pineapple, a hint of citrus, mineral. The palate of this wine is complex and delicious, the best SB from JB so far, Buy as much as your summer cooler can store. At the price it is a steal.
Anyway, reviving an old thread to give a shout out to friends and rave about these wines,
Oh, I forgot to mention this but it is a true testament to the kind of people Justin and Brooke are. I was obviously unable to prune my small vineyard this year, so they brought their 3 sons over and they got it done. No call to Labor and Industry about age of the workers please, because the wine would dry up if J and B went to the clink, Thanks so much to the Neufeld family,
Thanks for the note. I bought the '21 Yakima Valley Cabernet on BerserkerDay, my first JB Neufeld purchase.
Along those lines, all BerserkerDay orders are supposed to be shipping in early May.
Hey Patrick,
So we are finally getting the 2021 bottled today. It was originally scheduled for April 27th, but my bottler had to bump me back for scheduling reasons. I should have posted that on here, but Brooke has emailed everyone personally letting them know. We will be shipping the orders out on Monday/Tuesday of next week. I will look at each area to make sure the temps are ok, but if anyone wants us to hold on to their order until the fall just let us know. Also, we are more than happy to refund anyone too. I know its a few weeks past when I originally said the wines would ship. Just let us know. Cheers!
Thanks for the update! Happy to hold mine until the fall, and glad you offered these futures in the first place.
6-pack arrived! Excited to try these! Thanks to the dynamic duo at JB Neufeld!