On Sunday my wife and I attended the Idlewild Sunday School, Valtellina Another Side Of Nebbiolo and it was a good one. I have only posted notes on a couple of the Idlewild Sunday School Events, not because they are not interesting, they have all been terrific but as there are lots of Nebbiolo fans out there (including me) thought this is one to talk about a bit.
The tasting is not meant to compare Valtellina to Piedmont, sure as you taste your mind makes comparisons but my notes reflect the wines as tasted on their own.
The Presentation started with a quote from Carlo Negri which fits the wines pretty darn well. "The wines of Valtellina are like the people of Valtellina. At first they are tough as nails. You really need to get to know them, give them time, give them food, and they will inevitably soften."
Some notes of interest of the area:
Valtellina's Chiavennasca aka Nebbiolo first written references date back to the 12th century though it is likely the variety was being grown in the region well before then.
Today it represents more than 90% of the grapes grown in the region
Stone Muretti, largely constructed by the ancient Ligurians, pre Roman Empire are found and used within some of the vineyards. It is amazing to see, (see photos)
The five viticultural sub zones of Valtellina are Sassella, Grumello, Inferno, Maroggia and Valgella.
On to the wines. All the wines (except the Dirupi) had bracing acidity and firm structure just as one would expect.
Nino Negri, Grumello, "Sassorosso" Valtellina Superiore DOCG 2013: Nice aromatics, red cherry, floral, sl green note. Flavors of cherry, spice, leather, earth and a touch of basil. Great acidity and tannins clamp down on the finish. Good now, needs time to soften a bit and knit the flavors together. Or drink with a hearty meal just as Mr Negri suggested

Nicola Nobili, Inferno, Valtellina Superiore DOCG 2012: Now we're talking. This wine had it all. Red and black cherry notes, herbs, some sage. Fruit was ripe and lively, spicy, some mint with bracing acidity and present but not overly aggressive tannins. Excellent balance, I really enjoyed this wine.
Dirupi, Vino Sbagliote" Sforzato di Valtellina DOCG 2015: Sforzato di Valtellina needs some explanation. The grapes are picked at full ripeness and then further dried in a temperature controlled room for 2-3 months losing 40% of their water, not unlike what happens to Amarone.
This is a powerful wine, dark cherry, clove spice, leather and mint. Tannins clamp down on the finish and there is some alcohol showing. This is obviously young but you need to like this style of wine to appreciate it. As explained this is a wine for sipping not gulping and I agree. The 16.6% ABV makes sipping the best option

Maybe while playing a game of bocce.
There was a palate cleanser served for a couple reasons, one to pivot from the Dirupi and also there was a birthday in the house.
Frederic Savart Bulle de Rose Brut Champagne: Heck of a nice palate cleanser. Nose was a mix of strawberry and almond marzipan, lovely. Strawberry and berry on the palate, sl brioche and firm acids and minerals. Very enjoyable. Back to the Valtellina.
Alfio Mozzi, Sassella, "Grisone" Valtellina Superiore DOCG 2013: Fragrant nose of cherry, strawberry, some tar and rosy florals. Flavors follow the nose, with some added earthy herbs. Young with good acidity and tannins are present but pretty well integrated.
ArPePe, Sassella, "Rocce Rosse" Valtellina Superiore Riserva DOCG 2005: Sweet ripe cherry nose with some tar and mint. Flavors follow with ripe cherry, tar, floral notes, earthy, some herbs and it is very savory, Great acidity, lovely balance, could drink this all night. More please.
Balgera, Sassella, Valtellina Superiore Riserva DOCG 1983: Ah, this was a treat. Decanted to a very light reddish brown, cherry, black tea and soy on the nose. Flavor holding up well, ripe cherry, tea, delicate mushroom and a brothy note on the finish. Velvety texture, some structure still present. Very nice example of a beautiful mature Valtellina Nebbiolo
Finally, Sam and Thomas poured the 2015 Idlewild Nebbiolo Fox Hill Vineyard as the presentation was finishing up. Cherry, berry, herbs tar and roses dominate. Flavors follow the nose with some added spice and mint. Very long persistent finish. Almost forgot to mention that the huge Gorgonzola Torta by Luigi Guffanti was awesome with all the wines!
Great presentation and tasting. Here are some photos from the evening. The topography of the area is pretty amazing and for sure you are near - in the Alps.
The audience of 25 or so people that attend these sessions is usually the perfect mix of Industry people (winemakers etc), wine geeks and non wine geeks, just people who enjoy wine. Always good interesting conversation about the wines.
The Line Up Of Wines (1983 Balgera, Sassella missing from photo)


Thomas, giving the presentation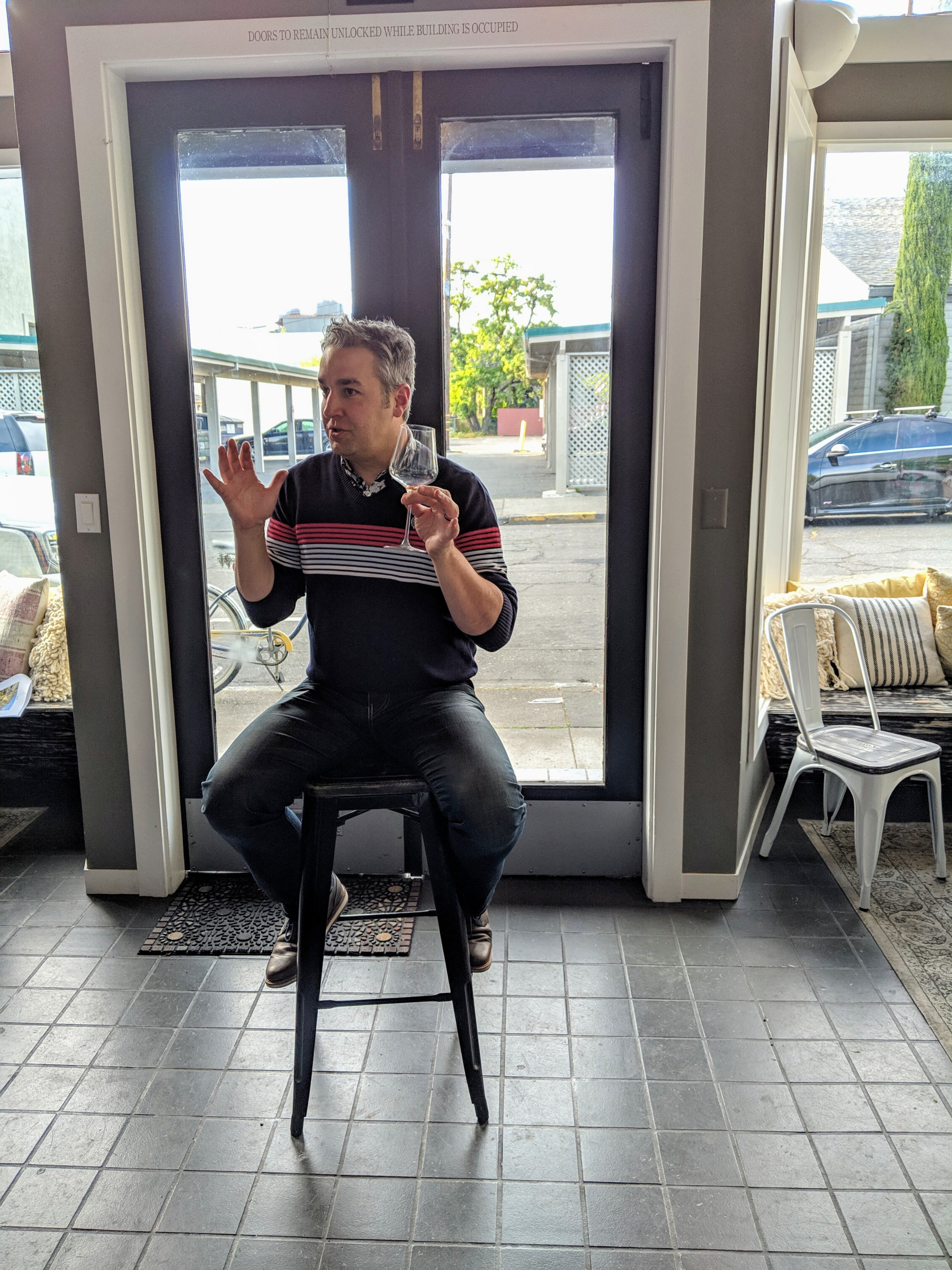 Huge Gorgonzola Torta before slicing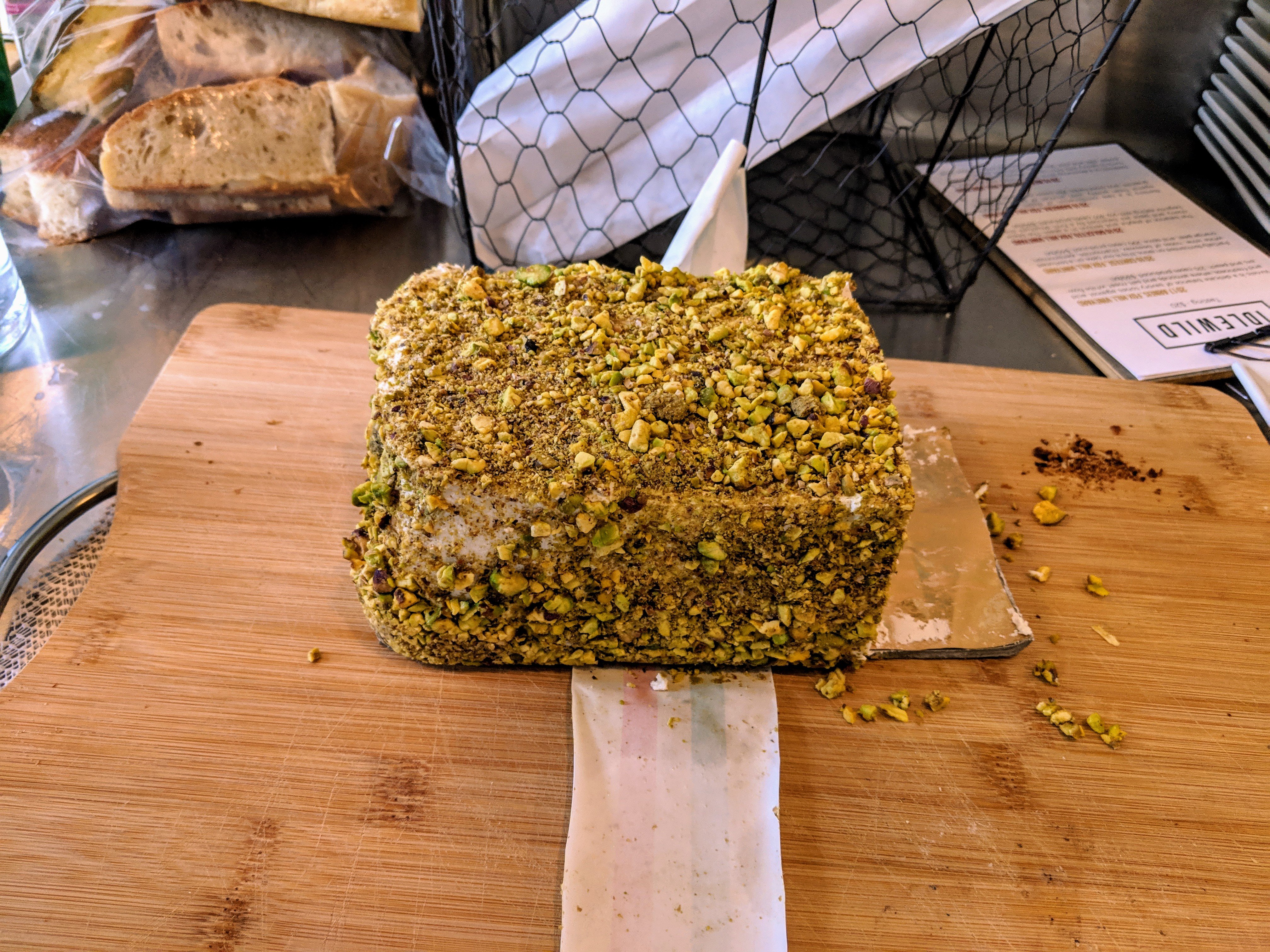 Stone Muretti within the steep vineyard


Stone Muretti plus cactus and succulents with snow cap alps in the background!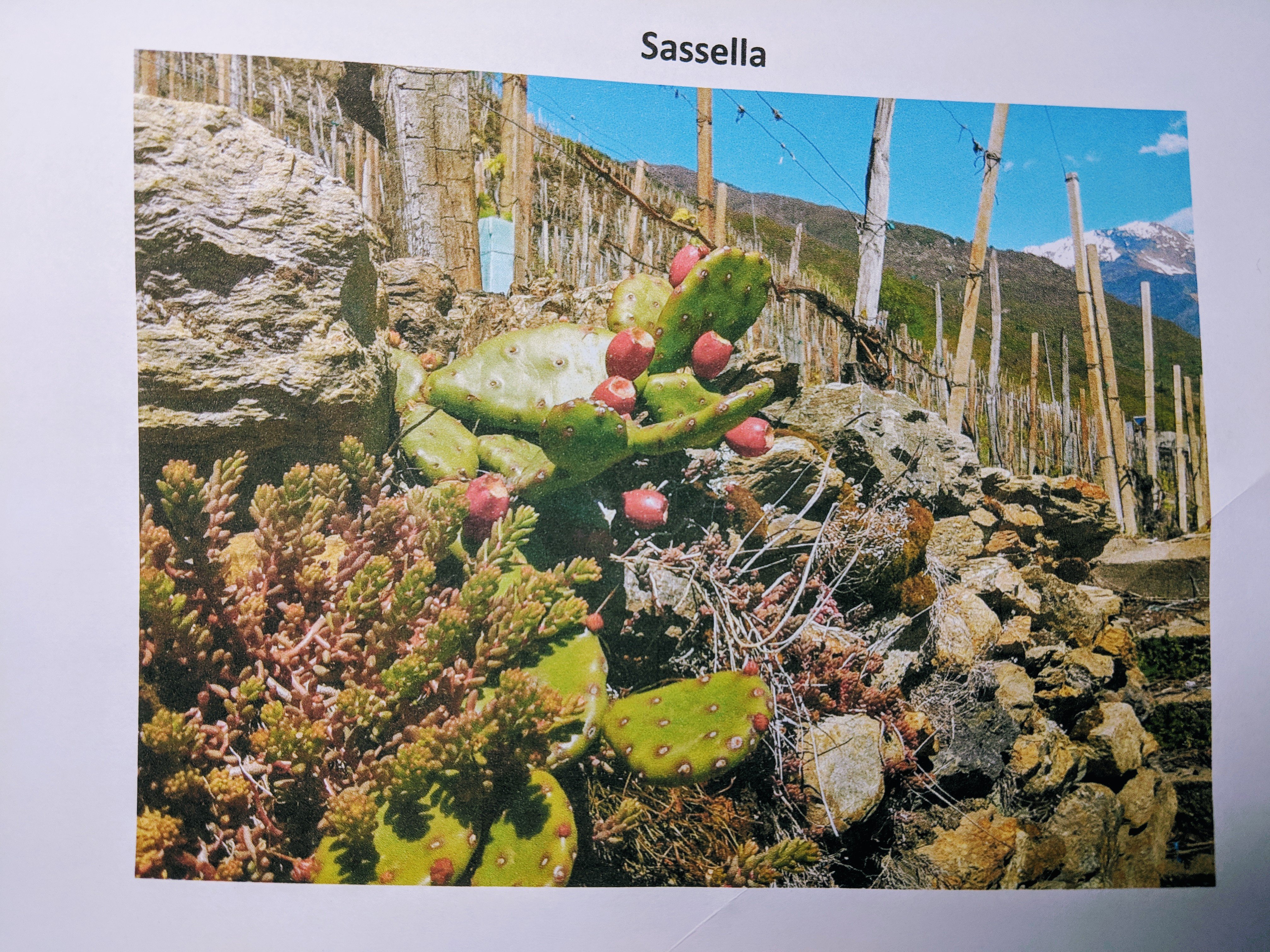 Steep Vineyards!


You are in the Alps! Winter time


Sassella