Le Marche was the Idlewild Sunday School for October, the area is one of my favorites in all of Italy. There is a lot of diversity in the wines and while many possess the ability to age they are also just plain tasty and often delicious. I think we often forget that all important trait as we go from wine to wine day after day.
There was a full line up of 10 wines but as is often the case there were a couple of additions, each with their own little story. It was a packed house, 30+ people attending so multiple bottles were opened. It was also a lively group with lots of questions, talk and interaction.
2016 Claudio Morelli Bianchello del Matauro DOC "La Vigna delle Terrazze": This wine sees about 12 hours on skins and is made in all stainless steel. Aroma of citrus, apple, sea air. Citrus, ripe apple, tangerine, soft herbal notes and minerals. Very fresh, good acidity there is a bit of grip on the finish which pulls this together nicely. Tasty start!
2018 Colle Stefano Verdicchio di Matelica DOC: Verdicchio from high elevation, 1500 ft. Very fresh nose, sea air, green apple and spice. Flavors follow, fresh green apple, saline, pomelo, spicy cardamon, minerals and a slight bitterness on the long finish. Bracing acidity provides the backbone for the flavors which are fully integrated. Very nice.
2016 La Marca di San Michele "Capovolto" Verdicchio dei Castelli di Jesi DOC Classico Supiore: Fermented in Stainless and aged 7 months in stainless steel tank. Minimal SO2 addition. Ripe apple and spice nose. Flavors of bruised apple and pear, spicy, light honey note, fennel, leesy-salty note. This wine had nice body and texture. Has the unusual quality of being rich but with great acidity. Very nice.
2015 La Staffa "Rincrocca" Verdicchio Riserva DOCG Classico: Fermented entirely in concrete. Very fresh floral, mineral nose. Lighter in body compared to the previous two wines. Melon, honey, chamomile, quince and spice with a strong savory (almost umami) note. These three Verdicchio wines, all very different show the versatility of the grape.
2017 Andre Felichi Verdicchio Dei Castelli di Jesi DOC: This was one of the additional wines brought by Scott Barber who has extensive experience with this producer. Macerated a few days on the skins; aged on the lees for 3 months. Vinification is in stainless steel tanks, then for 2 months in bottle before release. Scott spoke for a few minutes about this wine. Located equally between the mountains and the sea the vines see influence from both. Fresh bright nose of sea air, floral notes. Sweet ripe pear, almond paste, grapefruit pith, very savory and mouthwatering. This wine shows exceptional balance and can be enjoyed now or let it age.
2016 Boccadigabbia Ribona "Le Grane" Colli Maceratesi DOC: Here is something different. A rare almost extinct grape with a unusual vinification. Following a gentle pressing, the must ferments about 12 days at a controlled temperature in stainless steel fermenters. Following this first fermentation, whole grape berries, picked slightly over-ripe, are added to the wine. The resulting second fermentation, traditionally known at "fare le grane" (adding the berries), lasts a further ten or so days and allows increased extraction of compounds and aromatic extracts from the grape skin.
A bit reduced, tropical, mango, orange peel nose. Flavors of ripe pear, sweet citrus and melon. Very spicy, grassy, green herbs and a bit boozy. It all sounds rather negative but is actually quite tasty. Not something I would drink every day but well worth seeking out to try.
2017 Luigi Giusti Lacrima di Morro d'Alba DOC: The first of many reds. Very strong floral notes of violet, white carnations, bergamot and dark fruit. Nose is almost too much, like standing next to too much cologne. strong flavors of red and black raspberry, bergamot, blueberry, violets. Intense but balanced flavors, bracing acidity with little tannin. Quite a mouthful of wine. You will be hard pressed to find a more floral wine.
2017 Unti Lacrima: This was the second additional wine and an interesting story. Cuttings of Lacrima were taken, eventually approved and planted at the Estate. After a couple years of small production the vines became diseased and died. The Lacrima will not be replanted.
After tasting the 2017 Unti Lacrima it is a shame that it was discontinued. The aromas and flavors were similar to the previous wine, just toned down a bit which gave it excellent balance. Expressive aromatics, violets, carnations, bergamot. Strong flavors of blackberry, bergamot, violets and tea. Great acidity, little to no tannin. A very good showing, unfortunately the last one for Unti Lacrima.
2013 Villa Ligi "Grifoglietto" Aleatico Superiore DOC: Another virtually extinct variety, less than 100 hectares in production. Funky nose, cherry, mushroom, earthy. In the mouth, red raspberry, roses, blueberry, grapefruit peel. Nice streak of minerals, savory and very good acidity. Very tasty red with a bit of age. Great example of a delicious floral red wine.
2016 Fattoria San Lorenzo "di Gino" Rosso Piceno DOC: Roughly 50-50 Sangiovese and Montepulciano. 15% in aged neutral foudre and 85% in Stainless steel. Sour cherry, earthy herbal nose. Bing cherry flavor with sweet herbs, fresh soil, spice and smoke. Medium body, good acidity, nice full flavored wine.
2015 Fulvia Tombolini "Dororosso" Rosso Conero DOC: This is 100% Montepulciano. Cherry, berry, gamy earthy nose. Cherry, plum earthy, some dark fruit lurking. Bright acidity with some sweet tobacco and tar notes on the long finish. This is drinking very well and was enjoyed by everyone.
2012 Poderi San Lazzaro "Grifola" Offida DOCG: 100% Montepulciano: This is a burly wine, good that it was saved for the end. Aromatic dark berries, vanilla, phenolic nose. Big flavors black cherry, vanilla, meaty, clove and leather. Mouth filling and rich this sees sixteen months in new French oak barrique and some of that oak shows through. Very good acidity and some chewy tannins serve this with some roasted or braised meats. Also BBQ would work well.
Great tasting and you could see the enthusiasm from the people attending. It was nice seeing Scott Barber talk about the wine he brought (Andre Felichi Verdicchio). With his extensive wine knowledge he held the attention of the audience as the wine, vineyard and the effects of vineyard location were discussed. If you need help with distribution, marketing etc of your wine brand, Scott is the person to contact.
Every time I think all of Italy has been covered, October was the 14th month of Idlewild Sunday School!!, Sam, Thomas and team come up with more. I'm not complaining, been to all of them

Here are a few photos of the tasting.
Le Marche Presentation and Tasting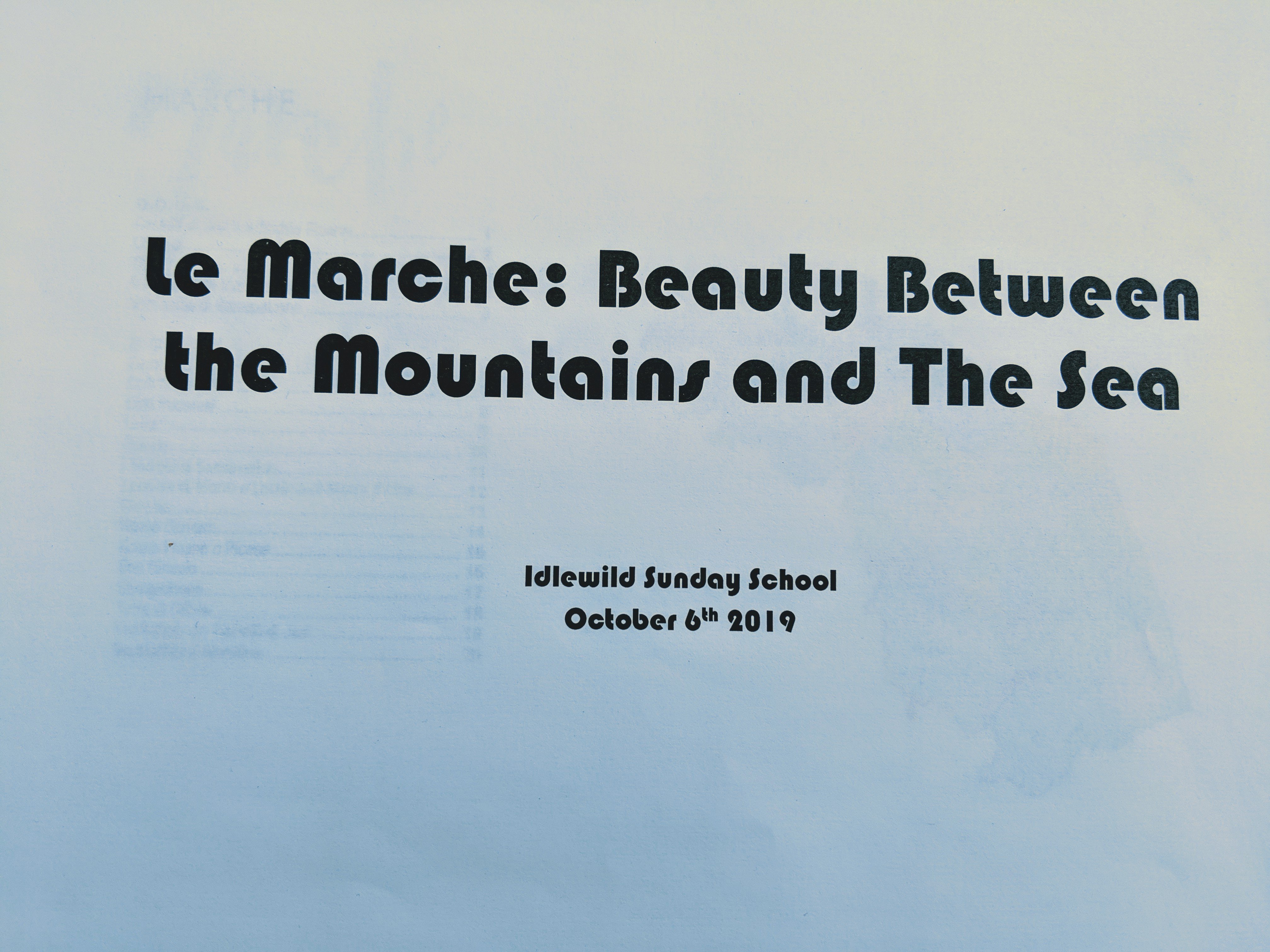 Map of the area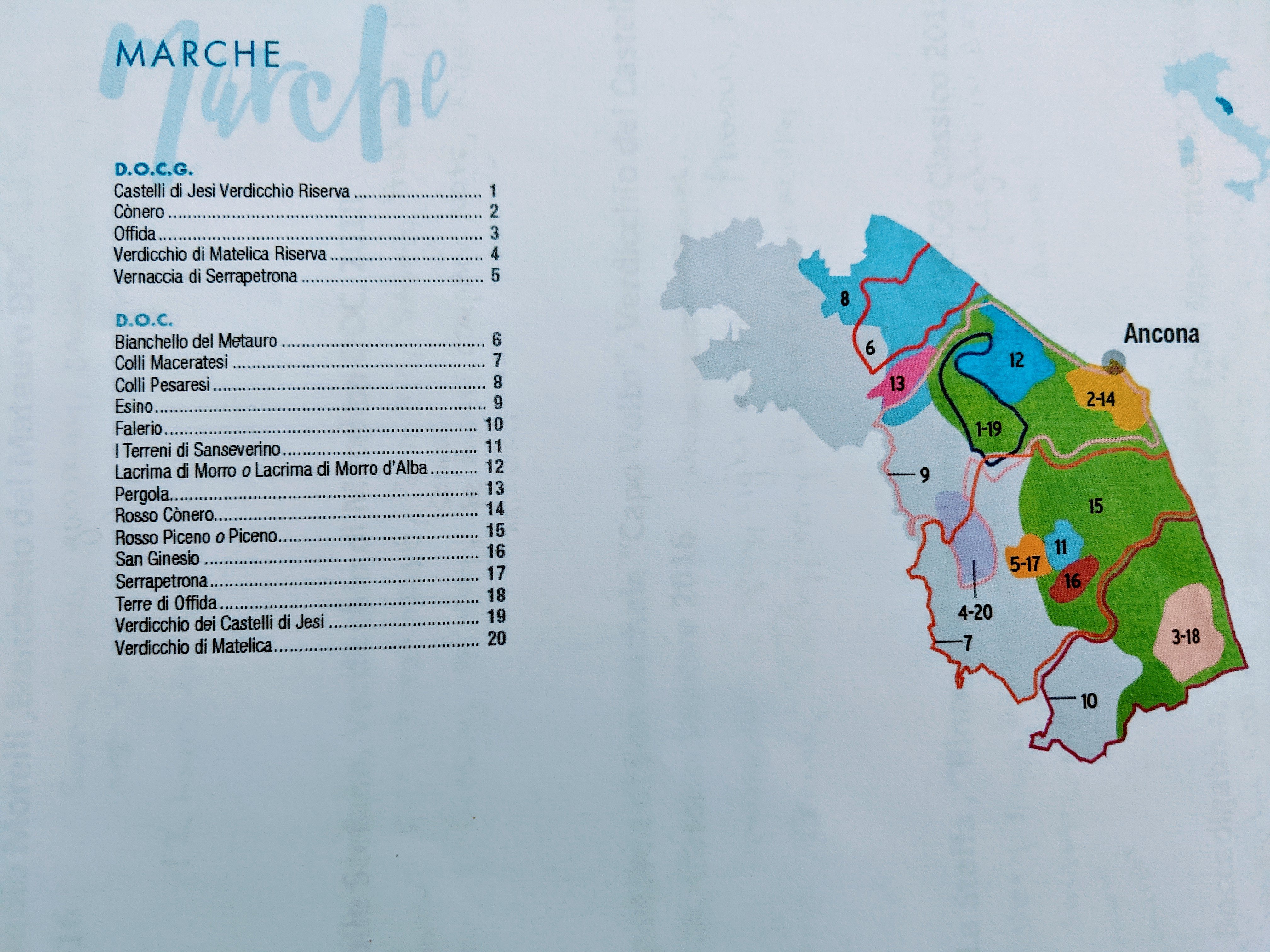 The Line Up