July Idlewild Sunday School was another fun, educational experience as Piedmont was the focus and it's indigenous grapes. Nebbiolo was left out as that will be the main event for a future Sunday School. All the wines showed really well, the wines chosen certainly can age some but are also ready to drink. That is a theme you will see throughout the tasting notes.
What made the tasting even more interesting is that Sam and Idlewild are already producing many of the "fringe" Piedmont varieties such as Erbaluce, Grignolino, Freisa, Favorita, etc and others are on their way, Pelaverga, Timorasso, Ruche etc.
It was in the low 90's so the presentation-tasting was held inside which made for even more interaction and conversation. Besides the assortment of excellent wines there were some delicious bites to pair with them. Anchovy toasts with anchovies and cultured butter. Trout conserva with dill fermented string beans and creme fraiche. Rosa pecora cheese with chestnut honey. Yum! All the wines, food, condiments etc came from Ciao Bruto the Italian Wine (and Champagne) provisions store directly next to the Idlewild tasting room. If you are in Healdsburg I highly recommend going to Ciao Bruto, it will blow your mind with the array of quality wine, food and other products!
*** As I state every 6 months or so, full disclosure, I have known Sam and Idlewild since 2012 the first vintage of Idlewild. Our son Thomas started working with Sam in 2018 and is also part of the Ciao Bruto venture. I have written about Idlewild and bought wine from Sam and Idlewild long before Thomas started working there. *** On to the wines!
While waiting for the tasting to start we were all handed a glass of Idlewild Sparkling Rosé of Nebbiolo and Arneis. Very tasty and nice summer sparkler.
2020 Cieck Erbaluce di Caluso: Crisp apple, pear, Mandarin orange, along with some pretty floral notes. Made entirely in stainless steel, it is light in body, stony mineral notes and very good acidity. It's a refreshing wine made to drink and not ponder over. Especially true as summer is here and this wine is a summer sipper. Good start to the tasting and excellent with the food bites!
2013 Cieck San Giorgio Erbaluce di Caluso Spumante: Always interesting to compare the same grape still and sparkling though this was a 2013. Ripe apple, quince, peach pit and a bit of crusty bread come through on the nose and flavor. As with the still wine there is rocky mineral notes and very good acidity. Easy drinking wine.
2020 Ezio Poggio Colli Tortonesi Terre di Libarna Timorasso: Ezio Poggio is unflinchingly devoted to the revival of one of Italy's great white grapes, Timorasso. Ezio first planted the grape in 2004, reestablishing a long-lost growing zone now known as Terre di Libarna along the mountains that separate Piedmont from Liguria. Stonefruit, peach, apricot, apple blossom floral notes, rocks and stones. Good acidity and texture-mouthfeel. This wine is a touch lighter in mouthfeel than some other Timorasso I have had but that actually made this wine even more desirable. Great wine, can match up well against any high quality white wine! Bought a bunch, drink and enjoy!
2019 Luli Natalin Grignolino: Cherry cough drop nose, potpourri, herbs, mint. Flavors of red currant, raspberry, citrus, blood orange and spice. Good acidity, present but ripe tannins, all in excellent balance. Aged in chestnut botti, this wine is very versatile-food friendly. Can age but also be enjoyed now. (starting to see a theme here) Bought some.
2020 Luigi Giordano Dolcetto: Very floral (is this the Ruche?) Roses and violets dominate. Black cherry fruit, dark plums, all those wonderful floral qualities persist, very nice. Earthy, some cinnamon stick and almond complete the profile. Good acidity and ripe tannin keeps you wanting more. I love Dolcetto, wonderful food wine and this is outstanding. Sam mentioned that the higher that Dolcetto is grown the more floral it becomes. Learned something and this wine shows that enhanced floral quality. Bought a bunch.
2020 Cascina Tavijin di Nadia Verrua Slarina: My first Slarina, no surprise there

. This variety has quite a storied past. It's a long story here is the short version. Slarina was the most widely planted red variety of the region dating back to the 15th-16th century. It is a sparse very uneven ripening variety even under the best weather and conditions. As the Italian Wine Industry is Govt. subsidized it has the ultimate "influence" on the vintners and vineyards. In 1906 the Govt. told vintners to "tear out the Slarina and replant with Barbera" which everybody did causing near extinction of the grape.
Thanks to the University of Turin and the team at the Research Institute of Sustainable Plants, Slarina was rediscovered and reintroduced to Italy's National Register in 2007.
So, how's the wine. It's pretty darn good! Fresh cherry, red plum, bright citrus with subtle floral notes and stony minerality. Good acidity, attractive qualities in a drink me now style.
What does it compare to. While not exact, it reminded me of a nice balanced Gamay. Looks to be very food friendly and I think can be drunk directly from the cellar or with a bit of a chill. Bought some.
2021 La Miraja Ruche: A seventh-generation viticulturist, Eugenio Gatti personally tends to the oldest vineyard of Ruché in Castagnole Monferrato, the original birthplace of Ruché. As one would expect wildly floral with roses, jasmine and violets. Also notes of black pepper and a hint of clove. Flavors of crunchy Bing cherry, raspberry, pomegranate and stony minerals. Aged totally in concrete with very good acidity this is a pleasure to drink. Bought some.
2018 Vietti Freisa: Ripe strawberry, mixed berry, green herbs rose petal earth and tarry notes. Very fruity, fresh acidity and grippy tannins. It was good and could certainly use s bit more aging but for me didn't stand out compared to some of the other wines.
There was one more bonus wine, I didn't catch what it was other than it's a dessert wine. Ruche is stopped during fermentation, aromatized with herbs and spirits added to create this 17% ABV wine which was quite tasty. A whopping 10 bottles made their way to California. Sorry for the lack of more details.
Another Sunday School in the books. I especially liked this one for the variety of mostly offbeat Piedmont grapes. The one photo I forgot to take was the lineup of bottles.
Tom
The Lineup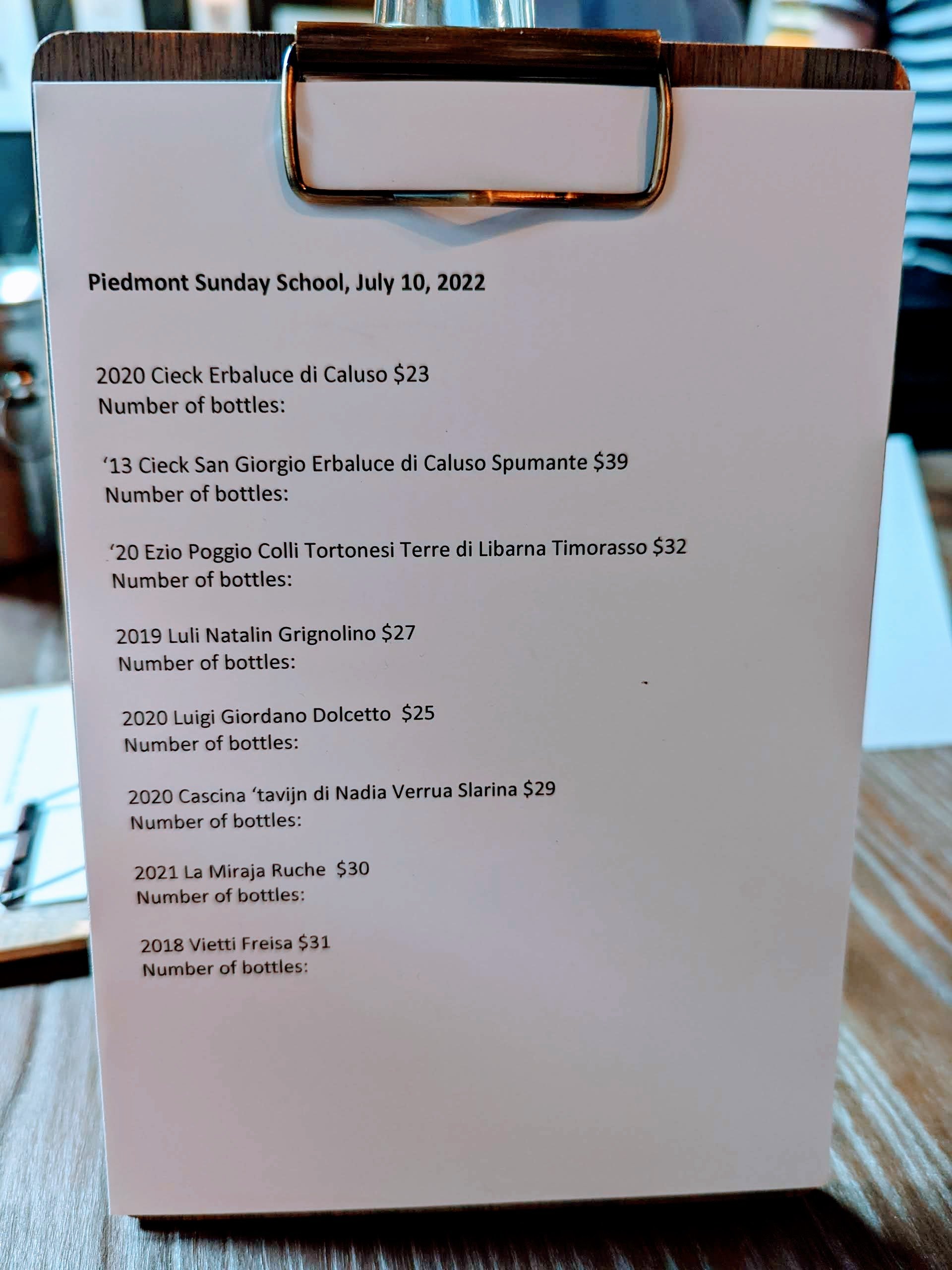 Delicious nibbles with the wine