Yesterday, our beloved Kansas Jayhawks were playing an important basketball game against Baylor who they co-shared the Big Xll conference lead with along with Texas and there's only 4 more games to go in the regular season.
The first half was a travesty and KU almost got blown out of the tub trailing by as much as 17 points at one time and 13 at halftime. And then the 2nd half started and it was all Kansas and the blow out got reversed as they won by 17.
We went from being subdued, disconsolate and irrational to being elated, ecstatic and sort of rational, whooping and hollering and high fiving about our home while wearing our lucky Jayhawk logo shirts.
It was time to celebrate and that means champagne in our home, but which one to pull? It took about 10 seconds to figure out the answer:
2006 TAITTINGER COMTES de CHAMPAGNE BLANC de BLANC- I've had over 100 bottles of this stupendous bubbly and it had been a while since the last bottle, maybe 4-5 months; also, I wanted to track where some of my bottles purchased over 5 years ago are going now that they have a bit of "age"; well, surprise, surprise; I expected to find more toasty notes from the Maillard reaction, but none to be found; in fact, this bottle seemed to be a "light weight" version with honeyed lemon, lime and orange now more evenly distributed as the initial lemon oil dominance has now balanced out with some orange peel coming in; speaking of balance, it was perfectly balanced and had that signature streak of bright acidity running all the way through; even the mouthfeel was different as it had a frothy, cotton candy like mousse; because of so many differences, I'm not sure if this one was any indication as to where other bottles are trending; however, it is truly still expressing elegance, charm and sophistication. I guess I'll have to open another bottle soon to check for bottle variation. Maybe, after another crucial Kansas Jayhawk victory.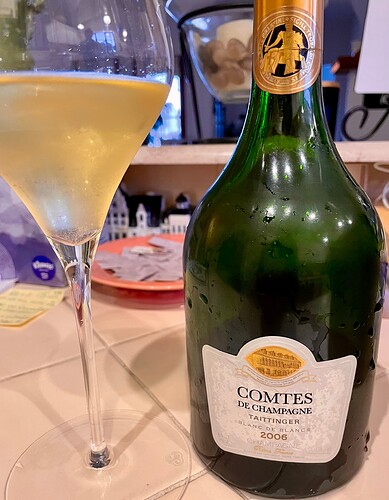 Cheers,
Blake