I have a friend, seriously…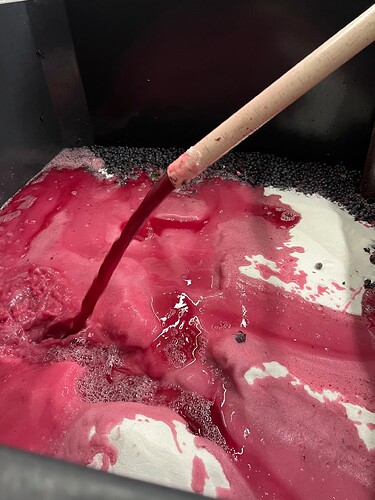 A couple of shots of what's going on.
Need to add sugar! Came in at just under 14 brix which is high for blueberries. We are shooting for 12% ABV on the wine and 13 for the stuff that will get distilled. We've added all of the sugar to the wine fermenters at this point (8/19) but only half to the distillery stuff as we are trying to lengthen the fermentation. Also, the weird photo where it looks all shiny is some down and dirty carbonic maceration/fermentation. Basically after adding sugar and pitching yeast we covered the fruit with heavy duty plastic and put about 2 inches of water on top of that to seal it off from the air. That is for the distillery. Hopefully that will really build in aromatic fruitiness which we prize since this is all being distilled and we want highly charged aromatics going into that.
Still a ways to go. Maybe next weekend these will get pressed. Hard to say.
How go (or went) the blueberries, @Jim_Anderson, for you and Kelley? It's a very interesting project, and I wish you both the best.
I had a blueberry dessert wine just once, and it was at a British Columbia winery where it was easily the best wine they had among, sadly, some relatively sub-par grape-based wines. I say this because if they were able to execute on that, despite apparent challenges with their other offerings, I have high hopes for you and Kelley.
Blueberry wine seems excellent. Definitely some learning curve stuff we did not anticipate! Still that was about process rather than result.
Distillery stuff is going to be wicked.
Thank you, Jim. Sounds great, and I admire the willingness to experiment.
Any clue when it will be available for sale? I cannot wait to try the Blueberry wine you & Kelley made.
Planning on a May bottling date. There will actually be two wines although they will be the same wine. This is purely a technicality based on obeying the TTB rules and regs. One will be Kelley Fox Wines the other Wolves Above. Same everything. Kelley will probably sell most of that label into distribution.
I will say we have learned a lot of lessons. I think the wine will be delicious and more Pinot Noir like than the Bartlett version (if just based on the wood use alone). I think we have stuff to be proud of.
Jim, any thought about making this a regular thing?
That's the plan. We have spoken with the farmers about the berries for this coming year.
I'm in for 6 initially. If this is an annual thing, that's super exciting!!