Anyone going this Saturday for July pre-order pickup?
Barlette, a BYOB Bar, Is Coming to Brookline Soon
Aiming for a February opening, it's the sibling and neighbor to the award-winning BYOB restaurant Cobble.
The Don's BBQ, which is in the old Strip-T's space in Watertown (miss that restaurant!) is now legal BYOB.
I got some takeout today and spoke with owner Sebastian DiFelice ("The Don", can't miss the stetson hat), who happens to be a wine lover, and he'd be happy to have wine groups visit (can reorganize dining room tables, depending on size of group).
No corkage.
The Don's BBQ
93 School St.
Watertown, MA 02472
https://www.thedonsbbq.com
Not sure if it's entirely legal, but it's definitely a place you can "get away with" BYOB, and that's the "Cedar Hill Dairy Joy" in Weston. Yes, a soft-serve ice cream place.
Why would I bring this up in a thread where most places are more "haute cuisine"? Well, the truth is, they have some of the best seafood we've had in Boston! An amazing lobster roll, awesome whole belly clams, etc. Simple, but delicious.
We've made a tradition of going for seafood and soft serve on my wife's birthday and bringing a bottle of Champagne. We sit on the picnic tables at the back of their lot and have never had a problem. It's a fun, low key, outdoor summertime kind of vibe. YMMV!
I have a Legal BYOB (Boston and beyond) list/map on Yelp. If anyone has any additions/corrections, please let me know:
BTW, Troquet's Summer Wine Sale is back, Aug 1-26. Anyone want to go? I'll tell you my '86 Mouton SWS story…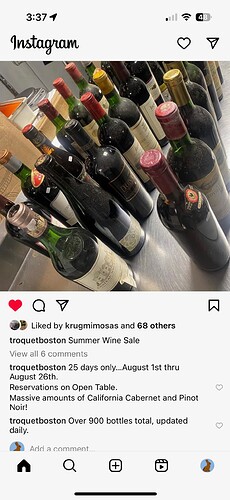 5% chance I could move to Boston next year. Is the BYO scene that terrible? Why are local lawmakers against it? Definitely spoiled here in NYC it seems. Do WB do a lot of in-home wine dinners in the Boston area?
BYOB is illegal in MA if you have a liquor license. If a restaurant doesn't have a liquor license, then it depends in the laws in the city you are located in (most don't allow it, but some do).
In Boston itself, the BYOB law only permits it at very small restaurants in poorer neighborhoods. Only a handful of restaurants have ever taken advantage of the option, so it's pretty much been a failure (which we warned Michelle Wu it would be). Maybe someday a city counselor will visit Philly and see how to do BYOB in a way that actually promotes small businesses (PA has other wine problems, but BYOB isn't one of them).
So you have to find restaurants that will let you do something under the table (and tip well). We don't post names for obvious reasons.
On the positive side, they finally did liberalize the laws so that wineries can get licenses to ship to MA.
Do they charge you corkage fee? If not, then a healthy tip is more than justified!
Do you think there would be enough support for BYO/corkage for people to protest against Wu in an organized fashion? Get a few of those inflatable rats (that you see from time to time in NY) that can be traced back to the pro-corkage folks. Should get on her radar.
But away from that, what's the political opposition to BYO? who lobbies against that?
You are going to end up on that "Enemies List" of hers lol
When it comes to liquor laws in MA, I am clueless about the politics. But I bet if we got enough signature to get it on the ballot, people would approve it. But that costs money and BYOB doesn't have any special interests that will make money off it to pay for it.
Don't forget: Lenox Sophia in South Boston. Awesome food, great service, NO CORKAGE FEE, easy parking. Shi, Johnny, and Ernest run a good shop. https://www.lenoxsophia.com/
I'm heading back there on Saturday.
Liquor licenses are stupidly stupidly expensive ($1M+ from what I've heard.) That's why neighborhood bars are disappearing in Boston. They get bought for their liquor licenses invariably by some conglomerate that wants to set up in Seaport so then the bar itself gets shut down. And Seaport becomes more rowdy while Boston neighborhoods lose their heartbeat.
If anyone without a liquor license can offer BYO, why isn't there BYO out there for a corkage fee? Or beer can fee? Etc.?
No, not anyone, they are dependent on the rules of the town they are in, and most of them don't allow BYOB.
Also, we all know BYOB is not as profitable as a liquor license. Of course ignoring the cost of the liquor licences, which can range from 0 to several hundred thousand, and are only available in limited numbers that are capped by the state.
There was quite the scandal going on in Cambridge where who you know determined whether it was free or cost you $400,000.
Yes, it's a complete mess that has nothing to do with promoting the restaurant business.
A Facebook post today from Sam's Kitchen in Woburn MA indicates that they will now be serving beer and wine.
Since MA state law does not allow a restaurant with a liquor license to permit legal BYOB, we've appear to have lost Sam's as a nice BYOB venue.
Pity, as we had some excellent wine dinners there over the years.
Hey,
That is a great BYOB list you have thrown together, I have my own and I know how hard it is to find out all the byobs in the area.
I have a few updates
Cafe Paolina and The Dons BBQ have both closed
Cafe Riffrullo - I actually called last month to ask if they were byob. She told me they are not, only when they do private dinners when you reserve the whole restaurant.
3 County Bistro has been take out only since reopening during covid. I'm not sure if they ever plan to reopen the dining room.
DParma in Winthrop got a license last year and is no longer BYOB. Cafe Rossetti and Alia in Winthrop are still BYOB though.
Worth Adding
There are two excellent byobs in Marblehead. The Little Store Pasteria is a small but popular BYOB with table service and great Italian food. Fresca Pizza Pasta has outstanding Pizza, and they offer a few tables and BYOB.
Also In addition to Cobble and Lenox Sophia there is a third outstanding high-end BYOB. Perhaps it is too far from Boston to mention… but Metro Bistrot in Southbridge offers outstanding French food including a six course tasting menu and reservations are a must.
BYOB is brutal out there!
Thanks Ryan.