Glasvin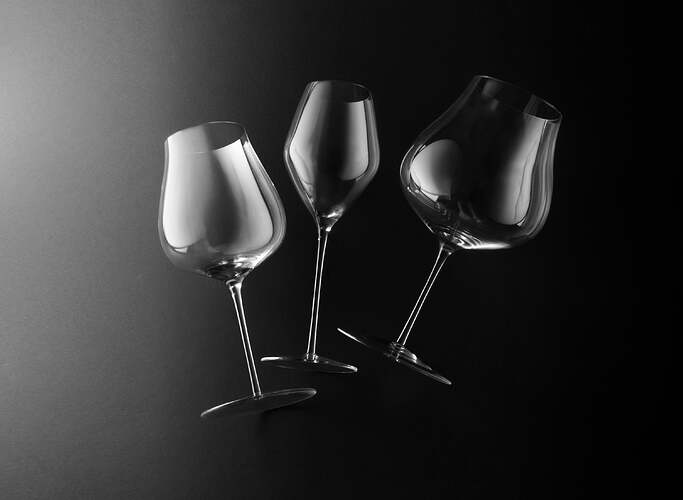 Hi and happy Berserker day! First off, thank you for all the support shown by WB members throughout 2020 and 2021. Although this is only our second WB day, it appears we've already gained quite a following - you can read what other WB members have to say about us here.
Glasvin is a direct-to-consumer hand-blown stemware company. Our young and vibrant company offers hand-made glasses at an exceptional value. Our goal is to make premium glassware more accessible to all wine lovers. We began selling a Universal glass in 2020 and sold out twice. In light of this success, we introduced a full collection of hand-blown glassware at the end of 2020. We believe selling directly to consumers allows us to be more engaging and provide better customer service.
Today, for the first time ever, we are revealing our Champagne, Prestige, and Obsession glasses! The Champagne glass was designed by Adrian So, who won this right on the BD auctions. We are running the same auction again this year.
Some of our accomplishments last year
We are used in 2 Michelin star restaurant Gabriel Kreuther, 1 Michelin Star restaurants Kato and Crown Shy, Wine Spectator Grand Award winner Flagstaff House, and many more



Glasvin Offers
Closed. See signature for year-round offer.
Free shipping above $150. Otherwise $9. We ship globally
Everything Ships Immediately[/size]



Glasvin Customer Satisfaction Guarantee
We take great pride in offering the best customer service in the industry. Your satisfaction is guaranteed.


The Champagne - US Only
The Champagne glass is our glass made specifically for sparkling wine that keeps the traditional elements of a champagne glass design, but unleashes the aromatics of sparkling wine perfectly. H: 23.5cm, W: 8.25cm. This item was designed by Adrian So. We met Adrian on Wine Berserkers, the wine blog where Glasvin was first featured.
The Prestige - US Only
The Prestige allows for a full bouquet of aromas to develop around the wine while still comfortably sized for all settings. The wider bowl allows for faster development in wines that need it. This glass is closest to a Bordeaux glass or a red wine glass. H: 23.25cm, W: 10.8cm.
The Obsession - US Only
The Obsession is designed to showcase highly sensual wines, providing the maximal aromatic release while tasting both red and white wines. This glass is closest to a Burgundy glass or a chardonnay glass. H: 23cm, W: 12.6cm.
The Universal
Glasvin Universal is very much a glass that is suited for all wines (think not just red, white but also sparkling, beers, sweet wines, etc). We love it because it's the right size for almost all situations, and works great for large groups and restaurants. Some people will view Universal as a white wine glass. It certainly goes very well with white wines, so much so that we don't have a white wine glass, and probably will never. A red wine will not flounder here either. Sometimes this style of glass is referred as an All-Purpose glass, or "AP". H: 23.5cm, W: 9cm.
The Expression
We view Glasvin Expression as the perfect complement for the Universal glass. They feel very much similar. Expression is like the Universal glass but 20% larger. If you are used to having a different red wine vs a white wine glass, then Expression and Universal are a great pairing. This glass is exceptionally beautiful and a great match visually to the Universal. In many ways it feels more elegant than Universal because it is not much heavier, and because of the larger body, it feels even more balanced than the Universal. We are really excited about this glass, and we think many red-wine lovers will absolutely love this. The larger body allows wines, especially tannic wines, to breathe and aerate. Bigger whites will benefit from this glass too, if you're feeling adventurous. H: 23.25cm, W: 10.8cm.
The Aromatic
Glasvin Aromatic follows a certain tradition of glassware that is gaining popularity as drinkers shift more towards mono-varietal, single-vineyard wines, where the more delicate wines are typically very aromatic and can benefit from greater accentuation and concentration of the aromas. The Glasvin Aromatic was inspired by both red and white burgundy glasses. Both Burgundy varietals will perform well in these, as well most other serious wines. H: 23cm, W: 12.6cm.
The Decanter
Glasvin Decanter fills to the widest diameter with a 750mL bottle. It can contain a full magnum bottle as well. It is narrow enough so that it does not take up too much table space. To speed up aeration, the decanter can be effortlessly swirled from the neck. We designed it so it complements our line of glassware in form for casual wine nights as well as full-scale blind tasting events. Each item is unique. H:28.6cm, W: 14.5cm.
Stemless
Glasvin Stemless is made to the same quality as our stemmed wine glasses. That makes them some of the most serious drink-ware on the market. They can be used to drink just about anything. We really love our Glasvin Stemless because they give you most of the experience of the Universal but because there is no stem, you don't have to worry about lightly setting it onto a surface. We are also very proud of the price we can offer this at, making handblown "stemware" more accessible to more people. H:11.5cm, W: 9cm.
Most of our products now ship in this gorgeous new packaging that features art from NYC artists!