1995 DOMAINE ARMAND ROUSSEAU CLOS ST. JACQUES GEVREY-CHAMBERTIN 1er Cru- the first hit of TCA was a bummer and as much as I tried to wish it gone and hoped it would blow off, it just did not do that. We could only imagine how much of a treat this could have been.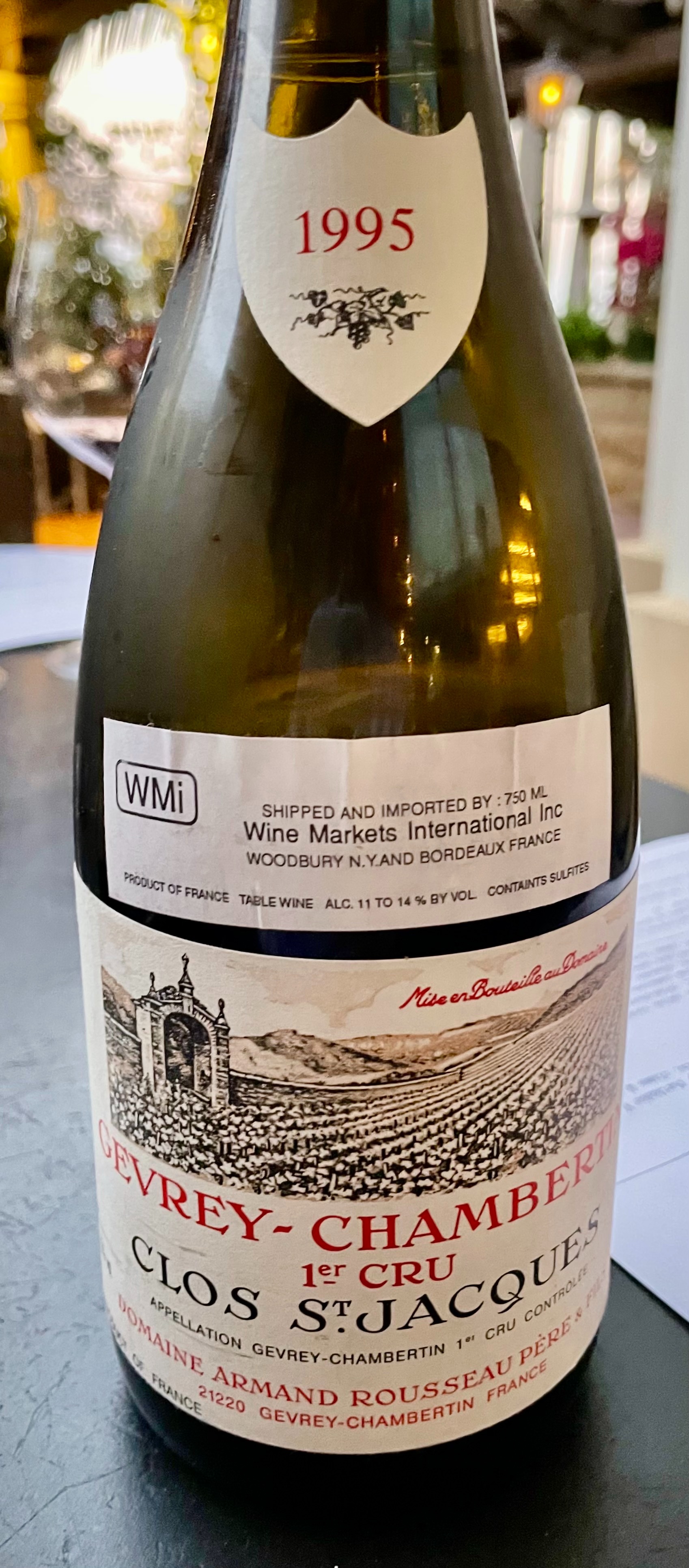 2000 JOSEPH ROTY CHARMES-CHAMBERTIN GRAND CRU- it was perfectly portioned for this to come up next as it more than made up for the corked bottle; in fact, it was one of the best wines on the night; it was silky smooth and had really nice spicy strawberry and red raspberry fruit that was so refreshing and seemed to be still primary; it was medium to full bodied, had layered depth and a long, sustained welcomed finish.
2013 ROBERT GROFFIER LES SENTIERS CHAMBOLLE-MUSIGNY 1er Cru- this was a bowl full of cherries starting out with bing cherry aromas and then moving into wild red cherry once tasted and even some black cherry came in past mid palate; it was not a fruit bomb, but probably needs a few years to evolve and integrate as also evidenced by a hit of heat at the end.
2013 LUCIEN LE MOINE CHARMES-CHAMBERTIN GRAND CRU- this was a wowzer; it exuded class, power and finesse while delivering luscious red and dark fruit from the nose through the tail; the taste profile included red and black cherry/ berry finishing with a hit of sandalwood/ talc; it had a super smooth texture and lots of weight as well as being full bodied and having serious depth and complexity, enough to raise an eyebrow; it competed with the PYCM Corton Charlemagne for the WOTN.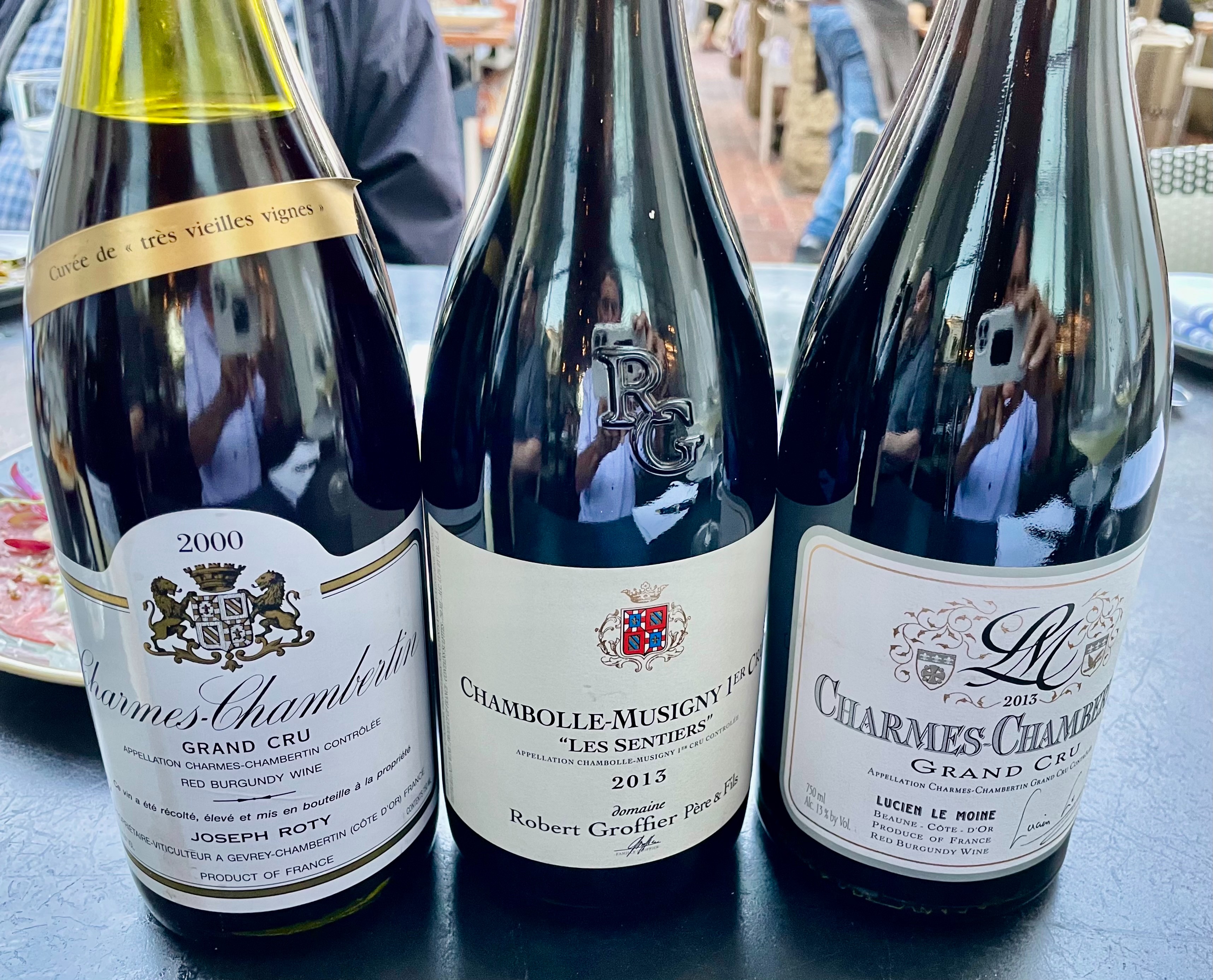 2006 BOUCHARD LES SUCCHOTS VOSNE-ROMANEE 1er Cru- we got a good bottle here and it got better with time in the glass; this had a wondrous fruit profile including spicy red cherry/ berry; as it kept expanding and opening up, it revealed more depth and additional fruit of red currant, red plum and a mild touch of cranberry; this was medium bodied, soft and easy on the palate and very pleasing.

2005 DOMAINE HENRI GOUGES LES VAUCRAINS NUITS-ST. GEORGES 1er Cru- I`m getting an atypical wild component in some of these wines and here comes some more; wild red and black cherry, wild plum and even gooseberry are most prevalent plus a serious dollop of bitter chocolate arrives about mid way through and it's all good, but just a bit different than expected; there was significant underlying acidity in this one as well and when all was said and done, i liked this for all of its character and pizzaz and expect it to balance out a bit more even though it's already a sweet sixteen.

2015 DOMAINE DES COMTES LAFON MONTHELIE LES DURRESSES 1er Cru- Ive long been a fan of Dominques whites, but not so much with the reds since the early 1980s; so I had to work beyond my bias on this bottle and it was easy to do; it had a lovely fresh red fruity and floral nose which on the palate translated into red cherry/ berry with a touch of raspberry; it was medium bodied, had a nice soft mouthfeel and enough stuff to please throughout.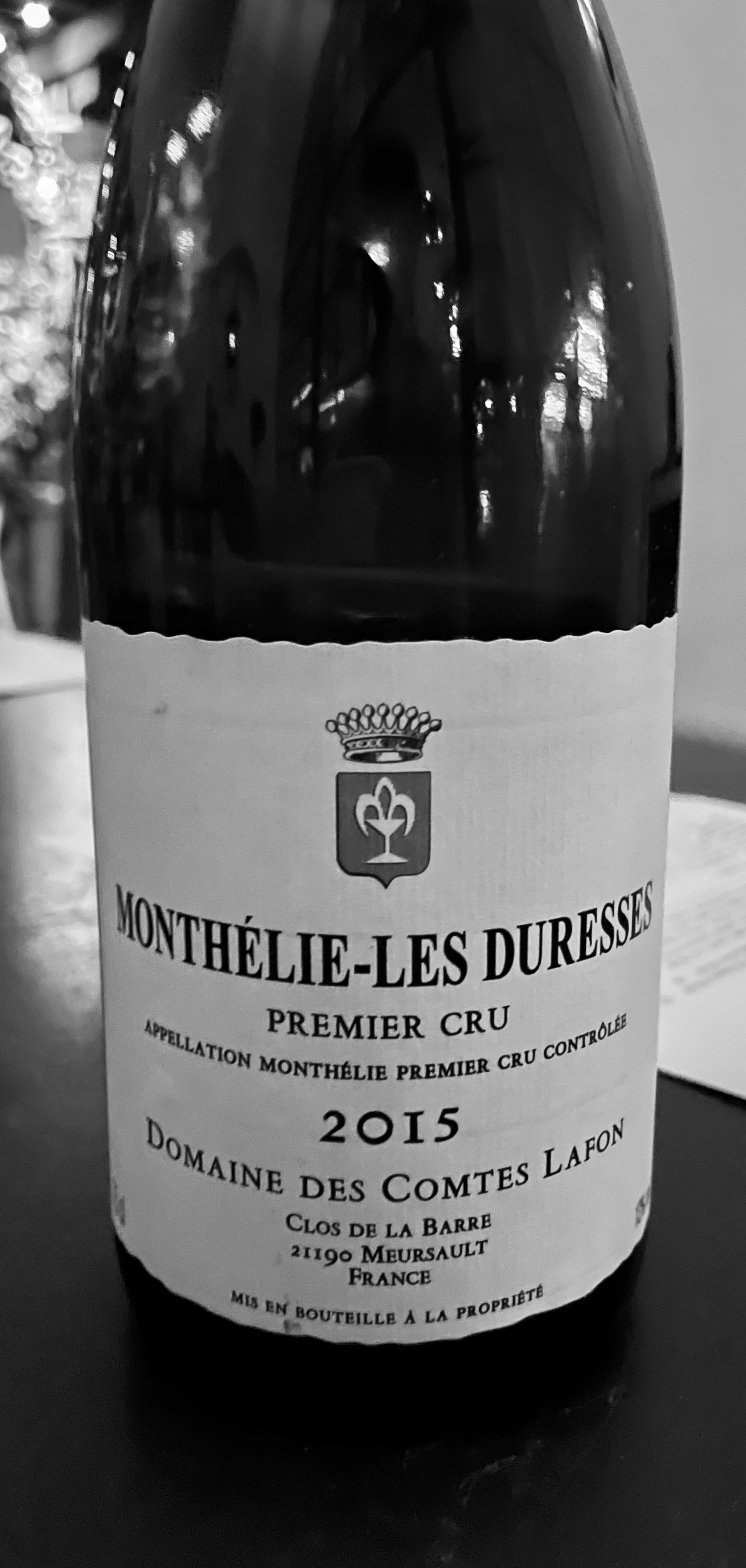 2013 DOMAINE ARLAUD BONNES-MARES GRAND CRU- decanted for 2 hours; this was very fruit forward with loads of red cherry/ berry from the nose all the way through; it was rich and full bodied, but the fruit just dominated so much of the experience, that it most certainly needs a lot more time to balance and flesh out which I expect it to do.

Cheers,
Blake