I love Skate Wing.
So long as somebody else filets it, I love it.
Last night I dredged two filets in seasoned cornmeal, sauteed them, then fried capers and hot cherry peppers (in vinegar) in the same pan and splashed it over the fish.
Pommes Paillasson is a fancy French (the people, not Todd) way of saying potato pancake. I think the name is derived from the French word for "straw mat".
I only buy this when I can see that it is very fresh, the indicator being the bright red blood lines on the filet. The flavor is very mild and when cooked it shreds like pulled pork.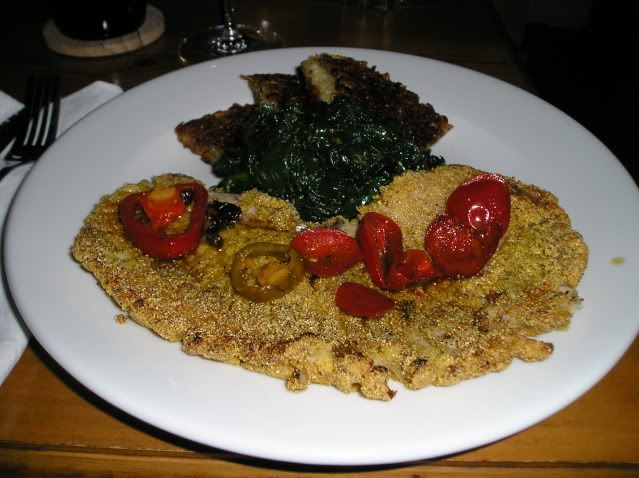 The potatoes are very simple and I'd put them up against FF anytime. I grated 4 small Yukon Gold potatoes on the large holes of a box grater, seasoned them with S&P, and added a little dehydrated minced onion. I used a steel omelette pan heated to a smoke with EVOO, put the grated taters in it, and pressed them flat with a fish spatula or peltex. Lower the heat to medium/low and let the thing cook until it shakes free. Tip the pan down so the oil pools away from you and lift the cake to check it's color. Once browned turn it by either flipping it with a spatula, or removing it to a plate and inverting it back into the pan.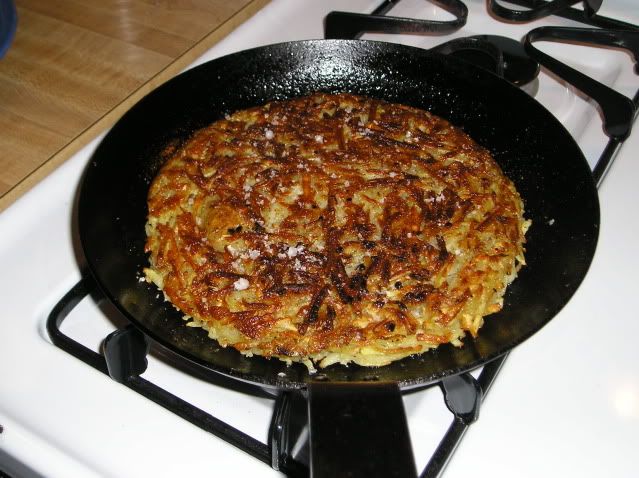 I finished the cake in the oven at 350F for about 6 minutes, took it out of the pan to drain on paper towels, then cut it into 6ths.
Yummmmmo!