Alright folks, we are psyched about our second Berserker Day and pleased to offer you all some fun packages to choose from.
To order, simply email me at michael(at)frannybeck.com. Tell me your name, shipping address, phone #, DOB and the name of the packages you'd like to order. You'll then receive an invoice via email that you can pay electronically.
For those that might have missed it, our preview page with some background info on us, our wines and our philosophy can be found here: http://www.wineberserkers.com/forum/viewtopic.php?f=59&t=136690
Just a note on our 2014 Johan Vineyard bottling; this event will more than likely wipe us out of this particular wine, so if you are interested in it, make sure you order a package that includes it.
Shipping is included in all the offers! Multi-offer orders are encouraged!
"Revisit"- 3 bottles
2 bottles of our 2014 Willamette Valley Pinot Noir & 1 bottle of our 2014 Johan Vineyard Pinot Noir- an excellent way to get a baseline for our style and philosophy (ships mid March)
Retail value of $114 + approx $24 shipping = $138. To your doorstep: $97

"Compare"- 4 bottles
2 bottles of our 2014 Willamette Valley Pinot Noir & 2 bottles of our 2015 Willamette Valley Pinot Noir- vintage matters in the Willamette Valley, this should help show the nuances of each distinct year (ships mid March)
Retail value of $152 + approx $30 shipping = $182. All the way from us to you: $131
The next two packages include some futures that will be available this summer, but not with the Berserker Day discount. They are tiny, tiny production level, 75 cases and under, so ordering now at this special price will make sure you don't miss out on these limited wines.
"Future"- 6 bottles
2 bottles each of our 2015 single vineyard bottlings from Armstrong, Johan and La Chenaie Vineyards- get access our extremely limited single vineyard bottling that show how vineyards that are separated by mere miles can be night and day (to be released in August)
Retail value of $228 + approx $42 shipping = $270. Cellar door to your front door: $197

"Portfolio"- 12 bottles
2 bottles each of our 2014 Willamette Valley & Johan Vineyard Pinot Noirs & 2015 Willamette Valley, Armstrong Vineyard, La Chenaie and Johan Vineyard Pinot Noirs- if you want the full package of what we offer as a winery, this is the package for you. It will really help to show what we mean by "vintage specific, vineyard centered, elegant & honest! (ships as a whole case upon release of the '15 single vineyards in August)
Retail value of $456 + approx $60 shipping = $516. Everything included: $380
I'll be here all day, ready and willing to answer any questions! Like last year, we are offering a 15% discount on repeat orders for the next 6 months. Don't hesitate to come back for more wine!
As always, our website is a great source of information, too. http://www.frannybeck.com
Below are some recent reviews we've received on our 2014 Pinot Noirs including links to Cellatracker!
Reviews of the 2014 Willamette Valley Pinot Noir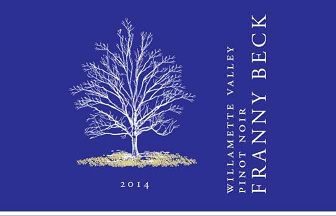 John Gilman
A View From the Cellar - October 2016
-The 2014 "Willamette Valley" bottling of pinot noir from Franny Beck was raised in fifteen percent new oak and comes in at a svelte 13.4 percent octane. The bouquet is complex, transparent and vibrant, offering up a classy blend of cherries, red plums, very pretty spice tones, a bit of gamebird, lovely soil nuances, an incipient note of chicory and just a touch of cedar in the upper register. On the palate the wine is pure, medium-full and very soil-driven, with a fine intensity, bight acids, little tannin and excellent focus and grip on the long and complex finish. This is a fine middleweight that delivers plenty of pleasure out of the blocks, but will also age very nicely over the mid-term.
Drink 2016-2030+. 91
Allen Meadows
Burghound - January 2017
-This is quite aromatically pretty with overtly floral aromas of red currant, cherry and briar hints. The sense of elegance continues on the beautifully well-detailed, pure and energetic middle flavors that possess good if not truly special depth on the dusty, balanced and solidly persistent finish. This should repay a few years of cellaring which should add depth and allow the supporting structure to soften slightly. In sum, this is a restrained and graceful effort and I quite like the delivery.
Drink 2020+. 90
Cellartracker for 2014 Franny Beck Willamette Valley


Review of the 2014 Johan Vineyard Pinot Noir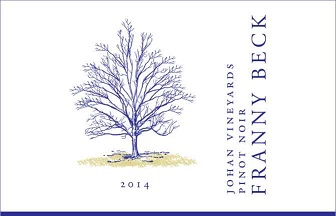 John Gilman
A View From the Cellar - October 2016
-The 2014 Johan Vineyard bottling of pinot from Franny Beck is a bit lighter in color than their Willamette Valley version, but equally pure and classy. The bouquet is vibrant and impressively transparent, offering up a lovely blend of cherries, strawberries, allspice, nutmeg, complex soil tones, woodsmoke, a dollop of fresh herbs and cedary wood. On the palate the wine is pure, medium-full and very soil-driven, with fine focus and grip, outstanding intensity very well for its long-term evolution. This is a very cool vineyard and the wine exudes all of the inherent complexity found in pinot grapes that take their time reaching full ripeness. High class juice.
Drink 2018-2040+. 92+
Cellartracker for 2014 Franny Beck Johan Vineyard