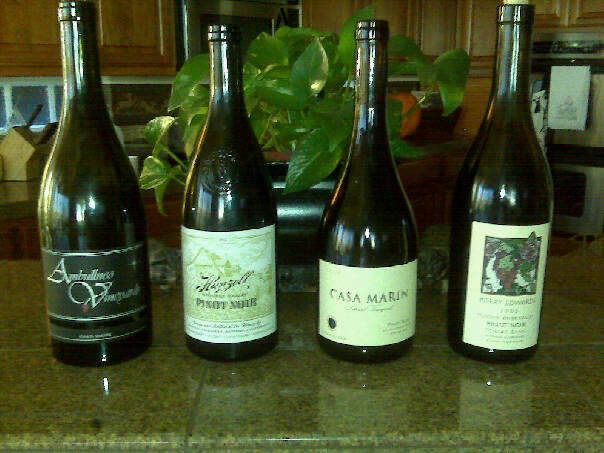 i never think wine should be the focus of Thanksgiving as i love the actual ritual meal too much so Black Friday for me means Iron Bowl and PN. game was terrific and these wines were worthy…
Casa Marin 04 Litoral Vineyard and 04 Ambullneo Canis Major were opened 1st as i planned to decant the Ambullneo, based entirely upon notes, and thought the South American wine would be light and good beginning fare - wrong!!! if Casa Marin Lo Abarca Hills is reminiscent of SLH then Litoral is Anderson Valley: dark, brooding, full of forest with reticent fruit. into the decanter it goes while we test drive the Canis Major. count me as a big fan as this wine is light, full of a varied nose with red fruit and lots of other elements including a nice floral aspect. taste was very nice, not sweet, truly fresh in your mouth though the mid-palate of this wine might be its weakness as the finish was a real crescendo of cherries and licorice. my 1st bottle of Ambullneo, won't be my last. by the way this is a blend with fruit from all over California!
1992 Hanzell Estate was enjoyed while Merry Edwards got air and this wine really lived up to a statement Ben Sessions once made to me, "We aren't trying to make the best Burgundy, we aren't trying to make the best Pinot Noir, we are trying to make the best Hanzell", as this was so different than most domestic PN. tannic still, despite its pending 18th b-day, in a magnum i think this wine outlives me! layered and structured for aging this would be tough double blind as i imagine it is is just entering prime drinking time. would like this with duck @ night more than BLTs for lunch i think. i am thankful i have more.
2005 Merry Edwards Tobias Glen was a really nice RRV finale. this SV PN from Forestville shows both dark and red fruit notes and was like coming home after the other 3 bottles. this needed time in the decanter and i have some left for a glass with lunch and UF/FSU today. high delicious factor for sure.