In Metro Manila, a young couple (Rob & Sunshine), both chefs and owners of a culinary academy, used to hold a "Gourmandise Dinner" once every quarter at their center, typically more modern French cuisine. Both are very well-traveled nad eat at the best restaurants where they get ideas for new dishes for their students and the aforementioned showcase dinners.
Yesterday was the last of such dinners as they will soon open a full-time restaurant of their own.
Sunshine and Rob busy in the kitchen
My wife and I actually were at our firm's summer outing at the beach, but left a day early to attend this dinner. We were a table of 10 of long-time friends…
…all of whom appreciate good food…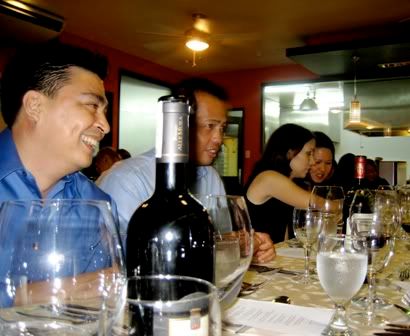 …all raring to try the latest (and last) multi-course Gourmandise tasting menu.
For the amuse bouche, we had a properly bite-sized portion of Mango, Salty Lime Sugar, Beet Foam & Crispy Anchovy.
As an amuse bouche (i.e., a small, complimentary, single-bite-sized appetizer offered by better restaurants - a French term that means "(it) entertains (the) mouth"; also called amuse-gueule), this did the trick to tease and tickle the taste buds, priming it for the coming courses.
Its properly miniscule size, however, gave the group's resident big eater an opportunity to start kidding around, saying that he would have to order some take-home kalbi and bulgogi from the nearby Korean restaurants to satisfy his prodigious appetite.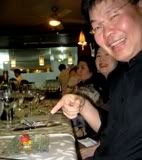 Next came what was my personal favorite for the evening, the Tuna Sashimi with Mustard Sorbet, Mirin Gelée and Puffed Rice.
This dish's flavors and textures were exquisite juxtapositions of freshness and earthiness with precise nuances of the mirin gelée's sweetness and the mustard sorbet's spice; the puffed rice lending contrast in texture. Great balance in this dish. Loved it.
I paired this with some of my currently favored summer white - the roundly fruited, yet brightly acidic 2007 Laxas Albariño from Rias Baixas (a picture of which I forgot to take). I've written several times about this dry Galician white that pairs perfectly with fish and shellfish. I obviously drink a lot of this, so need not say more about it except to emphasize that it is a great value for money white as well.
With this wine, we continued through the next course of Parmesan Spaghetti, Pesto and Strawberry Compote.
I do like my traditional, simple spaghetti with pesto, but the addition of strawberry compote worked in amusingly enough. Honestly, I really wished I had a lot more of this, but maybe wouldn't have been able to make it through to the end of the meal if I did.
The next dish of 21st Century Eggs Benedict was easily our table's collective favorite dish of the night, many commenting that the earthy truffle flavors simply elevated this (to my mind) creative spin off oeuf cocotte to new heights.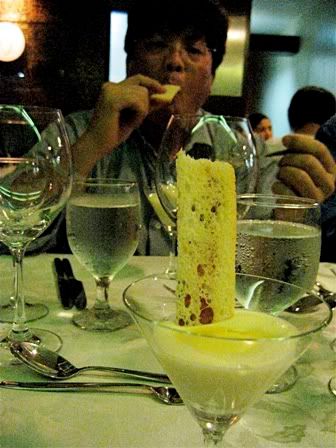 With this I paired no wine. I've always been gun-shy pairing egg dishes (or predominantly egg dishes) with wine though I've tried several. While some attempts were innocuous enough to "puede na rin" ("passable" or "decent at best" in our local dialect), I hardly think "puede na rin" is the point of wine pairing. In such cases, I prefer to have the dish alone, sans wine.
The next dish, however, Seared Foie Gras atop a Chestnut and Onion Tart with Caramelized Apple Marmalade, all too easy to pair. Instead of the usual Sauternes or Tokaji Aszú, it being summer, I felt that something lighter, brighter and more whimsically playful was in order.
2006 Dr. Loosen Wehlener Sonnenuhr Riesling Spätlese - Off-dry (it is a spätlese, after all), mildly floral, pure in fruit (white peach, sweet/crisp apple, pear and a bit of ripe apricot) with bright minerality and acidity lending it a playful and easily approachable and likable personality. Its flavors dance lightly on the palate. Very, very nice. Admirable focus, good balance.
Its slightly sweetish fruit was a classic foil to the foie gras' fatty goodness while it ran with the earthy-sweetness of the chestnut and onions, its fruitiness blending well with the apples. Loved the pairing, and, I believe, everyone did as well.
I told Rob this was also one of my favorite dishes, and he humbly replied that it isn't difficult to make a dish involving foie gras a crowd pleaser. True enough, but it was one of my favorites in any event, so much so that the following course of Scallops, Squash Risoni, Crispy Pancetta & Brown Sage Butter, though quite enjoyable in its own right, was over-shadowed.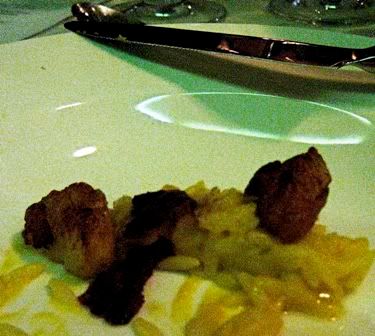 That said, this version of the classic scallop and bacon pairing was well enough appreciated - especially with the vaguely nutty brown sage butter. Good dish. In all fairness, foie gras is a tough act to follow for most any dish. Because of this, I like following foie gras course with something contrastingly fresher, lighter and brighter on the palate - this would not only revive the taste buds, it also helps obviate a "competition" with the previous dish - and make the latter dish easier to appreciate for its own merit - outside the formidable shadow of foie gras.
Next came the first of two main courses, Grilled Duck breast with Tomato Confit, a Sweet Corn Velouté and Truffle Oil.
The second main course was a likewise familiar but heartier dish of Sous Vide Lamb Ribs with a Balsamic-Port Jus and Cauliflower Purée. Unfortunately, I forgot to take a picture of it. In any event, we paired both these main courses with two reds - both of which I have recently posted on.
1999 Castello Banfi Poggio Alle Mura Brunello di Montalcino - Since I wrote about this full, muscular Tuscan red in my last post, I reproduce an excerpt thereof as follows:
This BdM was obviously modern, crammed with big, opulent, mouth-filling, very round, smoothly rich dark cherry, molten dark fruit, kirsch, underlying dark chocolate, very apparent but well-integrated vanilla/oak, underlying dark chocolate, clove and a bit of licorice. Full-bodied, with a chewy mouth-feel. Lowish acid, but, in all, acceptably good balance. Big but very gentle, velvety tannin.

Easily enjoyable, quite approachable despite its size - and apparently designed to be just that. Neither traditional by a long shot nor deeply complex, but still very pleasing. This is a wine to be enjoyed for enjoyment's sake (apt for the night's celebration), if not one to contemplate life's mysteries over.
2001 Bodegas Beronia Rioja Reserva - Another wine I think is another huge value for money find. Most all the guys at the dinner - experienced wine drinkers all - vocalized appreciation for this.
My last notes on this were from a Spanish dinner at home mid-last month. My notes then were as follows:
I quickly grabbed a couple of bottles of this off the shelf of Terry's last I was there, thinking it was the 2001 Grand Reserva I so enjoyed from Johnny R a few weeks ago at our first kokotxas dinner. It was only when I got home that I realized that what I grabbed was the Reserva instead of the Gran Reserva. No matter, thought I, it just meant (assumedly) comparatively shorter oak ageing (a good thing for me) and, likely, earlier maturing (which I have no problem with at all).

After approximately 30 minutes in a decanter and another 15 minutes in my glass, this displayed aromas of dark fruit with trace nuances of meat, balsamico, leather and licorice, cedar, slightly toasty oak/vanilla, hint of cinammon, slight topnotes of strawberry and cherry. Could use just a touch more of acidity, but, in all, I enjoyed it a lot.
The wine from this bottle was firmer and with better buttressing acidity. Very proper, very Rioja, it showed better purity and more of typical tempranillo red berry/cherry notes.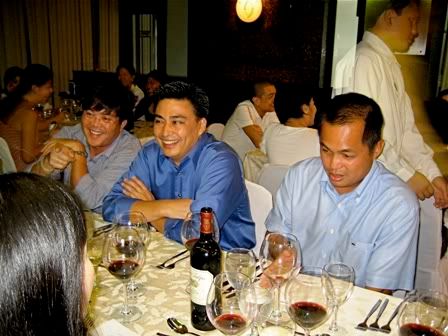 We, thereafter, moved onto the dessert course of Vanilla Bean Custard with Mango Sorbet and Caramelized Banana.
While this was competently executed and drew compliments from those who especially enjoy banana-based desserts (my wife amongst them), for me, the following simple but very correct petits fours, every single one of them, stole the main dessert's thunder. I enjoyed them that much, and I'm not a big dessert fan.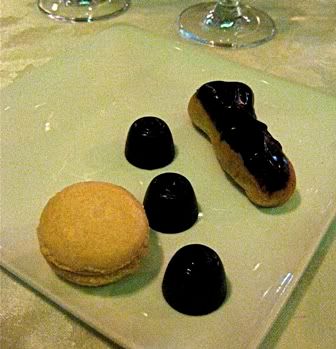 The evening was then brought to a close with a selection of Netspresso coffees (I know, I know, not a good excuse for coffee, but there you go). As always, I just opted for a simple double espresso.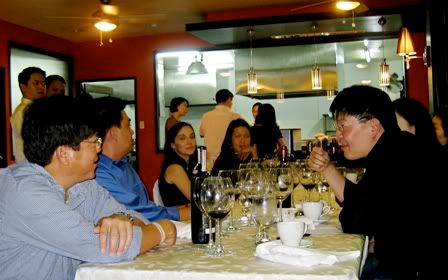 We lingered and were the last to leave. Many thanks to Sunshine and Rob for such an enjoyable dinner. We eagerly await the new restaurant's opening.