Mine's arriving Monday. I was surprised it went out ground on Tuesday instead of Monday, but no biggie.
So far I've received Myriad, Quivet, Carter, Caterwaul and Chase. Favia coming on Tuesday.
Down to Jasud and Aubert shipments and a couple more BDX 20' futures. Put away 7 more cases today + a bunch of magnums.
Seeing pics here and other threads with multiple stacks of 6 and 12 bottle cases gives me anxiety. Rearranging my already full offsite to fit these is a geometric task, even with keeping a few home to open early.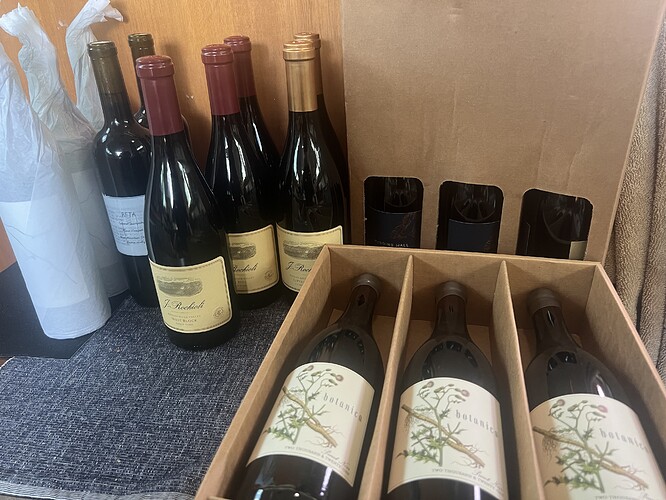 Beat me to it. Just read that email from Roy as well.
my pallet of 2020 bdx ep arriving next week. no friggin idea where the heck its going to go as my offsite is already bursting at the seams.
Was excited and relieved to get that email from Roy regarding shipping. To be honest I expect no less from Roy Piper and his operation he's a class act. Of course fresh off my excitement I get an email overnight from Kobayashi "We've shipped your order" Who ships on a Friday the week of Thanksgiving. Pretty bummed as this is a horrible week to ship… Hope my package is okay


Same here. Finally got my last box delivered yesterday for the Fall and now the locker is absolutely packed to the gills and I have about 35 boxes to unpack. And now BDX futures are coming after TG.

Oh wow, never seen one of those before. That would be really nice to have indeed. Is that for wine, or something else like medicine? Personally for greater peace of mind, a lower temp threshold would be ideal
This is in my shipment from Saxum. They put this on one bottle per box so we know if the wine was exposed to extreme temps. Probably costs them 50 cents to a dollar each.
Looks like the next lower available temperature is 79°F then 77°F.
Probably because a lot of producers would have to take back a lot of wine. FedEx and UPS certainly aren't going to pay up.
I lean towards not your fault
Fill looks good on all including that 1972