We traveled to LA to spend and evening with dear friends and dine out at the fabulous Providence restaurant. Soon after arriving at their home, we sat in front of a crackling fire and enjoyed some of the fine 2012 Louis Roederer Brut Rose that I`ve been so happy with over the past 6 months.

My friend placed the well chilled 2000 Cristal I brought inside an incredibly unique brass cylinder that has the size and shape of a magnum bottle [see photo] and bagged it along with his 2 Grand Cru white Burgundy and we took an Uber over to the Melrose location formerly occupied by our previously revered Patina restaurant.
We were greeted by the Wine Director, David Osenbach, who attended to all 3 wines with his professional adeptness. While opening the Cristal, he shared the well known story of why the bottle is clear and has no punt that the Russian Czar, Alexander ll, demanded in order to avoid being poisoned or otherwise assassinated. We definitely were not poisoned and still kicking after drinking it, maybe with a little extra kick.
2000 LOUIS ROEDERER CRISTAL BRUT- I'd only had a couple from this vintage and both were suggestively good, but seemingly too young to give up their forthcoming treasures which we experienced in this bottle; the nose had amazing and distinctive toasty brioche and saline accents added to the ripe green apple fruit; on the palate, some honey coated yellow apple came in and all continued on to the back end with grace and ease; this wine had wondrous mouthfeel, was very elegant and exuded class and royalty along with harmonious balance; the Czar would have been quite pleased as we were.

We each ordered a 4 course pre-fixe option, some featuring the fine sustainable seafood dishes Chef/ Owner Michael Cimarusti is renown for; we were treated to a series of amuse bouches that were seamlessly served and perfectly timed as was all of the sequence of plates over the course of the entire dining experience.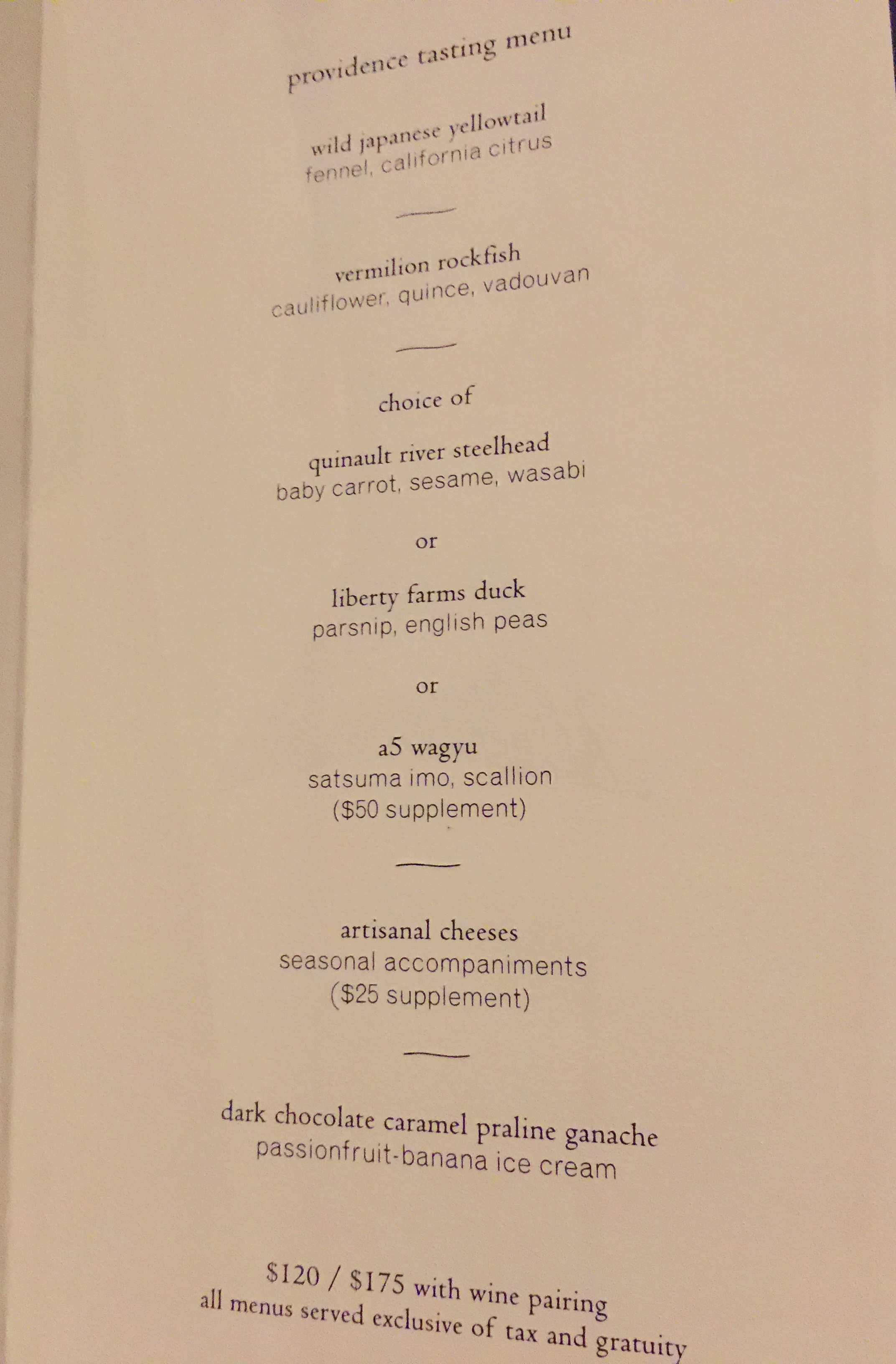 Two of us chose to conclude with a cheese course in lieu of the dessert course at the end. The cheese cart had a fantastic array of choices and each one that was served came in large portions and worked perfectly with the freshly baked, dark hot sour dough bread already on the table.
Prior to departing for the restaurant, we had individually decanted the two white Burgundy back and forth perhaps 10 times in carafes before returning them to their bottles and they still went through vast changes in the glass once poured.
2009 DOMAINE MICHEL CAILLOT BATARD-MONTRACHET GRAND CRU- light yellow color; the nose was redolent of steel, flint, graphite and minerals which remained although much less empahtically on the palate where lemon, apple, pear and passion fruit show up before there is a note of caramel almost suggesting some early oxidation; this bottle is leaning toward being full bodied, had enough smooth texture to provide a tactile boost and showcased bright acidity; after 30 minutes or more in the glass, it all miraculously came together and left any ideas of a musty, pre-moxed wine behind and this is after the vigorous decant 2 hours prior.

2009 JOSEPH DROUHIN MARQUIS de LAGUICHE MONTRACHET GRAND CRU- this was absolutely fabulous and may be one of the most opulent wines I've had in the last year or so; it had everything I could ever desire in a white Burg from the nose through the tail; the color was a light yellow; the aromatics included more than cordial welcoming notes of floral and fresh citrus fruit plus mild accents of lightly buttered toast and a hint of minerals; the taste profile was more profound with rich and lightly toasty vanilla, lemon zest, pear and yellow apple delivered in a lush and creamy textured medium; past mid palate, it seemed to crescendo and just keep rising up to the stars; nicely balance with layered depth, this was heavenly and I transcended nirvana.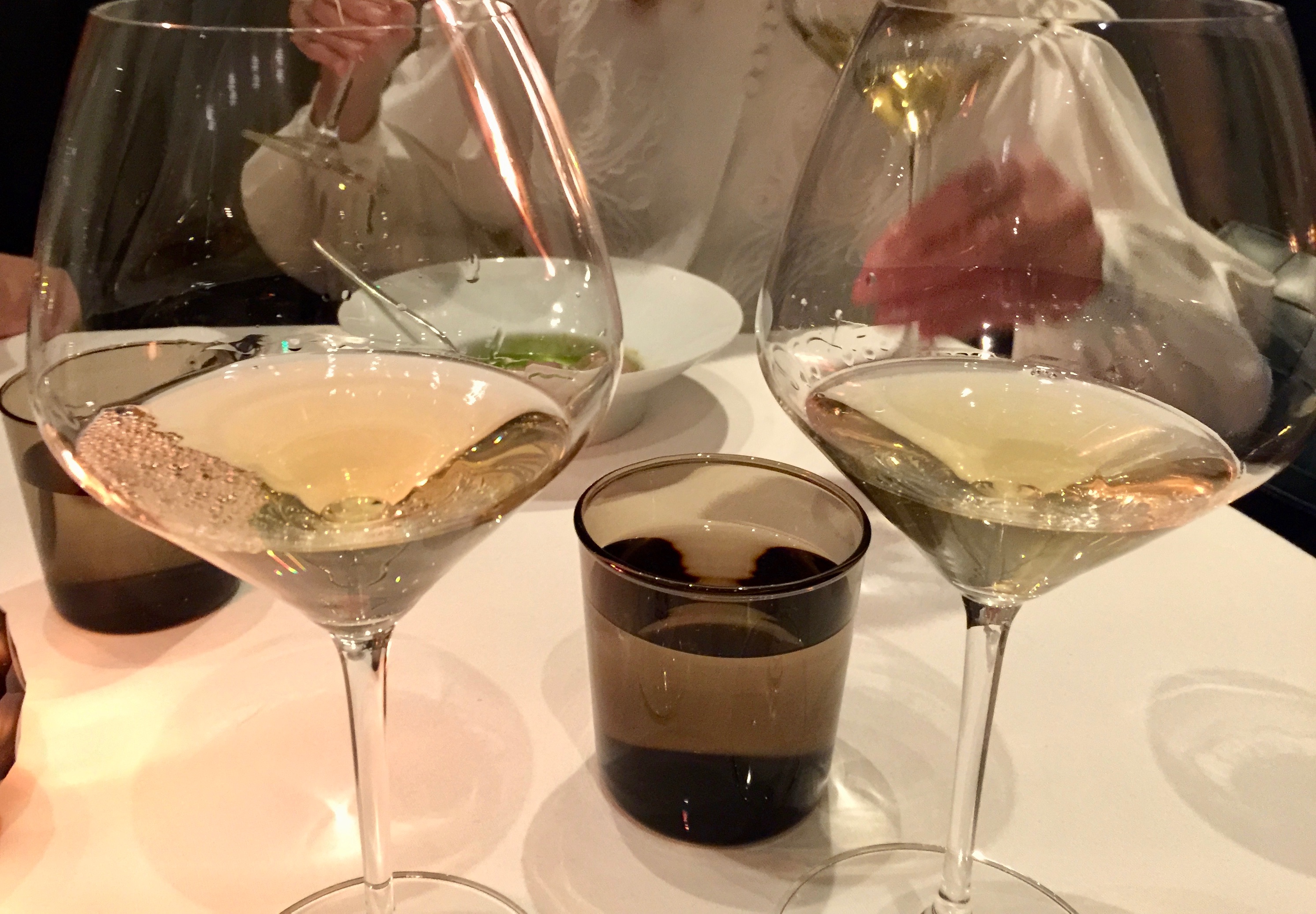 What an incredible evening composed of righteously good friends, outstanding food and wines served by dedicated, very attentive professionals.
Providence is a big time winner and after this experience, it shall become one of a few places we choose for that extra special occasion such as celebrating its Thursday night.
Cheers,
Blake