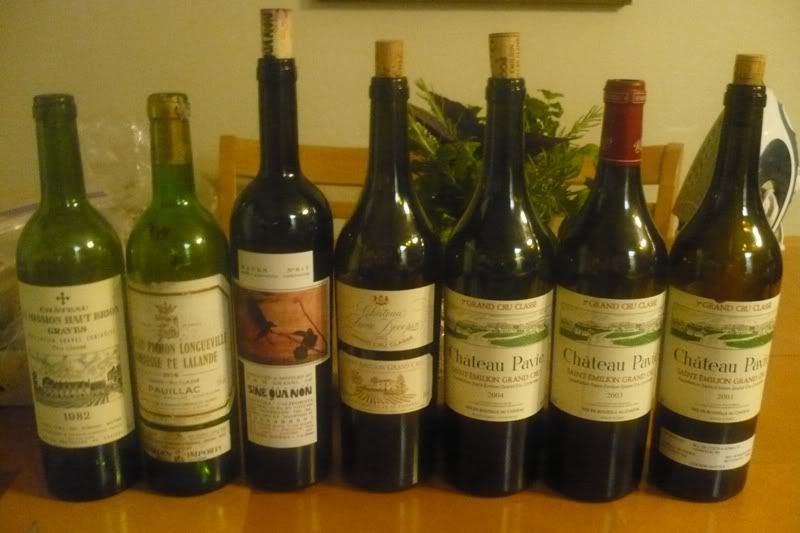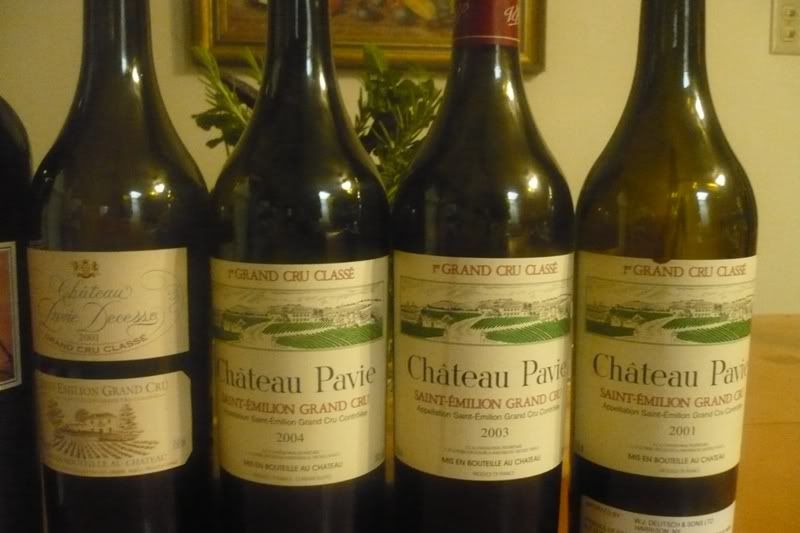 Nice work guys.
P-rob: I found the SQN a bit to primary for my tastes, a touch overblown as well. I am gonna wait a few more years before opening another.
As it pains me to say it, the Raven Grenache is pretty much too much of everything…RS, extremely high ETOH, oak and fruit concentration. It was almost like a young Vintage Port. As much as I enjoyed the Atlantis Grenache young, this was a different beast altogether. Maybe time will tame the beast, but I don't know.
The Pavies all rocked and P-Rob is correct in that the '04 was outclassed though. A good wine in a great line up. I found it had a pretty pronounced green streak as compared to the others. For me the 2003 is as close to a perfect wine as can be found…balanced fruit concentration with oak, awesome texture and mouth feel along with a finish that lasts at least a minute.
Yeah, Denny said that the nose on the '03 Pavie was a dead ringer for the '97 Harlan.
Pichon was very good match for the beef. Still alive and fresh for 31 years old.
Ballin'!
Good stuff right there. Love the Pavie comparison. I have all 3 of those and never had the opportunity to taste any of them. Clearly I'll open the 04 first and know better things are to come.
Great notes.
those '78's where you can find them are some good juice
and the 01 pavie really really nice, we did a similar mini pavie horiz at hawksmoor with steaks a little while ago and the 01 showed really well
love the way you guys mix new old world, old old world and new new world
i wonder if the SQN seems so disjointed if drunk on its own. they always seem like wines that only want to be drunk with other SQN's
Thanks for the notes on what sounds like a hell of a night. Interestingly enough, I've been hearing a lot of notes about how well the 03 Pavie has rounded off, even from detractors that found it over the top before. With its price rather modest comparitively (to the 00, 05 and wines that it is often compared to), it seems like a steal. I still love the 01 Pavie. Just phenomenal.
Hopefully without the excessive VA.
That 97 Harlan was one of my most perplexing wine experiences Phil. I went to my friend Jeff Gardoulio's Labor Day Party in 03 and Bill Harlan was there pouring the 97's from Mags. The wine was sublime. I had two in the cellar and quickly opened one after I returned from Napa. It was so VA tainted that it was not drinkable. Several other friends had the same comments. I sold the remainig bottle on Winebid.
The only two Harlans I've tried was the '99 on two separate occasions with results similar to yours on the 97 though not quite as contrasting. Worrying about VA on a supposedly 'First Growth' type of Cali wine is an embarrassment though.
Chris, I have had the 99 two times and both were very nice wines. One may have had slight VA, but certainly not obtrussive. I actually nearly brought it to the dinner with Otto and Nancy last week in SD but instead brought the 95 Pahlmeyer that had slight brett.