Fall has descended upon our area, and it was time to pull out the cassoulet pans and summon fellow Francophiles.

With a charcuterie platter, we started with
2003 Taittinger 'Comtes de Champagne' Rose [Champagne] This was thrown back quickly, and was my wife's favorite. Inconveniently shaped bottle! 12% abv, and plenty of zip, with lots of life and no mushrooming on the cork. I don't think the idea that hot years age poorly is an iron law of physics.
2012 Bollinger 'La Grande Anne' [Champagne] Juicy acid, lemon, bread notes. Classic vintage bubbly attributes. Disgorged in Jan 2020. 12% abv. Long finish.
2002 Chapoutier 'Le Meal' blanc [Hermitage] 20 years on…no fading nor oxidation. Full bodied with the texture of a big California Chardonnay but the flavors of straw, honey and beeswax. 14.5% abv which sneaks up on the taster. Again, a long finish.
And then a couple of Burgundies snuck in as we transitioned…
2005 Frederic Magnien 'Beaux Monts' 1er [Vosne Romanee] An NBI unfiltered example. 13% abv, structured, tannic still, some cherry flavors. Dark for a wines from this area. Nutmeg and sandalwood on the nose, and better on the second day so maybe decanting might have helped. It's a powerful 2005 Cotes de Nuit.
2013 Leroy [Cotes de Nuits Villages] 13% abv. Compared to the above, this was fleshier, rounder. It was consumed quickly with pleasure, so I didn't get detailed notes. Finding this producers' wines takes some effort now.
The cassoulet platters were placed on a roaming buffet and we tucked into that, along with the next wave of reds.

2003 Yann Chave [Hermitage]
Very dark, almost blackish, with lots of bright red berry fruit flavors. Smooth on the palate, but lots of chunky sediment in the bottle and last glass. 14% abv. Lovely acidic balance and lots of flavor depth. One of the best red Rhones I can recall in recent years.
2000 Giscours [Margaux] 13% abv, some sweet glycerin mouthfeel, with dark and rich full bodied texture, but still some structure and tannin, even at voting age. I thought it was more driven by its cab sauvignon character. A strong masculine kind of Margaux AOC.
1996 Pontet Canet [Pauilliac] 13% abv and medium bodied with lots of cedar and classic mature left bank notes. Still vigorous on day #3. The fruit leans toward the red end of the spectrum and there is still tannin; perhaps that will always be here.
A brace of California wines closed out the mains
2013 Barrett & Barrett Cabernet Sauvignon [Calistoga] Husky CS at 14.7% and chewy. Comes in a vanity bottle with a deep punt. Blueberry flavors, very smooth or refined tannins, which seems unlikely for something associated with the Montelena leadership. Big fruit.
2018 The Debate 'Stagecoach Vyd' Cabernet Franc [Napa] Dark, youthful, primary. Vanilla oak flavors, then plum fruit and almonds, along with other mixed nuts. I don't get the herbal CF flavors that the varietal can show, but perhaps those might emerge over aging. Lots of grip and structure, keeping well over 5 days being opened.
We had a fruit tart, along with berries/cream to go with the sticky: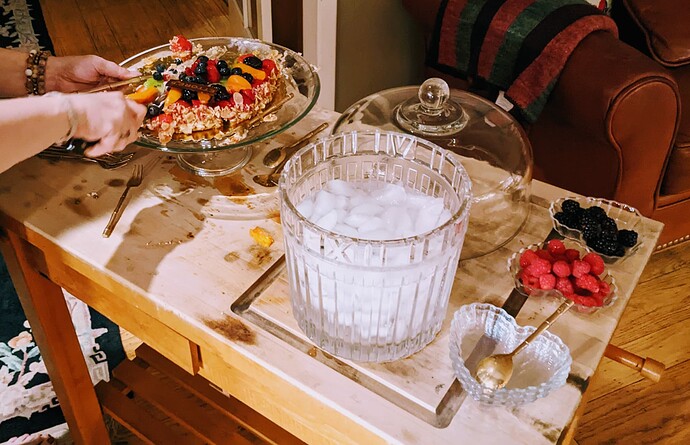 2001 Lafaurie Peyraguey [Sauternes] This improved with air, surprisingly. Tropical flavors on a dark gold viscous frame. Butterscotch, and very sweet. Outlier view, but consider decanting to get the most out of this.