I'm Canadian but live permanently in New York. Does that count?
Ive only tried a couple of Burgundy wines. I have a few bottles of DRC wines but I'm not even sure about opening those because I feel like they would be wasted on my limited tastes. I mostly enjoy a lot of local VQA wines. My wife and I do a lot of trips to Niagara to pick up our favourites and do the tours.
Thanks! I'm mostly a bourbon guy but I enjoy the local Niagara VQA wineries. I had a Robert Mondavi bourbon barrel finished Cab-Sauv recently which was absolutely amazing. The best of both workds. Lol
Many Canadians here, we have taken over this entire board!
Nothing wrong with good bourbon! What are some of your faves in Niagara for wine?
I'm a big fan of the Southbrook Chardonnay Poetica line and the Chateau Des Charmes Pinots and Gamay "Droit". I dunno if they still have that bottle left but it was a peppery delight. Cave Springs is excellent as well. Their CSV and Dolomite series are really amazing. We always go there with the intention of grabbing a few bottles and leave with a few cases.
And Chateau Des Charmes sparkling wines are amazing
I don't still live there, but I'm from Toronto too!
I took the family to Banff in 2017 and only drank Canadian wines. Mostly the best ones I could buy in the Banff Wine Shop, but also off some restaurant lists.
The best wine of the trip was Black Hills Nota Bene 2013, at the Post Hotel. I have bought some 2014s domestically since then and enjoyed the first one, but I think it needs some age.
Other than that, sort of 40-60 hits to misses. I don't remember all the names; as I often do, I scribbled notes through the trip but never got to typing and posting.
Here is the Black Hills: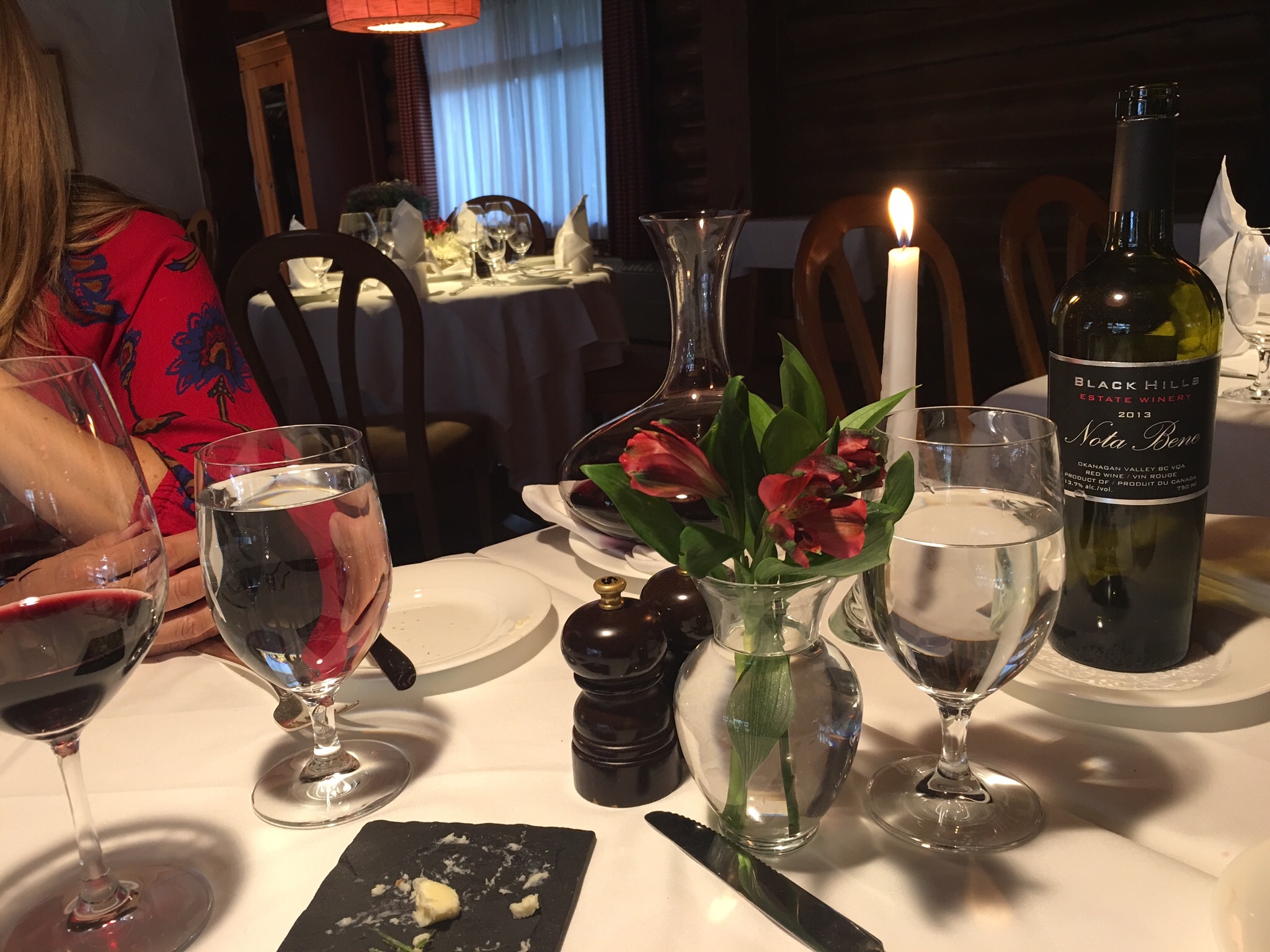 Here is a picture I took of a nice Riesling we had at a picnic north of Lake Louise.

Another Torontonian here.
Good to see a decent number of Canadians in here, so I know a shortlist of people to contact about local wine deals
I have a few bottles of DRC wines but I'm not even sure about opening those because I feel like they would be wasted on my limited tastes
Very wise and good observation.
Keep all the DRC wines …and wait…until you have settled down on your choice of preferred Burgundy style of wines.
Many of my burgundy-lover Chinese friends in Montreal, QC…much prefer … Damoy's Chembertin and Eugenie's CdV. They said they are better than La Tache…

Another Canadian (resident) but really a Brit expat. Involved with Winetasters Soc of Toronto and just generally enjoying wine!
Hi from Toronto. Keep the DRCs a few years. Auction them off, buy a bunch of what you've decided you like by then.
I don't know anything about auctions. Lol. I will just keep them stored properly for now until I figure it out or decide one night that I feel like drinking a $429 bottle of Corton.
I also have a few bottles of '96 Lafite and Mouton that I bought almost 20 yrs ago at cheap price (of course by today's standard) and have been storing them properly (I hope). Don't know it's current prices and I have no way to auction them off (I live in Calgary). Now I need to find an excuse or occasion to crack them open.
Come to Toronto

Hi. I just joined this group. I'm looking to see if anybody else is from Canada or if there are any sub-forums that would be good to post to specifically for Canadians looks to chat about wines, spirits, and beers. Thanks.
No.
Nobody really likes Canadians anyway.
Besides, I saw a movie where they were going to invade us.

Not us. Just our pet moose and beavers—with the geese dive-bombing in support.