Two days after Catha and I returned from Spain, on the 10th April 2010, we were 2 of the fortunate 10 to be treated by Tita Bella to her lavish, modern Chinese banquet at her place. Aside from our ever-svelte and gracious hostess (who joined us in a few of the many elaborate courses she herself prepared), in attendance were Rene & Aimee, Miguel & Ria, Jojo & Fides, J-Lab & Jocel, Catha & I.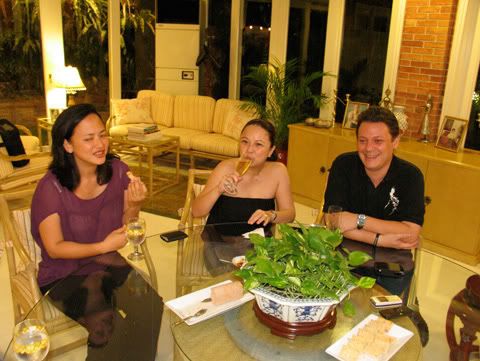 Ria, Aimee & Miguel
We were the last couple to arrive, I recall. The others had already polished off a white and were working on a bubbly when we got there.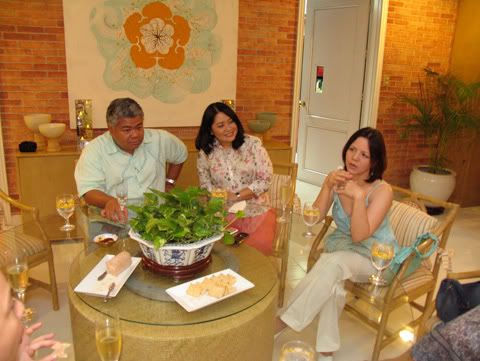 J-Lab, Jocel & Catha
Jojo & Rene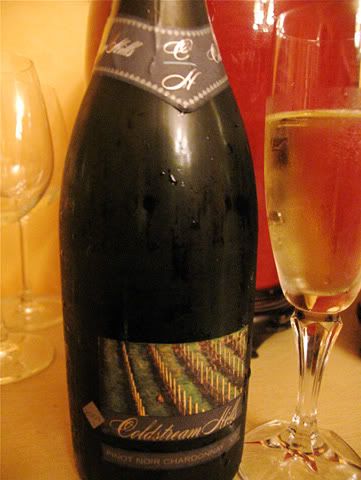 2007 Coldstream Hills Sparkling Wine - Rene's bottle. From Australia's Yarra Valley, the label says it is a blend of chardonnay and pinot noir and, to me, it tastes like it is mostly chardonnay. Simple, straightforward, penetrating, linear green apple and citrus quickly lead the way until some leesy, mildly creamy roundness and marginal heft (from the pinot noir most likely) present at mid-palate. Rather over-eager yeastiness kicks in past mid mouth and trails with a rather sharp citrus finish. A bit too tightly wound now and the citrus notes border on shrill. It's a good enough summer quaffer, I suppose, but it's not really something I'd personally go for - not at this point anyway.
We eventually were called for dinner proper, so eagerly seated ourselves for the evening's delights.
The Menu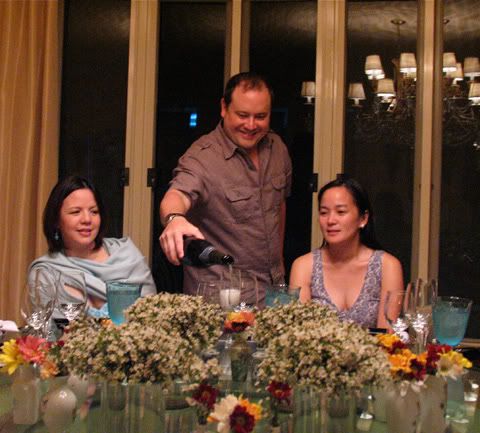 Rene pours for Catha & Fides…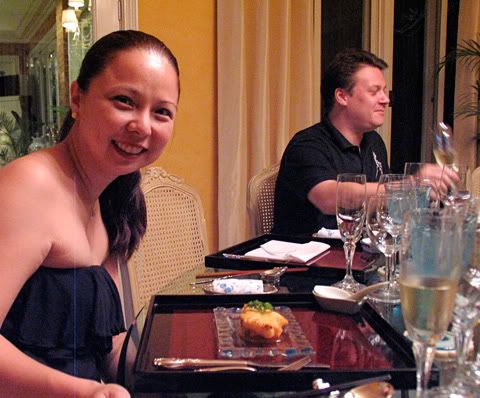 …and the first course is served.
Fried Milk with Kani& Apricot Marmalade - a delectable spin on an old favorite in Hong Kong. The crab and apricot marmalade gave a novel (to me) and playful twist to an old, familiar dish that we usually have at the end of a dim sum lunch. Tita Bella's take on this, however, turns it into a good starting course - in the style of a seared foie gras with a fruity glaze. I had this with a sip of…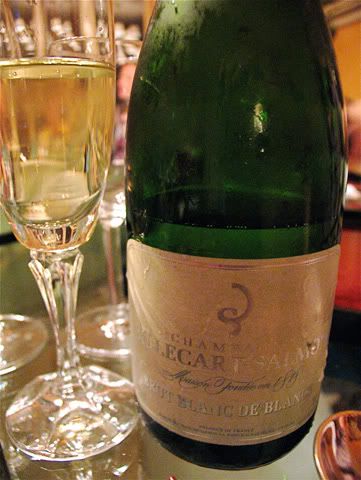 Billecart-Salmon Brut Blanc de Blancs NV - Jojo's bottle. Their non-vintages consistently show good depth, mid-palate heft, pleasing roundness as well as freshness of fruit. This showed hallmark green apple and citrus brightness and, just past mid-mouth, elegant brioche notes. The apricot glaze clashed with this, so I reserved the rest of my glass for the next dish.
Boiling Sharksfin Soup with Shredded Crabmeat
I love sharks' fin soup. This, to me, was a unique version, more concentrated and heartier than most all I've tried before and with a deep, permeating caramelized earthiness in the soup's base. With the accompanying Chinese vinegar to give a bit of cut, I just couldn't stop from greedily slurping this up and couldn't help help myself from asking for a second helping. Greenies and pro-shark bleeding hearts be damned - I'd have this everyday if I could. They are welcome to try and stop me if they can.
The blanc de blancs was a good enough pairing. In my experience, with other sharks fin soups, I prefer pinot noir dominated champagnes; with Tita Bella's version, however, the bright edge of this blanc de blancs gave needed cut and lift. I'm getting hungry again just thinking about it.
The next dish was another unique one, a house specialty of Tita Bella: Spicy Beef on Chinese Spaghetti Noodles, Sliced Cucumber. How lucky her children are to have grown up with such creative dishes by their mom.
Aimee demonstrates how to serve and eat this unique dish…
…and Miguel quickly attacks as Jojo looks on.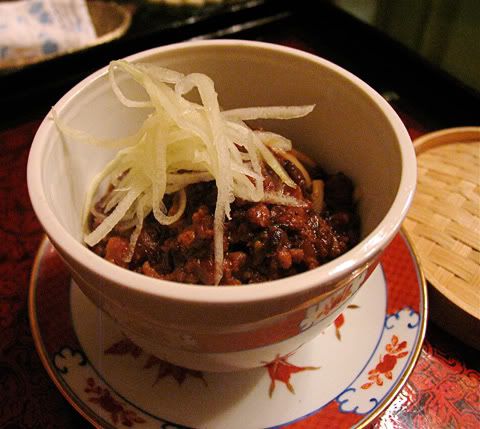 This Spicy Beef on Chinese Spaghetti Noodles with Sliced Cucumber, I understand, is also a favorite of Santi who requests it even at continental menus of Tita Bella. I now see why. I recall Jojo and Miguel, among others, getting subsequent helpings. I love how the sliced cucumber on top gives freshness and lift to this. Excellent touch. With this was paired…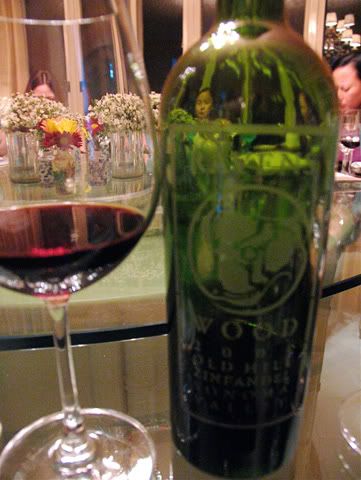 2004 Ravenswood Old Hill Zinfandel - J-Lab's bottle. I've actually visited this winery in Sonoma Valley with some old friends back in May 2001 and tasted a few of their powerfully alcoholic zinfandels. Honestly, I couldn't see the allure. Getting kicked in the head I somehow find unappealing. This, however, was more rounded and markedly more civilized in its deeper, denser, blackberry, blueberry, dark red berry, slight black pepper, whispers of toffee/cinnamon/nutmeg and somber, underlying dark mineral notes with a bit of loam. Nice enough in itself, and it did go fairly well with the dish. I, myself, was absolutely stumped on how to pair the dish, so kudos to J-Lab for taking a brave stab at the pairing.
With the Roasted Peking Duck, Lotus Wrappers & Hoisin Sauce, two German rieslings were served: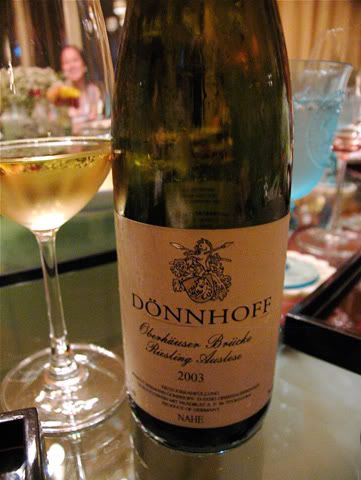 2003 Dönnhoff Oberhäuser Brücke Riesling Auslese (Goldkapsule) - My bottle. An auslese (late harvest) from a very ripe vintage, it, nonetheless, displayed good enough acidity in its vaguely tropical-charactered (not baked) notes of honeyed ripe pear, peach, apricot, honeysuckle with light touches of spice, petrol (topnote) and slate (underlying on the palate). Elegant acid balance lent the more-rounded-and-riper-than-usual fruit precise lift and cut. Perfect with the Peking Duck as I had planned. I loved this riesling and most of the ladies did too (though I recall Miguel, Tita Bella and Aimee preferring the next one).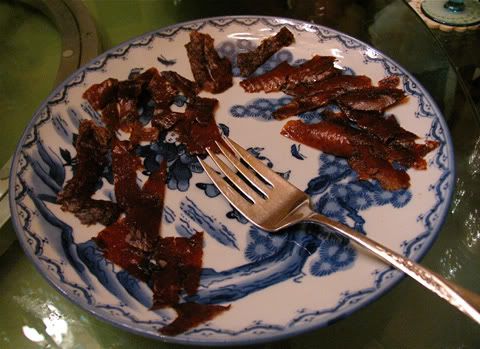 2005 Joh.Jos.Prum Graacher Himmelreich Riesling Spätlese - Jojo's bottle, with an impressive name ("Himmelreich" = Kingdom of Heaven" or "Sky Kingdom"). As a younger spätlese, though also from a particularly ripe year, this showed lighter, more enthusiastic playfulness, like it was twirling about on the palate. It was also, of course, marginally less sweet. Its peach, pear and apple notes showed very good purity and a nice, steely, bright minerally backbone. Healthy acidity lends remarkable freshness and the youthful spritziness just adds to its happy dance. Very nice indeed. I'd say this is more versatile a wine (can easily and happily be sipped alone) than the previous bottle, but, as a pairing with Tita Bella's Peking Duck, the latter's added heft and sweetness gave it the edge for me.
What have we here now…?
Steamed Crab Legs with Garlic, Vermicelli & Soya Dressing, paired with…
2008 Caymus Conundrum Proprietary Blend - Rene's bottle. I recall having Conundrum only twice before and both times from Rocky and Apple, once each at their Sugar Loaf and Hillsborough residences (no written notes, I'm afraid since I was sipping them while cooking both times). Rather heavy and fat after the two German rieslings, it came off as too heavy, fat, baked and oaky for me. The fruits were a mélange of baked lemon cream, melon, apple, yellow apricot, some grassiness, lime, white grapefruit and a bucket of oak/vanilla. Acidity was low; purity and focus didn't seem to be a consideration. I understand it is so named to befuddle the taster in guessing the cepages, but, for me, I see no point in it. Not my type, though I can understand why new world palates would enjoy this. To each his own, but this is not for me.
That it was served with a steamed shellfish dish just seemed to emphasize its oaky, low acid, baked, flabby nature. It probably would have done better with a richer, heavier dish. I could see this doing well with roast porkloin.
Crispy Pork Wedges Glazed with Sweet Sour Sauce (photo by Miguel)
Wow. Honestly, I stopped ordering sweet and sour pork many years ago. This one, however, was special, unlike the ubiquitous, overly fatty, usually soggy and boring ones one comes across most any Chinese restaurant. This was actually crisp and the glaze, though, indeed, spicily-sweet, had an uncommon depth to it. The only local version that comes close to this was the one at the old Gloriamaris at the Manila Bay when it was being run by Tita Glenda Barretto when I was still in college. It was a hit. I got three moderate servings…
…while Jojo happily got much more.
Photo by Miguel
1990 Château Sociando-Mallet - Jojo's bottle. I've had this at least twice or thrice before as I vaguely recall; the last time being at a Chinese lunch in early September 2009, during which he sponsored most all the wines. This subject bottle, I drank from alone, after the glazed crispy pork wedges. Consistent with my last notes, I reproduce them hereunder:
Warming, complex and deep, the ripe black and red fruit (easily riper than the '96) melded seamlessly with notes of cedar, violets, nuances of mushroom, leather with whispers of meat, pencil shavings and licorice. Just a shade under full-bodied, good concentration. Very nice indeed.
We then moved on to two dessert courses…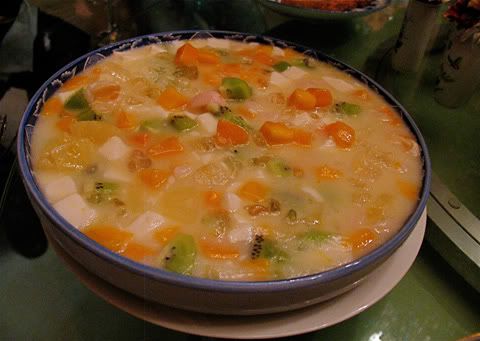 Chilled Almond Jelly, and…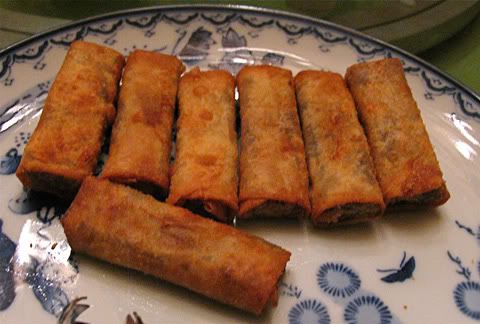 Tikoy Surprise.
As one can easily see from the photos, Tita Bella cast her creative spells on both typical, well-known Chinese dessert/snack dishes: bringing the otherwise ubiquitous chilled almond jelly with lychees to loftier heights by adding in kiwi and other in-season, summer fruits; and, transforming the tikoy into crispy-flaky outside/warm and softly chewy inside, turón-reminiscent cylinders of goodness. She really leaves no stone unturned, ever.
Many, many thanks again to our most generous and talented hostess. Your dishes never cease to amaze. I don't know how you do it, but we're all certainly glad that you can and do.