Our Monday night dinner group enjoyed another fabulous dinner at Ca Dario Montecito drinking all wines blind except for a champagne. Pinot Noir from anywhere was the dedicated red wine theme and as usual, we all learned a lot and were challenged to ID some varietals, even our own brings.
First, this restaurant is absolutely fabulous. The owner/ chef devotes most of his time at this location one of three locally. He is quite talented and does things just a bit different than and it always turns out to be delicious and savory. The broad menu choices and various sauces and exotic seasonings allows us to select wines from all over and be able to pair just about any varietal successfully.
We started off with a champagne:
2002 POL ROGER EXTRA CUVEE de la RESERVE- from the stellar 2002 vintage that is showing beautifully now, this bottle had a gold color suggesting some age which was confirmed by the nose that was replete with advanced notes of caramel and butterscotch; I trudged on and was happy to discover some nice honeyed yellow apple once tasted as well as loads of richness and a creamy texture; for me, this was just on the edge of being a nice, mature bubbly that might be more advanced and less desirable in the next phase; our bottle was significantly chilled and that made it much more approachable as the everything was a bit suppressed initially.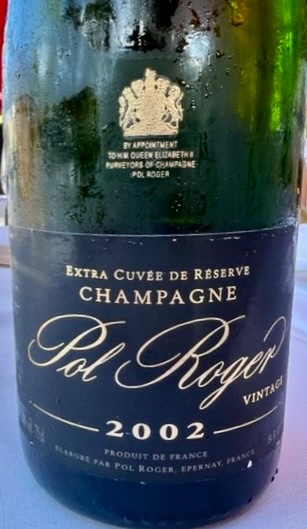 And now for the 4 whites tasted blind. My notes reflect both blind and researched remarks:
2014 TALLEY ESTATE RESERVE CHARDONNAY ARROYO GRANDE VALLEY- it was pretty easy to detect Chardonnay here and most of us got it was new world and probably CA; I actually had it as a Russian River Valley; this was a lovely wine that pleased from the nose through the tail; following its medium youthful yellow color came aromas of pear and apple which continued on to be joined by white peach and lemon, all enhanced by an accent of oak spices; I kept looking for some underlying minerality that is so much more prevalent in white Burgundy, but found none and along with the oak influence, deducted new world; BTW, this had a pleasant nose and taste profile along with its feel good texture, all contributing to making this is a good wine that can benefit from more time.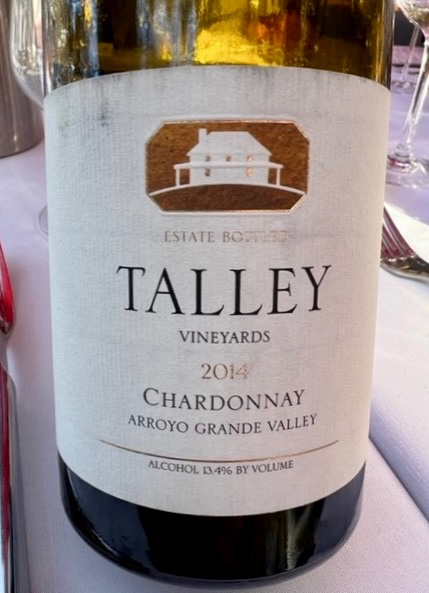 2020 CANTINA TERLAN TRADITION GEWURZTRAMINER ALTO ADIGE- the color was a straw yellow and the nose said Riesling or Gewurz to me with its mineral laced tropical fruit which on the palate became tasty pineapple, guava and mango plus lemon, pear and banana; it was rich and medium to full bodied and so easy on the palate as well as pairing beautifully with the appetizers.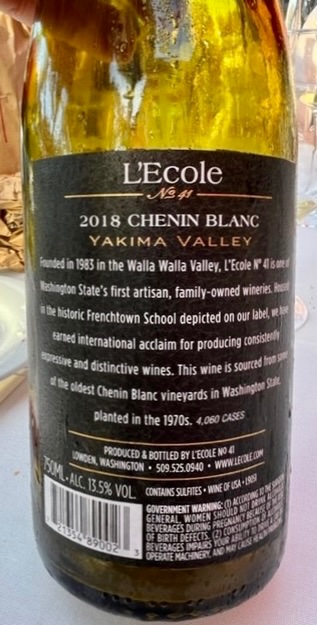 2018 L`ECOLE No 41 OLD VINES CHENIN BLANC YAKIMA VALLEY- 13.5% abv; 4,000 cases made; tasted blind, but I recognized the Chenin from recent samplings and knew it was my bring; following its pale yellow color came aromas of mineral and lemongrass accented tropical fruit joined by honeyed pear and apple once tasted; this has nice acidity and a soft and easy mouthfeel to add to the sensory pleasure.
An aside, I was gifted 3 bottles, 2016-2018, of this wine to taste and review This vintage carries the Yakima Valley labelled distinction, an AVA within the Columbia Valley, whereas the 2016 and 2017 indicate Columbia Valley although the fruit is sourced from vineyards located within the former. According to a note attached to the tech sheets I received, the winery chose this change "to align with other Heritage Line items".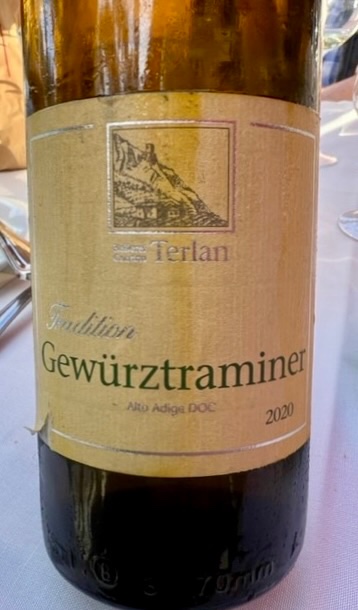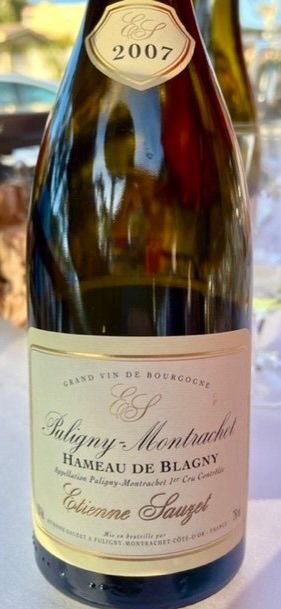 2007 ETTIENE SAUZET HAMEAU de BLAGNY PULIGNY- MONTRACHET 1er Cru- medium yellow color; aromas of mineral infused citrus says this is a white Burg to me and the more I visited it, the more I was convinced; the taste profile was enhanced by fresh, ripe lemon, lime and white peach fruit; it had wonderful balance and mouthfeel and a long, satisfying finish that sealed the deal, but it was its grace and charm that stood out throughout; my fav of the 4 as it was for most of the others.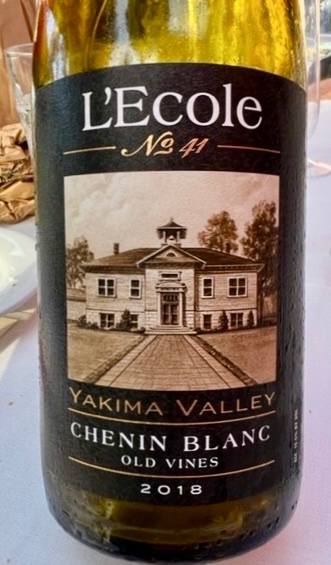 We moved on to explore 5 Pinots blind:
2013 PAUL LATO "SUERTE" SOLOMAN HILLS VINEYARD SANTA MARIA VALLEY PINOT NOIR- this wine has been highly acclaimed by many of the wine reviewers and rightly so; it's showing well now with promises to mature into an even better place; the color was a youthful, vibrant red purple; the nose included spiced and toasted berries which on the palate was discovered to be red cherry, red currant, black cherry and black raspberry; the burnt red cherry notes were most evident early on and to the back end; a nice wine from one who was mentored by good friend, Jim Clendenen of Au Bon Climat before going out one his own.

2006 BROGAN CELLARS LIGENFELDER VINEYARD RUSSIAN RIVER VALLEY PINOT NOIR- this was my bring and I did not recognize it even though I'd had it 2 nights before; of the 5, this one had the oldest color with a tad of bricking plus the most mature fruit and it really did not show all that much maturity when I decanted it from a magnum, drinking some and replacing the remainder in 2- 750 ml bottles; the nose and first taste offerings had some dried red currant, but in time, a mouthful of red cherry/ berry came in and it finished beautifully; even at the very end, a hit for dried prunes showed up and I`m wondering if I brought the same wine that seemed so much different and younger just 2 nights earlier.

2009 SEA SMOKE SOUTHING SANTA RITA HILLS PINOT NOIR- the 14.5% abv stated on the label is a much lesser content than those from the original winemaker who left in 2008; and the wines have been made in a different style since then, having slightly less extraction, less ripeness and consequently slightly less alcohol, and less new oak elevage; this is one of the 3 estates Pinot Noir heavy hitters in the lineup; Botella and Ten are the others; Southing gets it name for its south-facing hillside bluffs; so what about this wine? It was really good and my fav of the 5; it was super aromatic with fresh cut flowers, cherry tree blossoms and red cherries which continued on to be joined by flavorful blackberry and black cherry, finishing it off with a touch of talc; it had nice balance, great feel and seemed youthful and capable of giving lots of pleasure for years on.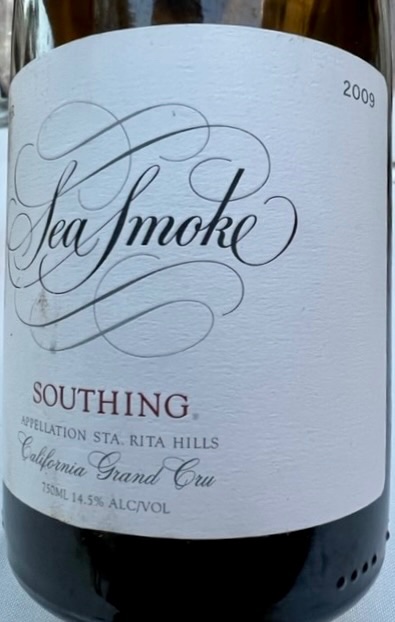 2011 AUBERT UV-SL VINEYARD SONOAM COAST PINOT NOIR- this was named after their now deceased vineyard manager, Ulises Valdez Sr. (UV), and his home located on Stoetz Lane (SL); Mark Aubert and Ulises planted the vineyard 15 years ago; the color was a vibrant dark purple suggesting it was younger than actually the case; the serious nose and the taste had smoke and toasted, fresh red cherry fruit while being delivered in a silky, smooth medium that added a nice tactile treat; it was medium to full bodied and had a welcomed, long finish; my 2nd fav of this flight.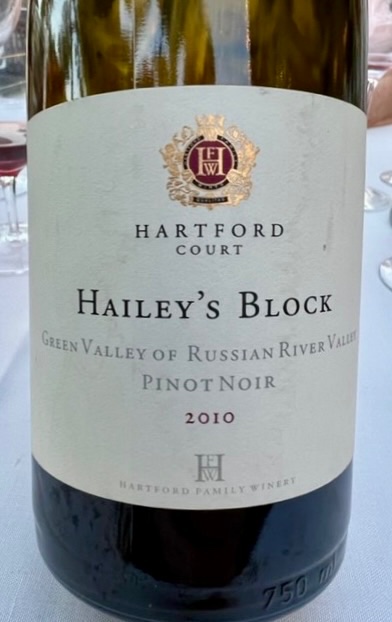 2010 HARTFORD COURT ARRENDELL VINEYARD HAILEY`S BLOCK GREN VALLEY OF RUSSIAN RIVER VALLEY PINOT NOIR- Dijon clone, unfiltered, unfined, cool climate Pinot Noir; this came off young from the color through the taste profile and it was a good wine with lots of stuffing; vanilla, cola and oak spices provide accents to the nice red and dark fruit which predominantly consisted of black raspberry, red and black cherry and black currant; it had depth and complexity and a long, sustained, impressive finish; IMO, this actually needs more time that a decant may have helped.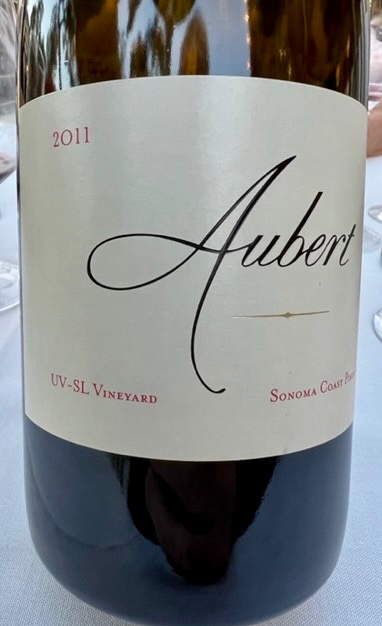 Here's another fabulous night with the gang and as with all blind tastings, we learned a lot while discovering some wines to add to our cellars and maybe to do more decanting.
Cheers,
Blake