We held the 15th of the Grand Crew's blind "competitions" at the Stockbroker's Masseto a few nights ago, the first for 2010. The Vigneron won the previous challenge (14th November 2009) with a surprisingly good '99 Trotanoy. Unfortunately, the morning of the challenge, Mrs. Stockbroker and I were taken ill. She opted not to attend (surely in a worse condition than I at the time), while I (foolishly) loaded up on medicine and sallied forth*****. We were 7 in all that night.
*****My palate was, obviously, not at its best that night as, aside from being loaded with medicine, I developed severe chills in the latter half of the evening - so you may want to discount my tasting notes' accuracy to a certain degree.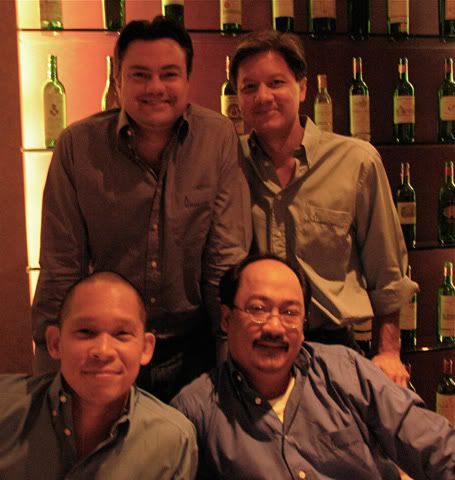 The Grand Crew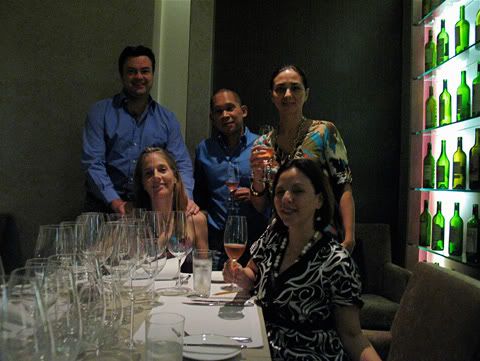 With the ladies.
We started off with pours of the Stockbroker's Cerdon de Bugey Caveau de Mont St-July - a simple and joyful strawberry-fruited bubbly from the Jura region composed of poulsard and gamay. I "discovered" the delights of Bugey Cerdon at Aux Lyonnais in Paris many years ago and started ordering the subject wine from K&L Wine Merchants for under US$15/bottle. I think the price has risen to around US$18/bottle now, but it's still an absolute steal for such a bright and fun bubbly.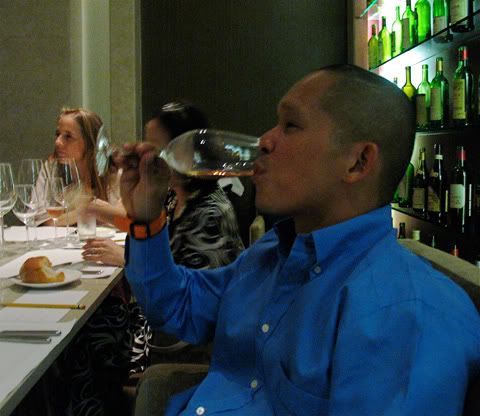 Together with the Cerdon de Bugey, we were served a few pass-arounds including Parmesan Crisps and some type of Somosa.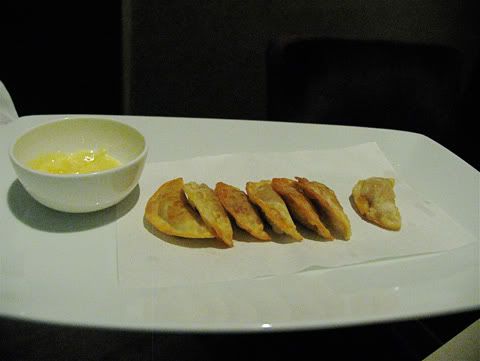 Thereafter, to go with our starter courses - mine a platter of White Asparagus Wrapped in Jamón Serrano with Truffle-Hollandaise Sauce, we had some…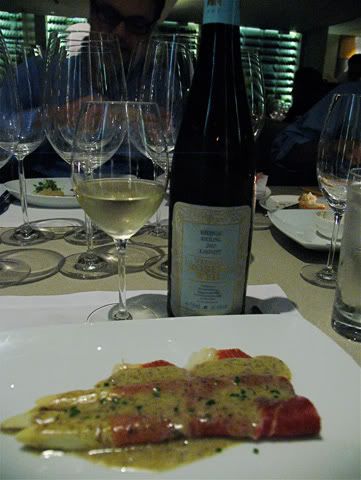 2007 Weingut Robert Weil Rheingau Riesling Kabinett - Ordered off Masseto's wine list at P2400. Very clean, pure and well-focused, floral off-dry peach and ripe lemon with a cold-stony minerality. Very nice indeed - Doc, Mrs. Doc, my wife and I particularly favored it and Doc promptly ordered some from the supplier shortly thereafter.
As a pairing, asparagus has always been difficult for me - that is, until sometime in early 2005 when I joined an International Wine & Food Society dinner featuring many white asparagus dishes all paired with various rieslings from Germany, Austria, Alsace and the new world. The subject wine was a fine match, its crisp and neat fruitiness and bright acidity gave cut and lift to the earthy truffle-hollandaise sauce, nice counterpoint to the jamón Serrano's slight saltiness and its cold-stony minerality ran with the asparagus itself. Now I'm curious how this dish would go with a drier German riesling halbtrocken. We shall see (after I am finally rid of this damn flu).
This, for me, was the dish and pairing of the night. The Doc even went so far as to less-than-half-jokingly name this riesling kabinett as his wine of the night. I wouldn't argue with him in that regard.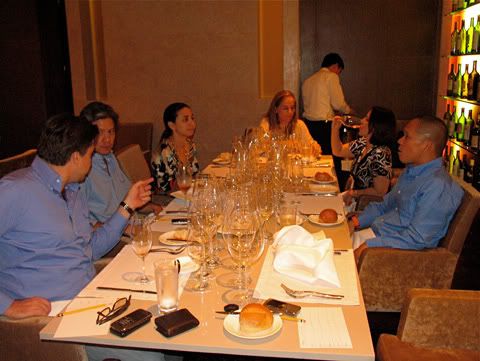 Next course is not on the regular menu, but, having enjoyed it so much at the Stockbroker's year-end dinner for the Usual Suspects, I had made a special request for Tippi's Fidueà with Prawns and Squid. With this, we had…
2007 Brewer-Clifton Sea Smoke Vineyard Sta. Rita Hills Chardonnay - The Stockbroker's bottle. Big and rich white, showing off somewhat creamy baked apple, pear, leesy and toasty oak/vanilla notes. There is also a good dose of minerality and a hint of honeysuckle to this. This chardonnay seemed to have quite a kick in terms of alcohol - well, either that or the wines' mixing with my meds was already getting to me.
The competing reds were then poured. We noted that not all the glasses were identical in size, but, due to the waitstaff's being terribly busy with a big Citibank function, we didn't ask to change glasses. I had these alone and with a few bites of my main course of Breaded Veal Chop with Mixed Greens.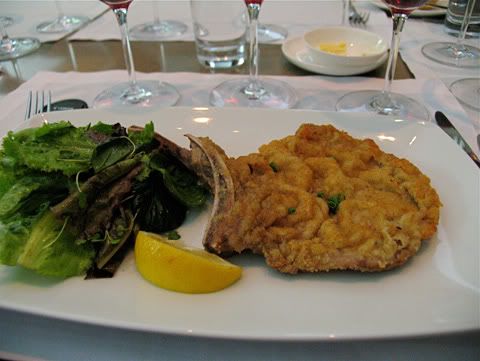 File photo since I forgot to take a picture of my main course that night.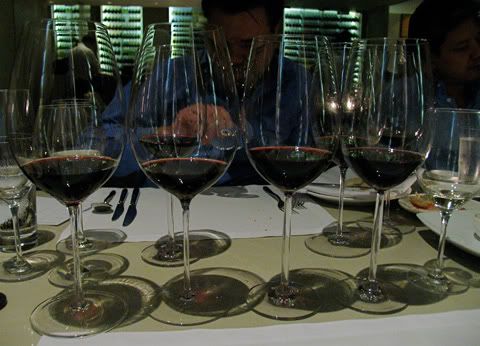 Wine # 1 - Nose: heavy perfume of mint, chocolate, wet tea leaves, sweet plum and violets with tamarind surfacing after around 15-20 minutes. In the mouth: flavors mirrored scents; fruit was very ripe with a slightly raisined character, lots of chocolate in this, big, full, powerful and dense. I eventually ranked this as my 1st place wine.
It turned out to be the Stockbroker's 1995 Antinori Solaia Tuscan IGT. This was the 2nd time the Stockbroker really challenged this Bordeaux-centric group's palates with a Tuscan IGT, the first time was in Blind Bdx Challenge XI with a 1999 Tenuta dell'Ornellaia (which I also happened to vote 1st place as it was the best pairing with my meal - prompting the Stockbroker to comment that I apparently have a palate tuned to Super Tuscans).
Wine # 2 - Bouquet of cedar, truffle, blackcurrant, plum, cherry and dark chocolate. In the mouth: dark chocolate, gravel, cassis, plum, cherries, violets, cedar. Rich in flavor but lighter-footed than Wine # 1. Halfway between medium and full body. Finish a bit shorter than Wine # 1, but a good length anyway. I voted this my 2nd place wine. It was eventually revealed to be the Doc's 1982 Château Grand Puy Lacoste.
Wine # 3 - Dense, ripe, deep fruit, some truffle, cedar, cassis. Medium in the mouth, with flavors of plum, cassis, violets, cedar and a bit of leather and chocolate. Good purity. Seemed quite restrained. I ranked this 3rd place. It was the Vigneron's 1996 Château Montrose.
Wine # 4 - toasted wood, gravel, tar, cherry, crème de cassis, violets, cedar. There is a pronounced smokiness to this wine. Medium-bodied. Good mid-palate push/drive, but the finish is clipped with drying, woody tannins. Unresolved and young. i ranked it 4th place and it turned out to be my 1999 Château Mouton Rothschild (decanted for over an hour).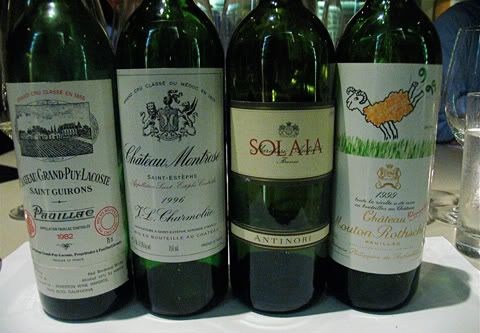 As always, Mrs. Vigneron tallied the votes and announced the winners.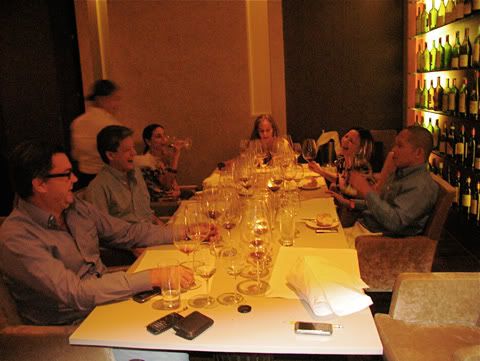 The Results:
1st Place - Wine # 2, the Doc's 1982 Château Grand Puy Lacoste with 21 points (3 votes for 1st place, 2 votes for 2nd place, 1 vote for 3rd place and 1 vote for 4th place).
2nd Place - Wine # 3, the Vigneron's 1996 Château Montrose with 18 points (1 vote for 1st place, 3 votes for 2nd place, 2 votes for 3rd place and 1 vote for 4th place).
3rd Place - Wine # 1, the Stockbroker's 1995 Antinori Solaia with 16 points (2 votes for 1st place, 1 vote for 2nd place, 1 vote for 3rd place and 3 votes for 4th place).
4th Place - Wine # 4, my 1999 Château Mouton Rothschild with 15 points (1 vote for 1st place, 1 vote for 2nd place, 3 votes for 3rd place and 2 votes for 4th place). I noted that only my wife ranked my wine 1st place and Mrs. Vigneron ranked it 2nd - so, I commented thst only they had the noses and palates for 1st growths that night.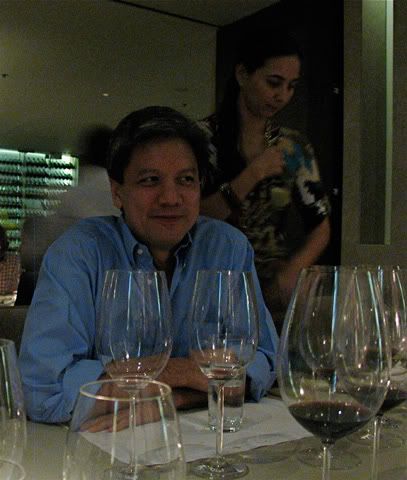 Thus the crown passed to the Doc…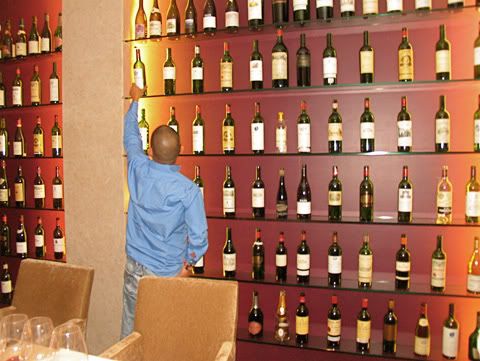 …the bottles going up on Masseto's wall.
It only remains for me to note that 3 vintages of Mouton Rothschild have been entered in our Blind Bordeaux Challenges (an '86 of the Vigneron in Bdx Challenge II, a '96 by me in Bdx Challenge V and now this '99 of mine in Bdx Challenge XV) all of which failed to win. I also note that in a blind tasting of 10 '99 Médocs several years ago, I ranked Châteaux Margaux, Latour and Lafite as 1st, 2nd and 3rd, respectively, and ranked Mouton Rothschild 7th. The Vigneron chided me for even trying again with a Mouton as, historically, it doesn't do well with this group. Ok, now I really know.
In any event, it was a fun night, chills, trouncing and all.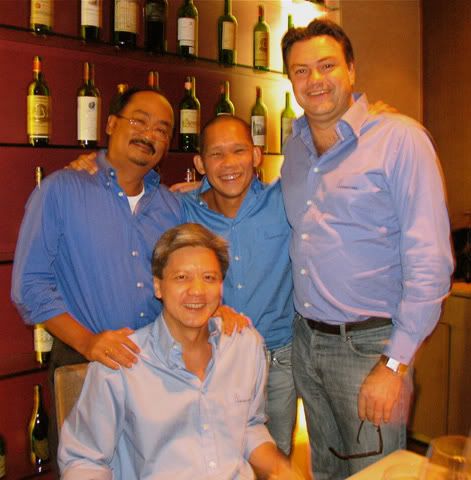 Edited for typos