Did you get a chance to try anything else at Schiavenza? like the 2010 Cerretta?
Had the 2010 Elio Grasso Casa Mate over the past 3 days. Very closed, giving up a little bit on day 3. Very very good.
Hi Jonathan
Yes a few others. The straight Barolo for certain we tasted (very good as well), but my memory fails me on the Bricco Cerretta. I've got a nagging feeling we did taste it, and enjoyed it 'almost' as much as the Broglio. I wouldn't call any of the Barolos we tasted there as anything other than very good and recommended. Normally I take notes, but it had been an awfully taxing day, with Crapnav failing to find a signal except for about a minute at the start of the journey from Bubbio, plus then me having cocked-up the dates by a day, we had to check into a hotel at short notice (thanks to Franco Boasso for sorting this out).
The Broglio and Broglio Riserva was what we walked away with, so I guess that's what tickled our palates most on the day.
We did also taste the current vintage Langhe Nebbiolo, along with (IIRC) the current vintage Dolcetto on a 2nd visit to the restaurant (rare for us to return to the same place on the same trip, so another strong endorsement). These wines didn't impress anywhere near as much, but such is life, as the Barolos more than made up for that.
I 'sort of' also tasted their Barolo Chinato, but it was as a dessert poured over vanilla ice-cream (like an affogato but with Barolo Chinato instead of coffee. I'd probably still keep them separate for my tastes, and I suspect it might appeal even less to someone who didn't like Barolo Chinato (I do). As such impossible to give it a fair assessment, but it's clear they are passionate about the Barolo Chinato as well.
regards
Ian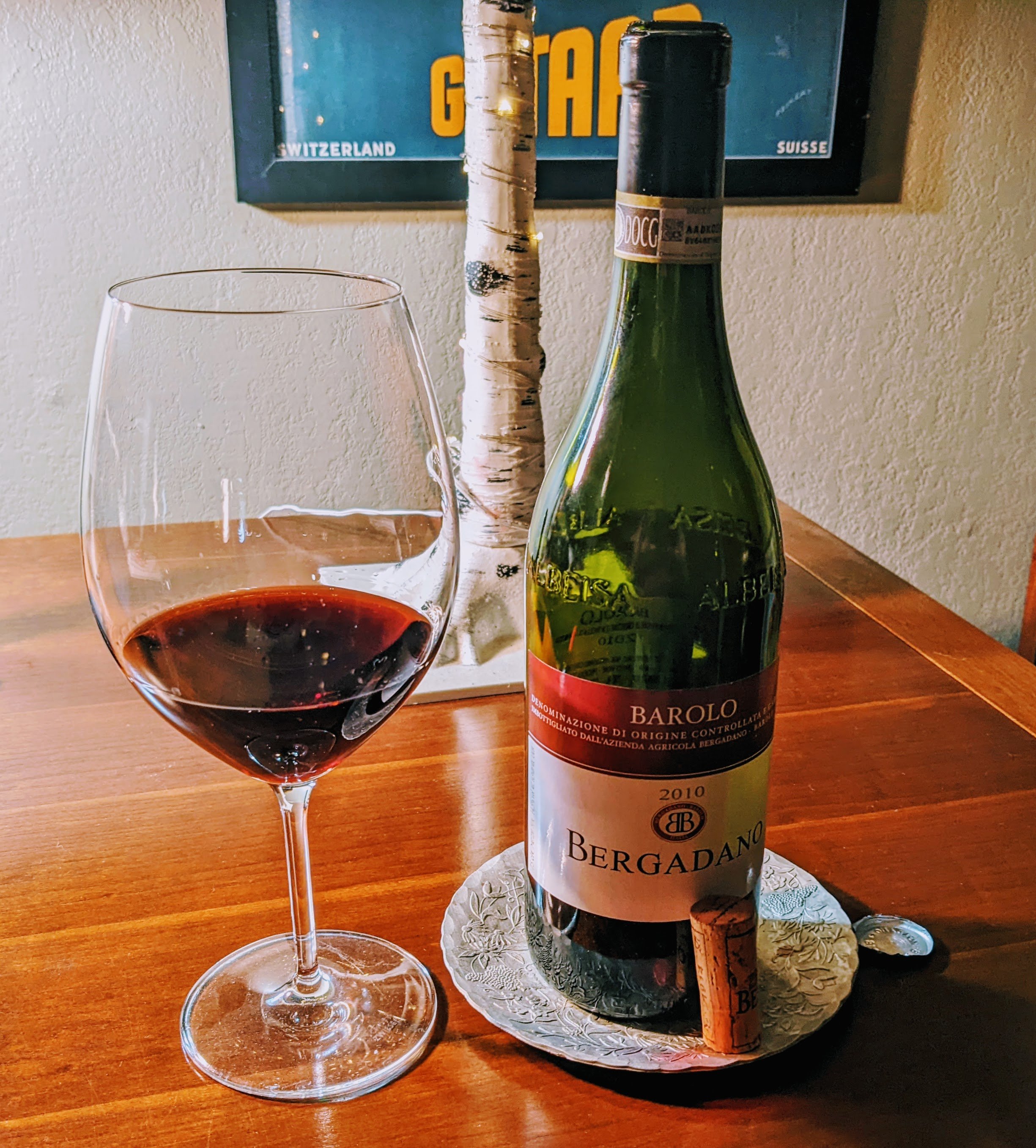 Last night I opened a 2010 Bergadano [Barolo] to go with sauteed collards/sausage/garlic over tortiglione. This was their normale, not the SVD. The producer makes about 1000 cs a year of a variety of bottlings from their own land holdings, but seems to have scant mention on WB or CT, other than Pat Burton noting that they 'Tilt Modern'. I don't have much experience in the region, but based on color/profile this doesn't seem like a sculpted, oenologue approved wine. The color is turning orange at the rims, while the tannin is still fearsome, with a line of acidity competing with it. The nose has citrus, rhubarb and then cloves. But the wine tastes like what one would expect for the region, and was indeed what I was looking for when hunting around in the racks. I picked this up from Flickinger's after release, and I'd expect this to hold for another 10-20 years. The tannin/acid didn't soften at all on the second day, tasted without food, so those just might be characteristics this medium bodied Bergadano will not shed. I liked it; it hit the spot but I'm not sure I'd need to duplicate the experience in another well reputed year like 2016. In my ledger I'll assign it a B, maybe a notch higher for those who like sandpaper. The tannin and acid levels feel old school to me.
Thanks for the notes. 2010 was a very structured year, and it sounds like this wine reflects that. Never heard of the producer.
The last time that I checked WS, 2010 Bartolo was selling for about $900 a bottle.
Curious to hear if anyone else checked in on the 2010s and your thoughts. Definitely no harm in opening the below Cannubi Boschis and with right food to pair it will show really well. Can imagine that some barolo (classico) and also the more less fuller MGAs might start to show quite well, but hoping to see impressions of the 2010s based on experiences so far, and future ones.
2010 Azienda Virna Di Borgogno Barolo Cannubi Boschis - Italy, Piedmont, Langhe, Barolo (13-1-2023)
Thought I pulled the Sarmassa thinking that this was a somewhat less structured and broading rendition than I normally would expect. Had a look at the bottle before typing my notes here and Cannubi Boschis it was. Makes perfect sense.

Slow oxed with the bottle opened at noon, small glass poured. First glass 6 hours later.

Darker cherries, raspberries, red plums, citrus, exotic spices, licorice. My son who's only old enough to sniff picked up peaches, and he might be right or it just got stuck in my mind.

Gritty tannins starting to turn silky. Balanced salivating acidity. Quite a long finish with the coarseness of the tannins lingering and shows off a bit more towards the end.

A very good wine and will hold off another 3 years before opening the next bottle but this is drinking well already now. If you have a few around then it's a god time to give it a try. (92 points)
Seven or eight years ago, there was a crazy blowout sale locally of the '10 Virna Normale ($14.99) and '08 Cannubi Boschis ($21.99) and I've enjoyed several cases of these since. An underrated producer in my opinion. The '08 is very elegant and at maturity.
I'm pretty sure there's another thread on this already, but not sure the best way to search.
That's a mad blowout prices!
And I agree, not much noise about Virna - one of the best bottles I have opened was (this was about 5-7 ago) a 2000 Preda Sarmassa. Blew my mind completely texturally but also with the flavor carousel - felt like every sniff/taste showed a slightly new nuance.
I tried searching but came out blank… Saw another vintage thread and blatantly did a copy paste special, with update for the vintage of course.
Maybe that's what you recall but if there is a 2010 thread out there I'd rather continue build on that one.
I could definitely be misremembering!
I haven't tried many '10's of late, but let me tell you, the 2012's are drinking wonderfully well right now.
I've tried very few, but about a year and a half ago, did try the 2010 Cogno Vina Elena. It was young but quite beautiful. If you have some, ok now but better in 3-5 years.
Poor search by me and Sarah has a good memory. Maybe a merge if possible? @ToddFrench
Good suggestion, have some 2011 and 2012s I meant to tracked down from the cellar.
Actually pulled this 2010 in a rush struggling to find a any 2012.
I'd forget, so I did it now