I was fortunate to recently visit with Juan Mercado of Realm Cellars and try their entire 2006 lineup as well as their barrel samples of 2007 To-Kalon, Crane and Farrella.
I brought along a collector for the visit to the custom crush facility (Ch. Boswell) they lease in St. Helena. Here is Juan showing Gary the tank hall…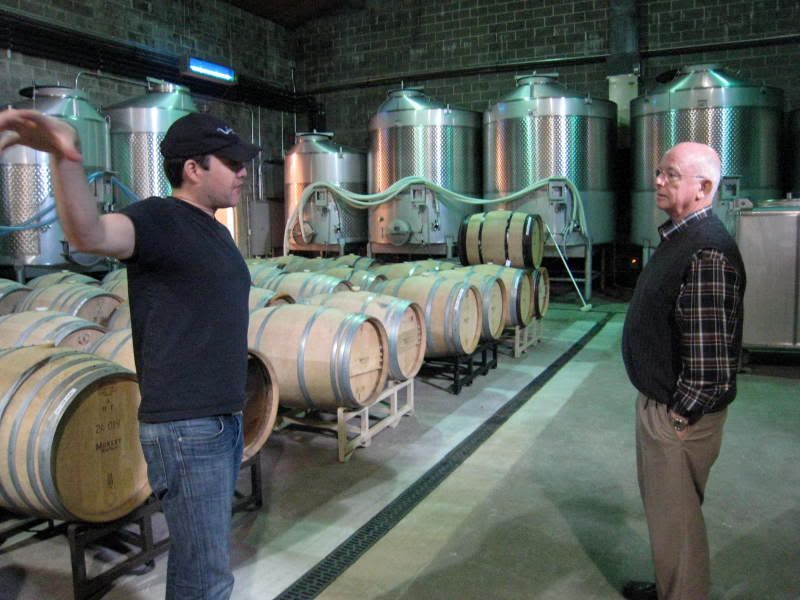 We went straight in and began by tasting newly opened bottles of 2006. I had reported on these not too long ago here.
I notice my scores are about a point lower across the board than last time and that is almost certainly because we had them in the cool cave and because they had just been opened. The previous notes were wines that had been opened for a couple of hours. This just shows me they benefit from some air. Here is a shot of the bottles…



2006 Realm "The Bard" Napa $85
2/3 Cab. 1/3 Merlot. Dark purple color. Medium-full. Slightly syrupy texture and nose of black fruits. Dense structure. Black cherry flavors. This was very nice.
92pts
2006 Realm "The Tempest" Napa $75
70% Merlot from a famous vineyard, the rest Cab and PV. Medium-full, surprisingly structured for a Merlot based wine. Red cherry and spices.
91pts
2006 Realm "Farella" Cab, Napa, $95
From the cooler Coombsville area, this is a more old school Cab. Leaner in structure like many 06s, very structured with a slight green bean streak that is not unpleasant. This one is tight and needs a few years I suspect.
89+pts
2006 Realm "Dr Crane" Cab, Napa, $105
This is my favorite Realm of the vintage and one of the best wines of the vintage for me. Tell tale Crane creaminess in the mouth, very ripe cough drop cherry nose and excellent mid. Can drink this now or wait a couple of years. Simply excellent! To me, this is well worth the price tag.
94pts
2007 Realm "To Kalon" Cab, Napa, $115
Full-bodied, thick, typical TK black fruit with anise in the nose. Full mouthfeel and nice long finish.
93pts
Next was the 2007s. I've had these before and they rock!!! This pic is of the Realm barrels in their neck of the cave.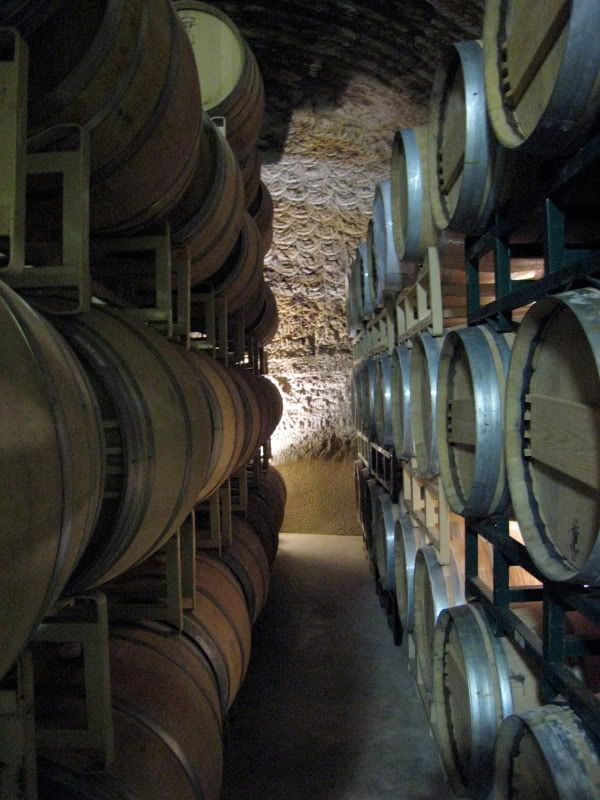 2007 Realm "Farella" Cab, barrel sample Napa
Towers over the 2006. Medium-full. Still has a slight veggie streak but given the big ripeness here, this quality clearly comes from the vineyard. Reminds me a lot of the mid-90's Opus. Great structure and mouthfeel. Bet this really ages well.
92+pts


2007 Realm "Dr Crane" Cab, barrel sample, Napa
Riper than the 2006, very, very glyceral. High toned bright cherry fruit. This needs another 6 months minimum to calm down in barrel. Just on the edge of out of control, this might surpass the 06 in another year. An exciting wine!
93++pts


2007 Realm "ToKalon" Cab, barrel sample, Napa
I have had this four times now and each time it has taken my breath away. Glyceral, with both red and blue fruits filling the nose. Structured, juicy and spice rack nuances. Covers every part of the mouth. Better than any wine from this vineyard I have ever had from any producer and maybe one of the best two or three wines I have ever had from Napa. I pity them trying to figure out how to allocate the 190 cases they made of this. An insane, monumental, mind blowing wine.
98pts
This winery is getting better by the vintage and is about to enter the big time. They made some of the best 06 and 07s I've had. Congrads to Juan, Wendell and Mike Hirby, the winemaker, for what they are pulling off here.