What a great trip! As soon as I got home I had to buy a wine fridge for the wine I brought back. This write-up won't have many formal tasting notes, so apologies in advance for those who love detailed tasting notes. It was more about enjoyingt and the company we were with. I will do my best to share the specifics that did stand out about particular wines. Without further delay, let's get to…
**DAY ONE! - Thursday**Anna and I decided to head up from Los Angeles to Santa Barbara a day before the big group of 12 so we could have some time with one another. When we drove into Brian Loring's winery parking lot in Lompoc and parked, it had been a long drive but I was very excited to get a peek 'behind the scenes' at Brian's winery. Brian, by the way, is one of the nicest guys you'll ever meet. He received us warmly and over the next two and a half hours was kind enough to walk us through barrel tasting his wines. If you are ever in Santa Barbara or Santa Ynez and can score a visit with Brian, it is well worth the drive to Lompoc! Brian has been on the scene here for awhile now and is a veteran of Central Cali Pinot. Brian started making his own Pinot in 1999.
Brian started by showing us his sparkling wine disgorgement machine. He uses methode champenoise. Then, in the barrel room, we were greeted by a beautiful sight: an armada of wooden barrels akin to the Greek fleet en route to Troy. So much beautiful oak and wine!
[vimeo]221187956[/vimeo]
Brian was very gracious. He took his time patiently demonstrating to us the difference between various vineyards' Chardonnays and a blend (among those we tried were Rosella, Sierra Mar and the Santa Lucia Highlands). They varied from more mineral-driven, to slightly buttery, to balanced but I can't tell you which was which as Brian encouraged us to not worry about notes and just enjoy the experience. Well, we sure did! A lot of fun tasting those Chards!
Then we moved to the Pinots and began to talk of barrels and clones. We began by trying Pinots from various vineyards, to observe the differences the site made in the end result. Then we began to compare Pinots of different clones, to see the differences that made. Then we compared Pinots of the same clone and vineyard, but with three differing levels of oak treatment to see the differences oak imparts.
It was educational, and Anna had a great time too as Brian's personality is very warm and engaging. I tend to be willing to read and talk about wine for hours on end while Anna has a limit, but with Brian we were all having a great time. Now, back to the wines! The wines had, up til now, been a wonderful array of Chards and Pinots displaying differing levels of minerality, fruit, toasty vanilla — but it was once we got into the Dijon clones, the 115's and 777 that things really went to another level for me. Deep, dark, coiled density in these wines but with such magnificent nose! I am the kind of guy who loves smelling his wine more than drinking his wine so these were 'doing it for me' on the nose but ALSO had amazing weight and sumptouosness, yet a delicacy on the finish that was surprising given the size. Good length, especially the cuvee of 115 and 777 clone (which I believe came last and that Anna LOVED). That last pinot, with 115 and 777 clone was everything I desire in a great Pinot that balances some restraint, and an elegant finish, but a powerful core. In particular, I loved the Rancho La Vina, Clos Pepe designates and I think (not 100% sure here) that the Sta Rita Hills AVA Pinot contains some mixture of these too.
Here we are talking clones (trying some 777)
[vimeo]221053573[/vimeo]
Then, Brian threw us a curveball that literally got me so excited I was hopping up and down:a Dornfelder from Huber's vineyards. Now, I love trying unusual varietals and I had WANTED to get to Huber to try their Dornfelder but it looked like I was not going to have time to get there, so this was a wonderful surprise for me. And the Dornfelder delivered. Black as midnight, yet fantastic medium weight with no heaviness, an amazing, intriguing tamari soy beef jerky quality to it with a slight hint of anise. Just a very different, very cool wine that, I imagine, will be very hard to find and I believe Brian has only one barrel of it. That said, if you are a wine adventurer and make it through Lompoc, give it a try.
As we wrapped up we talked about other things, with Anna satisfying her curiosity with some great questions about winemaking (she wants me to mention that there was one Pinot she loved early in the tasting that had chocolate notes, but because it was still in barrel, it is not yet available – she wanted to buy some, of course, so I need to find out from Brian which one that was because I lost track!).
We also talked about all the rules in Europe which dictate and restrict what winemakers (and growers) can do. For instance, I thought it was interesting to experiment with blending classic Bordeaux varietals with classic Rhone varietals. Apparently Brian does too, as his Divergence is a blend of Cabernet Sauvignon and Mourvedre. I know Brian's 2008 Divergence has been discussed at length on the Wine Berserker forum. I left with a bottle of the 2009 Divergence and if you read on, you'll see my tasting notes below (written once I was home) Now, I know Brian loves some of the big, juicy Spanish reds and this wine is 'his' El Nido, but I love the results of his blend here, and the 'culture clash' of colliding Rhone and Bdx. These worlds collided and the result is a fantastic wine.
Brian was far too generous with his time, with his hospitality, and with his wine (sending us out of there with some wines to try that he though, based on our conversation, would intrigue us). His wines are fantastic, his spirit wonderful. It was a great start to our weekend. Thank you Brian!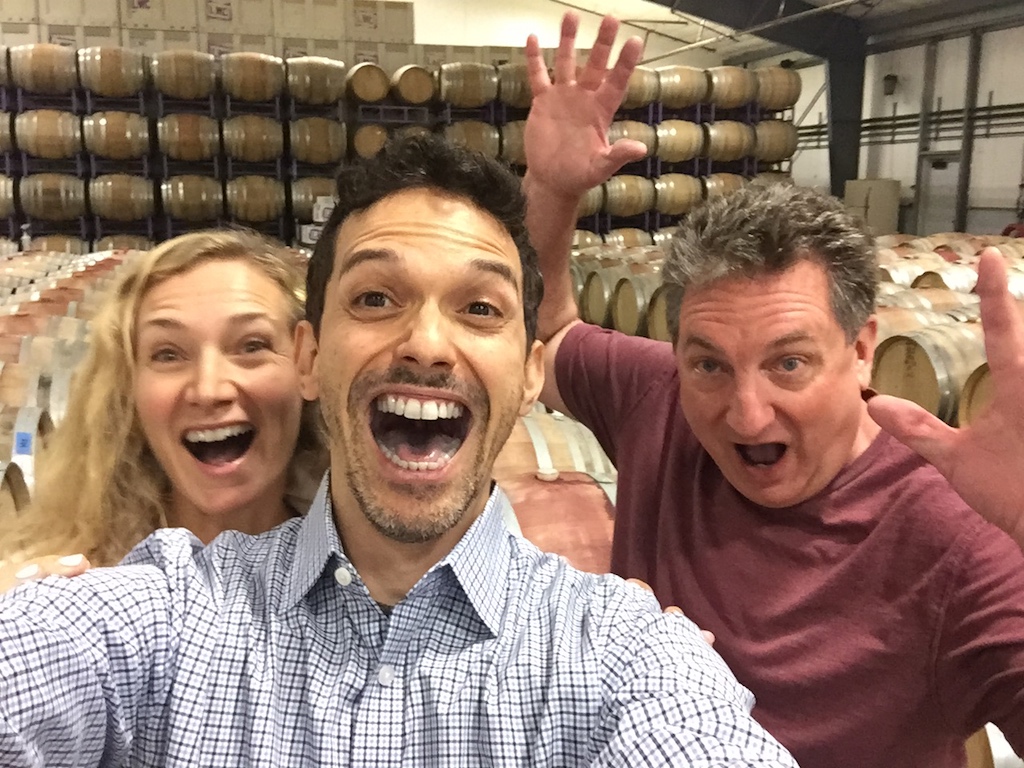 Since that visit, I've opened two Lorings at home. Because I was at home, could take some notes.
TN: 2009 Loring Rose Brut - Methode Champenoise
Pale in color, between a salmon and copper. Very light nose. Faint hints of cranberry, tart apple, tart strawberry, hint of bread and soda. Moderate but persistent mousse, would prefer even more bubbliness. Dry on the palate with medium-high acidity, don't sense the alcohol at all. Reminds me of October in Canada when we'd pick crabapples up from the grass and bite them and they'd be slightly soft already but with a tartness to them and a hint of skin astringency. This wine makes me really want fall foods and Thanksgiving foods. That said, we drank this bottle on a beautiful June afternoon in our backyard with our friend Simone. She absolutely went gaga over it, saying "I know I shouldn't have more but it's very delicious." and then having more. Here she is, enjoying herself….
Simone LOVES Loring Rose bubbly!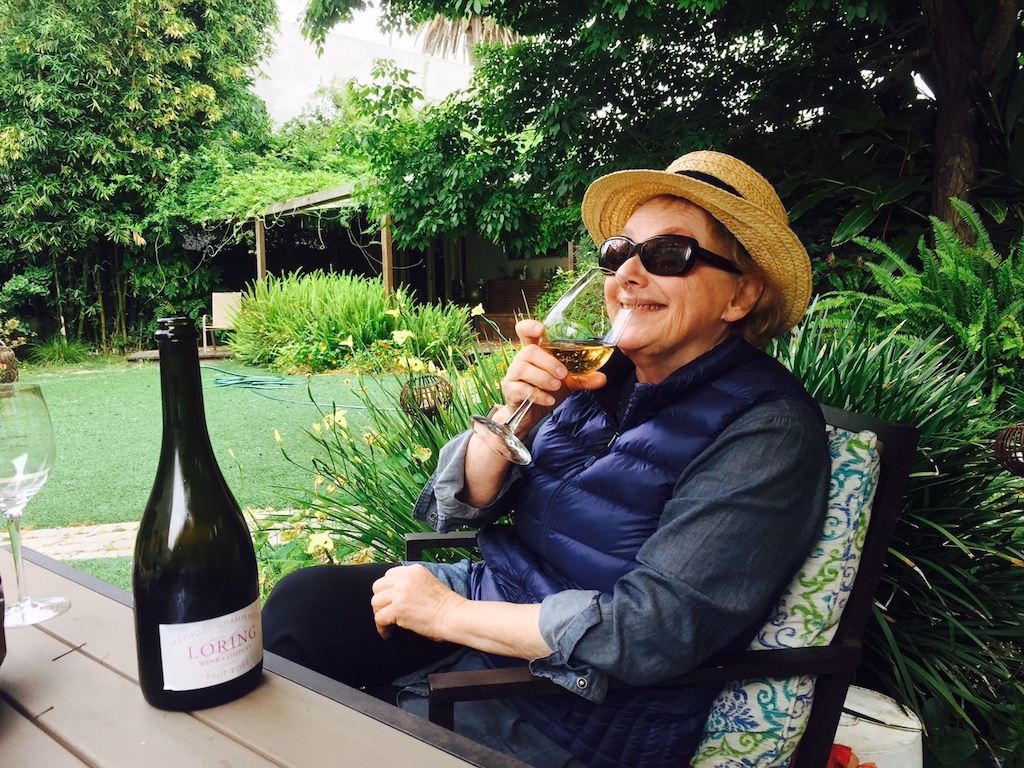 TN: 2009 Loring Divergence
[Drank this weekend… Thursday-Friday-finishing it Sunday]

Thursday: Deep, dark and intensely colored. Purple core with rub rim. The reddish hue to this immediately reminds me of a right bank bordeaux blend. The nose is AMAZING on this. WOW. Licorice, black cherry, leather, cassis, slight vanilla, bacon, tobacco, red plum, red raspberry. Dry with a sense of sweetness that is more fruit than anything… I don't think it's r.s. but definitely a soupcon of sweetness suggests itself to the palate. Very silky texture and mouthfeel, full bursting flavors of kirsch, cherry, touch of chocolate if you dig for it. Low tannin. Can feel the alc on pop and pour, but an hour-to-two-hours in decanter aided this. Very enjoyable. Vaccuum pumped and kept in fridge in bottle overnight.

Friday (Day Opened +1): No change in color. Nose STILL intense. Scents of black licorice, anise, now dried fig, dried blueberry, dark chocolate, cigar tobacco leaf, cherry, some oak, baked pie crust, vanilla, very faint clove, strawberry…. is there a scent that ISN'T in this??? The nose on this wine makes me doubt my sanity. In the mouth, today there is more noticeable t&a here — meaning more noticeable tannins and acidity… the tannins are very nice, soft and tamed but present and needed with the size of this wine… while the acidity on day two gives more balance day two. Lots of mocha here today. A dark, concentrated core of flavors mid palate but light acidity lift at the end. Love it. Alcohol heat has retreated somewhat as well. Looking forward to day three to see how it evolves. Vaccuum pumped and kept in fridge in bottle overnight again.

Sunday (TONIGHT): Don't know yet but hope to update this later tonight!
Okay… BACK to the trip!
Thursday Night Dinner: SY Kitchen
It's the same owners as Toscana in Brentwood in Los Angeles. We liked Tosanca, so tried this place. It's run by a pair of Italian brothers and uses local ingredients. Their pasta was very good (but not on par with Felix in Venice, which is stellar). As were the lambchops. I didn't see any screaming values on the wine list and with several days of heavy wine drinking ahead of us I opted to simply have a glass of vermintino and Anna had a glass of chianti classico. The vermentino was serviceable, the chianti fairly good. Neither merited remembering the name.
Talking a walk before dinner…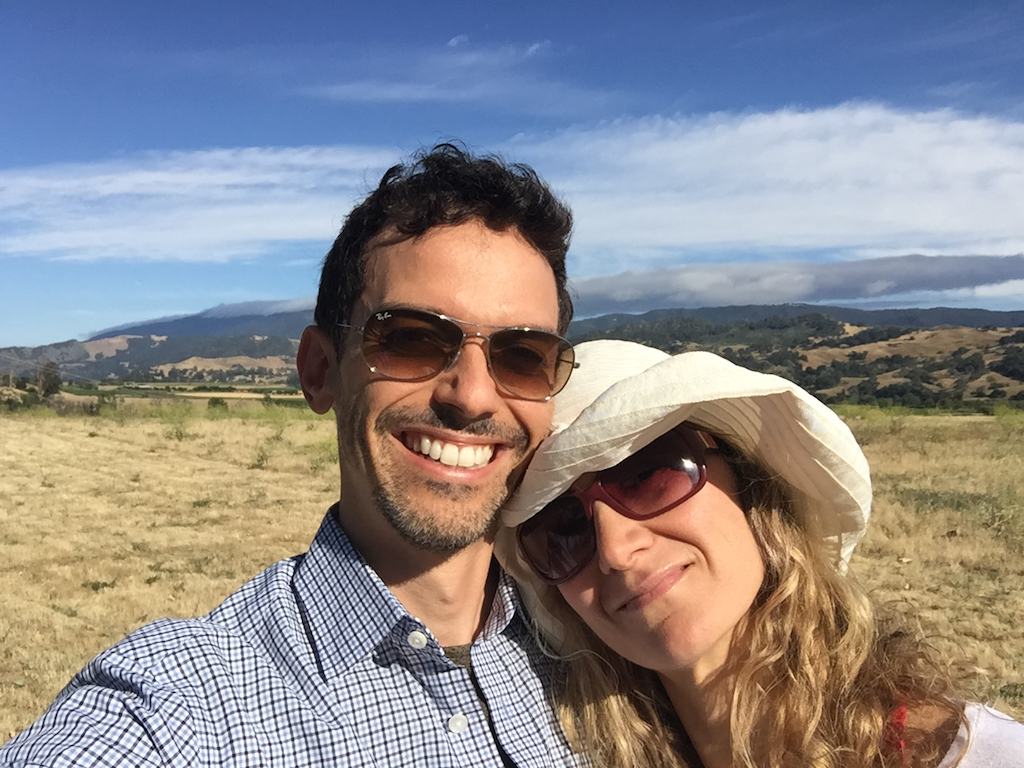 We ended the night at the cozy Mirabelle Inn in Solvang. A cute BnB owned by the people who own The Sky Room in Long Beach and Coquelicot Winery. They seem to have a lovely new restaurant in the Mirabelle Inn, called First + Oak. We didn't get to try it this time.
Well, that's it for Day One! Day Two report coming soon…