Last night, Thursday the 30th January 2020, was dinner out with Catha & the 3 boys (my father wasn't feeling well so couldn't join) for an advanced farewell dinner for my youngest, Joaqi, as he leaves this coming Saturday for next semester in the Netherlands. He chose La Cabrera (a local branch of an Argentinian restaurant group specialising in steaks) for said dinner. For an initial toast, and with the shared appetizers, some 2004 Champagne Bollinger La Grande Année Rosé…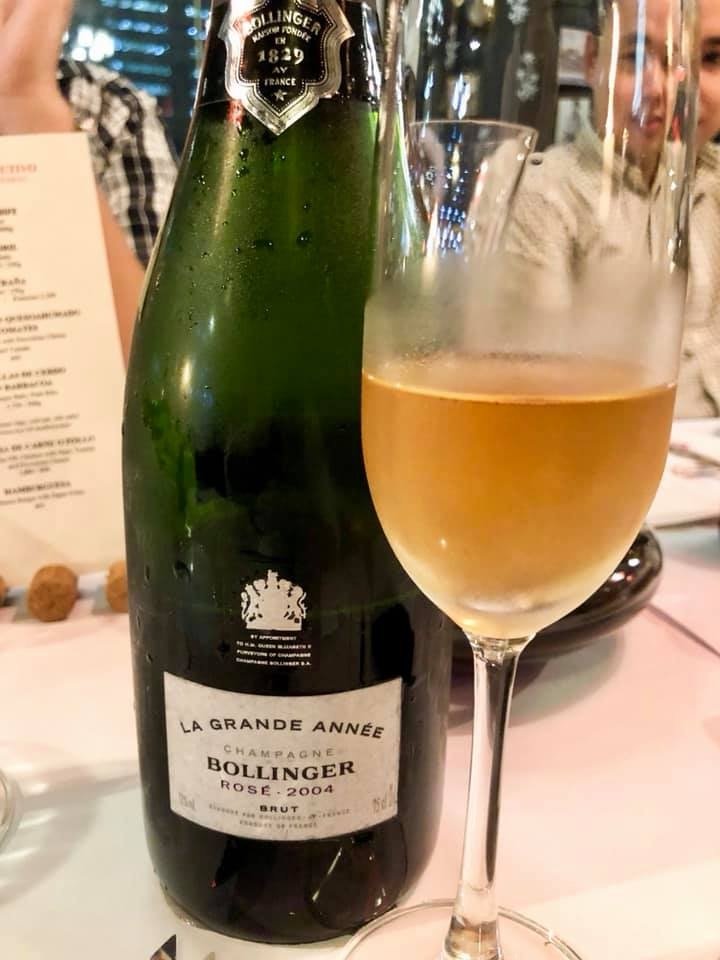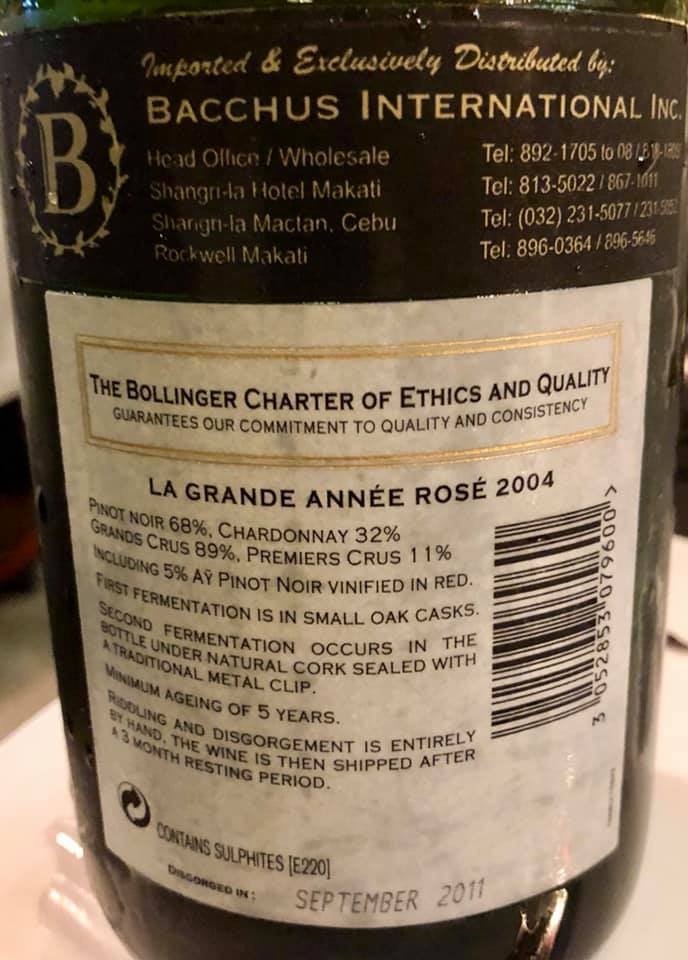 …disgorged September 2011 - toasty and biscuity, notably vinous. Well pronounced middle. Good complexity. Creamy pinot noir dominance is quite obvious. Effervescence was mild. Came off as well matured though barely over 15 years from vintage. Later in the evening, Joaqi noted some underlying coffee had emerged. He was right. Though I personally prefer blanc de blancs in a fresher, brighter, acidic style at the beginning of dinner, the kids loved this rosé; and that's all that counts. I chose a rosé bubbly because of the more substantial starters La Cabrera offers.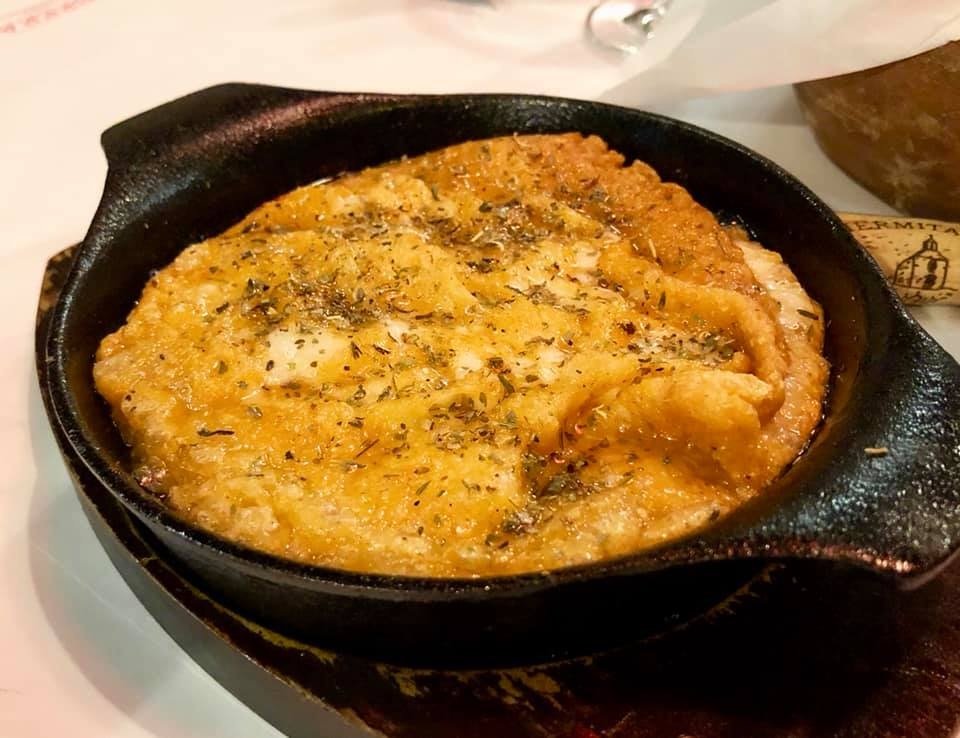 Provoleta (grilled provolone) cooked "crispy" in the Argentinian style.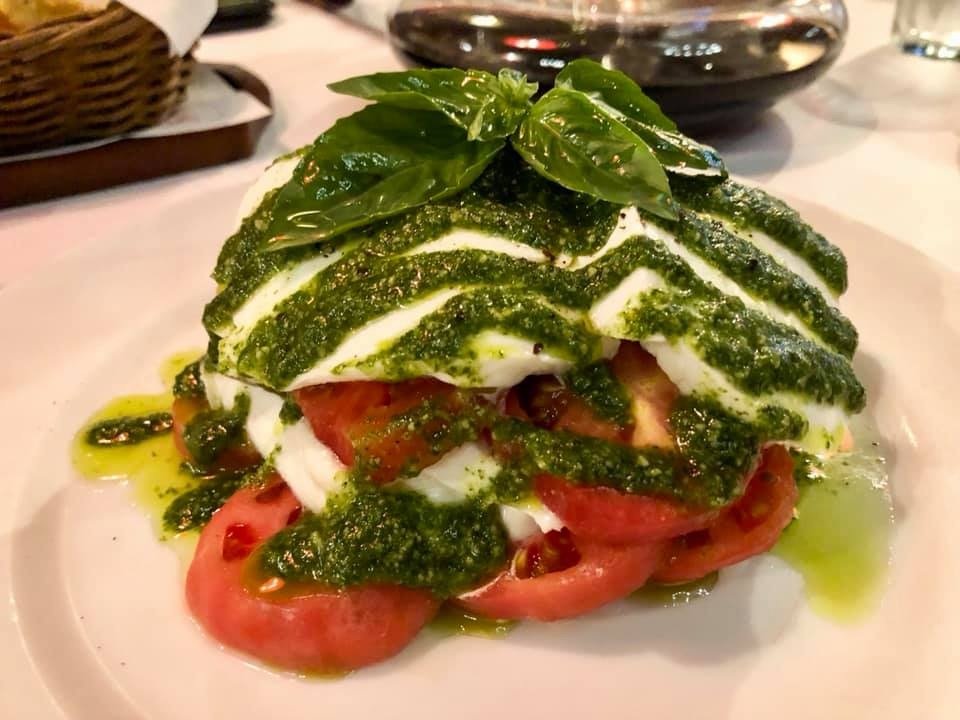 Excellent rendition of Caprese. Especially loved the sweetly fresh, fleshy, juicy tomatoes. Not often one gets that in Manila.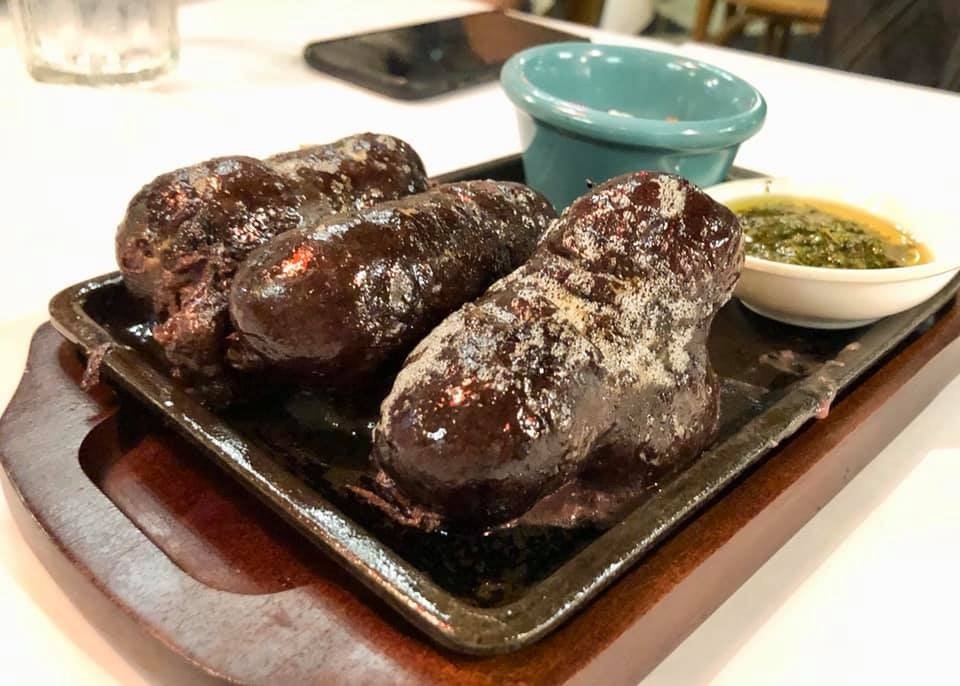 Morcilla - creamy style, reminds me of the boudin noir of Alsace.


Good Onion Rings here.


Sea Bass pasta course - which my sons always ask for in La Cabrera.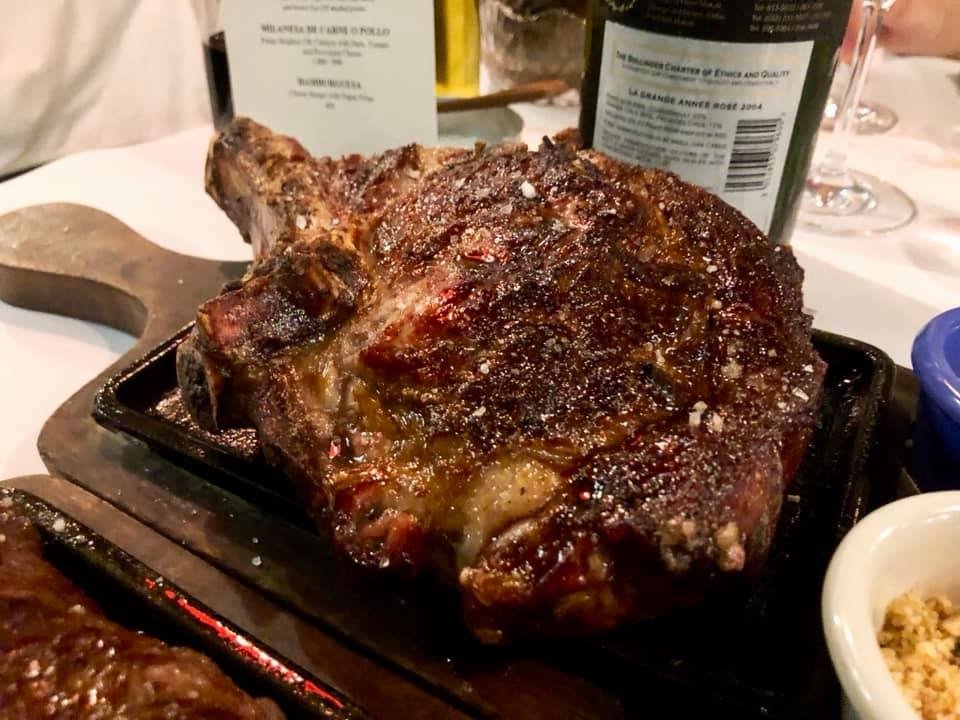 Steaks were a beautifully crusted, tender and luscious: 15 Days Dry-Aged 1kg Chuletón con Hueso…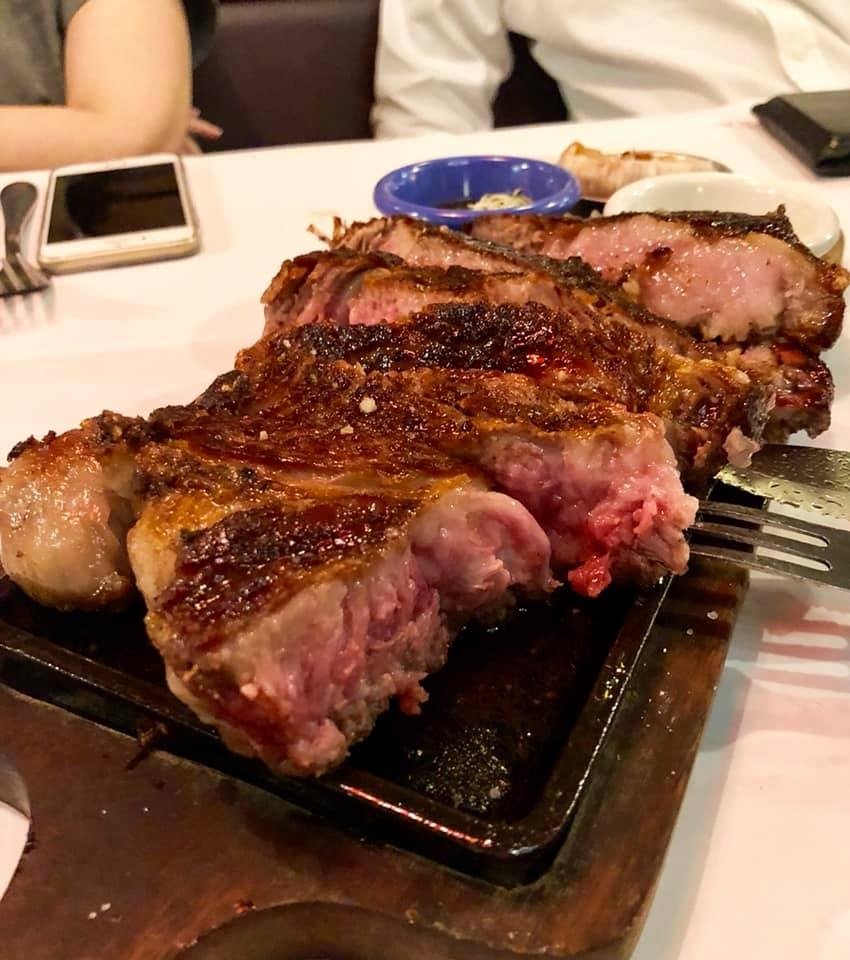 …here shown sliced…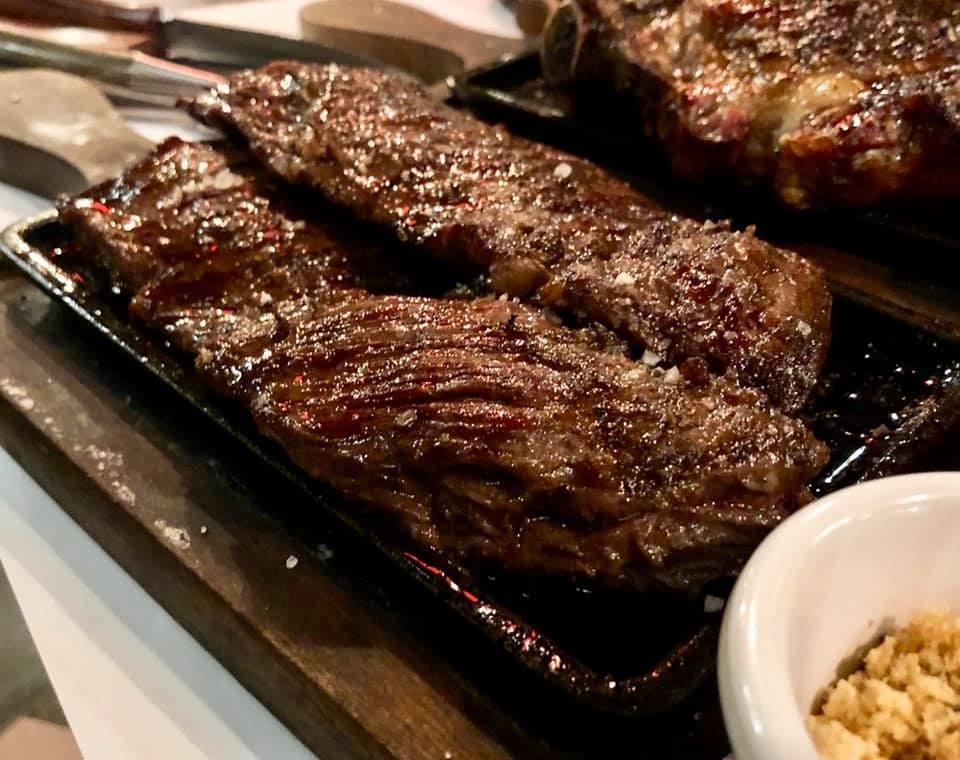 …and, a new rendition of one of our La Cabrera favourites: "Premium" Entraña (skirt steak).


For the steaks, some 2004 Paul Jaboulet Aîné Hermitage La Chapelle - decanted for aeration for around 1&1/2 hours before serving. The aeration made it flesh out and gain a lot of heft through the evening. It displayed increasing concentration and ripeness as well - more than I'd experienced from previous bottles of this (but, then, I hadn't aerated it in decanter quite as long before). Bit of mild black pepper and discreet garrigue/dried Provençal herbs in its deep, ripe dark fruit. Respectable enough length. Very nice indeed with the steaks.
Then, as now, I find that northern Rhônes (particularly Hermitage & Côte Rôtie) are the only syrah based wines I truly like. Though I've had barely a handful of Grange (and I can appreciate that it's undoubtedly well made), it's never appealed to my palate…so far, anyway.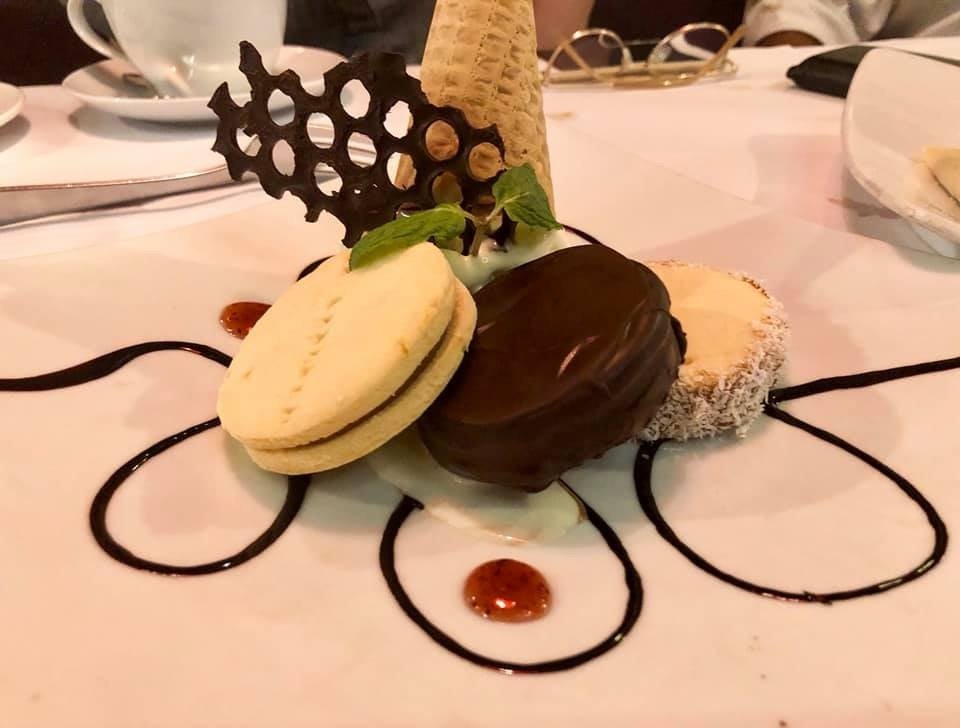 Quite stuffed by then, we just shared 2 desserts: Catha wanted the Alfajores (as usual)…


…and I chose the Panqueque (i.e., think: "pancake" - Argentinian style crêpes stuffed w/ dulce de leche).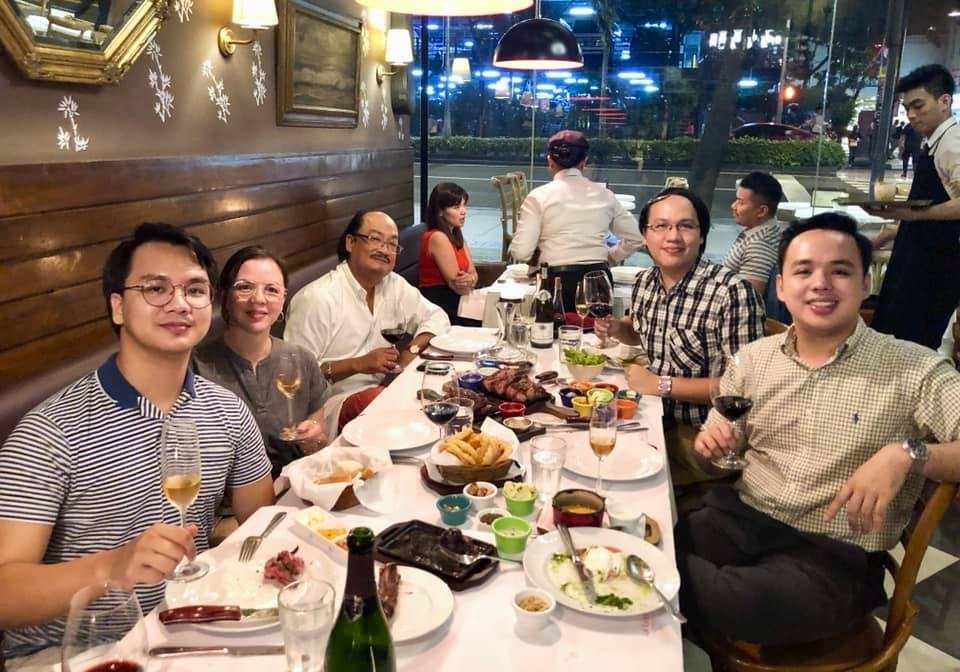 Salud!!!