Our lunch group enjoyed another fine luncheon at The Santa Barbara Club with a wine theme of world wide Merlot. Most were decanted.
Chef Humberto prepared a much appreciated special menu to compliment the wines:
First Course
Mushroom Bisque
Second Course
Tournedos Rossini with truffle-potato puree, wild chanterelle mushrooms and mousse pate
Third Course
Lamb medallion with rice-bean cake and lamb reduction
Cheese Course
Humboldt Fog
Dessert
Flourless chocolate cake with creme anglaise
The wines in order:
NV CAMILLE-SAVES BRUT ROSE- this came from my cellar after having rested for about 4 years from time of purchase; it was a good bottle generously giving bright red fruit notes with a noticeable amount of sweetness but not cloyingly so; on the palate, red cherry and strawberry fruit was most prevalent; it was fun and frolicky with a frothy mousse and a perfect beginning for the wines that followed.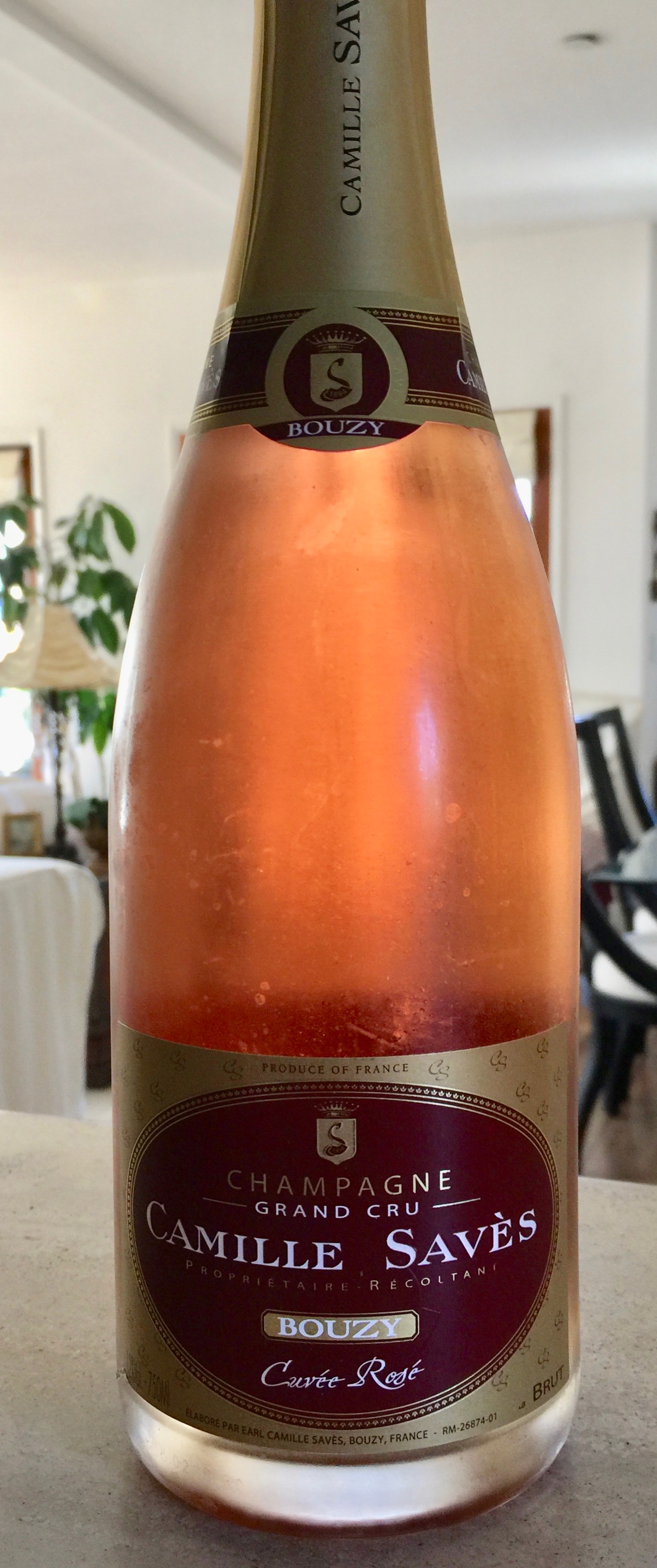 1998 CHATEAU MONBOUSQUET SAINT-EMILION- 60% Merlot, 30% Cabernet Sauvignon, 10% Cabernet Franc, bottled unfined and unfiltered after 18 months in 100% new oak, with aging on the lees; the nose was so inviting with loads of concentrated dark fruit which on the palate translated into cedar, leather and chocolate laden black cherry/ berry; it was rich and full bodied with really soft and smooth mouthfeel; underlying tannins hold off until past mid palate when they stiffen a bit and create a somewhat dry finish. Loved this wine and if in my cellar, it goes on for another 10+ years before re-trying.

1995 MAYACAMAS VINEYARDS MERLOT NAPA- 100% Merlot; the nose had mild notes of leather, talc, cranberry and blackberry which continued on and was joined by blueberry and black plum; it was medium in weight and body texture and did not have all that much depth; this was more elegant and feminine and really easy all the way through; a touch of Brett hung out in the background.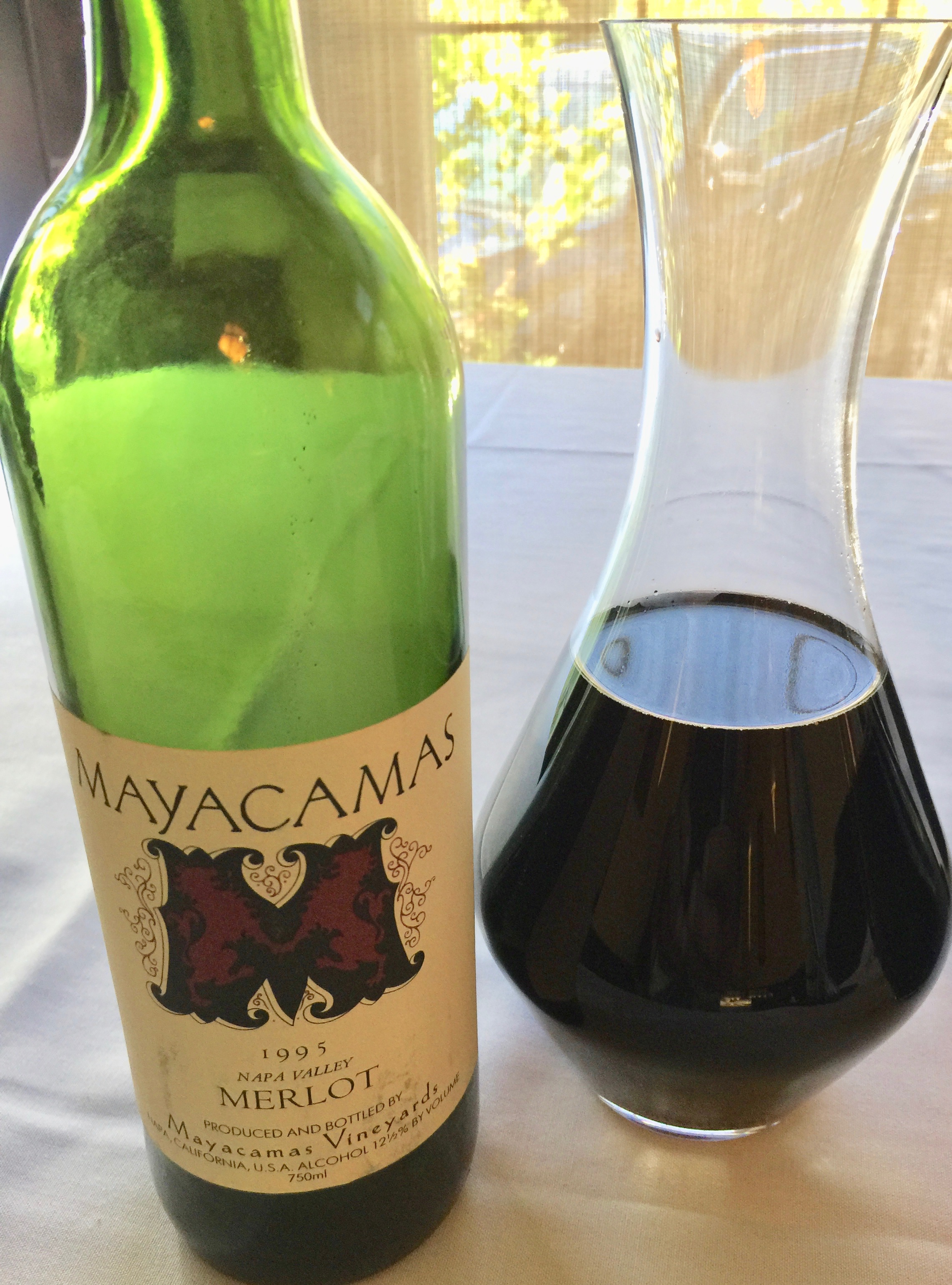 1998 DUCKHORN THREE PALMS VINEYARD MERLOT NAPA- although this was really good, the nose and taste had very unexpected notes of spice, cinnamon and clove accented blue and black fruit; it had that Merlot softness which added elegance to the entire experience. It was good, but very different from what was expected.

2000 CHATEAU LA CROIX ST. GEORGES PONEROL- the indicative blend is 95% Merlot, 5% Cabernet Franc, but one source says it is 100% Merlot and another says it is 60% Merlot, 20% Cabernet Franc and 20% Cabernet Sauvignon; regardless, this comes from a very obscure producer`s vineyard situated between the not so obscure Vieux Chateau Certan and Le Pin; the color was a very youthful, vibrant dark purple, the nose and taste was redolent of leather and dark chocolate infused black currant with a touch of licorice coming in late; it had a medium + body, good length and overall was a very fine wine that tends to suggest this should not be so obscure. My best guess is this is the 60/20/20 blend.

2010 PETROLO GALATRONA TOSCANA- 100% Merlot and called by some in my dinner group "a baby Masseto" and by the Wine Spectator, "Le Pin of Tuscany"; I've had quite a few and call it a treasured Merlot; this bottle was no exception; from the nose on, one gets that this has some serious depth and complexity and that holds true as generous amounts of spicy chocolate accented blackberry, black cherry and plum jump out of the glass from excessively high energy; an underlying tannic structure ensures longevity and fortunately, the tannins are soft enough avoiding any astringency; in fact, the mouthfeel is fantastic and the wine never wants to quit at the back end.

2008 LE MACCHIOLE PALEO TOSCANA- 100% Cabernet Franc; I`m a fan of Cab Franc and this being 100% gives lots of pleasure and exemplifies the true essence of what good CF can provide; there's lots of oak influence that is not yet integrated, but not so much so as to distract from the nice black cherry fruit wrapped up in cedar and spice; it is full bodied with layered depth and holds on for a grand finale.

1994 PAHLMEYER MERLOT NAPA- sourced from Napanook, Rancho Chimiles, Caldwell Vineyard, Hossfeld Vineyard, Moon Vineyard and made at the time Helen Turley was consulting; this was a lovely Merlot having lots of grace and charm; it had sweet blueberry fruit being delivered in a soft and smooth texture with a medium + body and long, satisfying finish; this is a steady and righteous wine.
1995 PAHLMEYER MERLOT NAPA- 93% Merlot, 7% Cabernet Franc; as with the 94`, this is still very youthful and full of vibrant energy; I found it to have more body, depth and length as well as a more pronounced taste profile which included leather and earth accented blackberry and black currant; although bigger, it had that signature silky, smooth mouthfeel that wins all hearts.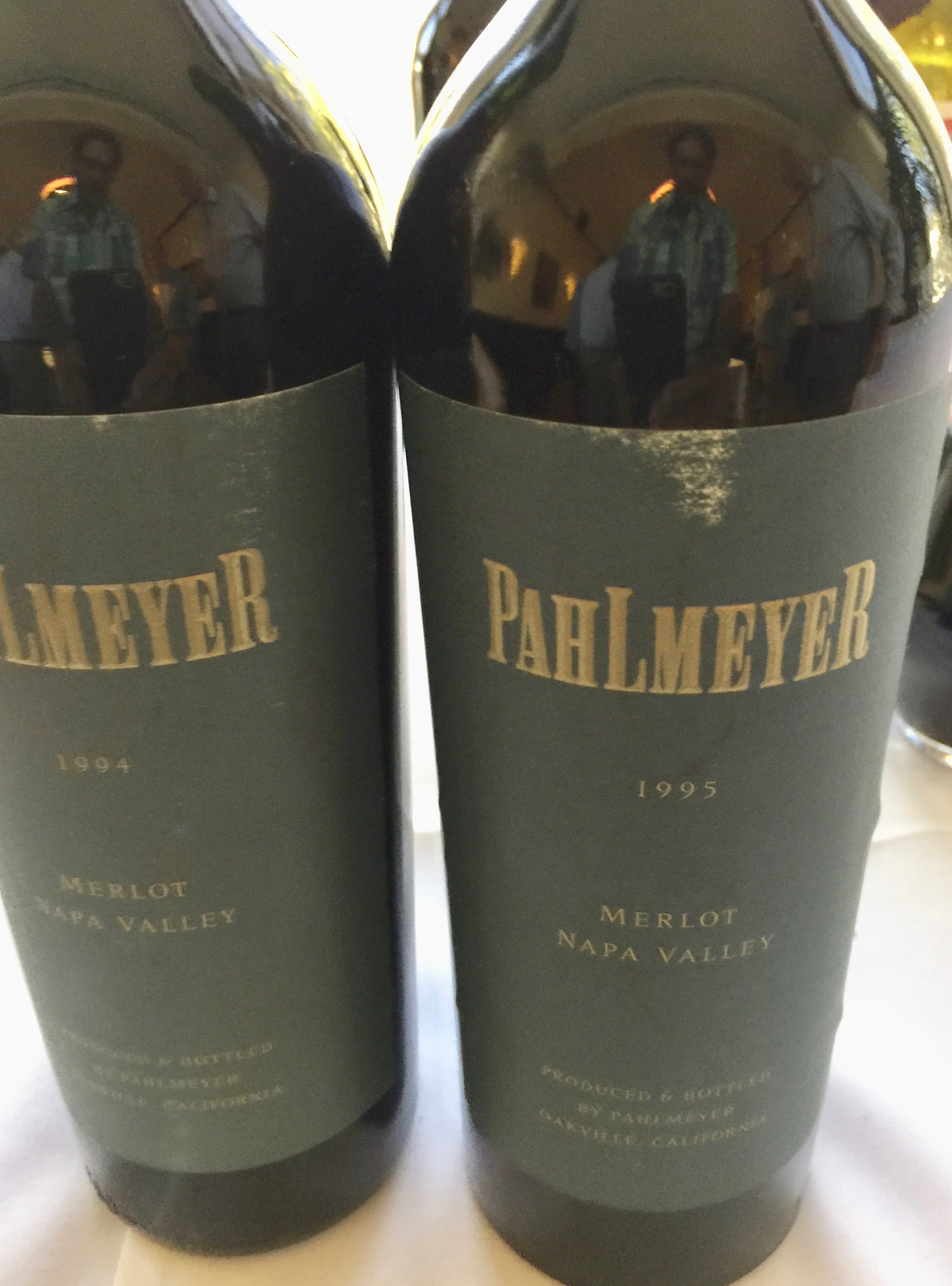 2002 PAHLMEYER MERLOT NAPA- sporting a different label than the 94/ 95, this also had a different profile that for me was much less appealing in that it was raisiny, to the point of having an Amarone likeness; with significant sweetness, there was coffee, chocolate accents to the black currant, dried raisin fruit; it finished a bit dry as well. This was a perfect fit in the lineup as we were heading into the dessert course and a more appropriate dessert wine.

1993 DISZNOKO TOKAJI ASZU 6 PUTTONYOS TOKAJI-HEGYALJA- 500 ml; 60% Furmint, 30% Harslevelu and 10% Zeta, the aszú grapes (shriveled grapes affected by noble rot and shriveled on the vine) are collected manually one by one over the course of several vineyard passes in a total of 5 wooden hods of 55 pounds and poured into a vat of 136 liters of must wine, according to the method established in the 17th century. After a maceration of several hours, the "Aszú dough" obtained is filtered. The collected liquid is then racked into barrels where it ferments slowly before being aged 2 years in oak barrels. The wine comes in 3, 4, 5 or 6 puttonyos (which literally means "basket" in Hungarian) which are measured units. The higher the puttonyos, the sweeter the wine; there is a rare 7 called Esszencia; all of this explains why this Hungarian sweetie from our Prince of Sweets was so wondrous; a little sip will do ya just fine as it`s the epitome of a sweet wine with its concentrated honeyed and caramelized apricot nectar profile.

Another fine 3+ hour lunch that usually pretty much completes the day for me although on this occasion, we have dinner plans with wine centric friends from LA and so the day goes on albeit with a vapor trail around my body.
Cheers,
Blake