And the celebration continues. We dined at our local favorite restaurant, The Stonehouse, to celebrate our beloved Kansas Jayhawks winning the national championship.
To ensure the proper table ambience, I added a paper weight Jayhawk that was a throwback from the 1923-28 era.
And as per our usual MO, we took a nice champagne and a Burt Williams made Pinot Noir and were treated to 2 stellar wines to perpetuate toasting to the champions throughout the evening:
2004 TAITTINGER COMTES de CHAMPAGNE BLANC de BLANC BRUT- its been a few years since I recall having this vintage and if it was I last made notes on, 7 years; so, when I went to pull a champagne, this spoke to me and said "open me"; following its medium yellow gold color came aromas of fresh and ripe citrus with a spicy accent; on the palate, the fruit profile included lemon, lime, kiwi, apple and pear and now there is a bit of minerals, licorice, fennel and brioche perceived in the nose; this bottle had an interesting taste pattern in that after each taste which was citrus dominated would come another profile that was different and seemed to build on the original one; that 2nd one had more lime and minerality plus an unexpected touch of fennel and licorice; this bottle had charm, elegance and sophistication and overall was a real treat; I recall the 04 outshining the 05 early on which I considered quite mellow and somewhat understated, but if a recent 05 I had is any indication as to where all are, it has clearly evolved to a richer and more complex state.

1993 WILLIAMS SELYEM RUSSIAN RIVER VALLEY PINOT NOIR- I've had many a great bottle of this wine and pulled the last one for this evening even breaking up a 5 bottle vertical to do so; I reviewed previous notes, the last being in November 2020 and very similar remarks; some of the fruit for this bottling came from all of the Rochioli vineyard other than West Block which was single designated; the fill was low neck and this is relevant in that Burt always filled his bottles to the cork; the color was a cinnamon red which perfectly describes the nose and taste as there is a nice streak of cinnamon and spice throughout; the aromas and taste also included red raspberry which dominates the fruit profile and is the last noticeable character as it finishes; this is simply marvelous new world Pinot at age 29 and we added a toast to Burt for all of his wondrous wines.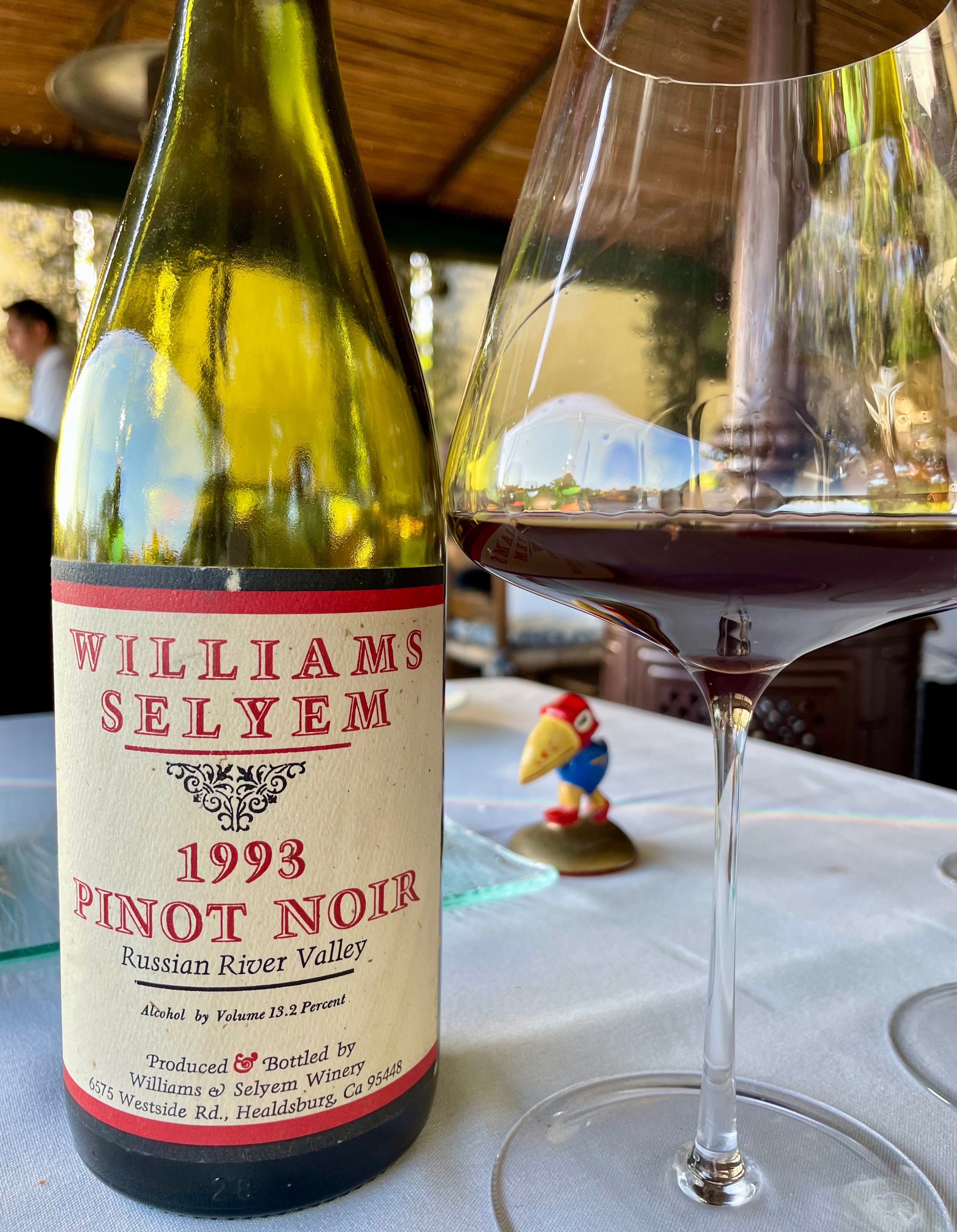 As our celebration of the Jayhawks winds down, we will continue to be thankful for the wonderful ride they provided thought the season and add this to all of the others fabulous events and outcomes over the same period of time.
Cheers and a big Rock Chalk,
Blake