Our dinner group enjoyed another fine evening with 7 of us dining at Olio Pizzeria, a connected extension of one of the finest Italian restaurants in the area, Oilo y Limone.
With a wide open wine theme, we drank the following:
NV LANSON NOBLE CUVEE BRUT ROSE- as with previous samplings, this had nice, tsngy, fresh and bright red fruit showing up for this consistently good rose which serves as a perfect prelude for any Pinot Noir that may follow, in this case there were 3; strawberry comes on first and then dried red cherry backs it up to the back end; lots of effervescence adds to the sensory pleasure.

2016 BALLOT-MILLOT MEURSAULT-GENEVRIERES 1er Cru- from 80 year old vines, this displayed elegance and finesses with mild and savory flavors of lemon lime with flint, minerals and steely accents; it had enough acidity to give it good feel and hopefully some longevity.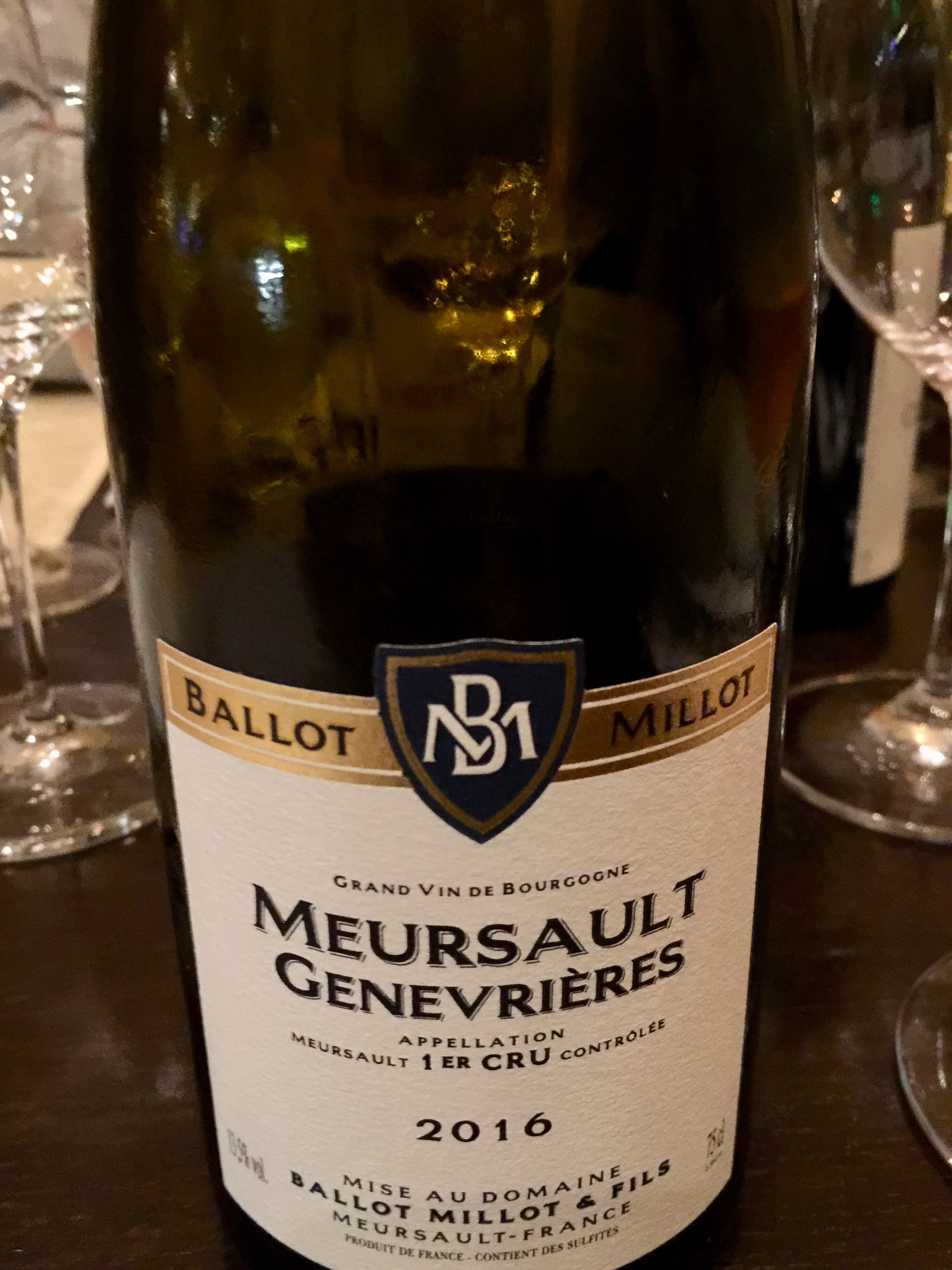 2010 TANTARA PISONI VINEYARD SANTA LUCIA HIGHLANDS PINOT NOIR- this was a full bodied, rich and giving wine that captured the essences of this renown vineyard nicely; its dark purple color suggested it had some depth and complexity which held true as well as having a darker Pinot fruit profile of black cherry and blackberry; its has enough structure to carry this down the road for many years.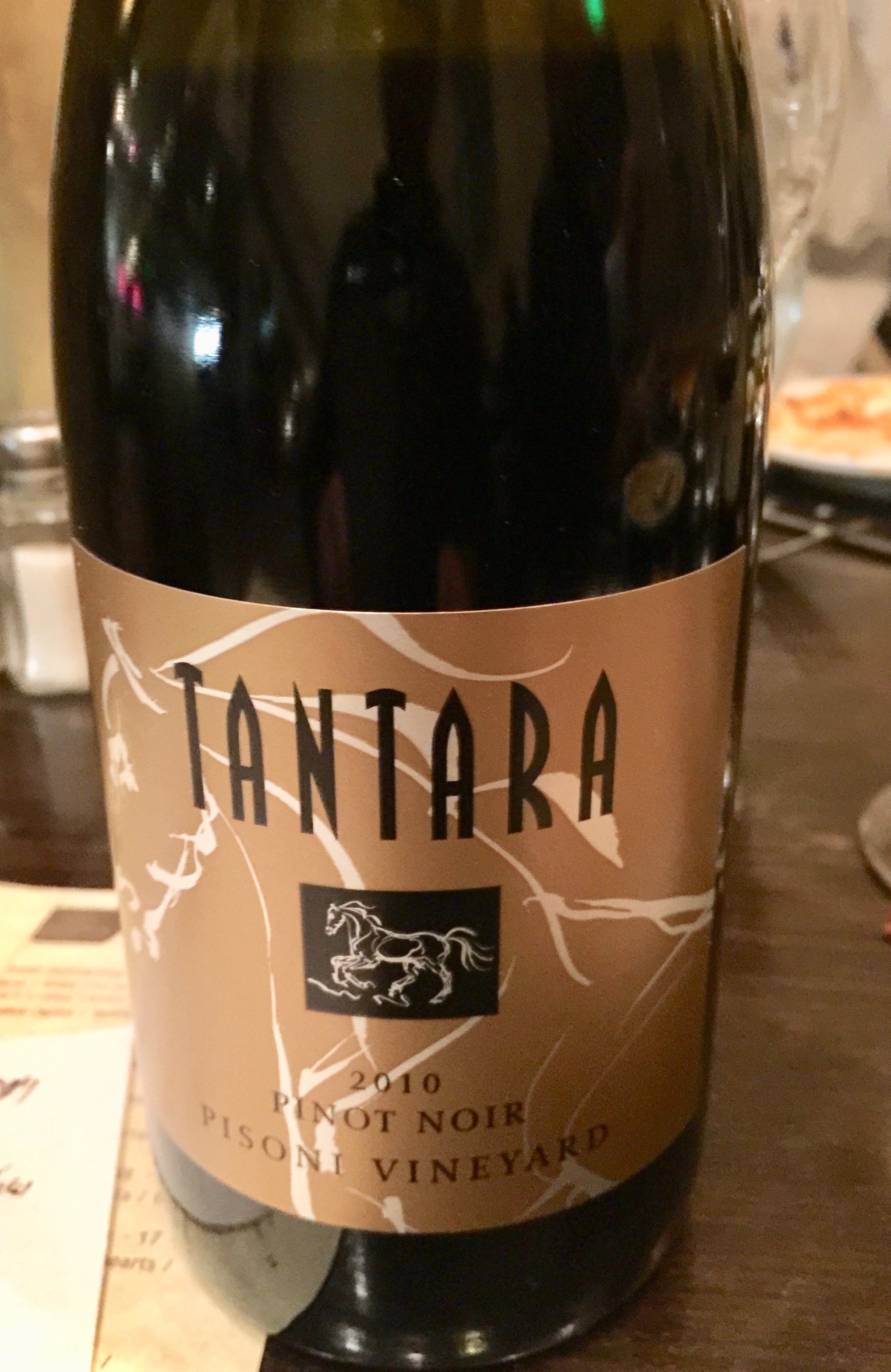 2011 WILLIAMS SELYEM RUSSIAN RIVER VALLEY PINOT NOIR- by WS standards, this is still pretty young and yet to be fully evolved, but it did offer some pleasing notes of clove and wood spiced red raspberry and red cherry as its lighter, red color would suggest; it is nicely balanced holding a steady course from the nose through the tail.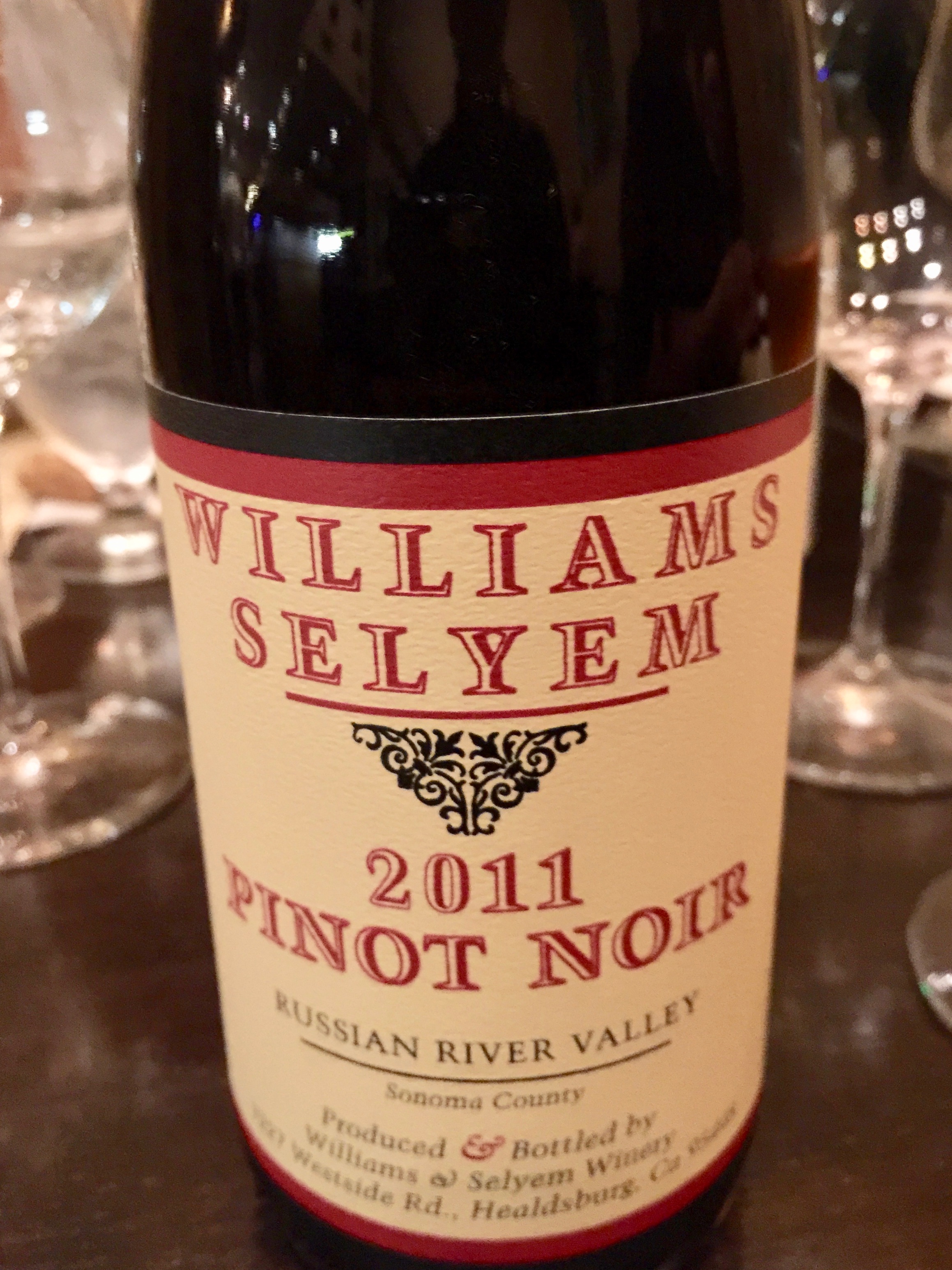 2010 DOMAINE DROUHIN-LAROZE CLOS de VOUGEOT GRAND CRU- I expected this to overwhelm the first 2 new world Pinots, but it actually just barely held it own; it was medium red in color as well as it`s weight and body and taste profile; there was red and black cherry and a hint of plum fruit, all mildly expressed, but the fruit dried out past mid palate finishing with a bit of astringency; still, I liked it.

2011 SAMMARCO CASTELLO dei RAMPOLLA TOSCANA- pretty serious wine here with a dark, brooding purple color and strong inviting aromatics full of dark fruit which on the palate translated into leather and cedar infused black cherry/ berry; it`s big, rich and full bodied and yet has finesses and charm; a lovely wine which can only get better with time.

2008 ABREU THOREVILOS NAPA RED WINE- Bordeaux blend; well, if the Sammmarco is labeled serious, I`m not sure what to call this as it takes it to another level or 3; no question, this is a serious and strongly committed wine that has it all going for it in this genre; the inky dark color is only the first hint of a major extraction, but the nose is redolent of lots of accented dark fruit which on the palate showed up as sweet black cherry; earth, cedar, spice, liquorice and oak provide the accents; layers and layers kept unfolding and it never seemed to quit until I just had to move on and then back and then on again; tough decision for me re WOTN as the next wine was stupendous, but knowing the price tag on this wine led to an insurmountable subjective conclusion for the WOTN.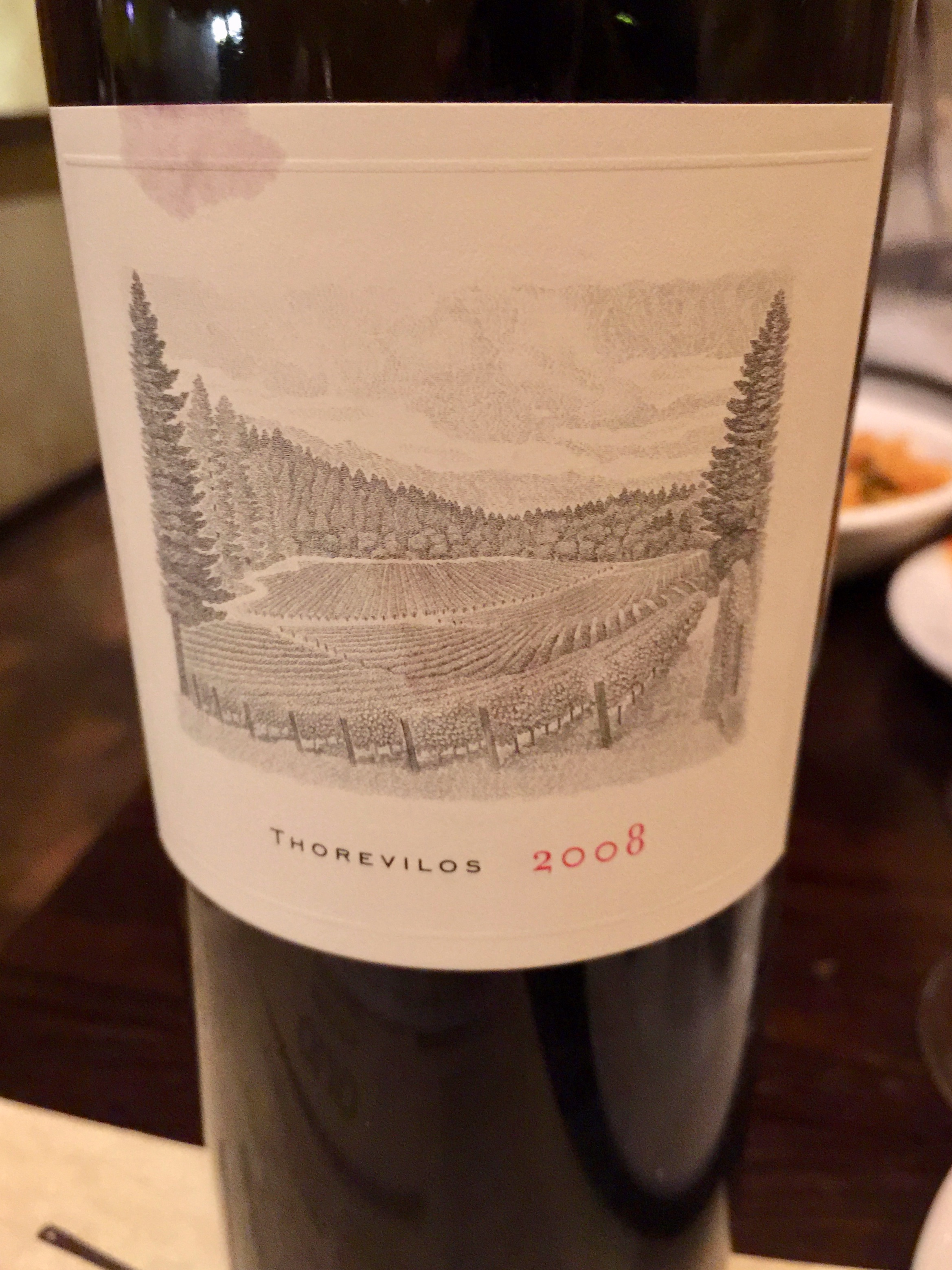 2009 DAL FORNO ROMANO VIGNETO del MONTE LODOLETTA VALPOLICELLA SUPERIORE- the hallmark of this was its impeccable balance along with the iron fist in a velvet glove demeanor with more emphasis on the finesse; loads of fruit explode out of the glass and in the taste profile which more specifically included black currant, plum and blackberry with underlying subtle hints of dark chocolate, coffee and mocha; I could go on, but there's no need; this is a winner par excellence and compared to the Abreu Thorevilos, a fantastic QPR.

NV J VINEYARDS RATAFIA DESSERT WINE- 375ml; from the producer: "Ratafia (Rah-Ta-Feeya) is a dessert wine made by fortifying champagne base grape juices with high-proof brandy (eau de vie) soon after they have started fermenting. Unlike the Ratafia produced in the Champagne region in France — the J Ratafia is aged for a few years in old barrels so that a nutty aged character has time to develop.
The grapes used for the Ratafia are a mix of Chardonnay, Pinot Noir, Viognier, and Pinot Gris from vintages dating back to 1998. The alcohol used comes from Chardonnay, Pinot Noir and Zinfandel distilled by Alambic stills. "
My take includes maraschino cherry and sherry like notes on the nose with mint, maple syrup, butterscotch and bitter almonds on the palate delivered in a thick, syrupy texture.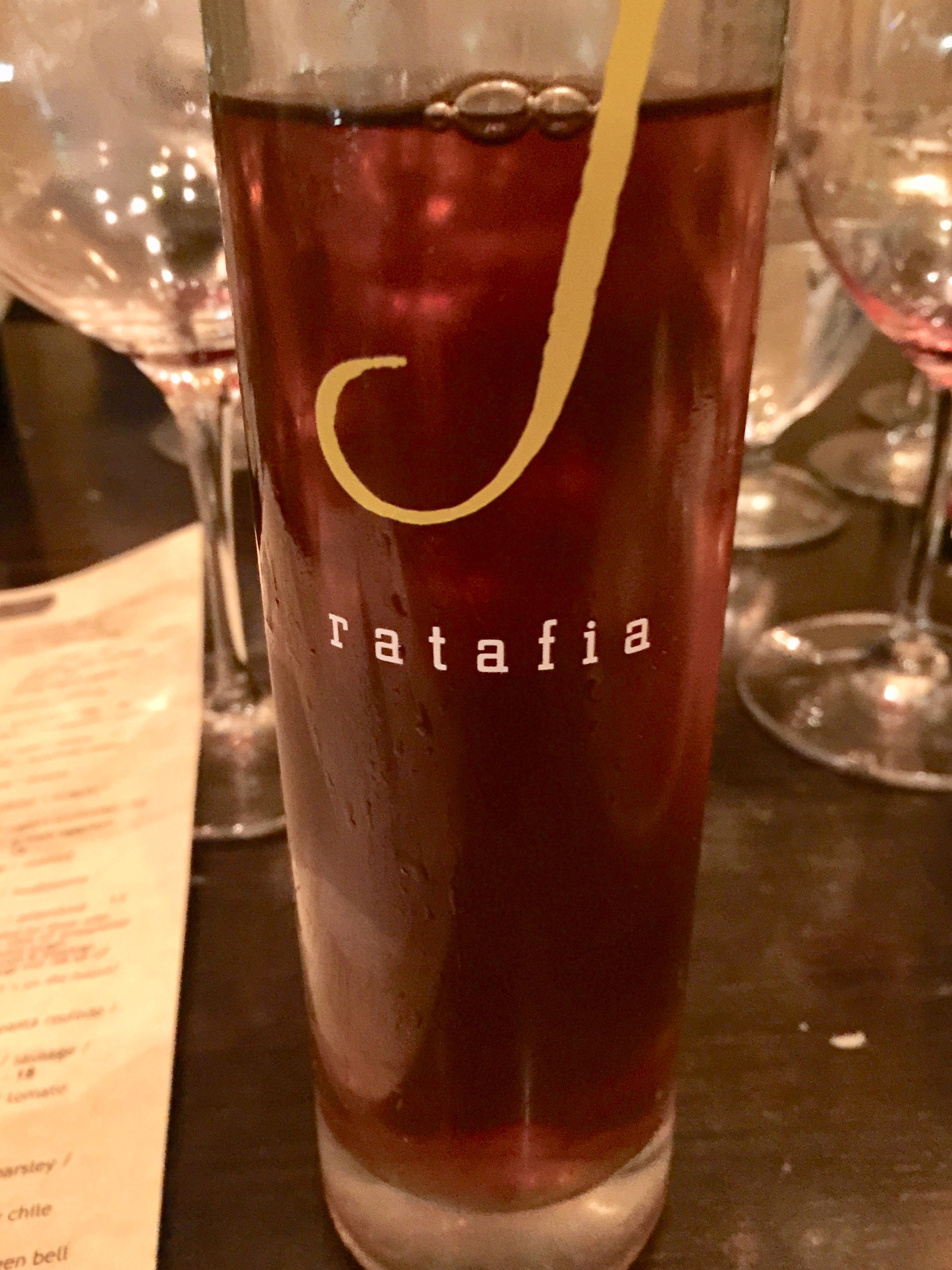 Another fine night with the gang.
Cheers,
Blake