I thought this may be of interest to some. My small group, aside from having friendly "competitions" involving Bdx wine, occasionally holds a similar event for non-Bdx. Notes from late January of last year.
Starters: with appetizers of Roasted Bone Marrow, Proscuitto, Deep-Fried Squash Flowers and a Squid-Ink Bruschetta with Yellow Peppers, Tomatoes and Mozarella:
2005 Joh.Jos.Prüm Graacher Himmelreich Auslese - From the Doc, my first experience with Prüm. The ladies loved this wine and said it was the best wine that evening over-all.
For me, it was disturbingly spritzy, though admirably fresh and lively, moderately sweet, low alcohol, very clean with superior focus. Easy to drink a ton of, I imagine, in the Southeast Asian heat with Asian cuisine. I cannot find any fault in its cool, refreshingly crisp/fruity acidity, flavors of peach, citrus, with a touch of orange blossoms and fleeting spice (cinammon?) notes.
Not knowing what to make of the spritziness (which I felt interfered with the wine's laudable characteristics), I asked the Stockbroker if he thought it was caused by secondary bottle fermentation. We couldn't be certain, so, the next day, I asked 2 others whose knowledge and tastes I respect in hopes for some answers.
Their answers jived hand-in-glove:
Prüm normally leaves material amounts of SO2 in its wine to prevent over-oxidation. I gather this is because their wines are meant to be aged longer than most of their kind so the spritziness may be a bit bothersome while the wine is young.
One added that Von Schubert, Karthauserhof, and other old-style German producers are known to practice this as well; and, that the fault of secondary bottle fermentation usually carries with it yeasty and beer-like notes - none of which I detected in the subject wine, so I suppose the bothersome spritziness was due to its youth.
I certainly wouldn't mind trying this again in 8-10 years.
2005 Cuvée du Vatican Reserve Sixtine Blanc - From the Stockbroker. Initially tightly-wound, it would reveal only laser-clean steely white minerals with some flint in its compact white fruit. I guessed it was more roussanne. Later on, it expanded and fleshed out generously, displaying broad, almond cream, vanilla/oak laced ultra ripe fruit (something like baked apple and pear) with a slight whisper of peach. Much, much bigger and fuller and heavier than the previous wine. I then guessed, wrongly, that it was more marsanne. Oh, well… I must have over-thought myself to error.
The Competing Reds (I had them with a rare ultra-prime Rib-Eye Steak and Potato Wedges):
Wine#1 - Oldest wine obvious in its brownish deep red. Bouquet of prune, black fruit compote and dark spice, slight sherry, bit of game, wet tea leaves - mirrored in the mouth on a medium body. Flavors slightly separating with more pronounced sweetish tea notes as it sat in the glass. I ranked it 2nd best. It was Miguel Aboitiz's 1994 Bodegas Valduero Primium Reserva Especial.
Wine#2 - comparatively mute nose, profiles of dark red fruit, slight raisin, nicely hefty mid-palate, quite tannic, a bit of a drying finish. On the low side of full-bodied.I ranked it 3rd best. It turned out to be the Stockbroker's 2001 Domaine Sainte-Anne "Les Mourilons" Saint-Gervais Côtes du Rhône Villages.
Wine#3 - Very curious wine that I simply could not get a handle on. Extremely ripe/baked red fruit, some chocolate notes and lots of alcohol. The Stockbroker and I guessed it was syrah-based, but we were wrong. It was Edouard's 2003 Tommasi Amarone della Valpolicella Classico and I ranked it 4th.
Wine#4 - The controversial wine. I immediately detected material brett in its thick, dense, inky, gamey, animal, super-ripe, super-extracted black fruit and dark chocolate profiles. I noted a very chalky/relatively rough mouthfeel. A huge wine.
Edouard pronounced it corked and asked that it be removed from competition. Someone opined it was a bad bottle since there was an unpleasant fuzziness to it. We prevailed on Edouard, though, to allow it to stay in competition, to be rated as it would. Honestly, I was not convinced it was "corked" or an off bottle.
Much later, I, as usual, was the last to submit my votes, analyzing and re-analyzing, making many passes through the wines. I noticed that a lot of the "brettiness" had blown off and that was an extreme amount of sediment forming a dark sludge at the bottom of my glass, not unlike Turkish coffee dregs.
I am convinced that the lack of standing it upright, decanting for sediment and material breathing time did the wine in for this event. I ranked it 5th for these reasons, but I do not think it was TCA infected ot otherwise "corked" having had the 1993 version not too long ago to mentally compare it with. I believe that, had proper decanting for sediment been performed and material breathing time been given, this wine would have fared much better. This controversial wine was the Doc's 1995 Clos Erasmus.
Wine#5 - Scents of butterscotch, toffee and vanilla laced coconut cream (usually indicating to me American oak) over cassis/dark fruit confirmed this to be my wine, the only California wine in the bunch. Comparatively the best, nicely rounded mouthfeel and balance with a long, consistent,confident finish. This wine held together the best over the evening's span. I easily ranked my 1996 BV Georges de Latour Private Reserve first place.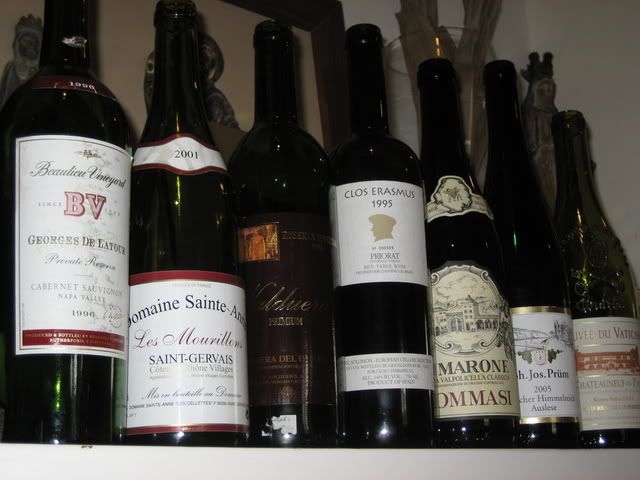 Judgment:
1st Place - Wine#5, my 1996 BV Georges de Latour Private Reserve with a total of 39 points, including 6 out of 9 votes for 1st place.
2nd Place* - Wine#2, the Stockbroker's 2001 Domaine Sainte-Anne "Les Mourilons" Saint-Gervais Côtes du Rhône Villages with 30 points.
3rd Place* - Wine#1, Miguel's 1994 Bodegas Valduero Primium Reserva Especial also with 30 points.
*****NB: Under our rules, in the event of a tie in points, as in this case, the cheaper wine prevails.
4th Place - Wine#3, Edouard's 2003 Tommasi Amarone della Valpolicella Classico with 27 points. This was a last minute entry of Edouard since he just arrived that day from Beijing and brought back a Chinese (French winemaker) Bordeaux blend which, unfortunately, got delayed with his luggage.
5th Place - Wine#4, the Doc's 1995 Clos Erasmus.
Although this second straight win of mine in our Non-Bordeaux Challenge was most gratifying, I must note, though, that the over-all level of wines that night was not as high as usual for some reason. Edouard and my wife agree with me.