Our dinner group celebrated the 20th Millennium dinner at our usual venue, bouchon, where we have a private wine themed dining room with a wine cork lined ceiling and are surrounded by many shelved large bottle formats, probably some we've had in the past.
This group typically brings great wines to each bi-weekly dinner, but on this occasion, everyone steps it up a notch to creme de la creme status. This was the best one of all I've attended.


2000 MOET & CHANDON DOM PERIGNON P2- the presentation of the bottle is almost as impressive as what's in the bottle itself; a substantial large, hard plastic heavy black box is contained in a draw string cotton bag; but I bought this for the contents and although very pricy, I'm happy to have made the decision and to have shared it on this evening; it took a while for it to show off and shine, but it made it albeit over the length of the evening; bright acidity accompanied initial fresh citrus notes which were joined by stone fruit with time; this is the 2nd Plentitude and it had elegance and finesse and was relatively feminine compared to the 98 I had a few months ago which was much bigger and more complex. ![fullsizeoutput_2134.jpeg|2448x3264](upload://dxhoNn3MdAhjt91y8M2klxR0DAt.jpeg) NV PIERRE PETERS CUVEE de RESERVE BLANC de BLANC BRUT- Magnum; a blend of 50% of its base year of 2014 and 50% from last year's blend, which had gone into the family solera of reserve wines that dates back to 1988; it is a nice Grand Cru bubbly that was crisp and refreshing giving slightly sweet mineral and chalk infused citrus fruit with undertones of grass and hay especially in the aromatics; it was delivered in a rich and creamy mousse to my palates delight.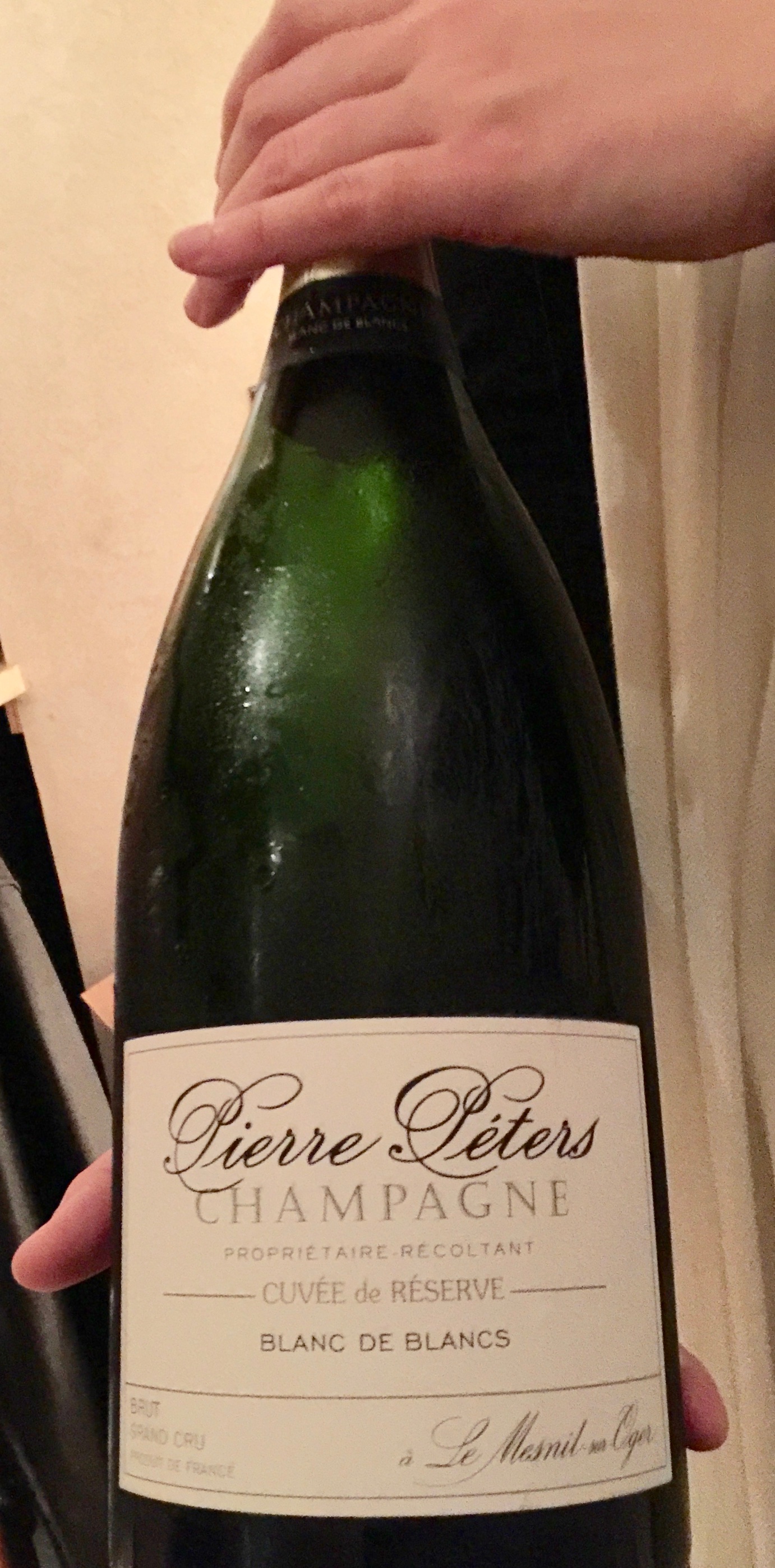 2011 PIERRE-YVES COLIN MOREY CORTON CHARLEMAGNE GRAND CRU- this was so good with a lovely inviting nose of minerals and spicy fresh green apple, pear and citrus fruit which continued on to the back end; it was medium bodied and charming; loved it.


2011 HENRI BOILLOT CORTON CHARLEMAGNE GRAND CRU- on the heels of the PYCM, this flight of 2 was stupendous; for me, this kicked it up a notch with a little more body, power, texture, fruit and length; minerals, lemon and lime are most prevalent with a background of apple and pear along with a ginger accent.


2013 MARQUIS d`ANGERVILLE MEURSAULT SANTENOTS 1ER CRU- serious aromas of flint and minerals dominate the nose prefacing a nice palate pleasing profile of minerals, more flint, ripe grapefruit and lemon zest; it was delivered in an oily texture which enhanced the sensory treat. Although sourced from 1er Cru vineyard, it emulated Grand Cru quality.


2009 COMTE GEORGES de VOGUE BOURGOGNE BLANC- exotic mature fruit with smoke and minerals jump out of the glass with hints of impending oxidation showing up from the color on; this was intense, rich, lush and creamy; there was a touch of pine needles in the background; I overheard remarks stating this was not the best example of the wine, but it worked for me.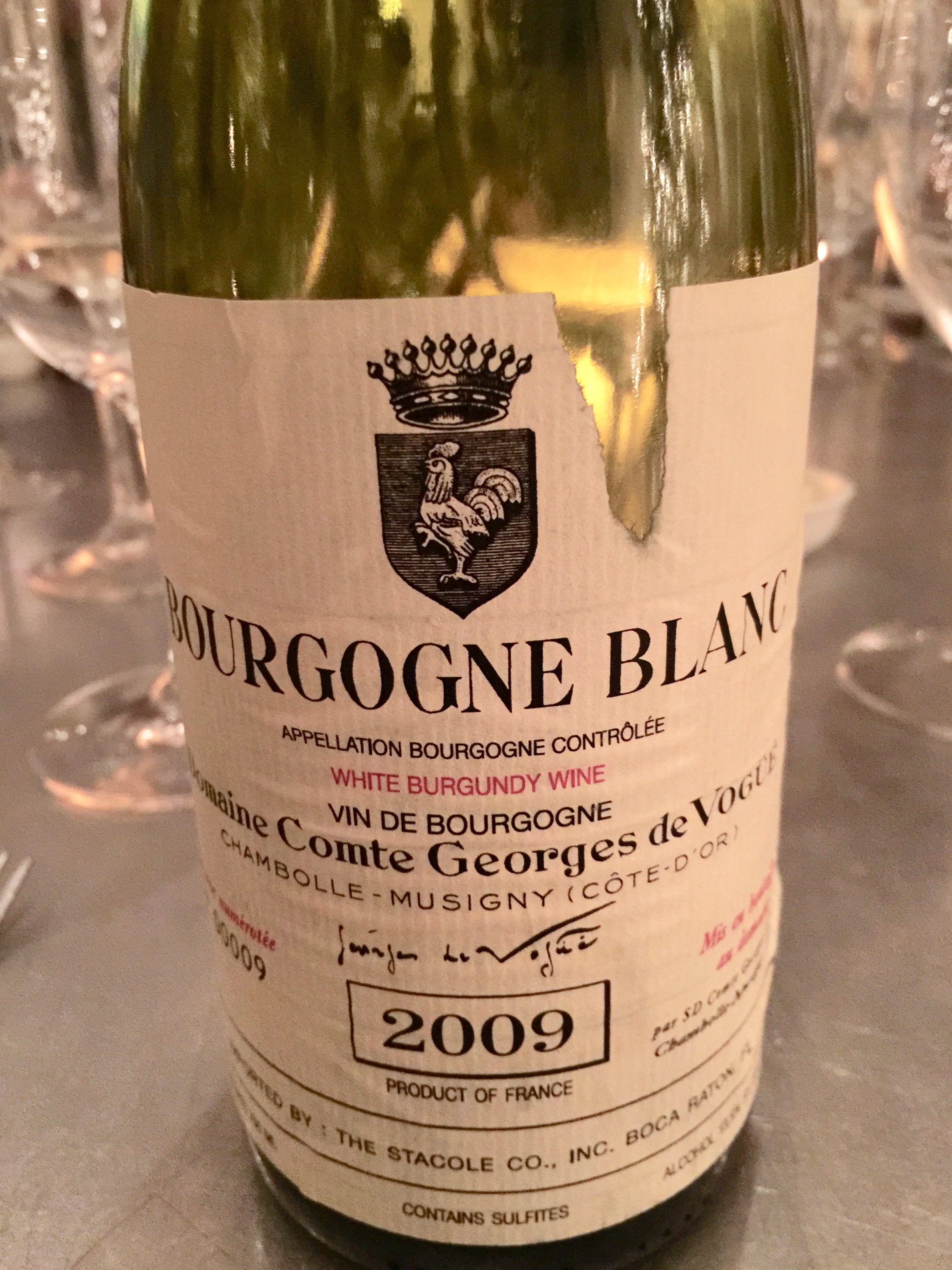 This is the only producer who owns Chardonnay vines in Le Musigny and they have a conviction that vines younger than 25 years old are unworthy of the Musigny title, so they declassified their Musigny Blanc to Bourgogne Blanc between 1994-2014. In 2015, the average of the chardonnay vines are 25 years old, and they have made their first Musigny Blanc in 2015 since 1993.
To compliment the foie gras course:
1999 SUDUIRAUT SAUTERNES- 750 ml; this was noble in every way; from its gold color, honeyed ginger laced apricot, pineapple and peach marmalade flavors to its thick and creamy texture.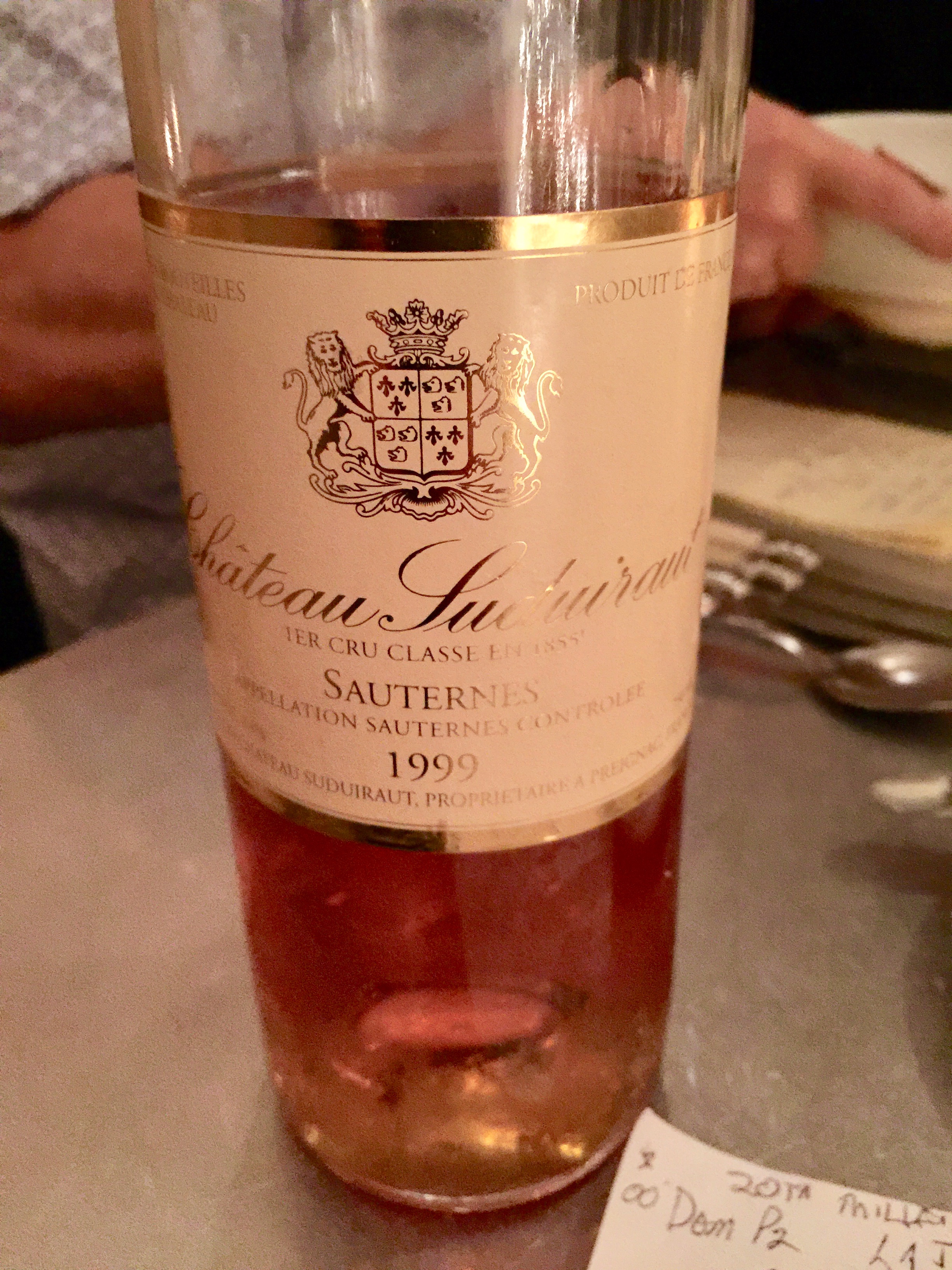 We move on to the reds with the 2 of the best wines of the night up next:
2002 ARMAND ROUSSEAU CHARMES-CHAMBERTIN GRAND CRU- hints of spice, rose petals snd briary dark fruit in the nose followed by more distinct red currant and black raspberry on the palate; in time, it improved and I found it more giving; it`s full bodied and there's a sense of power, but it seemed a bit tightly wound and just a little held back; obviously, my experience was not that of most others as it eventually was voted WOTN.
Here's a good example of why notes are just that. My notes, of what I'm getting and attempting to translate into words and I appreciate and honor what interpretation each person has and their interpretation. After all, it s just my opinion based on that moment with all of the outside factors playing a role. ![fullsizeoutput_211e.jpeg|2448x3264](upload://hO3XFoiUsIpO8zE7fyueVBi3W3t.jpeg) 2003 ARMAND ROUSSEAU CLOS de la ROCHE GRAND CRU- for my money, this was the WOTN; it displayed a youthful vibrant dark people color, gave generous amounts of red and blue fruit with spicy undertones and accents of chocolate and roasted coffee and had great mouthfeel; it held on for a long finish and for me the hallmarks were its beautiful balance, layered complexity and elegance.


2008 PONSOT CLOS de VOUGEOT CUVEE VIELLES VIGNES GRAND CRU- we`ve been on a roll with 9 good wines in a row, but it ended here. This bottles was badly flawed.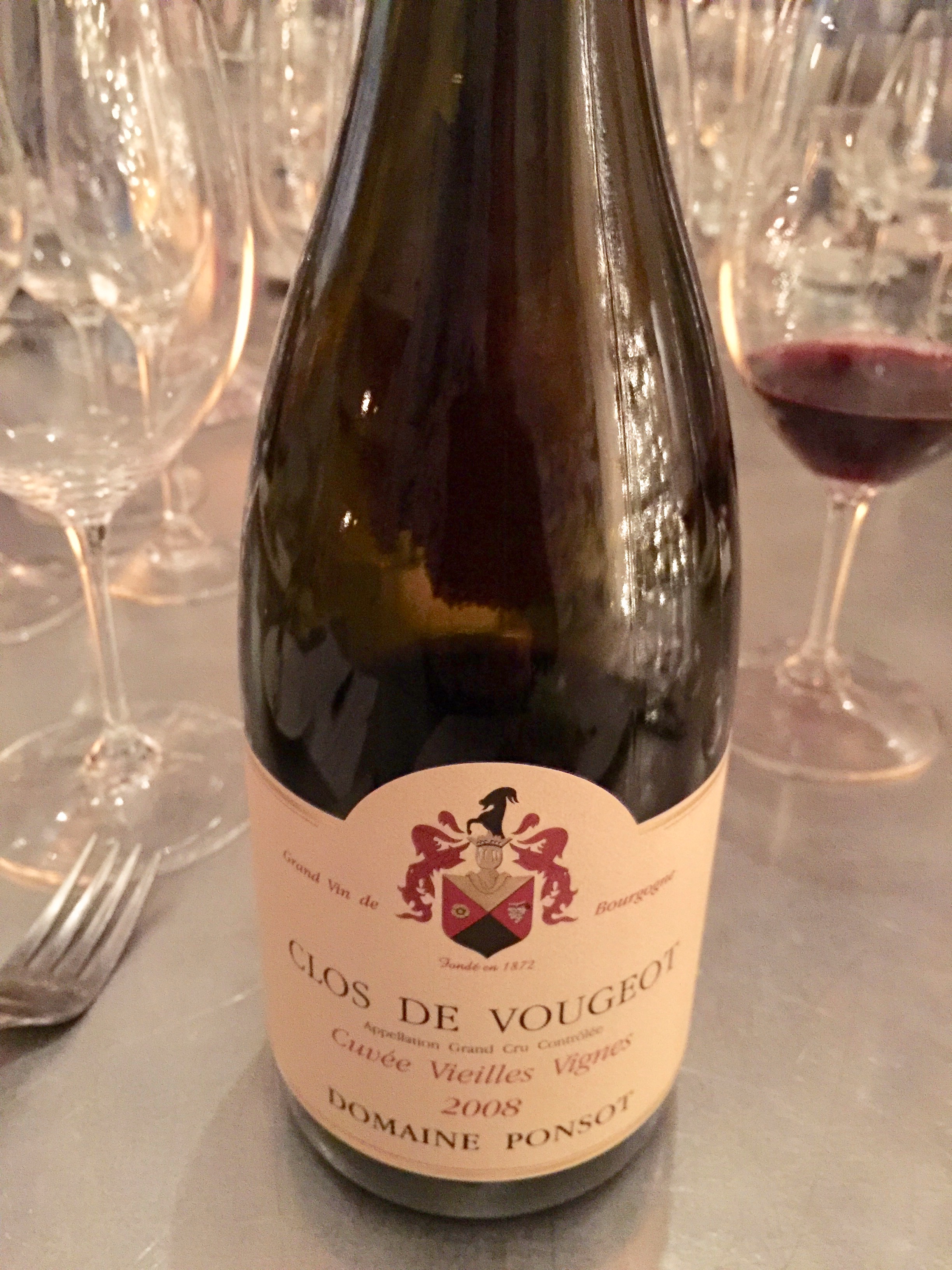 2001 ROBERTO VOERZIO RISERVA VECCHIE VITI CAPALOT e della BRUNATE BAROLO- Magnum; lots going on with this wine; still vibrantly youthful color and energy, it had spicy, earthy blueberry and blackberry fruit in the nose followed by more of the same with an emphasis on the nice fruit profile; it was nicely balanced, soft and easy on the palate and held on for a long, welcomed finish.


A special flight comes up next reminding us to respect our elders:
1961 PONTET-CANET PAUILLAC- the nose was pretty confirming we had a very mature wine here with lots of musty earthy dried fruit notes, but the tune changed once tasted with lovely leather and dried black currant and an unexpected velvety texture that enhanced the sensory experience.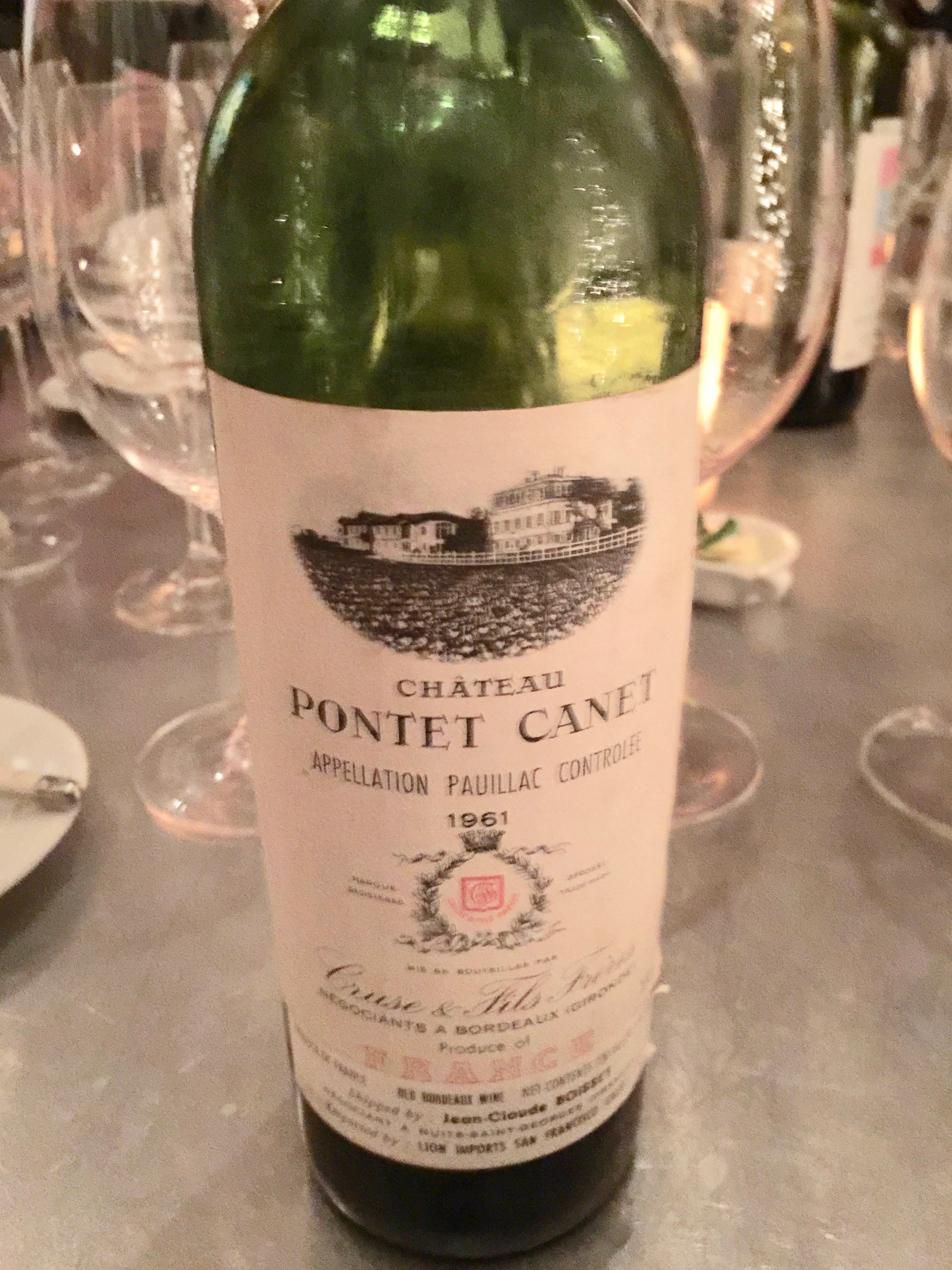 1959 CALON-SEGUR SAINT-ESTEPHE- IMHO, this was even better than the 61 giving more flavors and more freshness; it had spicy and delicious dried black currant, plum and blackberry fruit delivered in a smooth and easy manner; as with the 61 P-C, it was medium bodied and held up and on for a fine finish.


2005 lEVANGILE POMEROL- Im pretty sure I would pick this out as a youngster in a blind tasting as it exuded youthfulness in very way from the pure color, fruit forward aromatics, super ripe and prevalent black cherry that was most evident amongst the dark fruit profile; it was full bodied, frisky and long.
2001 PIERRE USSEGLIO CHATEAUNEUF du PAPE- laced with volatile acidity, I regretted pouring it into my glass which required a thorough cleaning.


1994 VEGA SICILIA UNICO RIBERA del DUERO- 80% Tinto Fino, 13% Cabernet Sauvignon and 5% Merlot, 2% other; this was outrageously good with so much happening and opening up in the glass over time which is just what it needs an abundance of, time; spicy blueberry notes sing loud and clear early on and then blackberry and black raspberry join in to add to the fun; it expanded and grew in the glass and since we were toward the end, I gave it more time and enjoyed it more with time. Certainly one of my considerations for WOTN.


2012 SCHRADER CELARS GIII BECKSTOFFER GEORGE III VINEYARD CABERNET SAUVIGNON NAPA- I deviated from my pre-offered vegetarian mushroom course to have a bite of the Wagyu meat course [see menu photo] to pair it up with this wine; it worked perfectly; made from Cabernet Sauvignon Clone 337, and 90% new Darnajou and 10% new Taransaud; spicy cedar, graphite and leather accents blend in with the slightly sweet blueberry, black currant and plum fruit to form a perfect union; layers of complexity continued to unfold and probably would go on for days if I`d left in the glass.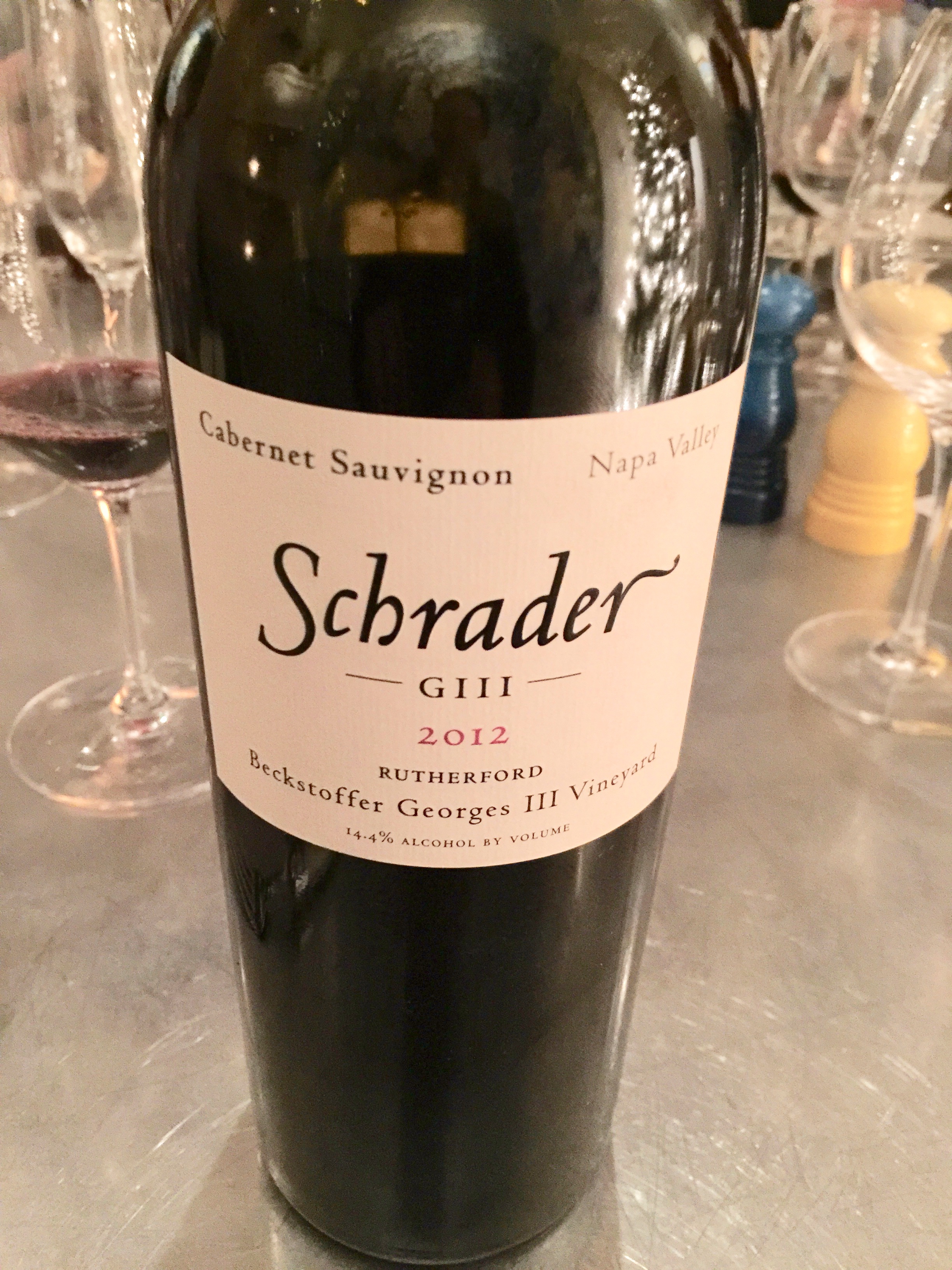 2001 RIEUSSEC SAUTERNES- I received a strong dose of Botrytis on the first sip and enjoyed the intense honeyed peach nectar and creme brûlée this exuded; it was super thick, sticky and poured like molasses.


1985 MOULIN TOUCHAIS COTEAUX du LAYON- from the largest, geographically speaking, of the sweet-wine appellations in the Loire Valley's Anjou district, this was the perfect match for the optional apple crisp dessert course with its cinnamon apple tart like taste profile; I was surprised to find it was not all that viscous; it had a more than usual dark amber color and was not overly sweet; some identified this as Hawaiian punch as other fruit noted included papaya, guava and passion fruit.


As stated in the opening, this was the best Millennium dinner I've attended which is based on we had only 13 folks as opposed to the usual 17-18, we had 19 total wines which is about 9-10 less than normal, our pace was much slower which allowed for more time with each wine and longer food pairing, more table space for extra stemware and more full table conversations which allowed for more bonding and fellowship.
As one of my friends wife stated the first time she had d`Yquem, I could do this every night.
Cheers,
Blake