"2018 is the year of the old vines"


I am still deeply impressed by the "Jungweinprobe" or barrel tasting at the estate Keller on Saturday. The Keller family presented balanced, clear and fresh wines with 12-12,5% and sometimes even 11,5%. Fair to say during summer with 40C in Berlin, I thought oh my god, this will certainly be a vintage like 2003 with a lot of alcohol and fat&flabby wines. NO, thankfully not.
The key for these fresh wines on Saturday were old vines and complete shadow of the grapes. It was a wet winter 2017/2018 and the old wines could revert on these water reserves and so the old vines could deal with these hot temperatures. Fair to say the young wines had a lot of problems in 2018. In addition the Keller family anticipate the hot summer and therefore made the decision not to cut the leaves, so the grapes had a good shadow.
Let me point out that my impressions are just a snap-shot and of course the wines are in development.
Before I start I will also say that you will find a lot of good Keller wines in 2018 for little money, like Grüner Silvaner (9€), von der Fels (GG-quality for 17-18€), limestone Kabinett (16€), all three wines offer impressive quality and drinking pleasure.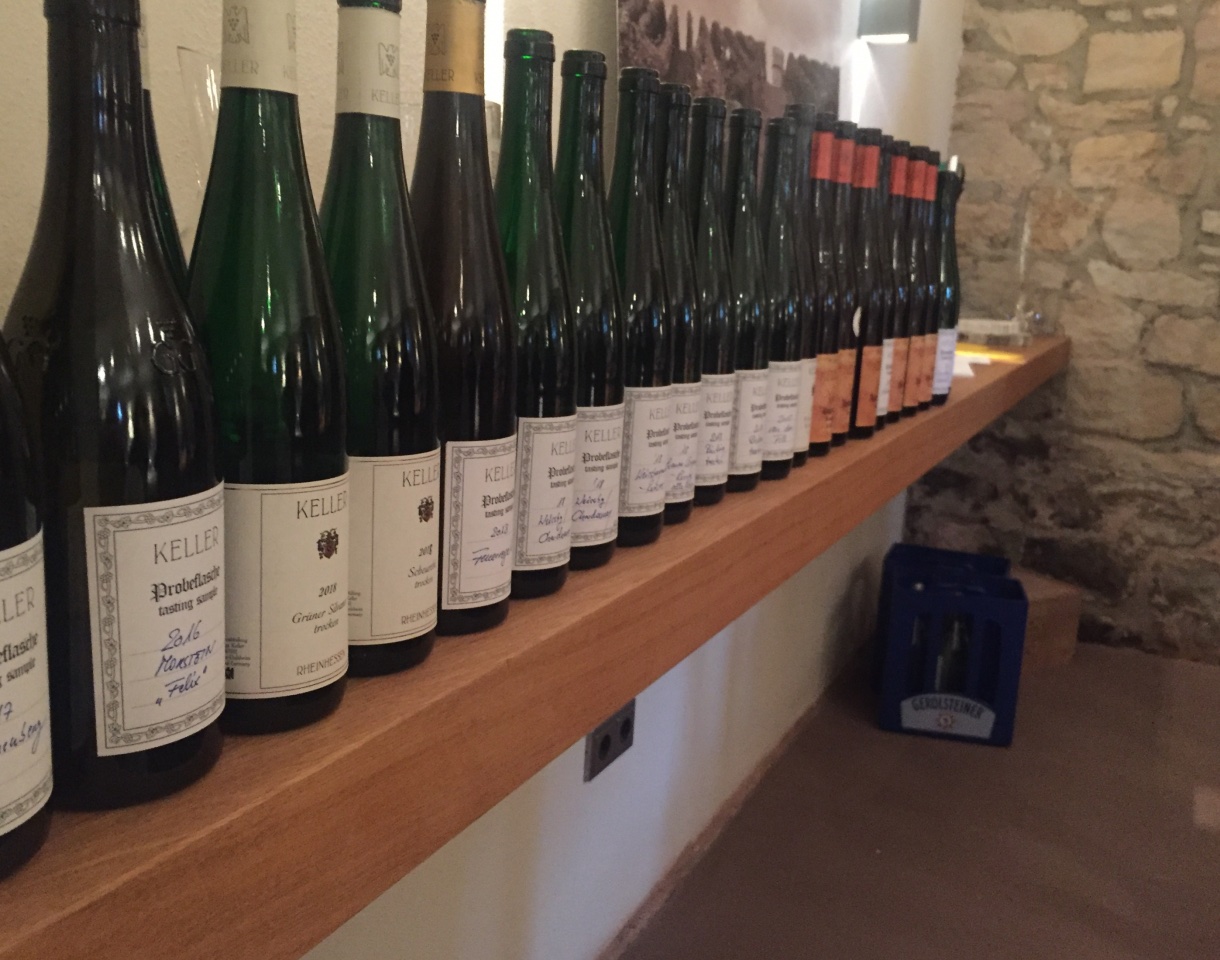 2018 Scheurebe
Fresh, racy, vivid acidity and notes of menthol.



2018 Grüner Silvaner
Such good. Good grip and push. Huge drinking pleasure and simply well-made. What a value for under 10€. I recommed it also for restaurants to serve it by glass. BUY



2018 Silvaner "Feuervogel"
Silvaner on GG level. Very distinguished with herbs, spice, acidity and 11,5%.


2018 Riesling
Fresh and crisp. Solid entry-level Riesling.


2018 von der Fels
This year for the first time (!) and exclusively from very old sites. And you will taste it!
What a vibration, spice, smokiness and fantastic structure on the palate. 2016&2017 von der Fels was already such good and offered a stunning QPR, but this year even better. Best von der Fels ever for me. BUY


2018 Nierstein Riesling (Hipping & Pettenthal)
Here we have Pettenthal GG auction l_ight_. It shows the spice and dirtiness of Pettenthal and the juiciness of Hipping. Fantastic.
Again GG level. Great great value. BUY


2018 HIPPING GG
Very wild and challenging. You have to chew on the wine.



2018 PETTENTHAL GG auction wine
A monolith. Best Dry German Riesling, period.
Such dirty, spice, smokiness and depth. liquid cocaine
Like last year, everyone was thrilled about this wine. 100/100



2018 KIRCHSPIEL GG
After Pettenthal auction wine, the Kirchspiel had an difficult and impossible job to impress the tasters. Not such electrifying like last year. But still quite good, crisp, precise and LIMESTONE. Classic Kirchspiel.


2018 HUABACKER GG
Much better than 2017. Energetic and with a touch baroque. Good mix. In addition grip and structure. BUY


2018 MORSTEIN GG
As always offers a bombastic minerality.


2018 ABTSERDE GG
Simply mind-blowing. Finesse&Elegance with no end.
I am always wondering about the hype of G-Max. I am telling my friends every year, buy Abtserde. Such terrific and comes quite close to G-Max and is soo much cheaper than G-Max. Also available. Fair to say that G-Max is a touch more complex. BUY


2018 G-MAX
A sleeping giant.
Note: there will just 1 bottle of G-Max in the famous KELLER-KiSTE



2018 "limestone" Kabinett (AbtsE and Kirchspiel)
Bewitching, juicy and light leichtfüßig . BUY


2018 HIPPING Kabinett "Prince Louis"
Kabi at is best. Its floating…a dream.



2017 Bürgel GG Spätburgunder
Shows clearly more spiceness, tension than the 2016 version. Firm core, clear structure and a huge minerality. I am quite surprised, as normally Bürgel shows a basket of red fruits and is charming. Now we have clearly a more nuanced&complex Bürgel. BUY


2017 Frauenberg GG Spätburgunder
Huge focus on fruit. Sour-cherry all over. Velvety texture and great length and depth.


2017 Morstein "Felix" GG auction Spätburgunder
Best German Spätburgunder for me. What a silky elegance. Never-ending length and depth. In addition pure&precise and focused. What a beauty.



2018 Weisser Burgunder & Chardonnay
A joint-venture between father&son. KP Keller was responsible for Weissburgunder and Felix Keller for Chardonnay. The base for the Chardonnay was a little Chardonnay lot in the big site "Zellerweg am schwarzen Hergott". Pure limestone rocks. Barrels came from Domaine Dageneau.
Good job! Not to love this wine is impossible.



2018 Weisser Burgunder "Reserve"
Wild, challenging, dense, precise…WOW. Great oak-management.



2018 Grauer Burgunder "Reserve" alte Reben (Maischegärung)
"fermented on skins for 8 days" and 55 years old vines
Oh la la…Felix Keller brings REVOLUTION to the Keller estate. This is the job of young people, isn't ist?! haha
On the other hand, KP Keller does good eduction and give his son the space to experiment.
Finally, these two wines confirms my thesis that there are good Natural or Orange Wines when the winemaker, like Felix Keller, is gifted.
Unfortunately there are also a lot of faulty wines in this segment.
Bottom-line, very exciting wines from Felix Keller.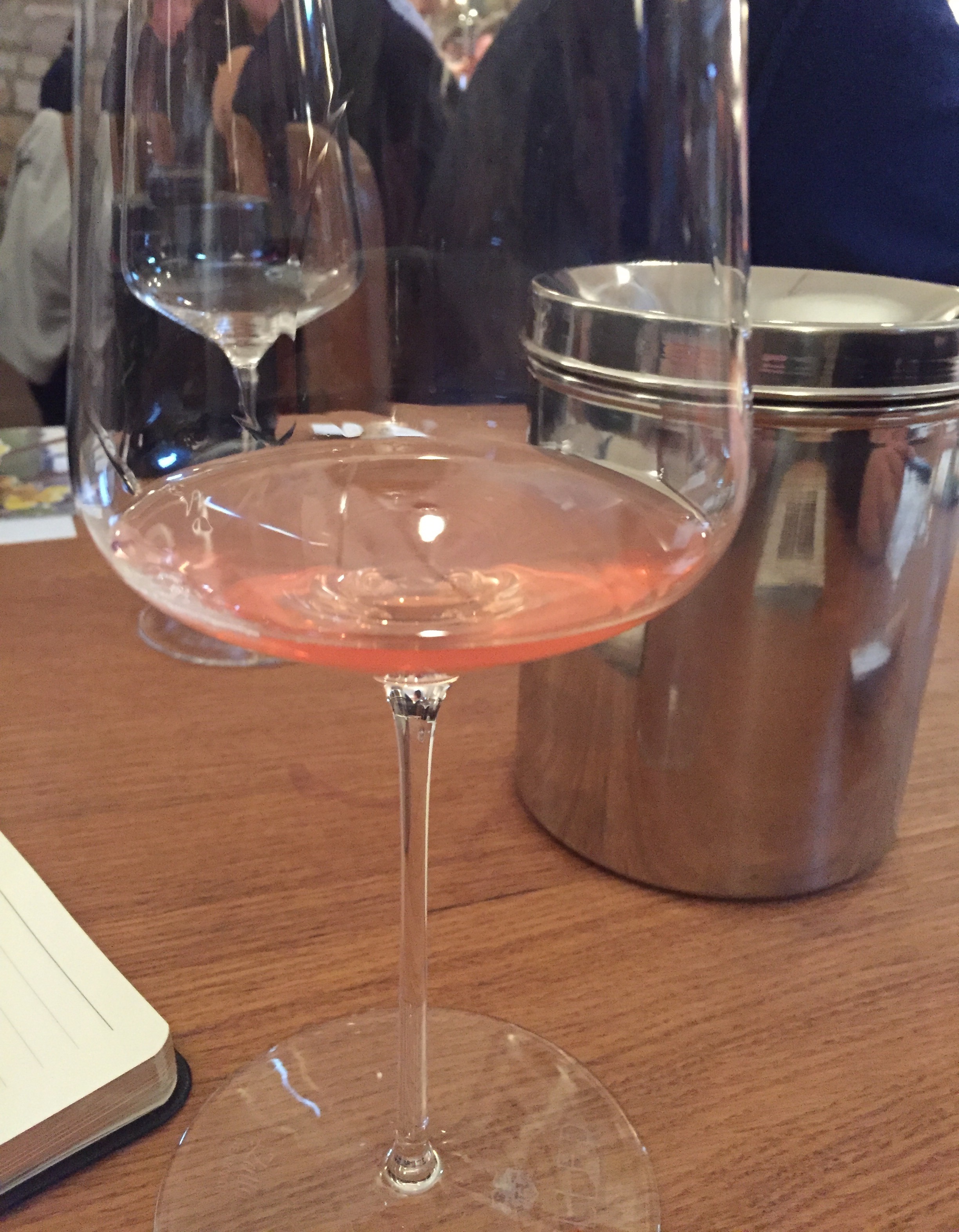 in vino veritas
Martin