On the 6th October 2010, the Stockbroker hosted a lunch at Shang Palace for the Usual Suspects in anticipation of his birthday a few days after. He took care of all the food and, except for the 2 bottles opened after he left (i.e., Arnie's bottles since it was his birthday that day itself), all the wines as well. We were only 8 in all that day as Miguel was in London for work.
The celebrant opening one of the many bottles he brought.
Naturally, he started us off with a glasses of celebratory vintage champagne.
2002 Champagne Veuve Clicquot Ponsardin Vintage Rosé - I've had this bubbly several times, but the last time I posted on it was around 10 months ago, on occasion of a Veuve Clicquot pairing dinner. It is still a notably bright, vibrant lively and fairly complex, fresh strawberry-dominant champagne (with minor raspberry, cranberry, red currant and brioche notes) and a faint coffee underpinning. What I remember most about this is how clean and neatly-packed it was. Very refreshing. Nice.
A toast to the celebrant.
The Menu
After the 3 dim sums (all good), a nice, subtly-flavored Braised Beef with Crabmeat Soup was served…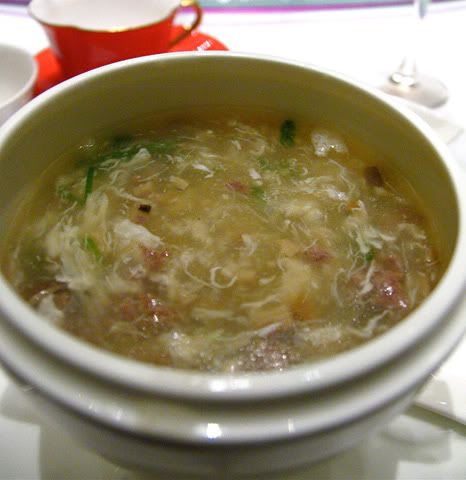 …which I tried with…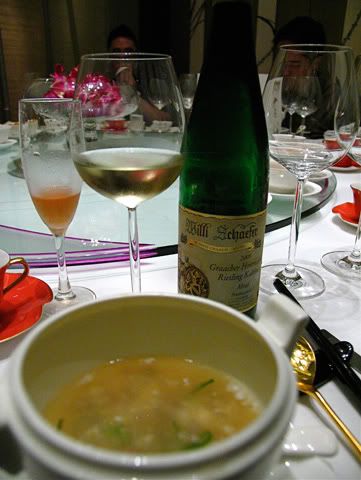 2009 Willi Schaefer Graacher Himmelreich Riesling Kabinett - Pleasantly bright, fresh, light-bodied, light-footed, decently crisp, focused pear, Mexican mango (Keitt), slight peach and clean minerality. Comparatively straightforward and just a touch sweeter than other kabinetts I've had, this is quite charming in its simplicity and is very approachable and easy to drink. Very affordable and great value for money.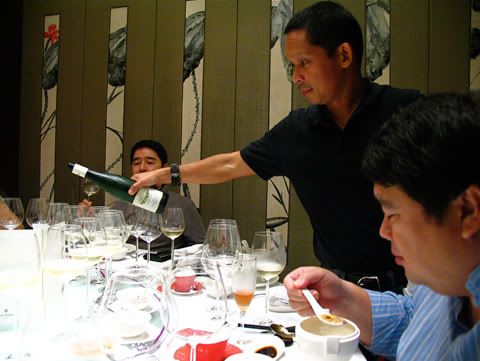 The celebrant pours for us.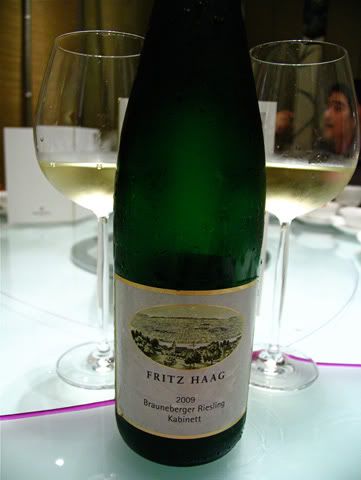 2009 Fritz Haag Brauneberger Riesling Kabinett - Comparatively better structure, a few shades more in body, depth, suavitée and complexity than the immediately previous wine. This is the best locally available riesling kabinett I have had thus far, so I made a mental note to buy some to keep at home.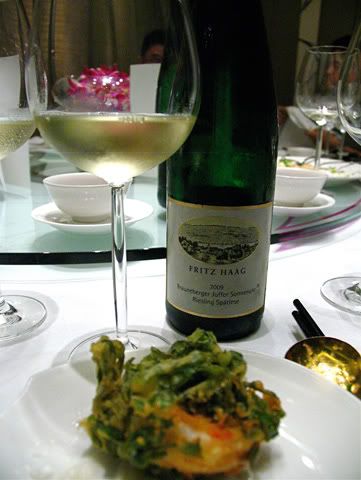 2009 Fritz Haag Brauneberger Juffer Sonnenuhr Riesling Spätlese - Lush, more generous but with notable focus, purity, precision and refinement. Nice slate/minerality in this, as well as alluring honeysuckle notes. Excellent with the Deep-Fried Prawns with Spinach. This wine is another definite buy for me.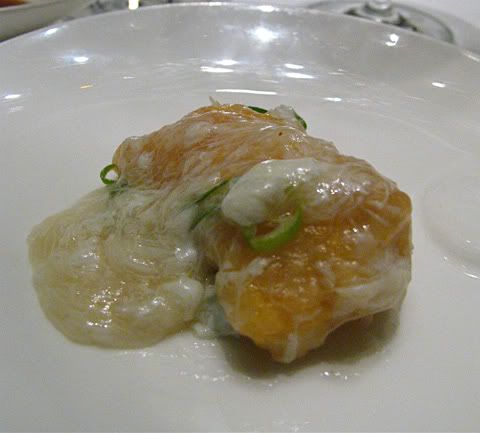 Lapu-lapu with Crabmeat Sauce
2009 Hermann Dönnhoff Oberhäuser Brücke Riesling Spätlese - What can I say? I've been a sucker for Dönnhoff's Nahe rieslings since I first tried them, and this is yet another reason why. It is extremely difficult not to simply gush about this incredibly pure and focused, exceptionally balanced and complex beauty. I can't try to "break down" the flavors without doing it injustice. Wonderful alone and paired admirably with the slightly spicy beef course.
Stir-Fried Sliced Beef with Garlic Sichuan Sauce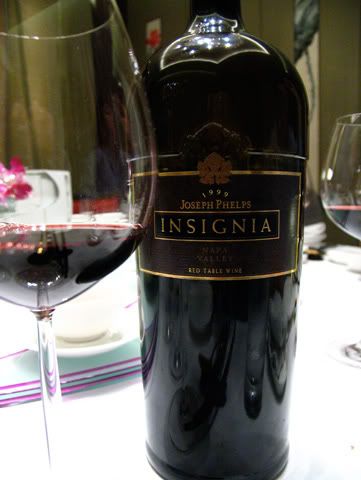 1999 Joseph Phelps Insignia (Magnum) - This is only the 2nd time I've tried this wine, the first time, I foolishly opened the bottle when it was much too young and didn't enjoy it at all. It was, thus, a perfect opportunity to give the wine a fair shake, as it were. One of the less bombastic (this is a good thing for me) Napa cabs I've had of late that displayed judicious use of wood, notable harmony and firm structure in its creamy cassis, black cherry, slight kirsch and raspberry, dark plum, a moderate dose of chocolate, bit of licorice and loam, with a touch of violets. Good balance. I liked it more than I thought I would. Nice.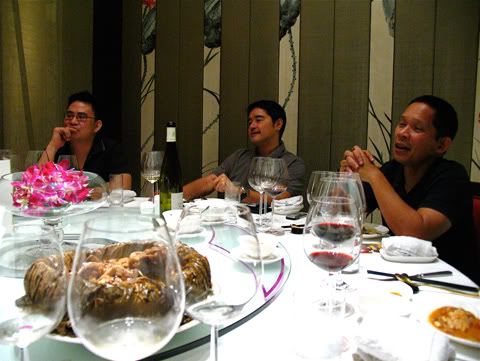 Conversation over some Beggar's Chicken.
There was another red from the Stockbroker, one I've had around 5 or 6 times previously that I enjoyed every single time. Unfortunately, this particular bottle was slightly corked. It happens. C'est la vie.
It did nothing to dampen the celebration though. I doubt anything could have, given the occasion we were celebrating.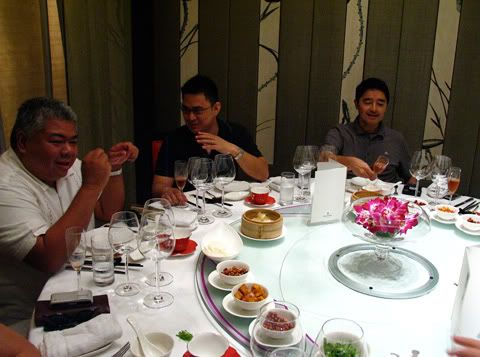 Our generous host and celebrant lingered a few minutes longer and eventually left for an afternoon meeting (nb: happy thing about German rieslings is that they are generally quite low in alcohol, so one is still in fine shape after having quite a bit of them).
Many, many thanks, buddy, and, again, happy birthday.
Epilogue:
Arnie then opened a couple of his bottles for us: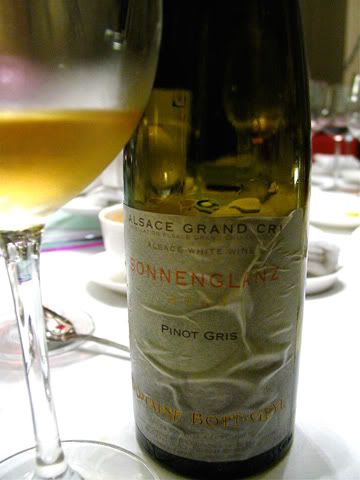 2005 Bott-Geyl Pinot Gris Sonnenglanz - Clearly my current favorite locally available pinot gris, I last posted on this around a year ago from a lunch with Aaron, J-Lab and Apa, during which I paired it very successfully with Peking Duck. My notes then were as follows:
Luscious, curvey and generously fruity from the get-go with grand cru weight and concentration. The soft, honeyed peach, lemon tarte, baked pear flavors are definitely ripe and somewhat creamy (noted by Apa), but with nice minerality, admirable freshness and balance. Its evident round fullness has precise heft and an alluringly viscous texture.

It is difficult for me not to gush about this wine, especially when paired with the 1st Way of the Peking Duck. Admittedly, I am a big fan of this estate and am yet again kicking myself for not having visited them in Beblenheim when I spent several days in nearby Riquewihr, Alsace. This wine is a joy to drink now and, I believe, can gracefully age for several years. I see no point in waiting, though. Enjoy it now with Peking duck and thank me later.
A year later, the wine is still nicely fresh, but somewhat more mellow/less forward and its spiciness has stepped up nicely. Arnie did try to order some Peking Duck to go with his bottle, but the Shang's kitchen was already closed.As far as I was concerned, that was absolutely fine as I was already quite full. Arnie then opened another bottle to end the lunch on a sweet note: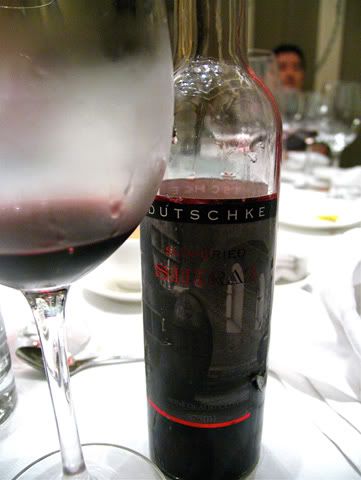 Dutschke Sun-Dried Shiraz - This was the very first shiraz-based dessert wine I've ever had: very full-bodied, dense, thick, viscous (like a pedro ximenez), it was just short of a syrup of prune, raisins, crème de cassis, muscovado, vanilla/oak and slight cinnamon. Very different and interesting. I'd imagine most of the Manila Gentlemen's Club would like to try this out with some cigars. Hopefully, I can get my hands on a bottle of this fairly quickly for such purpose.