Last week-end the second Berlin Signature Tasting took place at Rest. anabelas kitchen. Together with Michael Quentel/WEINWISSER we presented 20 vintages of Hirtzberger "Singerriedel" Riesling Smaragd from 1990-2013. And as a great honor Franz Hirtzberger came to Berlin to take part. BTW, the first time that so many vintages "Singerriedel" could be tasted side by side.
Bottom line, they need time. WOTN was 1997. One of the best dry Riesling I have ever tasted, 98/100. Lemon yellow colour and such fresh&young and pure&precise on the palate. The 1990 was even 5-10 years to young, bone-dry with 1g RS and tasted like glacier water with lemon yellow color. 1992 and 1999 were spectacular too. If you want to buy a vintage then I recommend 2013, maybe in couple of years as good as 1997. Also 2011 is worth a buy. For the record, 2002 was outstanding and 2004 was great too. 2003 was surprisingly good. More info in the coming weeks by an article of Michael Quentel in the swiss wine-magazine WEINWISSER. http://weinwisser.org



Franz Hirtzberger told us that they harvest very, very late in order to get the perfect physiological ripeness in the grapes. His credo is the perfect physiological ripeness of the grapes in the vineyard and controlled faineance in the cellar.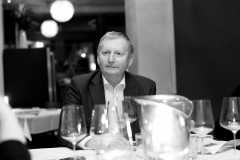 Franz Hirtzberger
http://www.hirtzberger.com


Cheers,
Martin Zwick