As per our usual MO, we celebrate special occasions at our favorite local restaurant, The Stonehouse, located on the lux resort San Ysidro Ranch property.
This time it was my sweetheart's birthday and also as usual, we took champagne and a Burt Williams made Pinot Noir to enjoy along with many of our favorite courses.
And there are more "as usuals", in that we take our own stemware which are from Sophienwald who, IMHO, put out the finest stems of all.
Seated at our favorite table, and served by one of our favorite waiters, we enjoyed another fab evening and drank well:
!998 DOM PERIGNON- the color was a yellow gold and the nose had some mild caramel, butterscotch and honeyed peach aromas that continued on to be joined on the palate by lemon and orange zest; it had a super frothy mousse which enhanced the finish as all of the goodies passed over the palate to the back end; it was fun to follow it over time as it went though some changes in the taste profile, all of which just eased in transitionally; after 2 hours, the last tastes were as good as the first.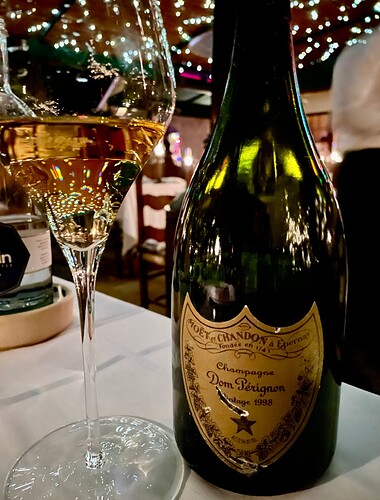 1992 WILLIAMS SELYEM ALLEN VINEYARD RUSSIAN RIVER VALLEY PINOT NOIR- of all of the Pinots Burt made, those from Allen have been my favs over all of the vintages; this bottle was a bit past its apogee and yet had enough to give to merit total consumption and appreciation; following a nose of smoke, mild hints of cinnamon and spiced red raspberry came more raspberry with red cherry finishing it up; it was medium bodied and held on with consistent notes throughout the entire evening; in fewer words, it was lovely, elegant and worthy.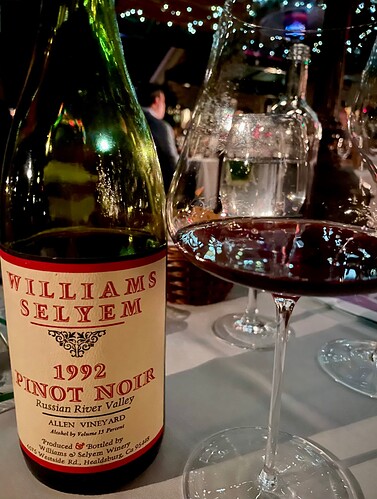 The birthday celebration was righteously enhanced by everything just being perfect during the whole evening, even the long-awaited Uber ride pickups to and fro.
Cheers,
Blake