A gorgeous $15 wine. Still there on Winebid tonight.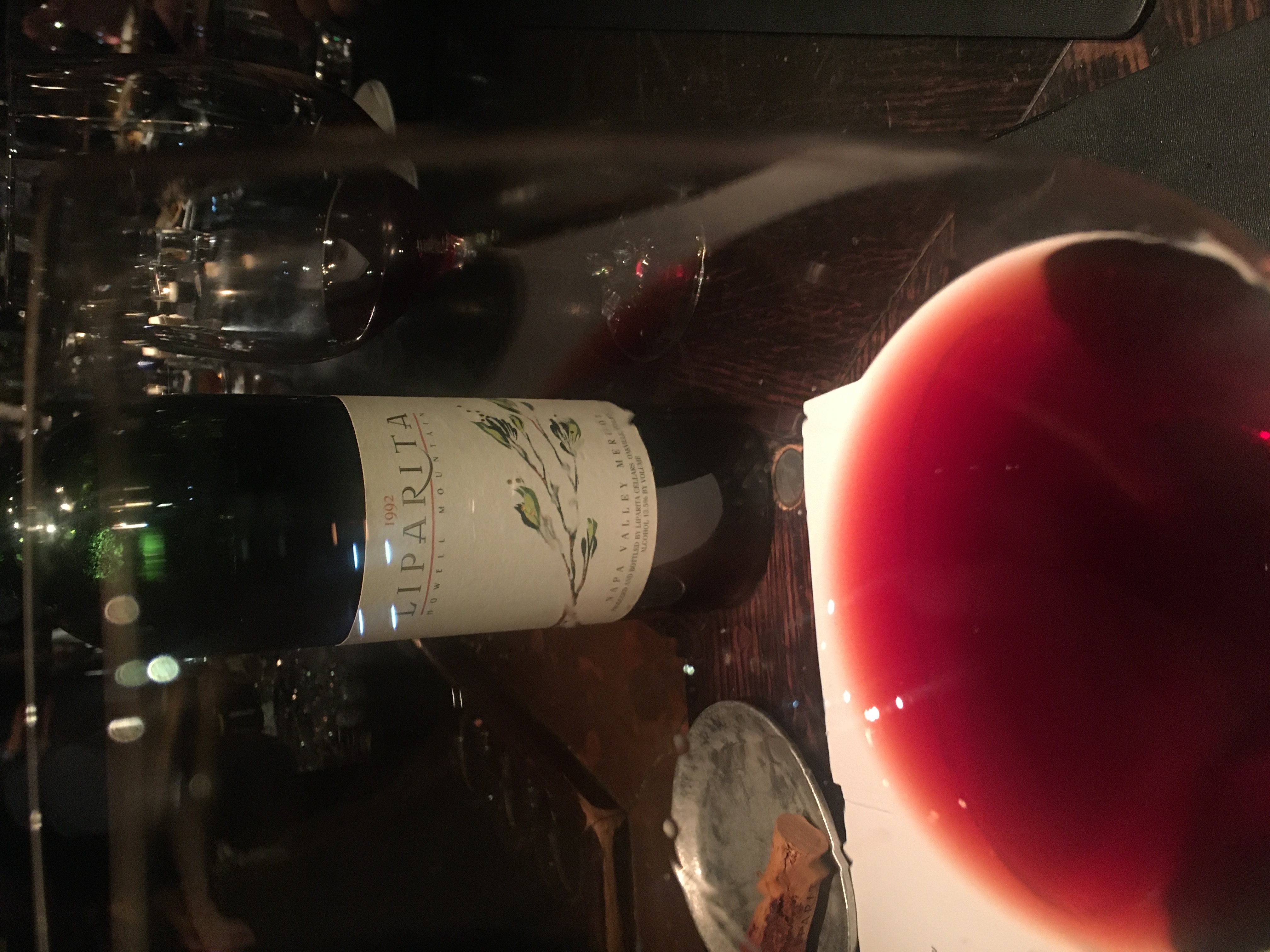 $30 minimum from Winebid with buyers premium and shipping charges…Not saying it's not worth it, but it's not a $15 wine.
Have you tried this lately? Howell Mountain Cabs/Merlots can certainly age…
That is what I paid.
Since December, I bought about six cases of the 1992, 1994, 1995, and 1996 reds, for mostly around $15 to $20 per bottle. Somebody liquidated on Winebid a personal library, for half their previous retail pricing. They have been fantastic expressions of old-style, mountain-terroir merlot and cabernet sauvignon. The 1992s are at full maturity, but not at downslope. The rest have many years left for enjoyment. A couple of bottles have experienced very minor seepage, because of cork age, but the contained wines have been intact, indicating proper storage.
These recent selection and pricing will never re-appear, to this extent.
Kendall Jackson got a pure steal, when it bought this lesser-known half of the Liparita-La Jota ghost winery in 1997.
Yeah. There has been a glut of Liparita on there for a few weeks now. I didn't see enough notes on CT to really bother taking a flyer on any of it.
$15 to $30 after fees/shipping is an exaggeration. I usually figure about +25% of hammer price. Granted I live in CA but I can't imagine the shipping being enough to add another 100% as implied.
Thank goodness for no CT notes. Lemmings need guidance. Gems need inattention.
Winebid has a shipping estimator feature. Shipping 6-bottles to the East Coast is around $33. When you add the buyers premium and sales tax, it gets you to around $25/bottle…Maybe I overestimated when I said $30, but it's certainly not $15…
Did you grab any cab or just the merlot? Did you grab any mags or just 750s?
The 1996 Cabernet magnums were a steal for $30. I grabbed a few. The WineHunter still hunts, but silently, after many years of attacks for revealing stuff.
The very cheap 1993 reds are bit a tannic, reflecting a harder vintage, but are still decent quaffers, especially with fatty food.
Kendall Jackson now uses the old Liparita vineyard, including many legacy vines, to make its best reserve wines.
The difference is another $200 bottle, plus new-styled oak, alcohol, and over-ripeness spoofilation. For once, must NOT to be nice to be rich.
I only meant in terms of I had no guidance on the winery or how their wines aged. Seeing a bunch dumped on WB without many reference points didn't exactly inspire me to chase. I do sometimes pick up smaller lots of relatively unknowns for experimentation.
Sorry for my joke about crowd-sourced reviews in general. Nothing personal, at anybody.
I have been drinking the 1990 to 1996 vintages of Liparita for over fifteen years. The 1994 merlot is likely the best of all Liparita bottlings, but not by a wide margin versus brethren. The 1990 vintage is being to fade, but not badly.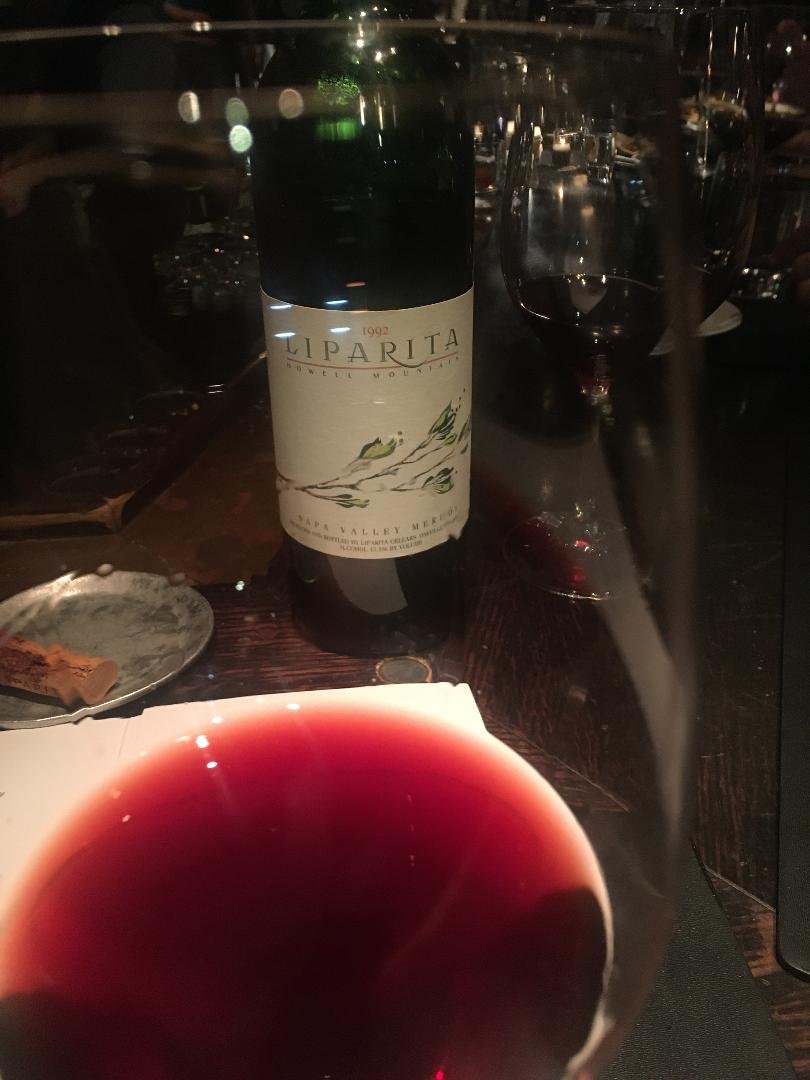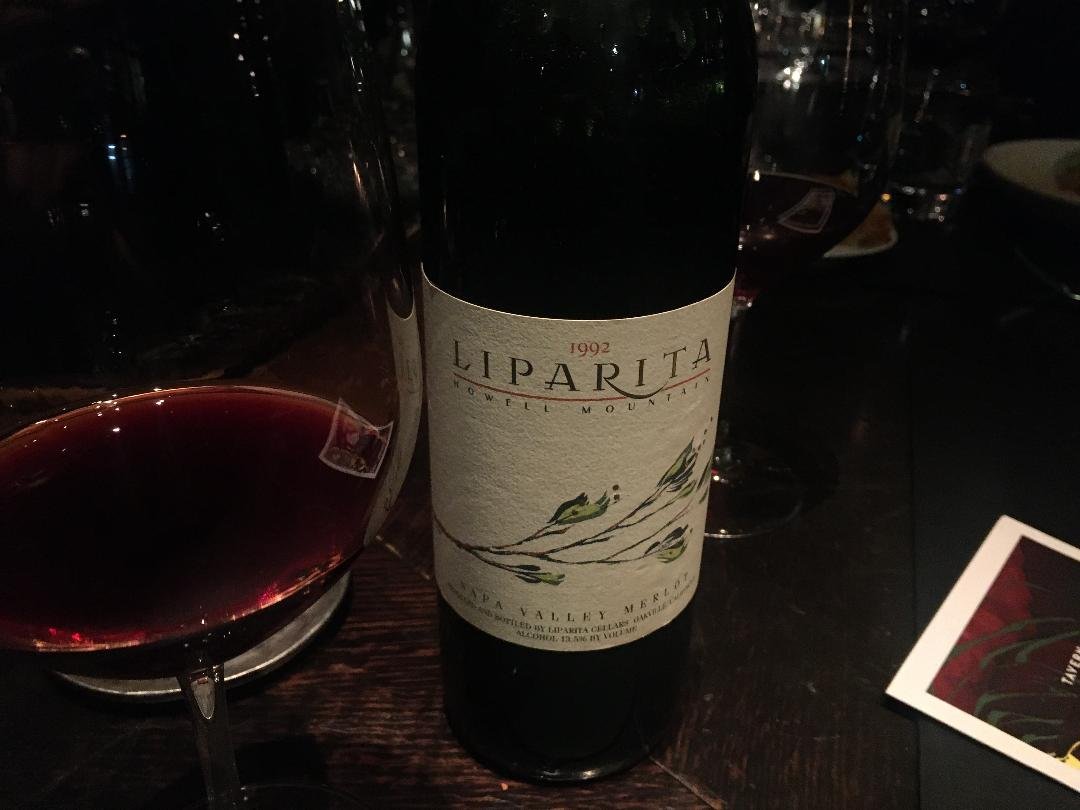 Snagged a '94 Merlot mag on winebid. Thanks, Victor.
P.S. someone sniped the '92s cabs and merlot…
Bullet-bidding twenty 750ml bottles of the 1994 Merlot, for just $30 each, was fun. I had been searching years for this wine, and could not find any for less than $55…and then just a few bottles.
I drank another bottle last week. Just glorious. Complex, dark red, and lively, with the right balance of fruit, spice, earth, and tannin. Per scant bricking along its rim, the wine continues on the back end of a long, gently sloped maturity.
Thank you again Victor for turning us onto these. We have enjoyed every bottle we have had so far.
Enjoying a 1992 Cabernet Sauvignon now. After some brett blew off, the wine was gorgeous, like the Merlot but with more tannic backbone and a less herbal finish.
'90 Merlot Mag on Winebid this week.
I am currently sipping the last bit of that 1992 Cabernet. It really opened up, and showed quite richly tonight, laced with mineral-flecked mountain terroir, balanced fruit, spice, and glycerin.
I opened a bottle of the 1994 Merlot tonight. Previously open and plush, this wine has gone somewhat back into a shell. The old-styled stuffing and time-sturdy bones are definitely still there, but either some refrigerated multi-day decanting or even another two years of aging should bring this elegantly muscled darling back onto the dance floor.
I find that old-styled California reds, when tight upon opening, can blossom quite nicely, after several days in the refrigerator.