Over dinner with the spouses Doc and Catha @ Sala Bistro; both bottles from Doc: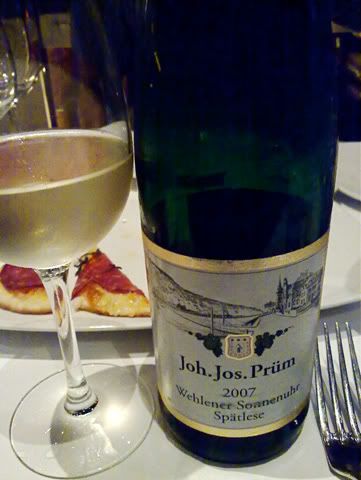 2007 Joh.Jos. Prüm Wehlener Sonnenuhr Riesling Spätlese - Typically bright, crisp, exuberant, zippy, carefree and playful peach, pear apple, bit of wild honey, white flowers and a good dose of light minerals/slate. Light, pure, very well focused. Materially more depth and marginally more in heft and body than the 2007 Dr. Loosen Wehlener Sonnenuhr Riesling Spätlese.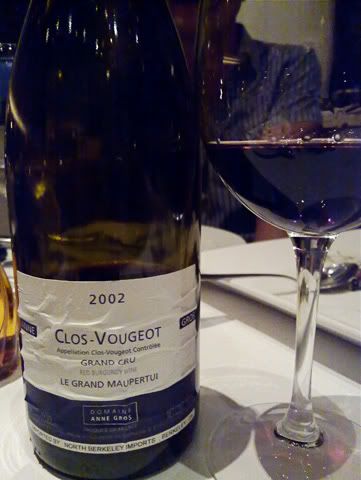 2002 Domaine Anne Gros Clos Vougeot Le Grand Maupertui - Doc served this blind to me and called it a "pinot noir" - implying it was new world*****. The aromas had a general smokiness and topnotes of mint/eucalyptus over dark, very ripe black cherry, raspberry, touches of kirsch/soy/dark spice, macerated black fruit, old book leather, moderate vanilla, slight clove, cinnamon and dark minerality. Moderate chocolate notes and very slight hints of cola emerged after some time in the glass.
Before Doc showed me what it was, I noted to him that it was not old - maybe 7-8 years from vintage (he confirmed this as correct) and that, while it seemed quite ripe and modern-styled, it was (to me) not heavy, extracted or dense enough to be from California (more balanced as well) and, at the same time, I was not prepared to say it was from Oregon. Before I could go any further, Doc revealed the bottle.
*****Anne's wines are generally in a quite rich and full, ripe style that garners her high scores from Parker and others. Maybe this is why Doc tried to see if I could tell if it was a Burgundy and not from the US.
NB: When I asked Anne before what age would she suggest drinking her wines, she said she likes her wines fresh in fruit so would personally oen her grand crus by 7-9 years from vintage.