We've got THREE different offers for BerserkerDay 11!
Literally hundreds of you have Wine Checks and have been using them to transport your wine across the country and around the world. As for the rest of you
, what's the matter with you??
While our fearless leader Todd's favorite Wine Check used to be the standard red one with the white logo (the 'original' Wine Check, from 10 years ago!) he's got TWO new favorites, so we're offering both to the Berserkers on BerserkerDay (and Early Purchase Offers for Grand Cru Crü members, of course). Let's get to the goods, shall we?
Launched last year, the Wine Berserkers Wine Check was an instant hit, likely due to its incredibly handsome 'berserker' on the unit. I mean, who WOULDN'T desire such a rugged and attractive creature?
OFFER 1: This year, for BerserkerDay 11, we're including a BERSERKER BARFER with every Wine Berserkers Wine Check order!
"OMG, what is a 'Berserker Barfer'? Sounds amazing and worthy of high class entertaining!"
Well, let me tell you what it is...and why you should have it! Napa/Sonoma-based Menagerie Premium Wine Pourers manufacturers and designs some of the highest quality wine pourers in the market. Even Todd loves them, as our colleague and friend with Alaska Airlines bought one as a gift for him, when he was afflicted with appendicitis, rather than enjoying wine tasting with us back in May. Now, all of us have been gifted 'chochkies' because our friends know we love wine, and do we use them very often? No, we don't, but we accept them with a grateful smile, then regift them at the next birthday or holiday. Well, Todd kept droning ON AND ON about the ram pourer we gifted him, and when we discovered that Menagerie has a pourer that looks EXACTLY like our treasured mascot, the Berserker (but they call it a 'Viking', pfft), we HAD to off them on BerserkerDay, so we can remember our community here any time the Berserker is barfing out our treasured elixir! This particular design from Menagerie is from their 'Premium' collection, and retails at $34.00. It's solid, it's REALLY heavy (feels like 2 lbs), and you can tell that it is high quality.
Buy any Wine Berserkers Wine Check (with or without shipper box/insert) and get a 'Berserker Barfer' wine pourer
FREE
! (a $34.00 value!) That's bigger than any discount we'd likely offer you, so you might want to jump on that pronto!
ORDER HERE, choose either with or without shipper
, and know that the 'Barfer' comes WITH your Berserkers Wine Check (but no other Wine Check orders - this is Berserker-Branding-All-The-Way, baby!) *hint on sorting the page - click 'Wine Berserkers Products' on the categories listing to narrow it down easily*
OFFER 2: Berserker Barfer Wine Pourer with FREE Shipping in the continental US
You already HAVE one or four Wine Checks, you say? While you aren't alone, you might be sad that you don't have a Berserker Barfer, so we don't want you to feel left out, you faithful Wine-Check-Traveling-Person, you! You, too, can order just a Berserker Barfer wine pourer, for $34.00 and
FREE SHIPPING
in the continental US!
ORDER HERE
OFFER 3: 25% Off Alaska Wine Flies Free Wine Checks
Hopefully most of you know about Alaska's Wine Flies Free™ program, but if not, you can find out more about it
here
, as we ALL should know about it! You might also know that Alaska chose The Wine Check as its wine luggage partner in the program, and we couldn't be prouder, of course! We're going to offer our Alaska Airlines Wine Flies Free Wine Check
HERE
, to you, at a
discount of 25% off!
Use code BD11WFF for your discount, and it is good on either the Wine Check alone (as most of you likely will be getting plenty of shipper boxes to use inside it!) or as a set, with either Styrofoam insert or (preferred) stand-up pulp inserts.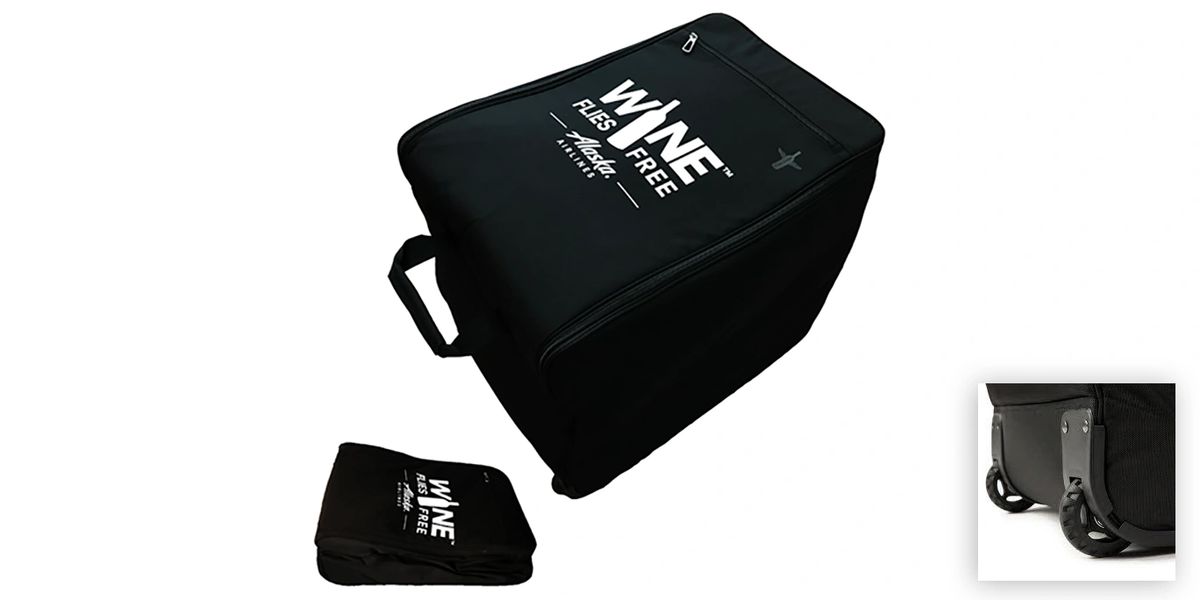 Get a bit more information about our partnership, about the Wine Flies Free Program, and place your order
HERE
SHIPPING INFORMATION:
We can ship to all the continental US, Wine Berserkers Wine Checks with Barfers ship in 2 weeks; WB Barfer (ordered alone) ships in 1 week, and Wine Flies Free Wine Check ships next day!