Donor: Brian Loring
Bid Incriment: $5
Auction ends 10:30pm ET
2005 GARYS' VINEYARD SYRAH 3 PACK 750ml
YOUR EYES DO NOT DECEIVE YOU - 3 BOTTLES OF THE RAREST WINE ON EARTH
from the back label....
The Loch Ness Monster. Big Foot. Loring Syrah.

Three mythic entities that will forever foster debate as to whether they really exist or not. Born from a ridiculous idea by Mat Garretson, and the shared delusion of Gary Franscioni and Gary Pisoni, the brother and sister winemaking team of Brian and Kimberly Loring have brought forth a truly once in a lifetime wine. If uniqueness was the only measure of a wine, you have in your hand the rarest of all Bacchus inspired libations. There will NEVER be another Loring Syrah. EVER. Never ever again. This is it. We promise.
There were 20 cases of this wine produced for the 2006 Hospice du Rhone Barrel Auction. The high bidder for the lot was Lorraine Alban. We were going to name the wine after the winning bidder, but sadly, "Lorraine" was already taken.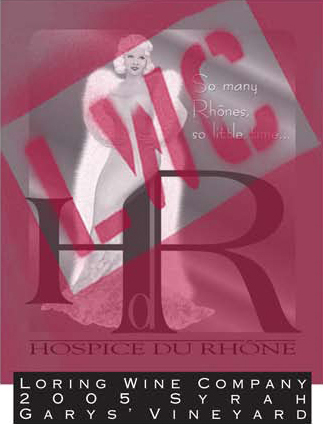 HELPFUL TIP: If you bid, and want to follow the auction to see if you are outbid, simply click 'Subscribe Topic' right below the text box when writing your reply!!