All wines of last Friday (23rd January) lunch for 6 persons were generously provided by my good friend, the Stockbroker.
To start off, we had orders of assorted appetizers consisting of
Tempura Squash Flowers, Fried Baby Asparagus encrusted in what I think to be some sort of cheese, and, Miniature Barquillos Stuffed with Chive Mousse topped with Salmon Roe
. We also had old reliable
Squid Ink Crostoni
and a couple of orders of
Diwal
(a.k.a., Angel Wing Clams).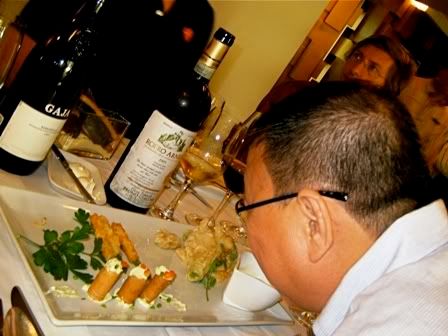 With all these, we had: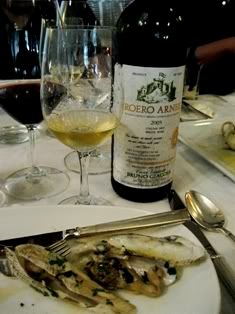 2005 Bruno Giacosa Roero Arneis
- Until the Stockbroker pointed out what "arneis" was, we were wondering what grape made up this wine. One said it displayed some similar characteristics to sauvignon blanc - but was not sauvignon blanc - and also vaguely reminded him of Chablis (probably the tense minerality). I saw the similarities he stated and opined that it tasted like a barely-oaked version of the Tuscan vernaccia di San Gimignano.
"Arneis", as it turns out, is the grape from which the wine is made, and "Roero" the area in the Renesio district of Canale then ruled by, and, I suppose, named after, the Roero family, a.k.a., the Lords of Canale, as far back as the 1400s.
My handwritten notes state:
Initially mild grapefruit, grass, minerals, pear, white peppery apple, citrus (including lime in the nose but not on the palate) whisper of acetone (but not off-putting). In the mouth, apple and pear lead the way with a bit of citrus; grapefruit/grassiness surface more slightly past mid-mouth, joined by bitter-almondy nuances Italians favor in their aperitifs. Citrus, lemon and the almond notes tend to dominate the apple/pear in the long, slightly alcoholic finish (14%abv).
Appetizingly dry, fresh, medium-bodied, nicely consistent minerality. Its fresh citrus/lemon/grapefruit/grass/mineral notes married very well with the appetizers, especially the
Diwal
and
Squash Flowers Tempura
.
After the appetizers, a small serving of pasta, and, then, the
Steak alla Fiorentina
main course arrived (not nearly as rare as I like it, but still very nice) to pair with the macho Piedmontese reds.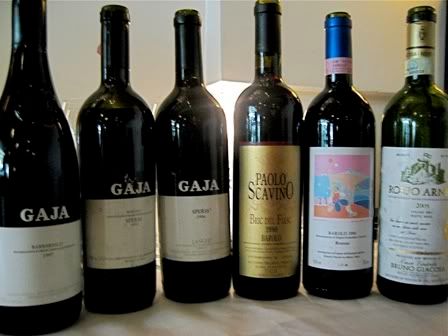 First Flight
: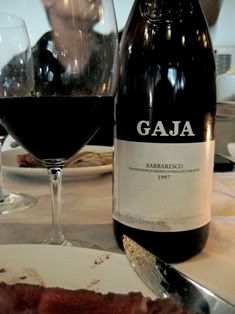 1997 Gaja Barbaresco
- This was, to my mind, the red easiest to drink and enjoy, and not surprisingly as Barbarescos (also made up of nebbiolo grapes from the same-named DOCG area neighboring Barolo) mature significantly faster than and are never really as "tough" as Barolos.
Juicy, well-extracted, ripe, black cherry, dark fruit, some raspberry, touch of raisins, with olive and mushroom nuances. Violet notes surface mid-mouth and continue to the confident, tartish sour-cherry finish. The bouquet gained an alluring touch of gaminess after material breathing in my glass. Nice depth and layering. Smooth, velvety tannins.
Nicely round full body (though not nearly as full as both the succeeding Gaja Sperss) and precise weight. I really enjoyed this - very nice alone and even better with the steak.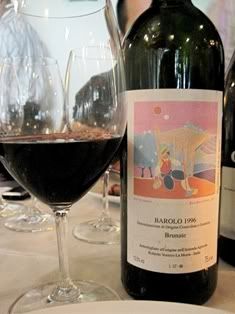 1996 Roberto Voerzio Barolo Brunate
- Everyone but I seemed quite familiar with this maker, a relatively young producer making great waves with his single-vineyard Barolos, as I understand.
Comparatively not as deeply veined in fruit (probably not yet displaying fully) as the preceding wine, but with brighter fruit (black cherry-dominant) and more surface red berry (there is material strawberry in the dominant black cherry). Dark fruit and black coffee undertones with slight notes of fig and violets. Tart cherry dominates the finish.
Obviously powerful, but not in a bearish way at all - more like a sleekly muscled gymnast than a weightlifter. Tremendous yet precise push on the palate - admirable focus and definition in this wine - not overly extracted or super-ripe like many modern-styled wines. Very clean lines. Comparatively, it may come off as a bit overly stern, angular and tight right now, with a long, strong, very tannic finish - but I believe this will ease and loosen up as the wine continues to mature. Notable balance, and, in my opinion, with potential for future elegance.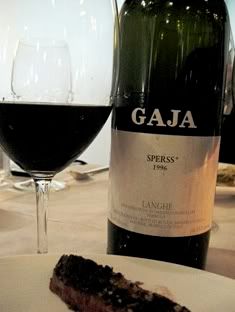 1996 Gaja Barolo Sperss
- Bigger, darkly ripe, very full, but with good focus and notable balance. Lots of black coffee, touches of leather and tar in its mildly earthy (whisper of mushrooms) dark fruit/cassis/violets underlying the black cherry, raspberry notes. Very deeply-veined fruit. Not (yet?) displaying the layering of the Barbaresco, but more than adequate in complexity.
Powerful as well, but not as laser-focused as the above-described Brunate. A bit tough and stern, it was much easier to appreciate with the steak, but, then, I've always believed that Barolos were really meant to be enjoyed with hearty cuts of roasted meat, especially game.
In my opinion, with more years in bottle (5-8 years), this will probably be the best wine among all the other Barolos.
Second Flight
:
1990 Paolo Scavino Barolo Bric dël Fiasc
- Much more subtle and warmly comforting than the '96s. Less tannic, rounder, smoother, touches of fig with a pervasive raisin character to its fruit. Seems to be more dark fruit than red here (more raspberry in this than the others).
One immediately noted slight oxidation that, I found, expressed itself more and more as it breathed in glass - with telltale sherry-like notes - but , for a great part, not to the extent as to be unpleasant. Personally, it added a bit of sad, wistful nostalgia that the romantic in me enjoyed. Tragically, the sherry notes kept pushing forward and I stopped drinking it as it began to over-power all the other notes.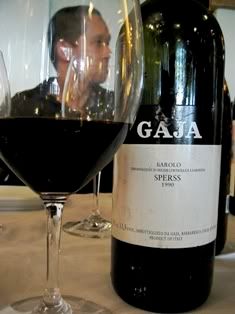 1990 Gaja Barolo Sperss
- There were, initially, slight saline/marine scents to this which, thankfully, blew off after a while. I noted that the bouquet of this wine was comparatively quite reticent compared to those of the other reds.
In the mouth, however, it was wonderful. Suavely masculine, in great shape despite its 18+ years, actually, it seemed quite youthful, belying its age. Clean, classic lines, well-focused, great balance of power and grace. Elegant touches of truffle and violets. I think this can age for many more years, but I doubt it will flesh out more than now.
I remember wishing there was still some steak left to enjoy this with. I had it with a bit of the Roquefort and guava compote, though, and it was superb - the cheese's gaminess ran with the wine's truffle notes, the compote's sweetness cut tempered both the wine's and cheese's power, and the wine's acidity cut the cheese's richness. Absolutely lovely.